Traveling to Paris is a dream for many people that love to explore new places around the world. As the capital of France is popular with lovers and is considered one of the most romantic destinations in the world. Still, it is a great place to spend time alone or with family as part of an annual vacation.
Besides its popularity with couples, it also has several attractions that make it stand out among other European destinations.
The amazing sights in Paris are the Eiffel Tower, Louvre Museum, Palais Garner, Arc De Triomphe, and Musée d'Orsay. For a memorable experience in Paris, book an Airbnb that meets your needs.
9 Amazing Airbnbs in Paris
Having used Airbnb in Paris several times I have also shared some of the coolest Eiffel Tower view Airbnbs for that ultra must have view of Paris.
Below are even more of my favourite Paris Airbnbs. So, whether you are in Paris for one day or doing Paris in 5 days there is a perfect Airbnb in Paris for you.
Located in the south of Paris, the Duplex Apartment provides a splendid view of the Eiffel tower to its guests. Its location at the top of the Haussmannian building makes it bright and welcoming, thanks to its high ceiling.
The apartment occupies two floors which comprise of a living room on the ground floor with a lovely balcony perfect for relaxing while admiring the Eiffel tower. The second floor is accessible by staircase and comprises a kitchenette, single bedroom, and a private bathroom.
For an excellent stay, the spacious bedroom can only accommodate two guests on the queen bed.
Sleeps: 2 people
Price: £210 per night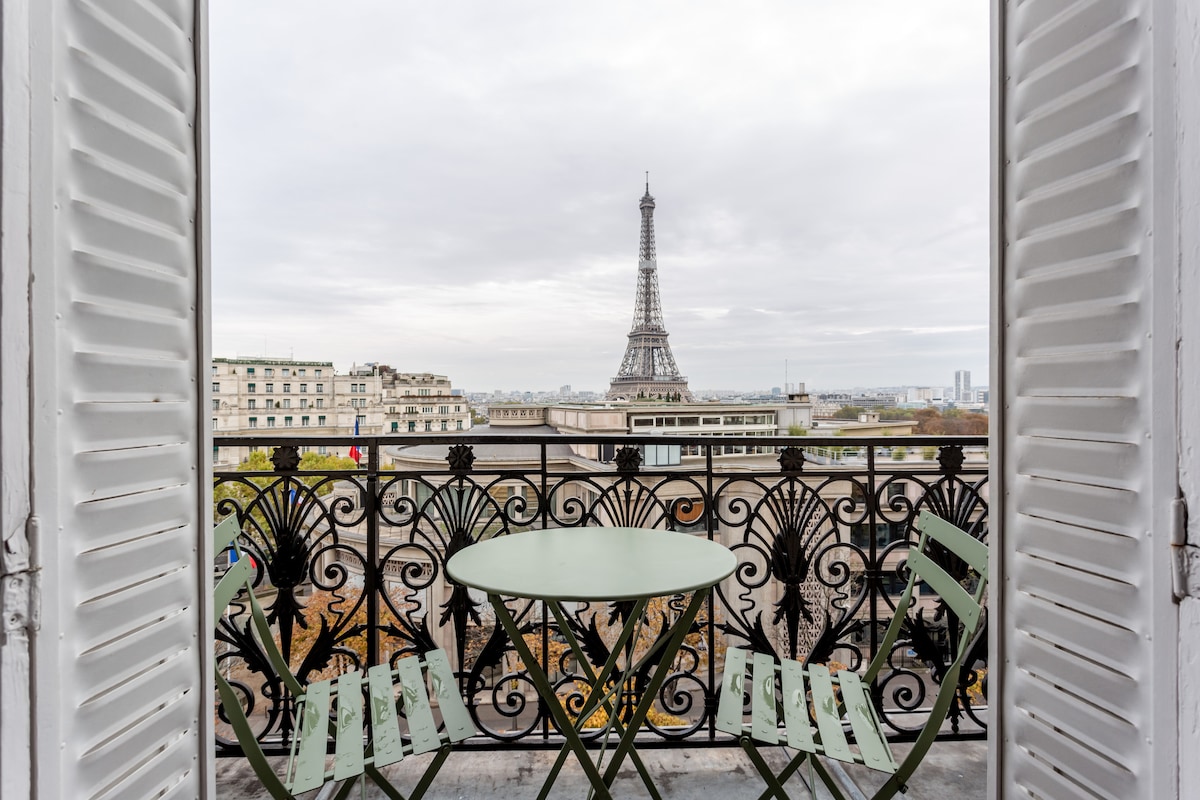 Privacy and automation are guaranteed for everyone that books the Eiffel Tower apartment when in Paris. The apartment overlooks a garden with a view of the Eiffel tower and is ideal for four guests that can comfortably stay in the one-bedroom, with a queen bed and a private bathroom.
Access to the living space is by electronic lock, which ushers you into the living room with a sofa bed, forty-nine-inch television, reading chair, and a sound bar.
The kitchen has all the necessary equipment for meal preparation, and its laundry room has a dryer and washing machine.
Sleeps: 4 people
Price: £171 per night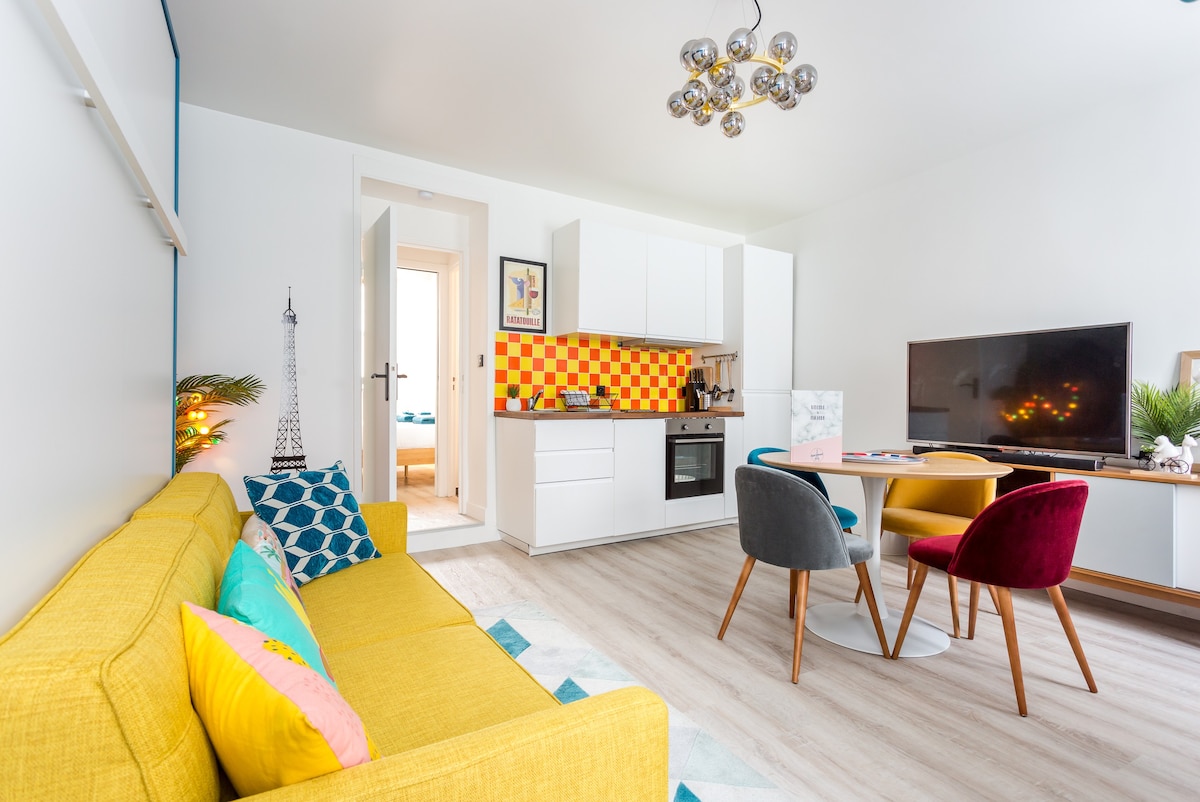 Imagine waking up to an up-close view of the Eiffel tower each day of your stay in Paris. Lovely, isn't it? Well, Gustave Eiffel offers tourists that and more when they book the unique flat.
Its delightful decoration and modern look is evident in the large living room, three bedrooms, two and a half beds that can host up to five guests.
Guests also have access to several amenities such as a lift, kitchen, Wi-Fi, washing machine plus dryer. The exceptional location of the flat also makes it accessible to other famous sights in Paris.
Sleeps: 6 people
Price: £220 per night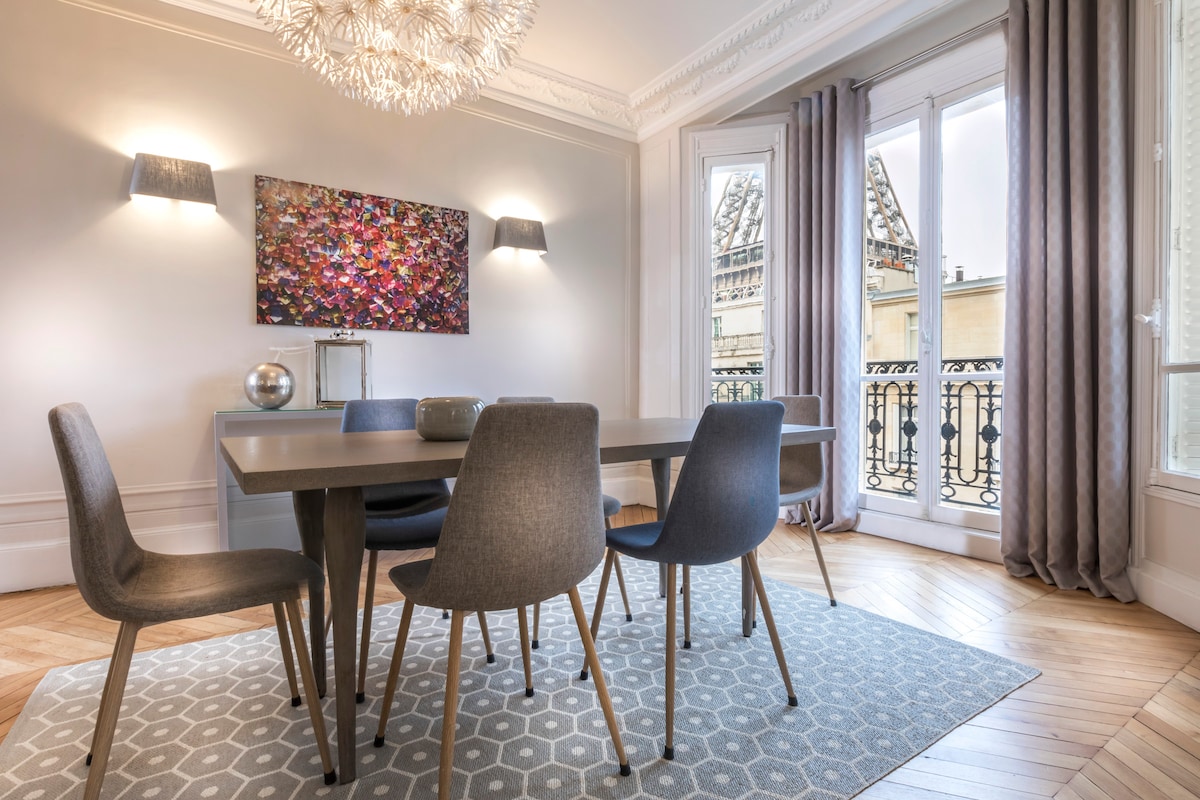 Experience typical French living in the heart of Paris, specifically the Golden Triangle, near the Eiffel Tower and the Champs Elysées Avenue.
The apartment, which is impeccably designed and well-furnished, has one-bedroom and two beds that can accommodate four guests. Spacious common spaces such as the kitchen and living room make the flat fun to live in for a long or short time.
Its amenities are also world-class and include a lift, Wi-Fi, television, heating, smoke alarm, and personal essentials.
An excellent view of the Eiffel tower, fully equipped and modern amenities make the charming Parisian apartment perfect for a getaway.
It is a great space for friends of a couple that can share one bedroom and bathroom. The comfort provided by the apartment goes beyond the sleeping area to the beautiful balcony that is perfect for a delicious breakfast or lunch.
Guests can also use the numerous amenities lift, television, kitchen, cable TV, and Wi-Fi, among others. Also, plan to visit La Tour Maubourg, Les Invalides, and Orsay et Rodin museums, five minutes away from the apartment.
Sleeps: 2 people
Price: £232 per night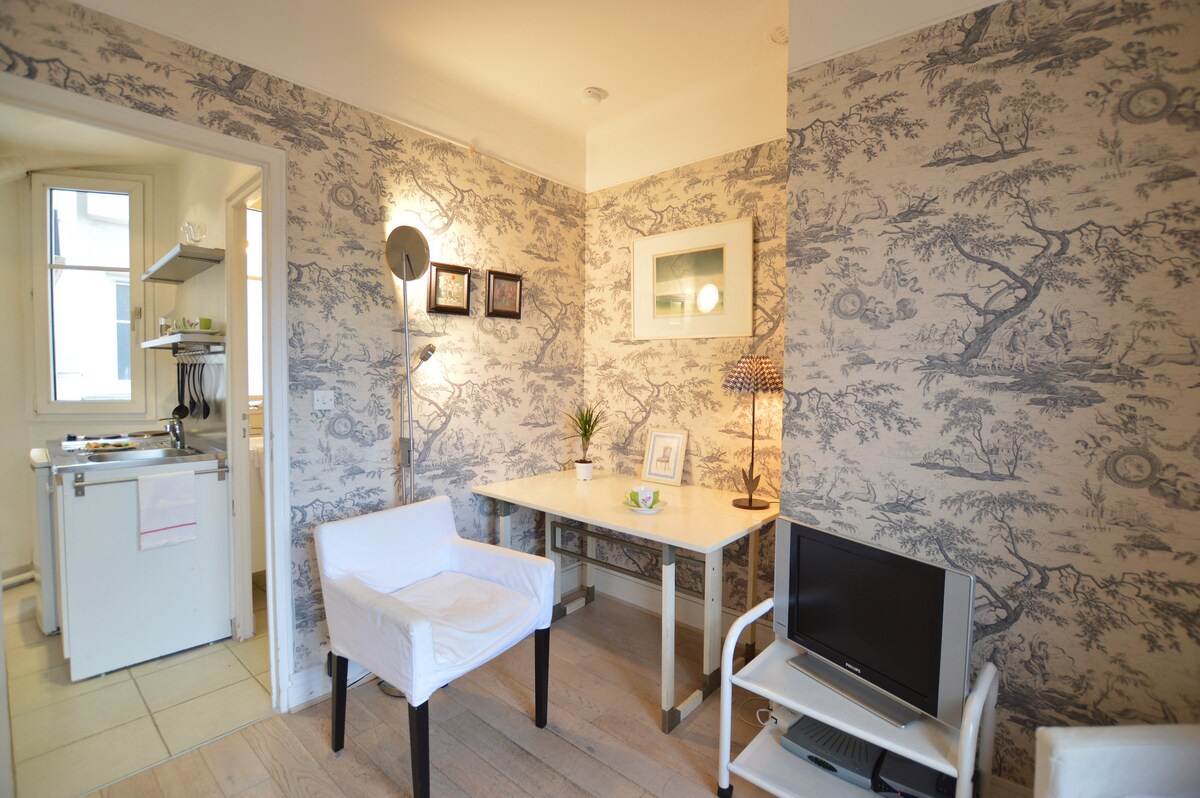 The studio flat has everything needed to make your stay in Paris comfortable. Its prime location makes it popular with guests interested in the Eiffel Tower, which is only ten minutes away.
An ideal space for two guests that can comfortably use the one bedroom and bathroom during their stay. The comfy lounge, fully equipped kitchen, and fitted bedrooms are bound to make anyone's visit worthwhile.
Other amenities provided to guests include Wi-Fi, washing machine, cable TV, smoke alarm, and several essentials.
Sleeps: 2 people
Price: £81 per night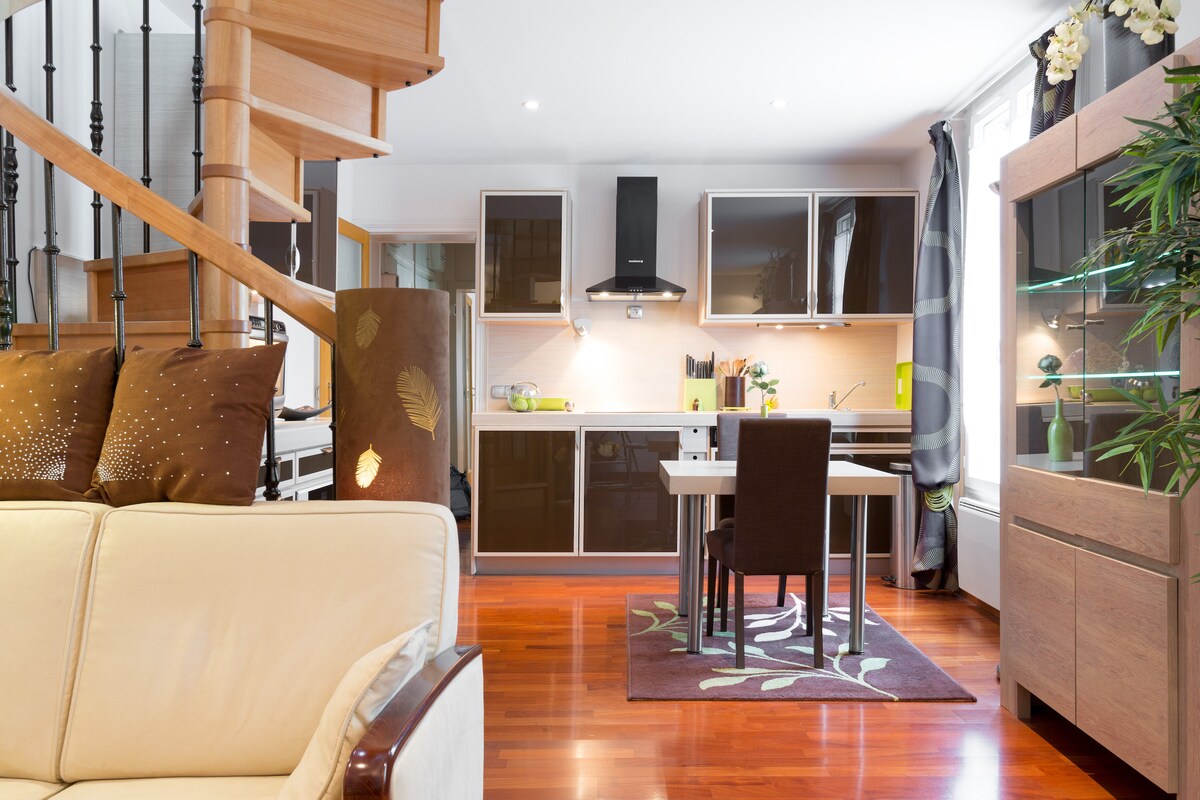 The spacious studio is surrounded by several popular attractions in Paris, most notably the Eiffel Tower. Guests can quickly walk from the flat to areas such as the Musée Branly, Les Invalids, Les Deux Abeilles, and Musée d'Orsay.
Besides the exciting surroundings, the space is well equipped with two beds and one bathroom ideal for three guests. It is also fully furnished with broadband Wi-Fi, LCD TV, and washing machine, among others.
For relaxation, guests can make their way to an inner garden that overlooks the city. Guests arriving at the Charles de Gaulle Airport can arrange for pick-up by our friendly chauffeur and drop off at the studio.
Sleeps: 3 people
Price: £80 per night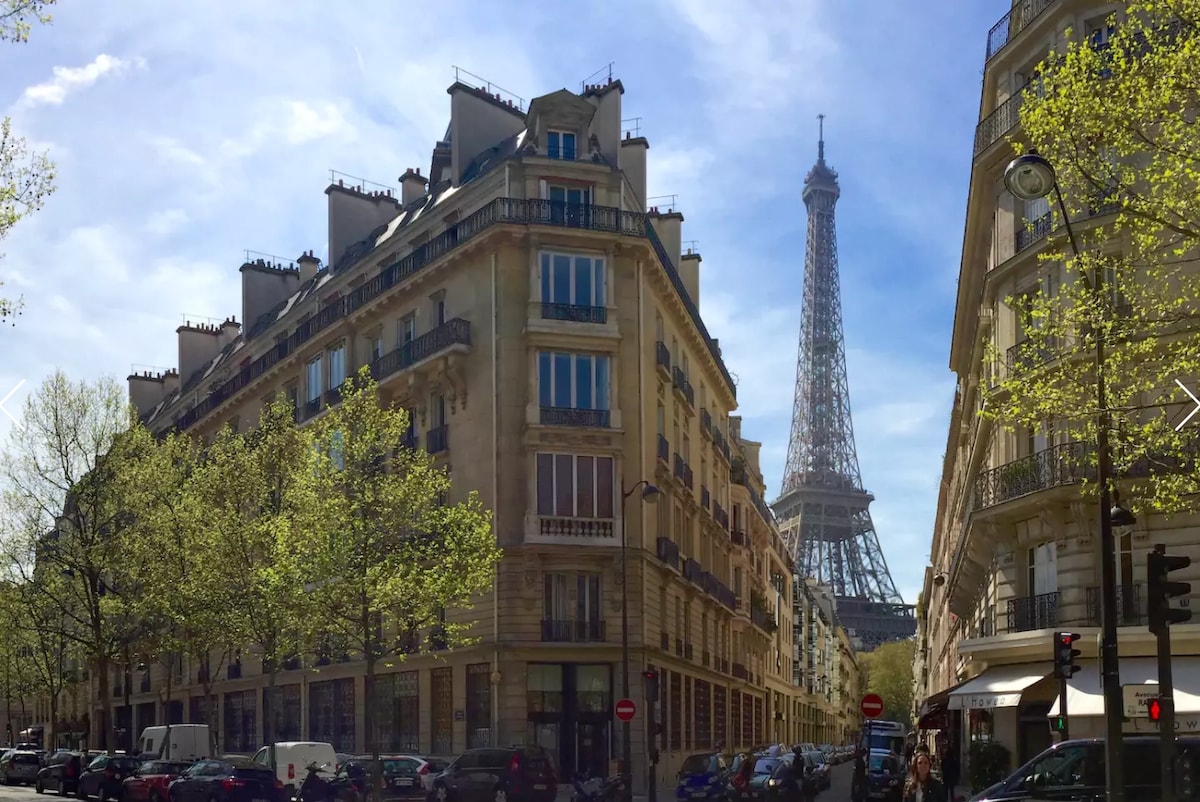 A twenty square meter studio right in the middle of Paris with a clear view of Eiffel tower is the perfect place to spend your vacation.
The flat located on the seventh floor is well equipped with one bedroom, and the bathroom is the best for two guests looking for an intimate space.
Although small, the flat is packed with several amenities that guarantee a perfect for those in Paris for an extended period.
Some of the unique features include an elevator, fitted out kitchen, television, heating, Wi-Fi, carbon monoxide alarm, and several personal essentials.
Sleeps: 2 people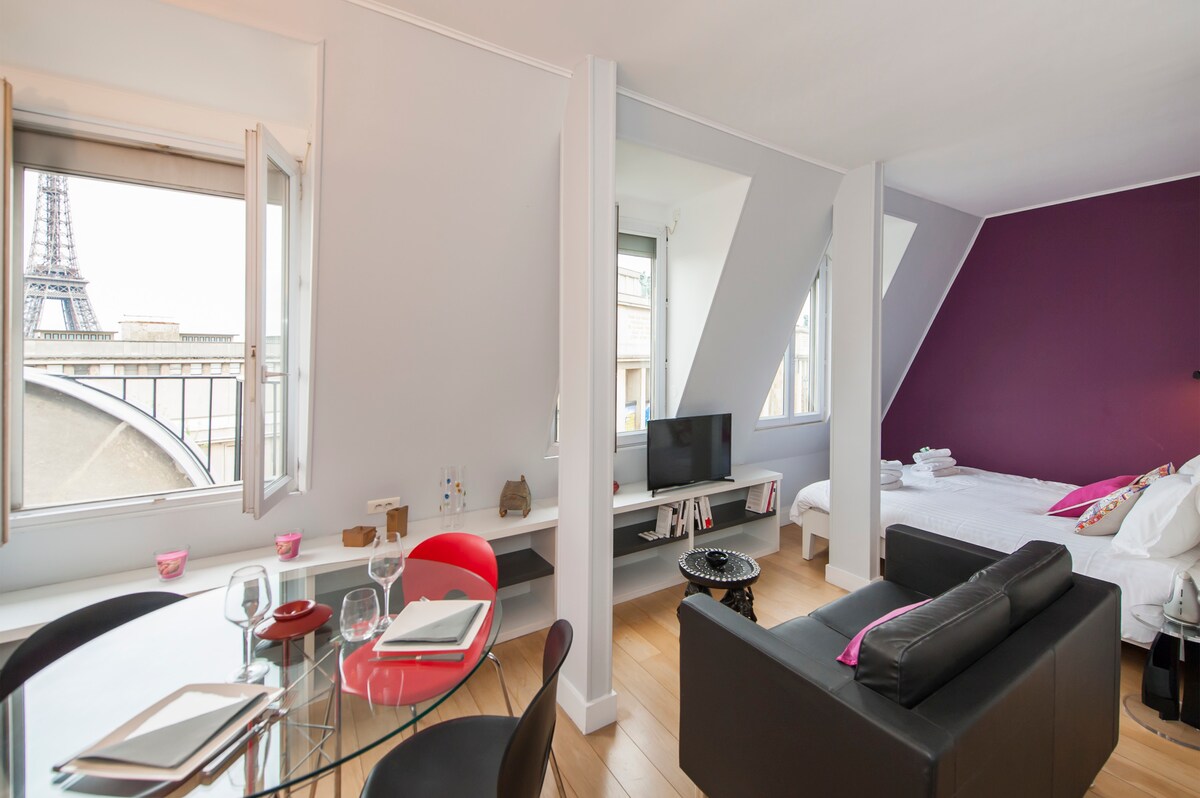 Couples will love the serene thirty square meter studio located in the middle of Invalides Place and Eiffel Tower. It is fully equipped, making the entire stay comfortable for the two guests using the one bed and bathroom.
Recently renovated, the apartment located within an ancient building is uniquely designed with wooden flooring and exposed beams. To complement the beautiful décor is an equipped living room, separated kitchen, and two large chairs for sitting during lunch hour.
Guests are provided with clean linens, but they can still do their laundry at the flat for free or at a fee.
Sleeps: 2 people
Also Read
Pin For Later