Bonjour Paris! Am I the only one that does that when I arrive in Paris? Well once you lay your eyes on these amazing Airbnbs in Paris, I am pretty sure you will too.
The romantic and scenic city that is the beautiful city of light is one that is on many a bucket list and on top of that bucket list is experience all those cool things to do in Paris while staying in your very own Parisian apartment with views of the Eiffel Tower.
I had already shared picture of one of my Paris Airbnb with Eiffel Tower views, below is more inspiration for those wanting the perfect apartment with stunning views in Paris as well as being near many of the Paris tourist attractions.
Stunning Paris Airbnbs With Views Of The Eiffel Tower
Whether you are in the city for one night or spending 5 days in Paris, there is plenty to experience in the city.
I have experienced many hotels in Paris with views of the Eiffel Tower but nothing beats feeling at home in one of the Paris Airbnbs offer picturesque and mesmerizing view of the Eiffel Tower.
Nothing beats a view of the Eiffel Tower at night. So, book yourself a Parisian apartment, grab yourself one of the many famous desserts in Paris and enjoy the sweet life in Paris as the Eiffel Tower twinkles in the night from your very own balcony.
It is located in the center of Paris as it is just a 10-minutes walk from the famous 'Bir-Hakeim Bridge' and Jardin du Trocadéro along with the renowned Caroussel.
The unique things are the contemporary bedroom and master bedroom set-up. Other amenities include a modern well-stocked kitchen, bathtub, unlimited Wi-Fi access, housekeeping services, laptop-friendly workspace, lift, etc.
Sleeps: 5 people
Price: £596 per night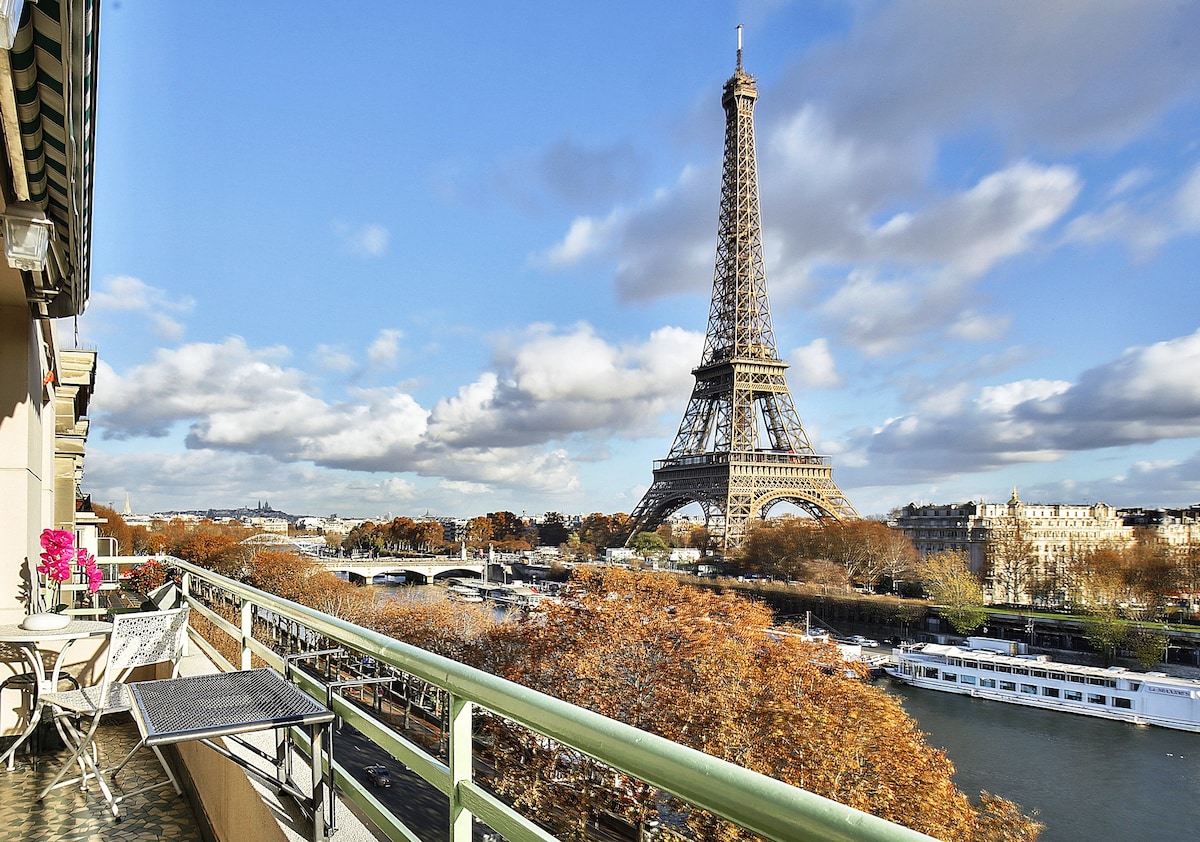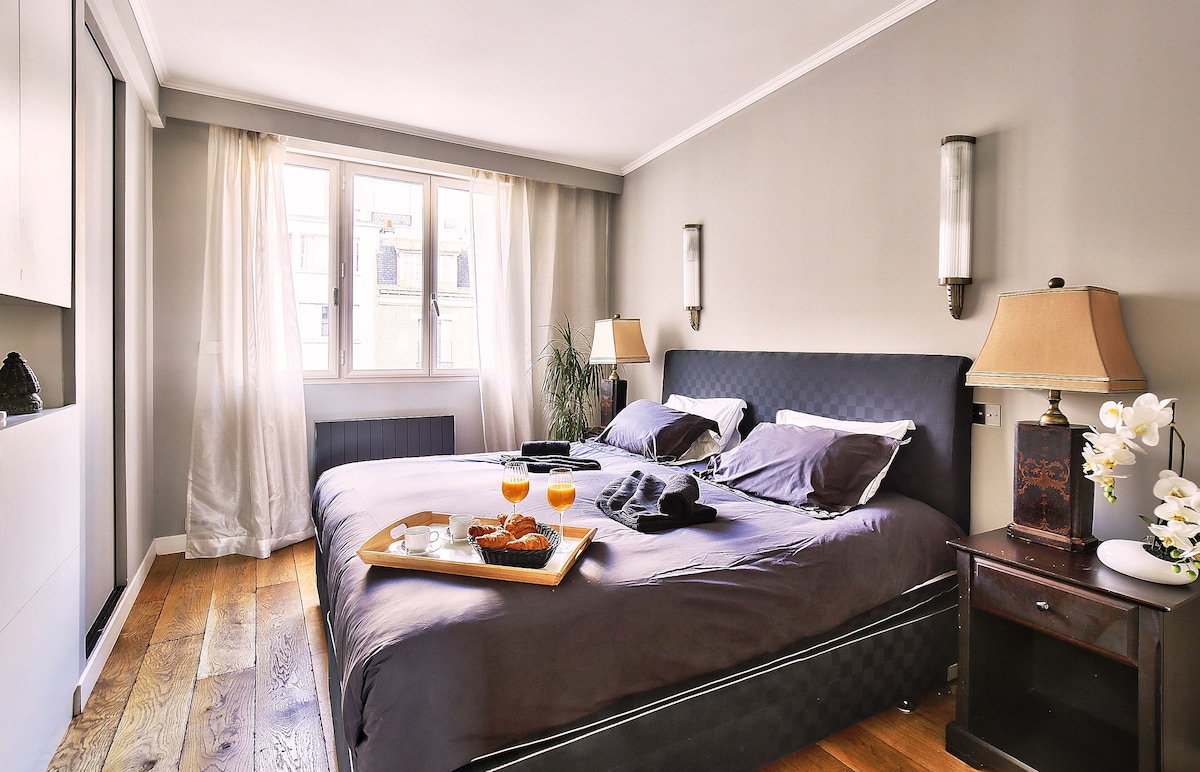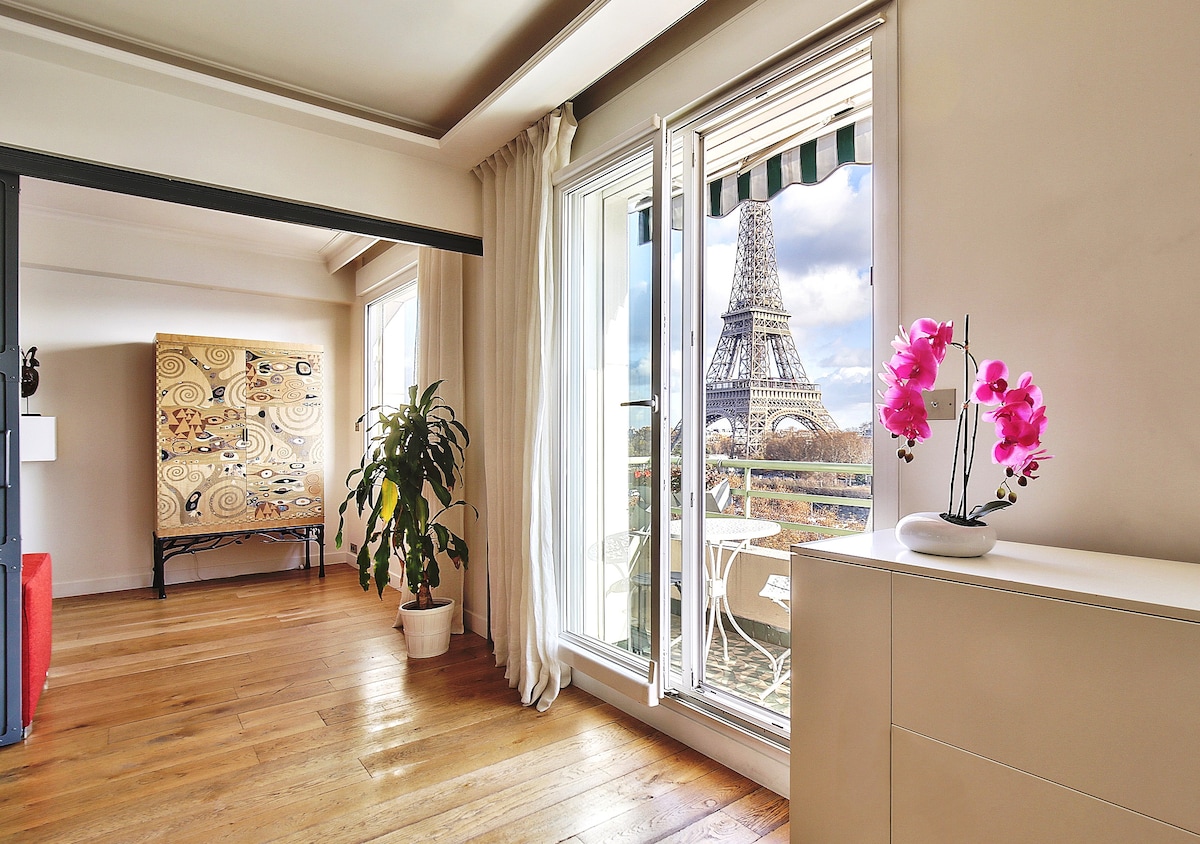 If you want a romantic yet contemporary Airbnb Paris close to Eiffel tower, then this is one of the safest ones. In just a 3-minutes walk, you can see the Eiffel Tower.
Musée des Arts Premiers, Seine River Cruises, and Trocadéro are just 10-minutes walk from the flat. Go for food shopping, catch a glass of wine, or buy a souvenir for your partner from a nearby location.
Other amenities provided are Wi-Fi, bathroom essentials, smoke alarm, modern kitchenette, etc.
Sleeps: 2 people
Price: £406 per night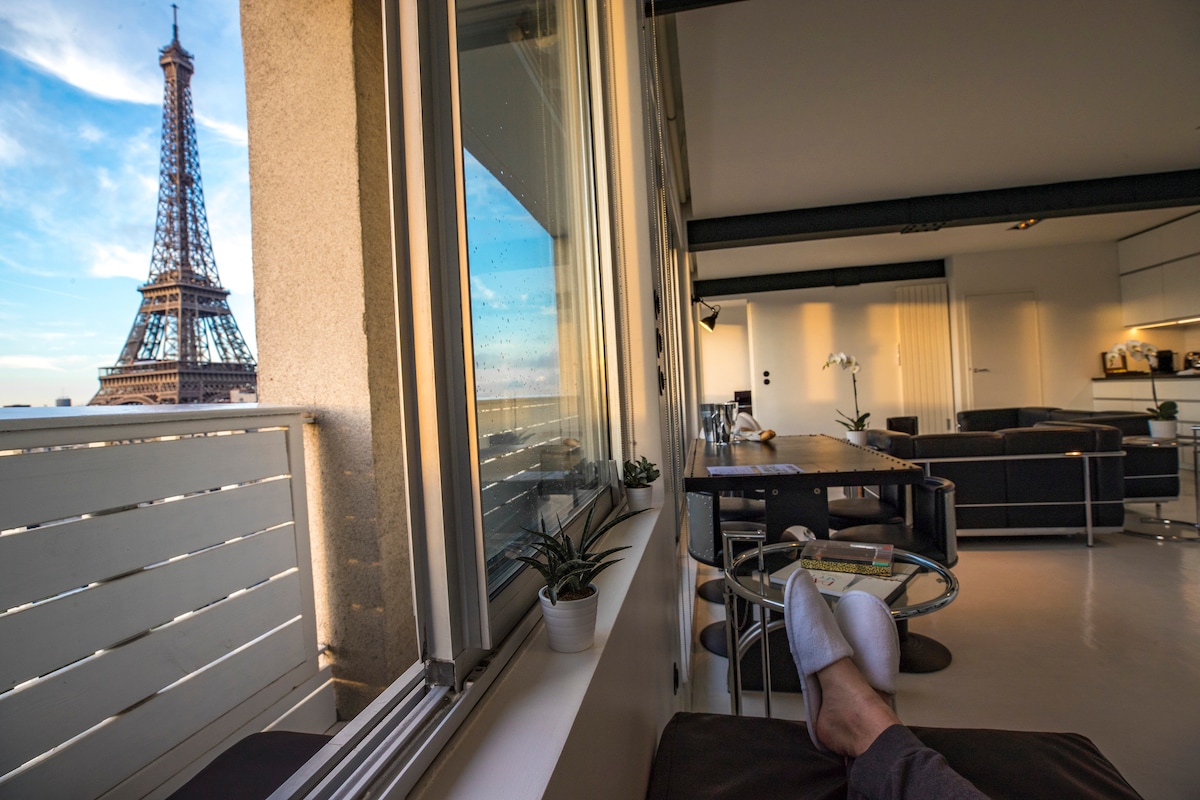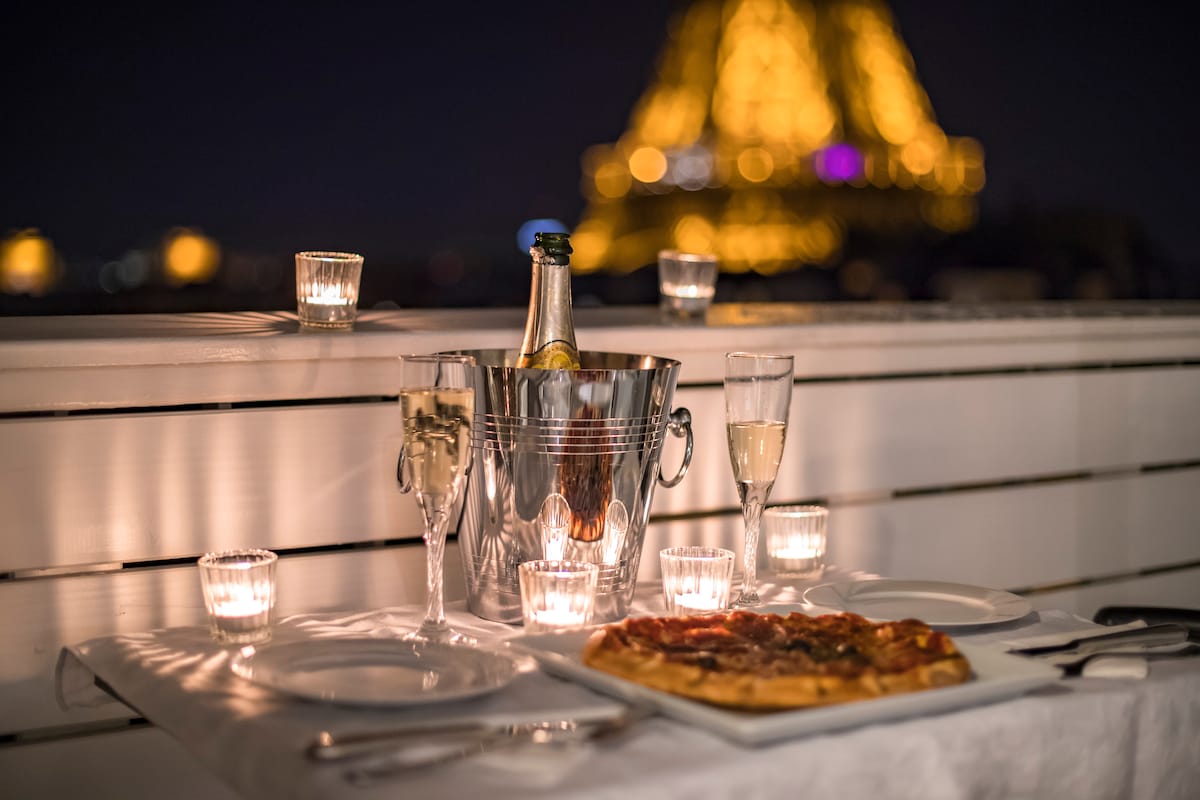 This Airbnb Paris near Eiffel Tower is a honeymooner's getaway with a private pool, a meditation place, and a private eco-domain. From the 12th floor, you can view Eiffel Tower that is just 100 m away.
You can visit the Champ de Mars garden and famous restaurants. The amenities provided in the Penthouse are lift, well-stocked kitchen, and bathroom, laptop-friendly workspace, Wi-Fi, private balcony, etc.
Sleeps: 2 people
Price: £300 per night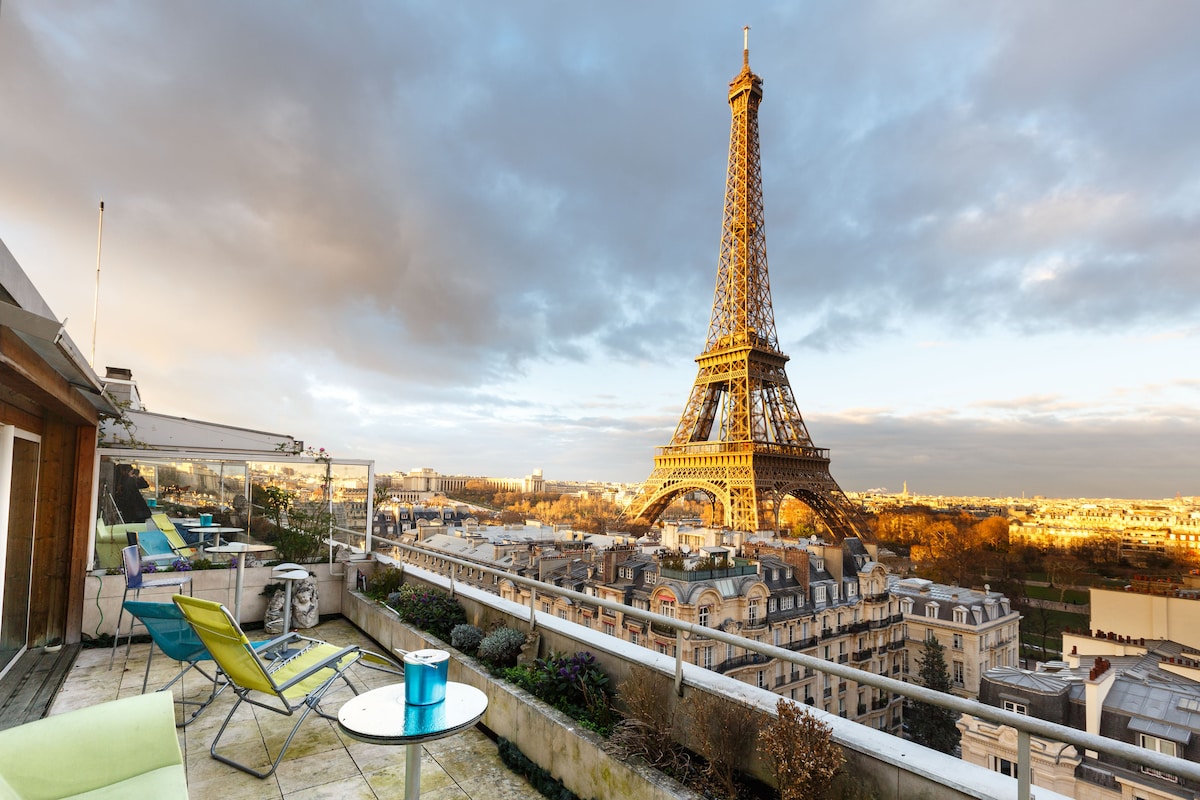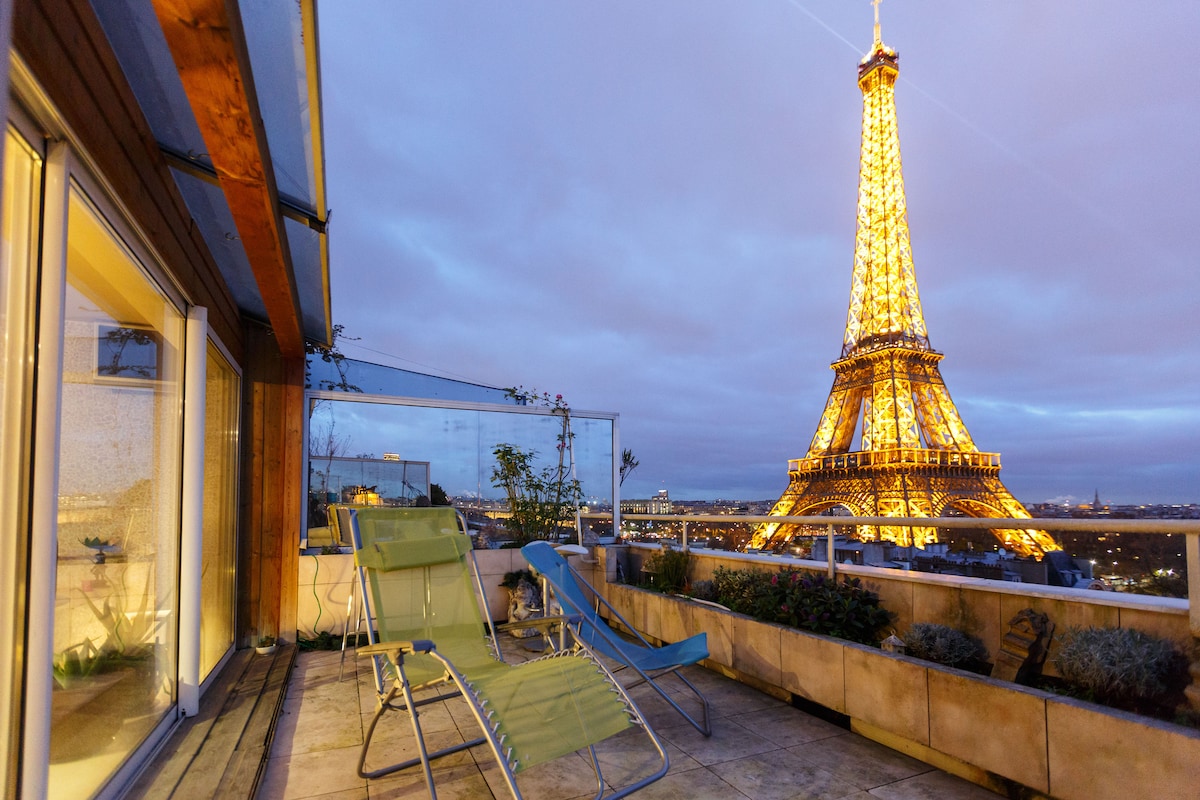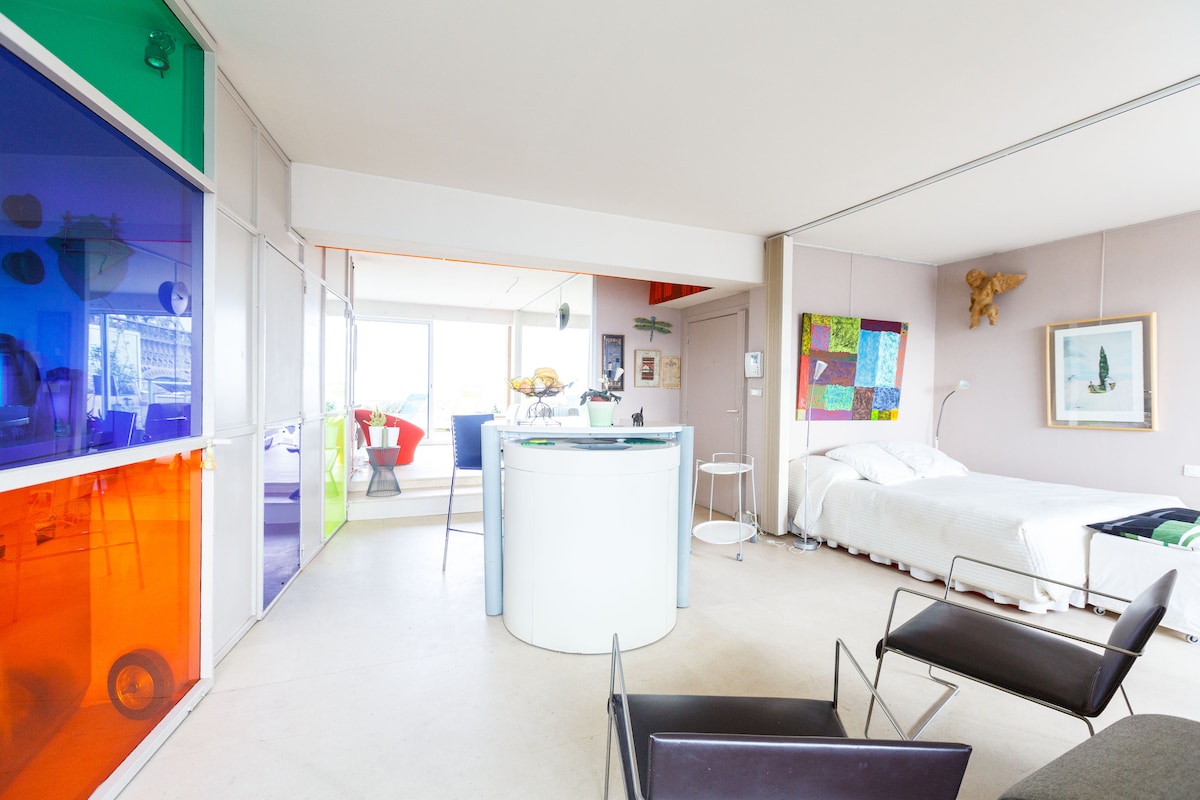 Enjoy the candlelight dinner with your beloved partner in front of the magnificent Eiffel Tower in the balcony of this Condominium.
This Airbnb Paris apartment with Eiffel tower view is a well-equipped place with famous Bir-Hakeim Bridge, city metro, and renowned restaurants and shops located nearby.
Other friendly services include travel cot, bathroom and kitchen essentials, paid parking, lockbox, smoke alarm, etc.
Sleeps: 2 people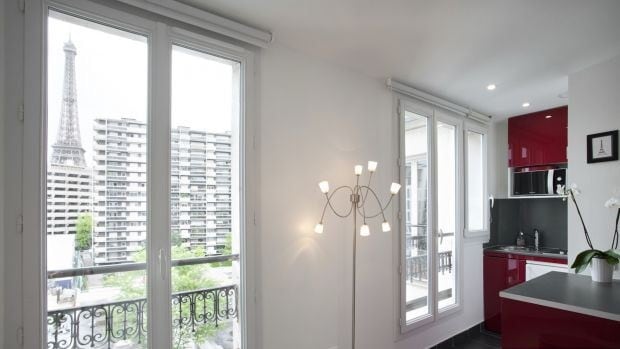 Just near Eiffel Tower and Largest Mall of Paris, this studio apartment displays a breathtaking balcony view. The contemporary Airbnb is unique because you can enjoy your meals in front of the 'Iron Lady.'
Other necessary amenities offered here are laptop-friendly workspaces, Wi-Fi, cable TV, hot water, modern kitchenette and bathroom, long-term stays, and much more.
Sleeps: 2 people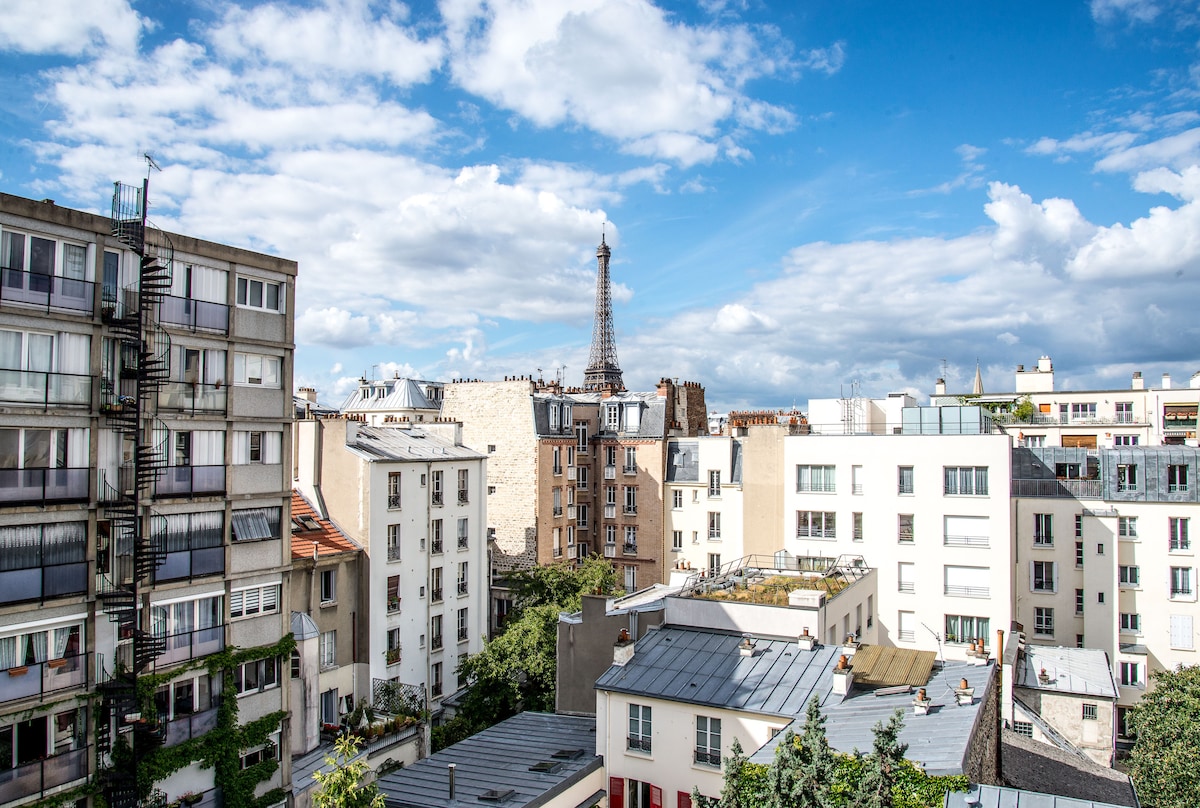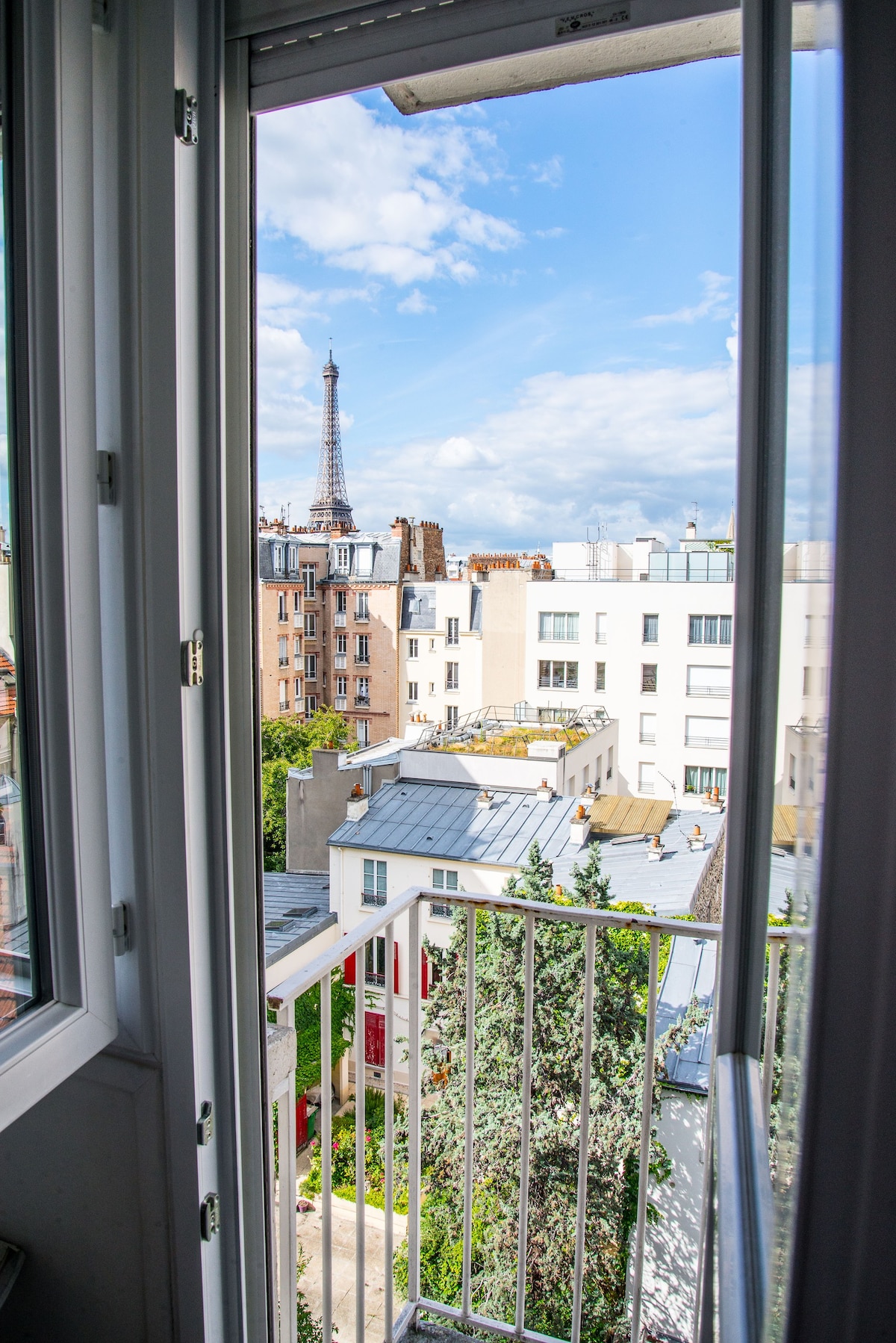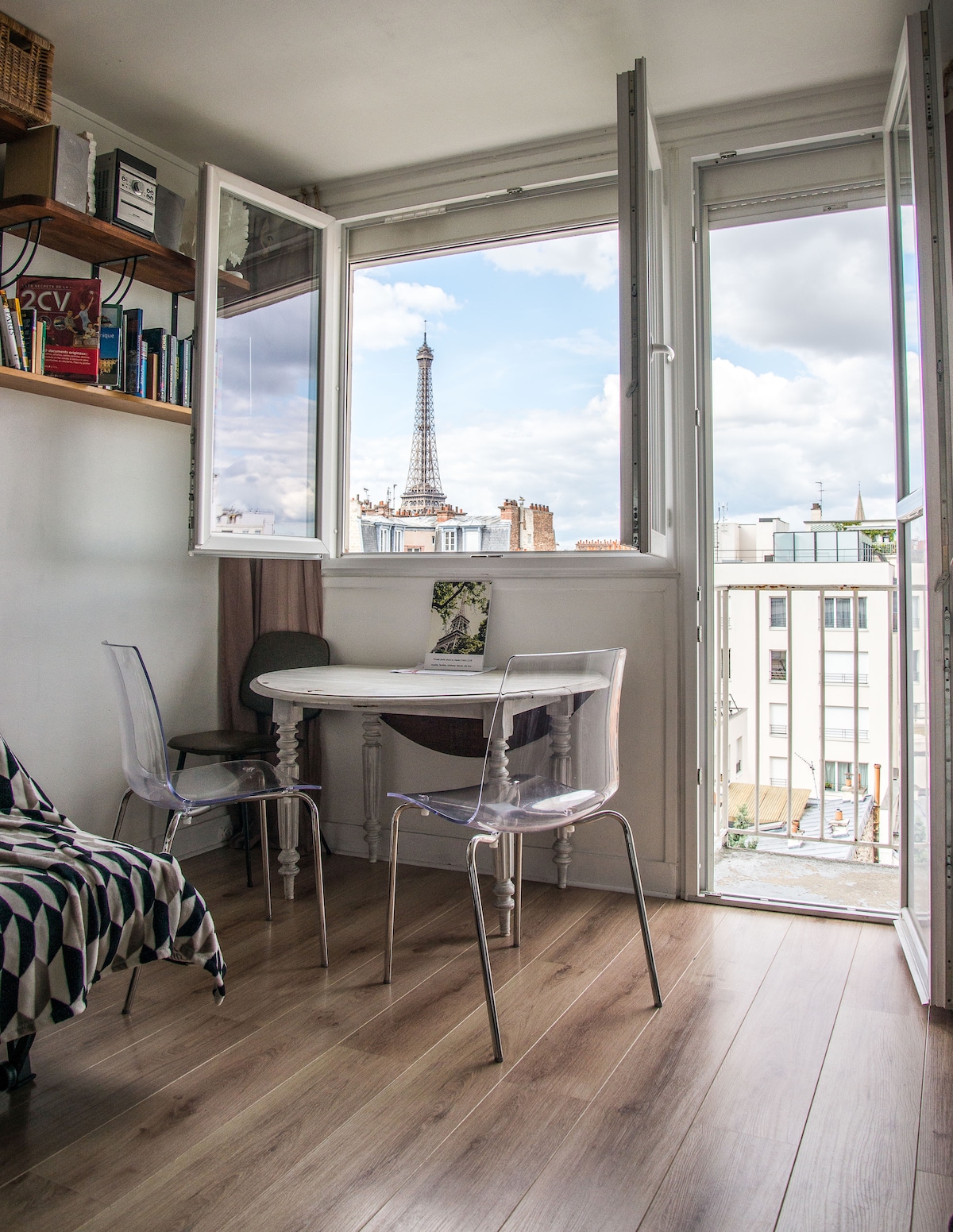 It is a beautiful and bright Airbnb Paris close to Eiffel Tower and other famous restaurants. You can find a metro near the building with a big shopping center next to the apartment.
The safety and health of guests are one of the priorities with free cancellation for 48 hours. Other amenities guests can find here include a desk for laptop, Wi-Fi, hot water, bathroom, and kitchen essentials, lift, Smoke alarm, etc.
Sleeps: people
Price: £1419 per month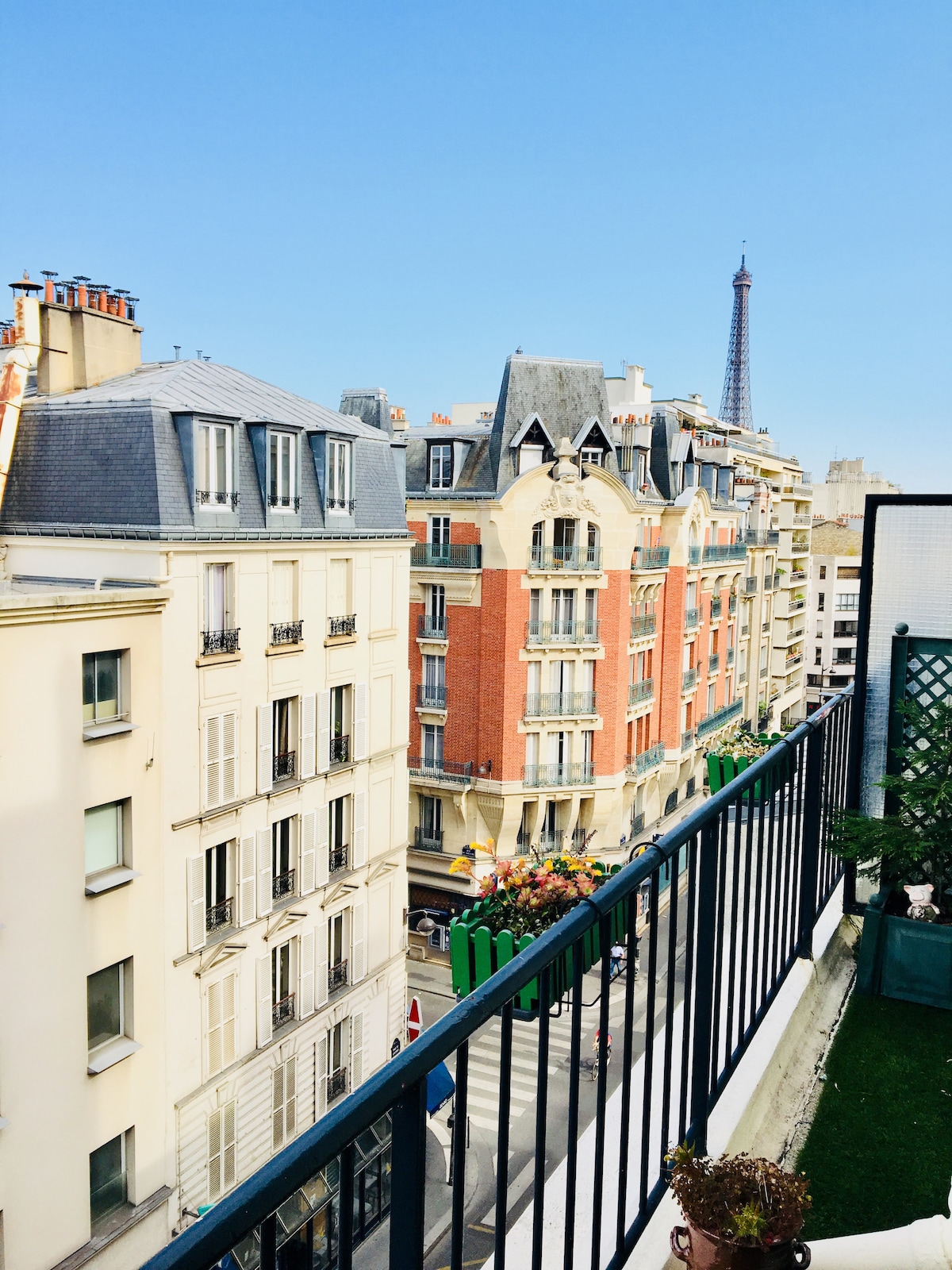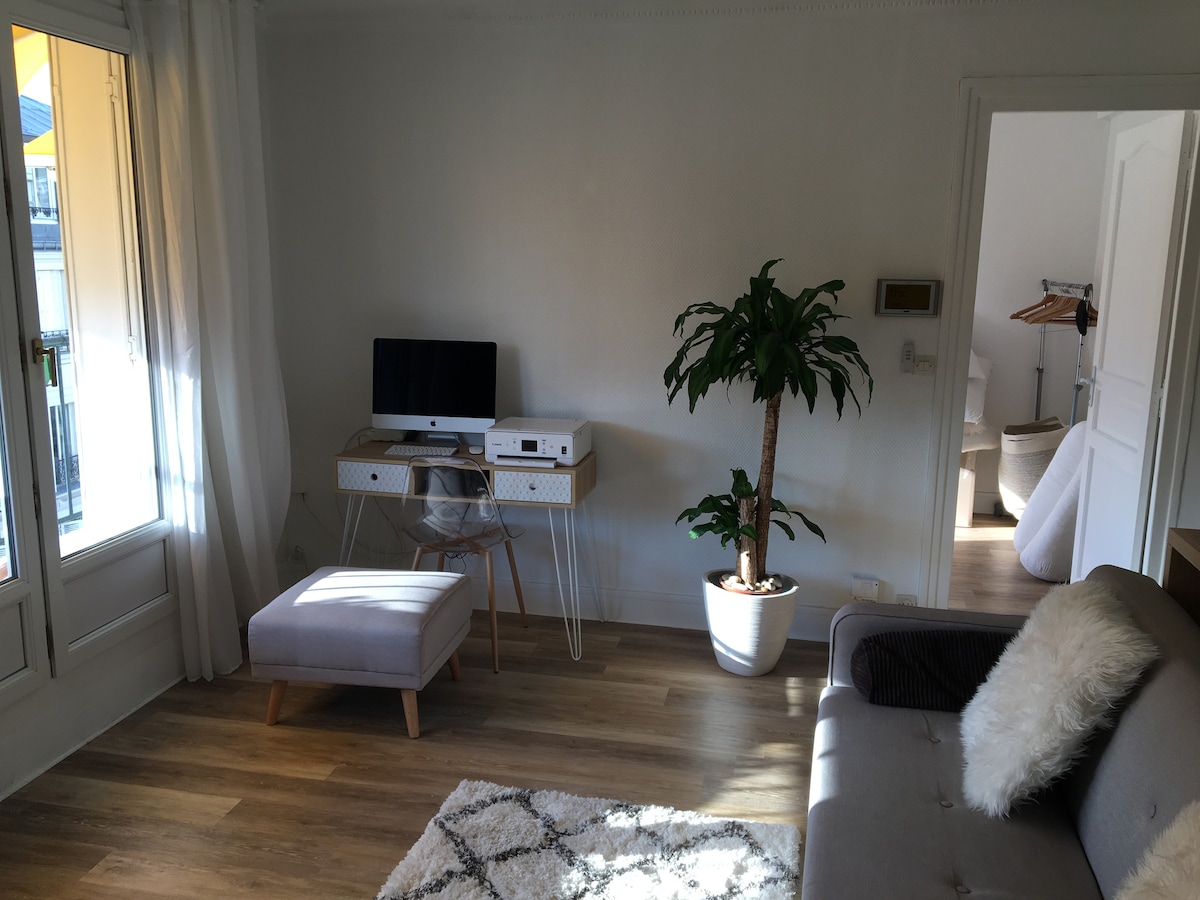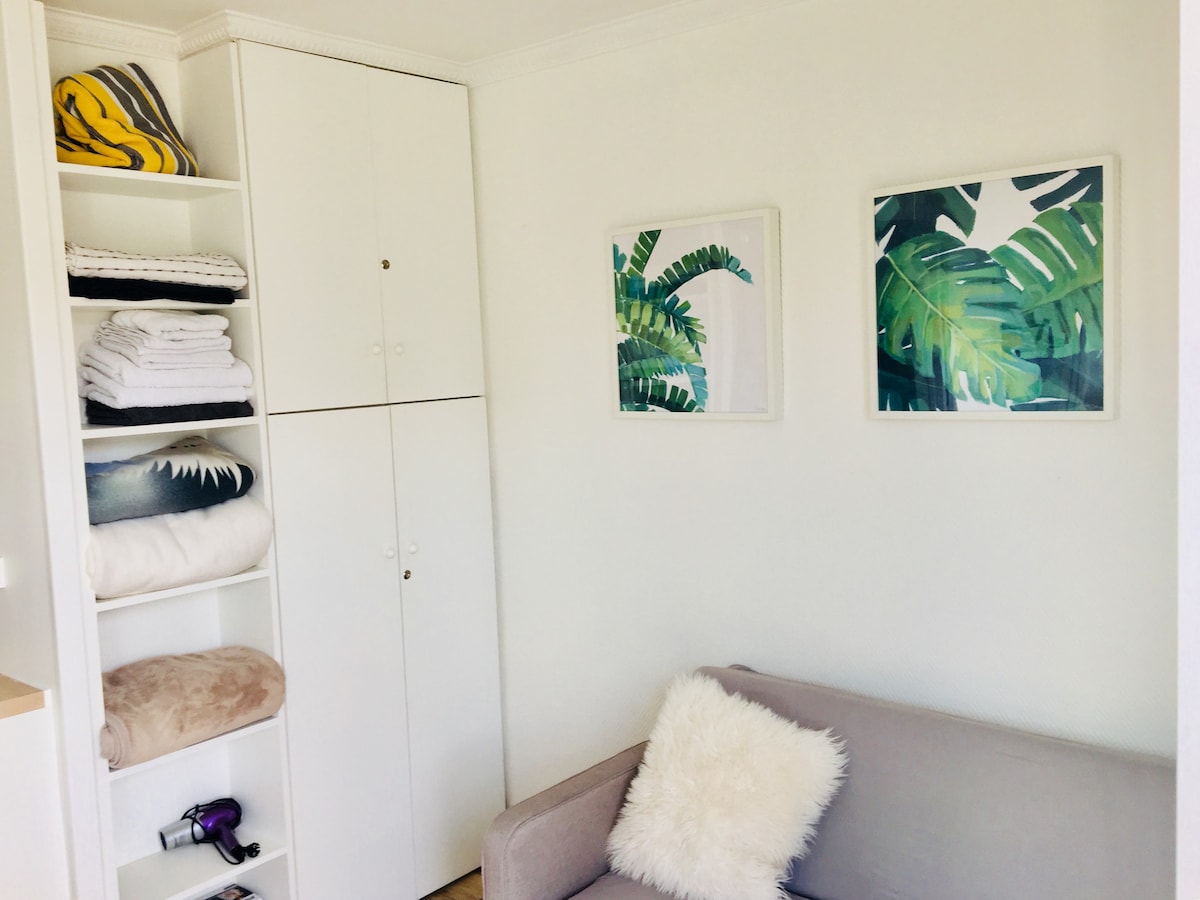 Do you want to experience thrill and adventure? If yes, this amazing private studio set-up in a houseboat near Eiffel Tower is the one.
This 38m long péniche is comfortable as you get private access to the kitchen and bathroom. Just under the Eiffel tower, you can enjoy your breakfast, romantic dinner, or a BBQ.
You can find famous galleries, shops, restaurants, Champs de Mars, Trocadero garden, etc. near the houseboat. Enjoy amenities like free parking, Wi-Fi, laptop-friendly workspace, travel cot, central heating system, long-term stays, etc.
Sleeps: 2 people
Price: £100 per night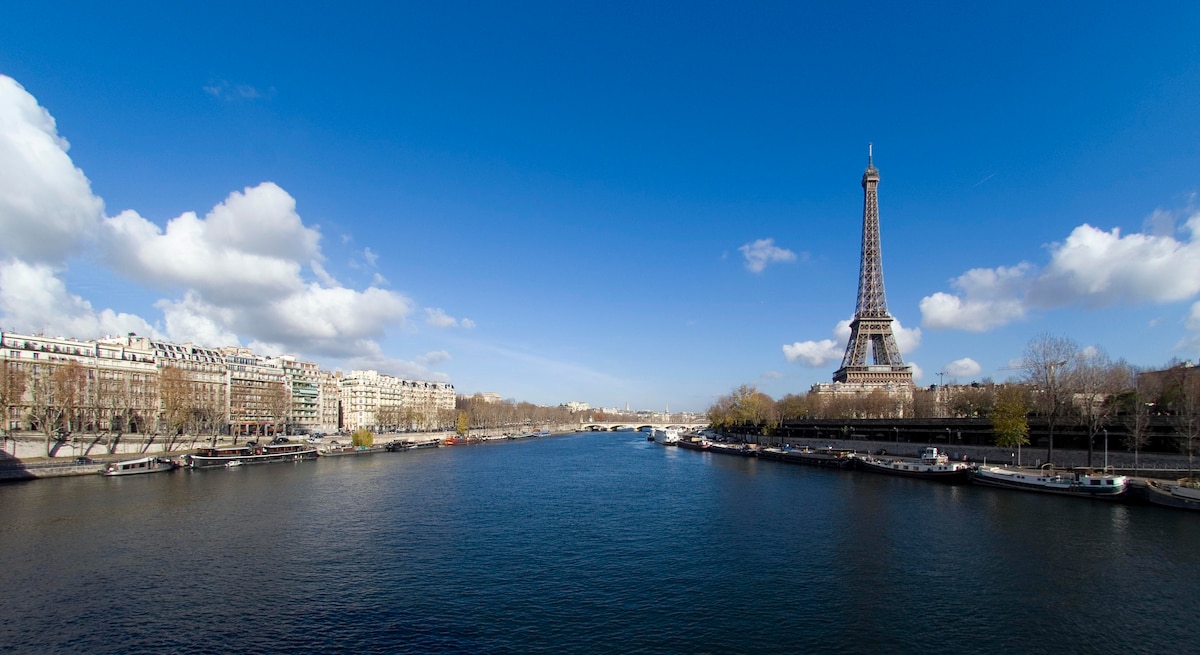 This luxurious Airbnb Paris near Eiffel Tower is a great space equipped fully for 5 guests. It gives a feeling of sitting right under the Eiffel Tower in a private balcony.
One of its bedrooms has a private bathroom with a 'sky rain Italian shower,' and another has the bathtub. Well, this Airbnb requires guests to sign the rental agreement.
Apart from this, the amenities offered here include free on-premises parking, modern kitchen, Wi-Fi, Lift, etc.
Sleeps: 5 people
Price: £309 per night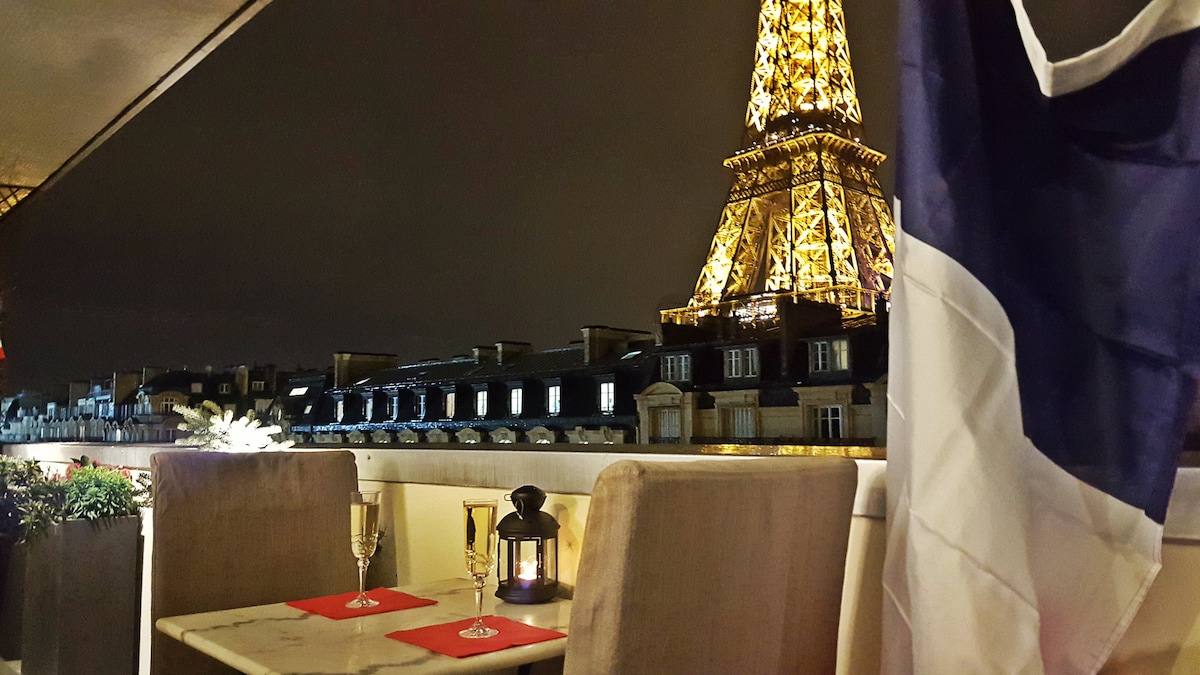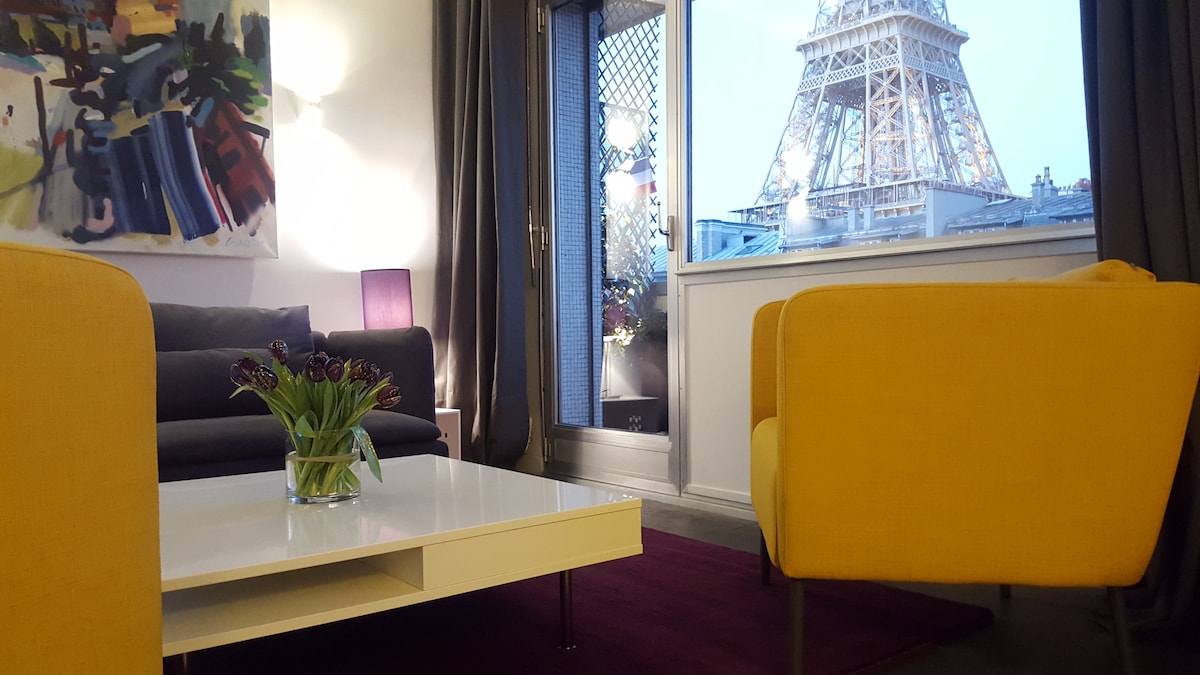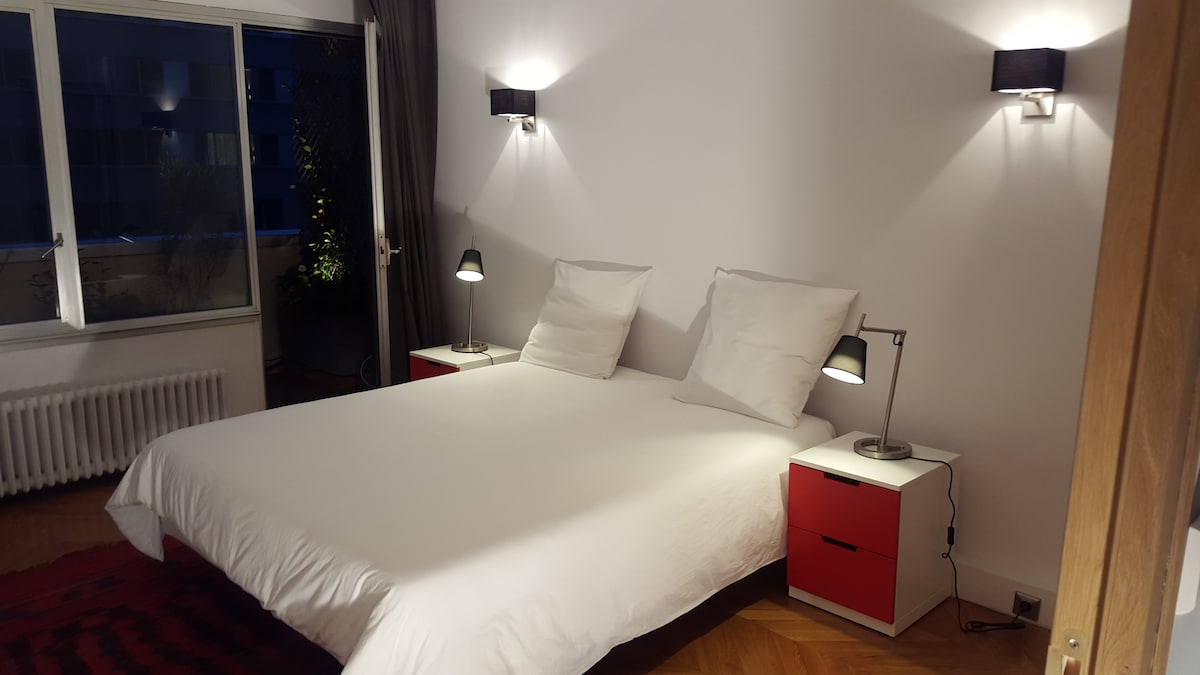 The significant thing about this luxurious yet historical Hausmann's building is the anti-COVID cleaning drive. Just at a walking distance, you will find Eiffel Tower, Trocadero garden, and Champs Elysees Avenue.
More to this Parisian style apartment is the provision of amenities like fully equipped kitchen, modern bathroom, a dining area with a bar, WC, the double-bed mattress used in the French Palaces, high-speed Wi-Fi, baby bed on the requirement, and much more.
Sleeps: 6 people
Price: £535 per night
This Airbnb Paris near Eiffel Tower is located in one of the safest and quiet locations. Eiffel Tower and Champ de Mars are located in its closed proximity.
The place is a 5-minutes walk from Rue Saint Dominique and Rue Cler. Other stunning views to see are Seine River, famous French Café and restaurants, Quartier Gros Cailloux, and Invalides.
Other amenities offered here are Wi-Fi, AC, modern kitchen, and bathroom, children's books and toys, travel cot, lift, Carbon Monoxide and Smoke alarm, etc.
Sleeps: 4 people
Price: £92 per night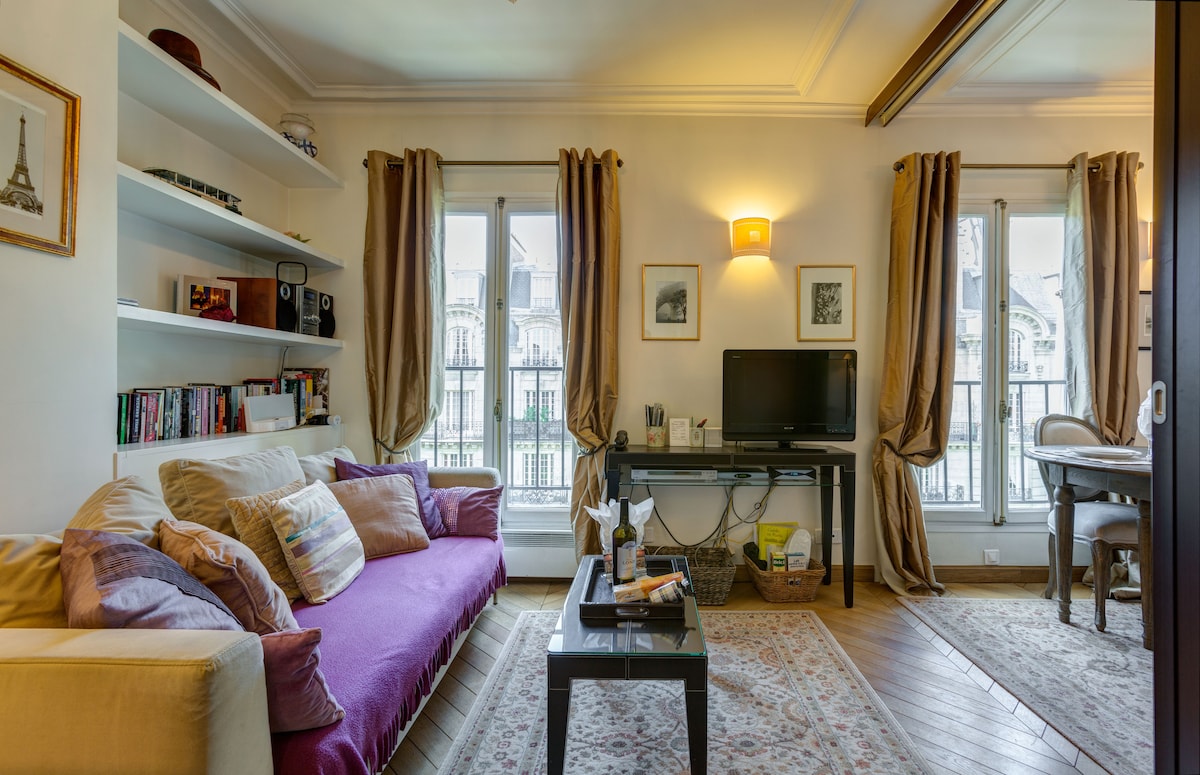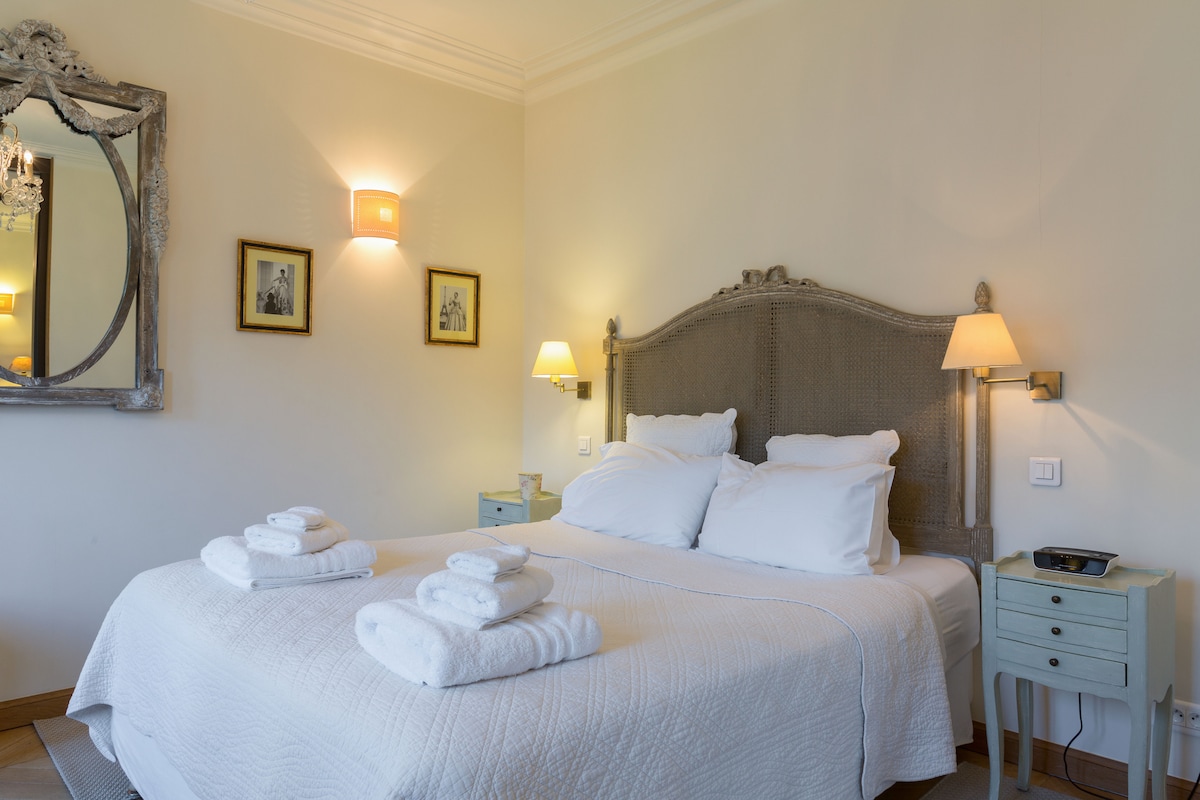 Also Read:
Pin For Later