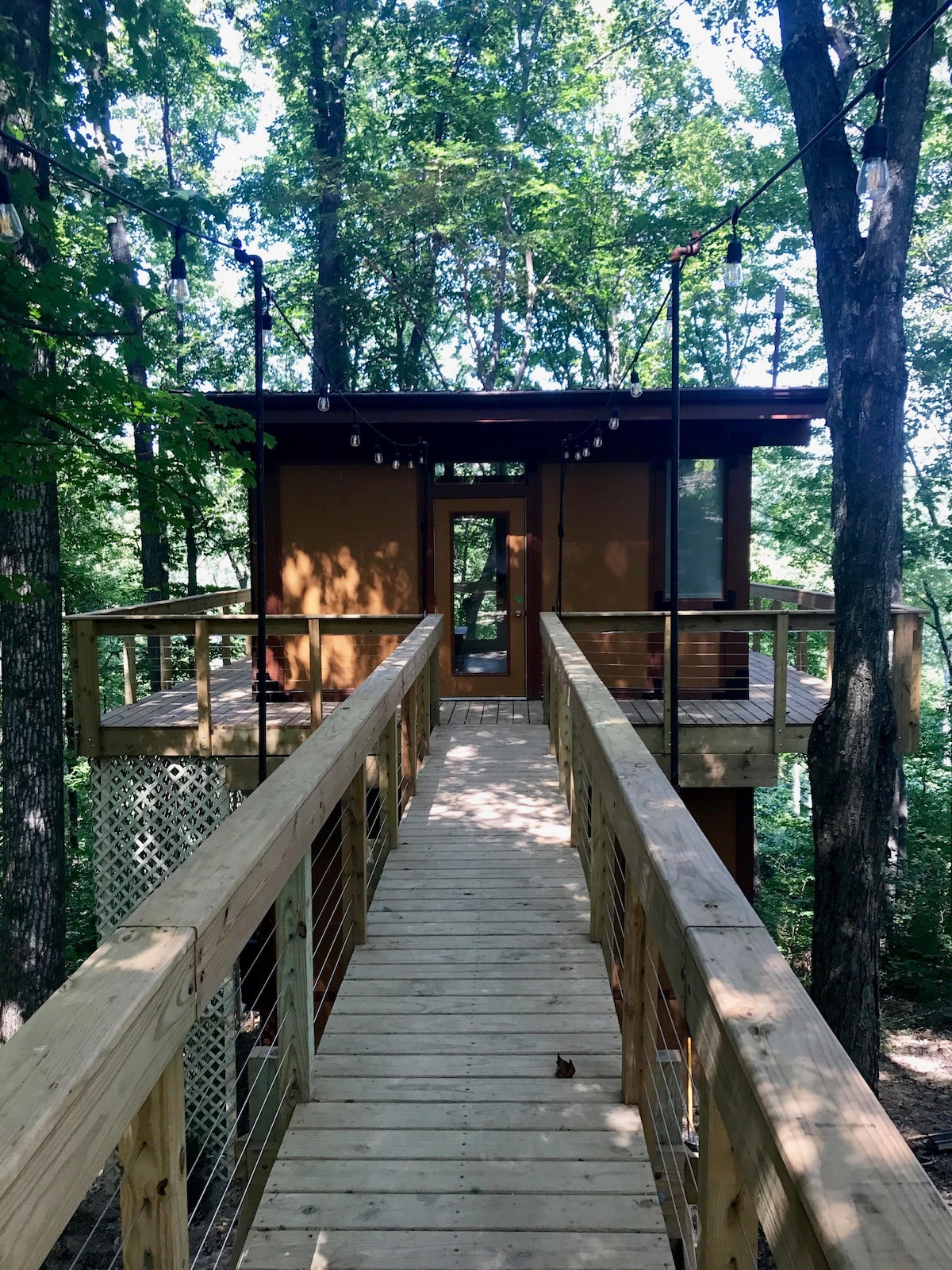 Hocking Hills is a scenic wonderland filled with diverse natural attractions. The area is known for its many parks and adventure spots, making it popular among outdoor lovers.
Although activities that can be done in the area are many, most people visit to engage in fishing, hiking, or boating while enjoying the fresh air.
For those that love walking, there are plenty of cool walking trails to keep you occupied. Additionally, Hocking Hills has several Airbnbs that are perfect for visitors planning a little getaway. Below is inspiration for those searching for amazing places to rent cabins in Ohio.
Cabins with Jacuzzis and hot tubs, stunning lakefront cabins and vacation and rentals for solo, family and couples getaways.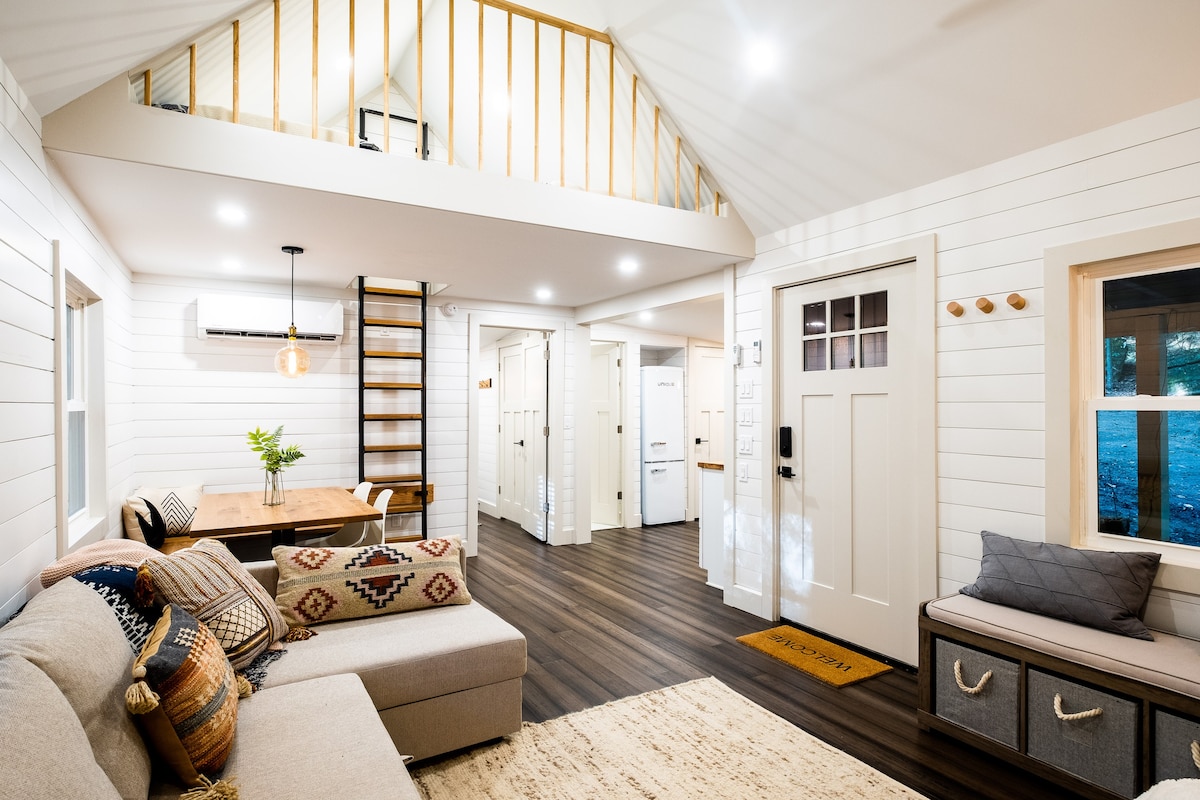 13 Airbnb Cabin Rentals Near Hocking Hills
Whether you want a little getaway from Columbus, Cincinnati, or coming from a little further afield. Hocking Hills has amazing options for those in need of some R&R surrounded by nature.
I have already shared additional info on cabin rentals near Hocking Hills, in this post its all about Airbnbs in Hocking Hills.
Complete with hot tubs, secluded for privacy, beautiful scenery, and for those looking for a bargain, depending on dates and seasons booked you can also find plenty of Hocking Hills Cabins Under $100.
Beautiful Dunlap Hollow Cottage Rental In Hocking Hills
The surroundings of Dunlap Hollow Cottage, which includes beautiful forest, flowing stream, and sandstone cliffs, makes for great outdoor adventure.
Recently renovated, the little cabin with one bedroom and bathroom has modern amenities that guarantee guests a relaxed stay.
Although small, the cottage can comfortably accommodate six guests with access to the Wi-Fi connection, television, and hot tub.
The cabin is also near Hocking Hills state park, which is excellent for hiking. Click for more pictures and check availability.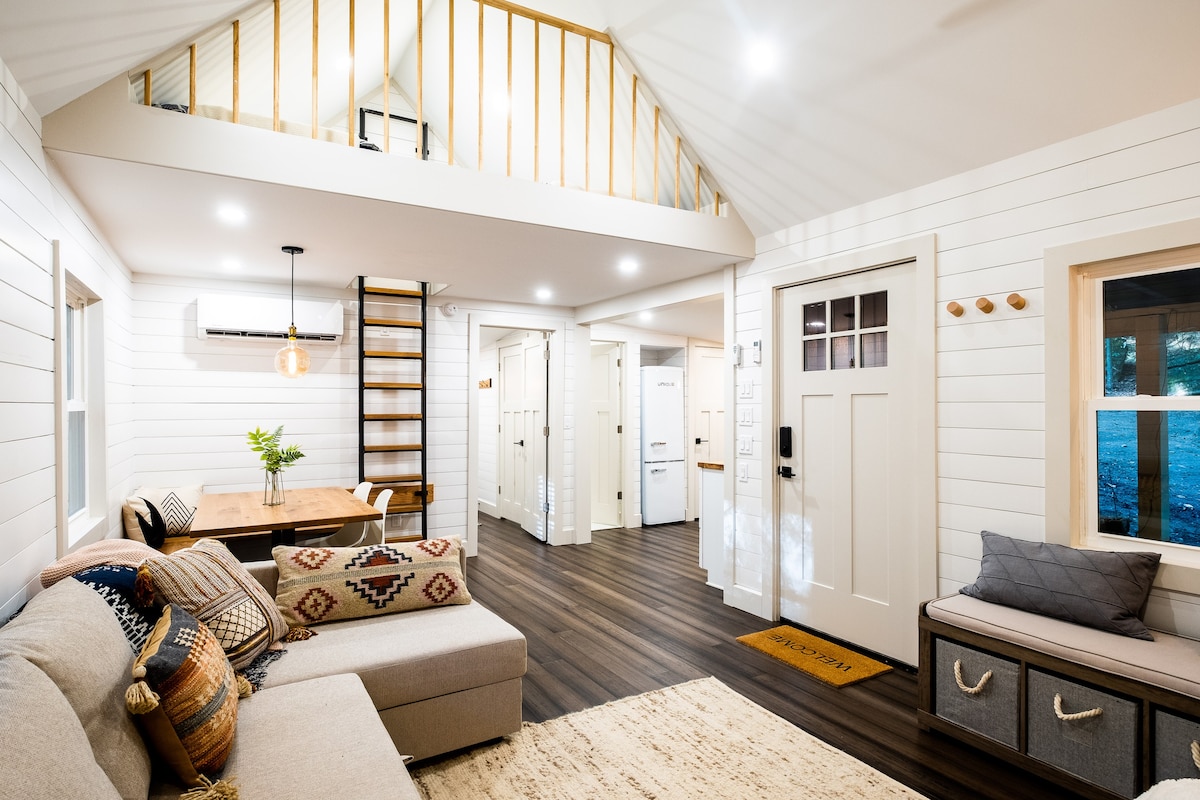 The Loft Cabin Airbnb In Hocking Hills
Standing on four acres, the Loft is the perfect setting for a relaxing weekend in the woods. The cabin has all the modern amenities you need for a comfortable without taking away from the rustic experience.
Up to four guests can fit in the space, with two bedrooms and one bathroom plus a hot tub on the front porch.
Outside the cabin are a fire pit, gas grill, and fireplace that can serve as an alternative cooking area for guests.
For fun, guests can use the DVD library, board games, or drive to nearby Hocking Hills attractions, including Boch Hollow. Click for more pictures and check availability.
Cute Verde Grove Cabin Airbnb With Hot Tub
Imagine having fifty acres of land all to yourself in the woods to enjoy your vacation. Verde Grove gives holidaymakers this and more when they choose to stay at the cabin.
The cabin has two bedrooms and one bathroom which can accommodate four guests. Its interior is simply furnished with modern amenities to ensure a comfortable stay.
For those that prefer spending time outdoors, the property has a fire ring, screened porch, and gas grill.
Besides the tranquil environment, guests can also visit the nearby Wayne National Forest, Hocking Hills State Park, Lake Hope State Park, and the Historic Arts District in Nelsonville. Click for more pictures and check availability.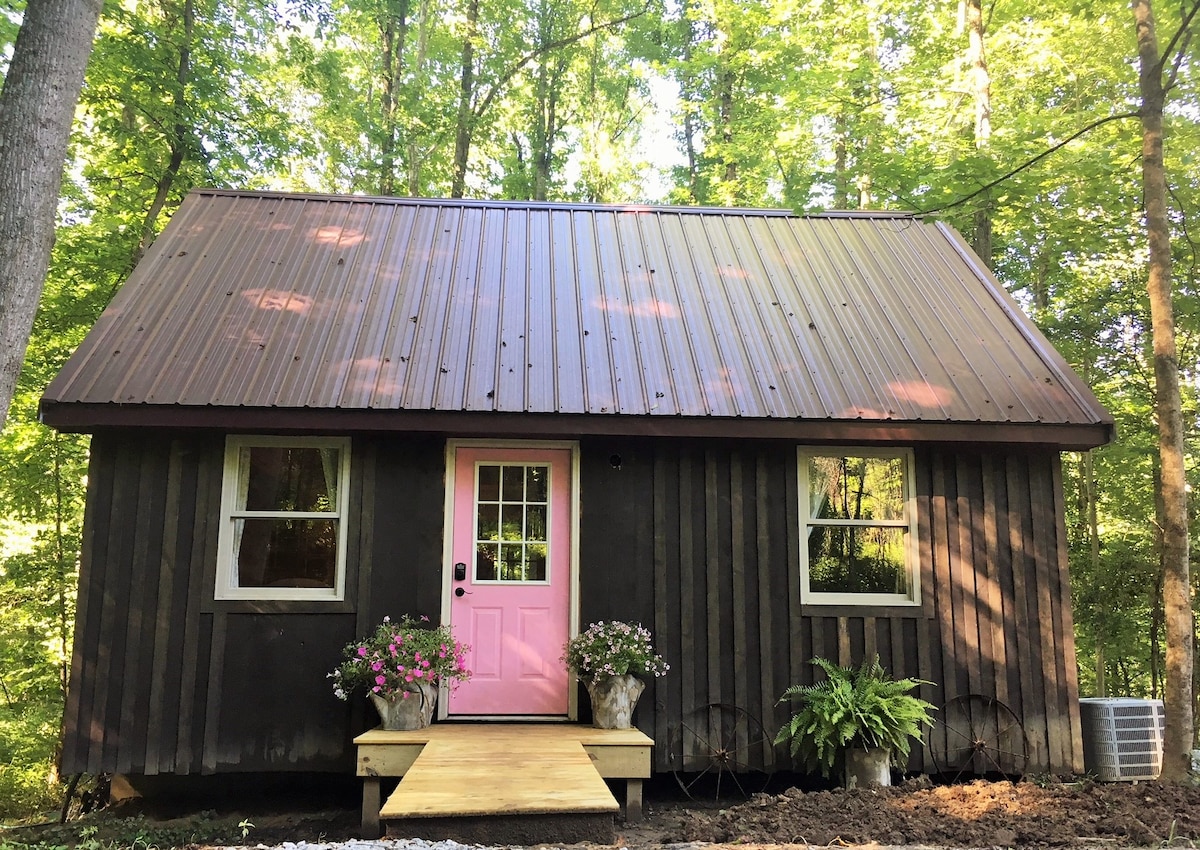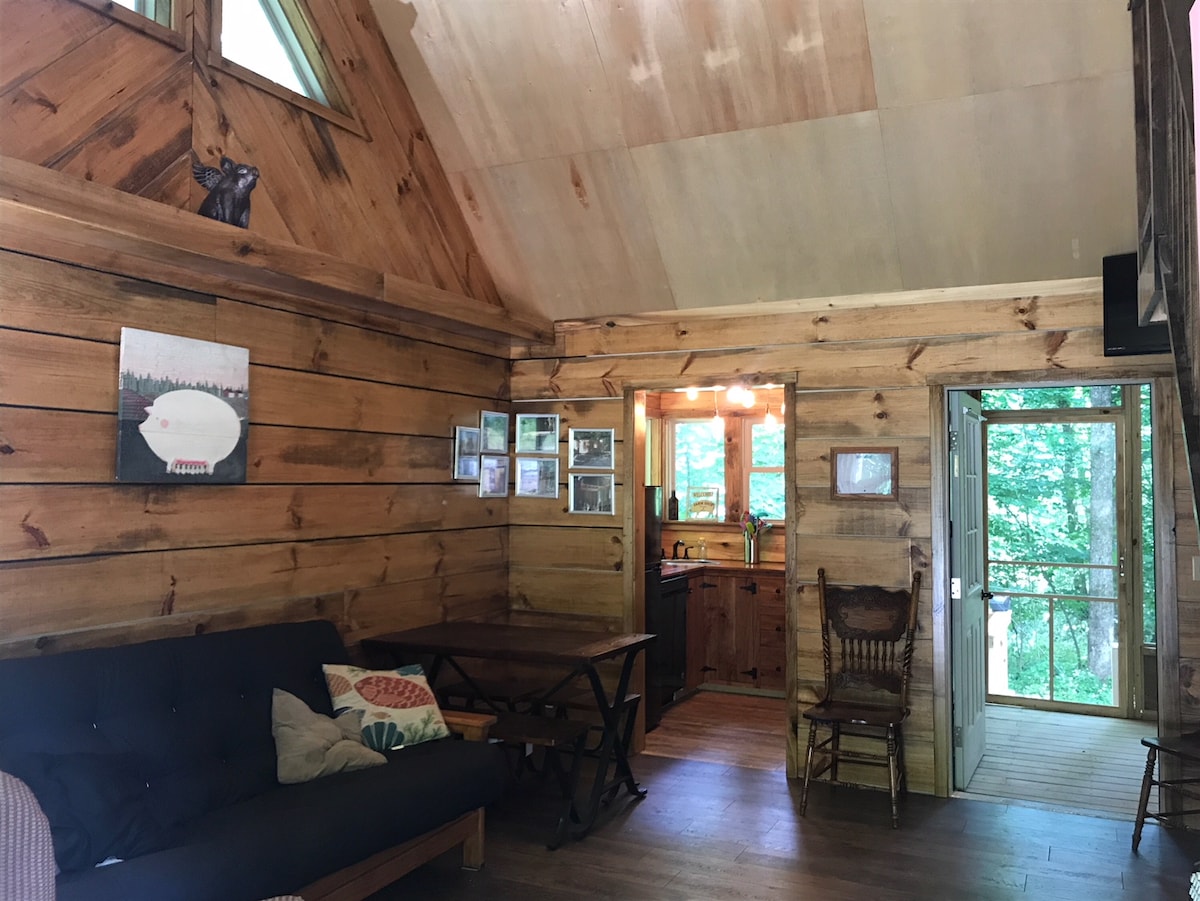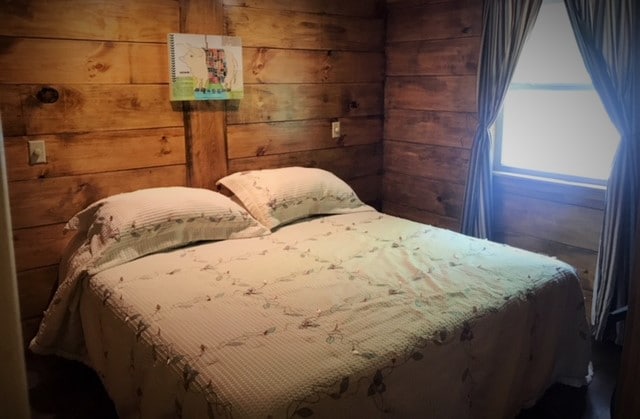 The Country Cottage With Cool Scenery
The Country Cottage gives guests a private space that they can enjoy as they immerse themselves in nature.
The handcrafted cottage has one bedroom and one bathroom that can accommodate four guests because of the bunk beds. Its living room, fully equipped kitchen, fireplace, and other amenities make it the perfect spot to stay.
On the outdoors is a screened porch, walking trails, and enough space to hang out or play games.
Not too far is Cedar Falls, Rock House, and Old Man's Cave, which are only a few minutes away. Click for more pictures and check availability.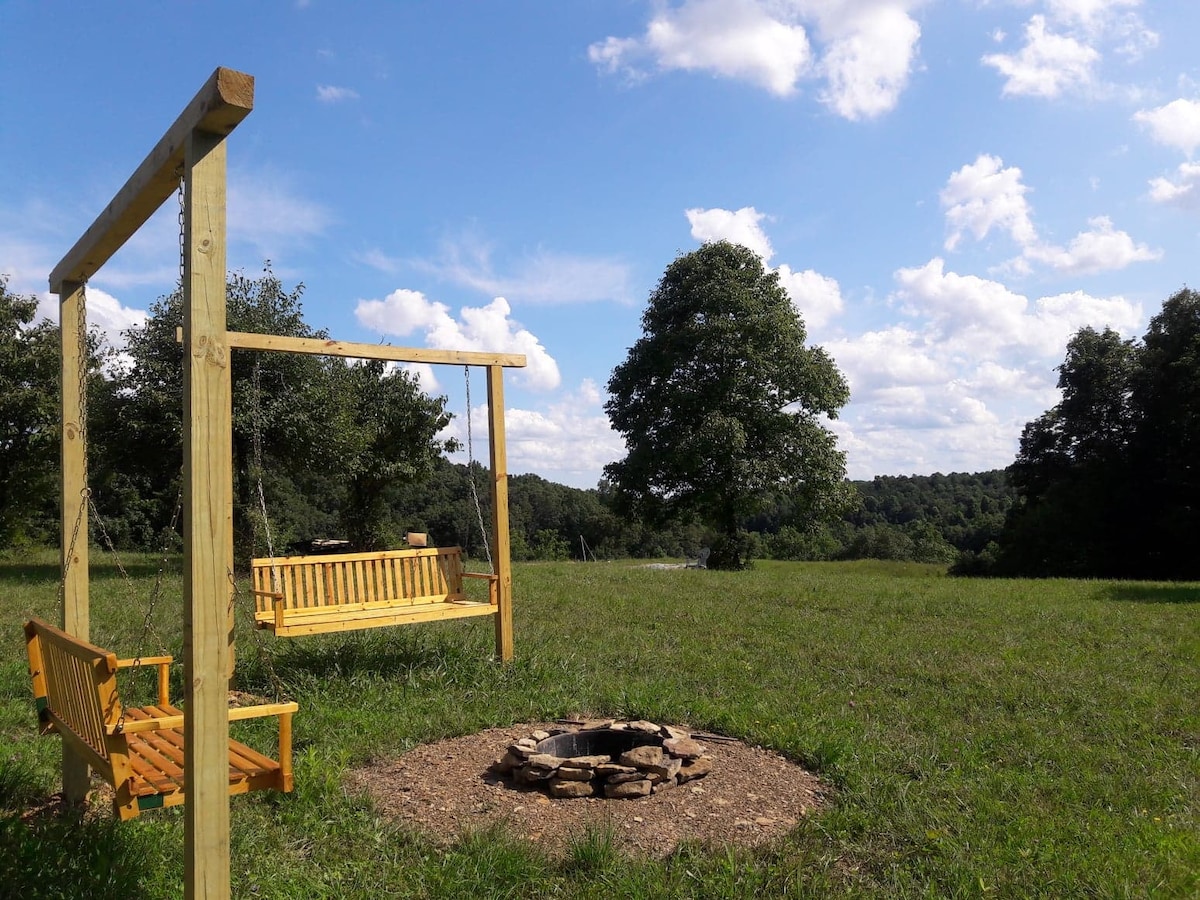 If you are looking for country convenience for a getaway, then Hills Song Cabin is the perfect getaway spot.
The cabin has two bedrooms and one bathroom, which is ideal for four guests, including families. Its interior is a showcase of excellent sixties craftsmanship seen in the different rooms within the space.
Besides the usual amenities, guests also have access to a hot tub, fire pit, grill, and porch swing convenient when outdoors.
The single-level home is near several attractions, such as Lake Logan, Millstone BBQ, and Hocking Hills State Park, which is a few miles away. Click for more pictures and check availability.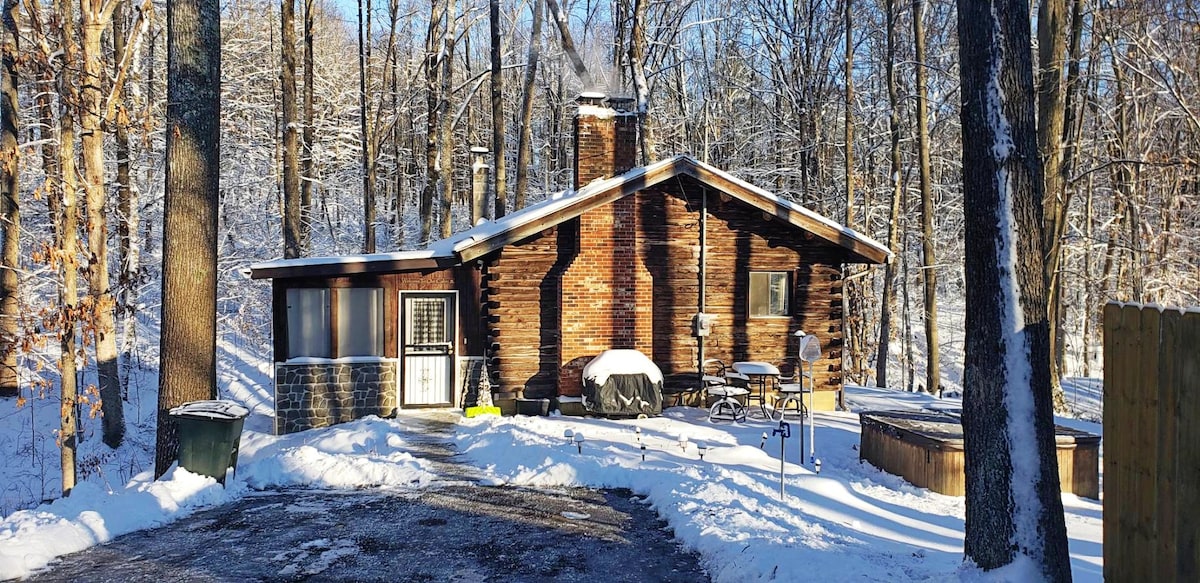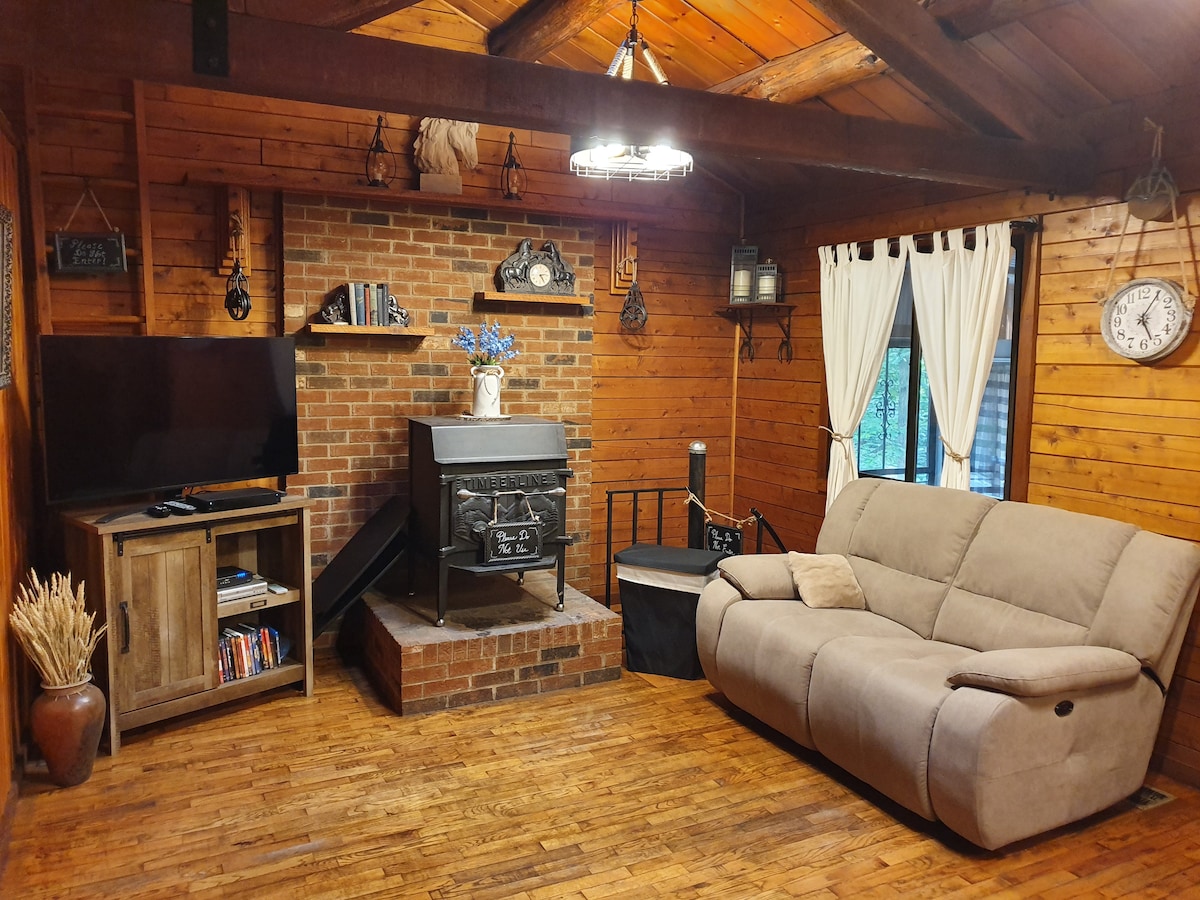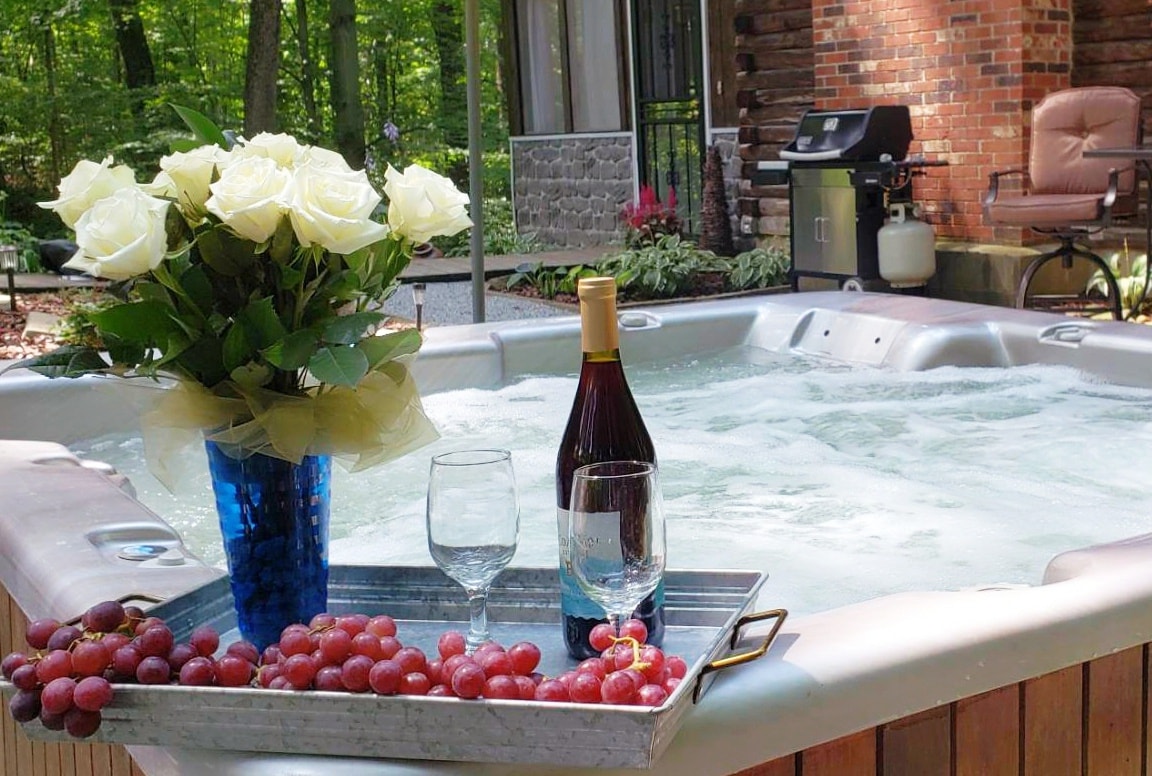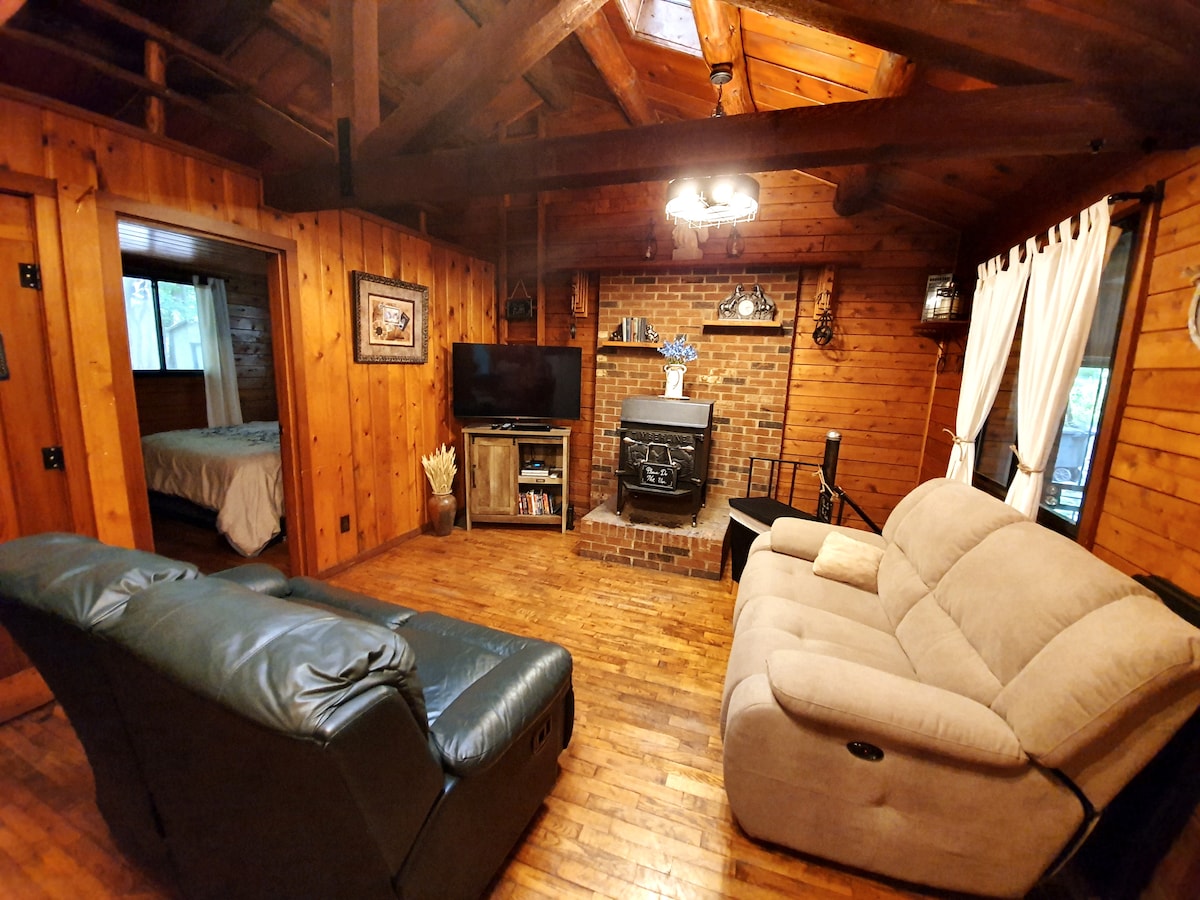 Wyandot stands on thirty-five acres of beautiful forest surrounded by numerous nature trails. The cabin is ideal for large groups and families, including pets, which can fit in its three bedrooms and 11/2 bathrooms.
Up to seven guests can stay at the cabin and enjoy the amenities such as a newly renovated and equipped kitchen.
It also has a hot tub within a covered porch for ultimate privacy. Exploring the many hiking trails like Mingo, Buckeye, and Hidden Hollow is fun as they lead to different destinations. Click for more pictures and check availability.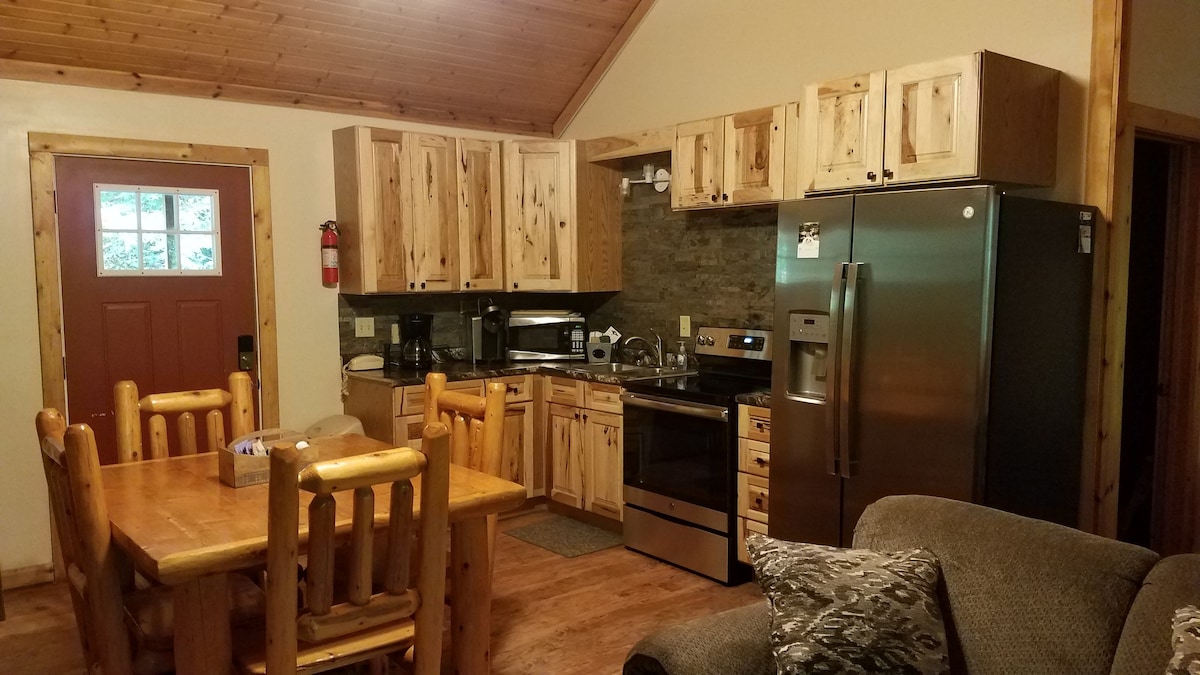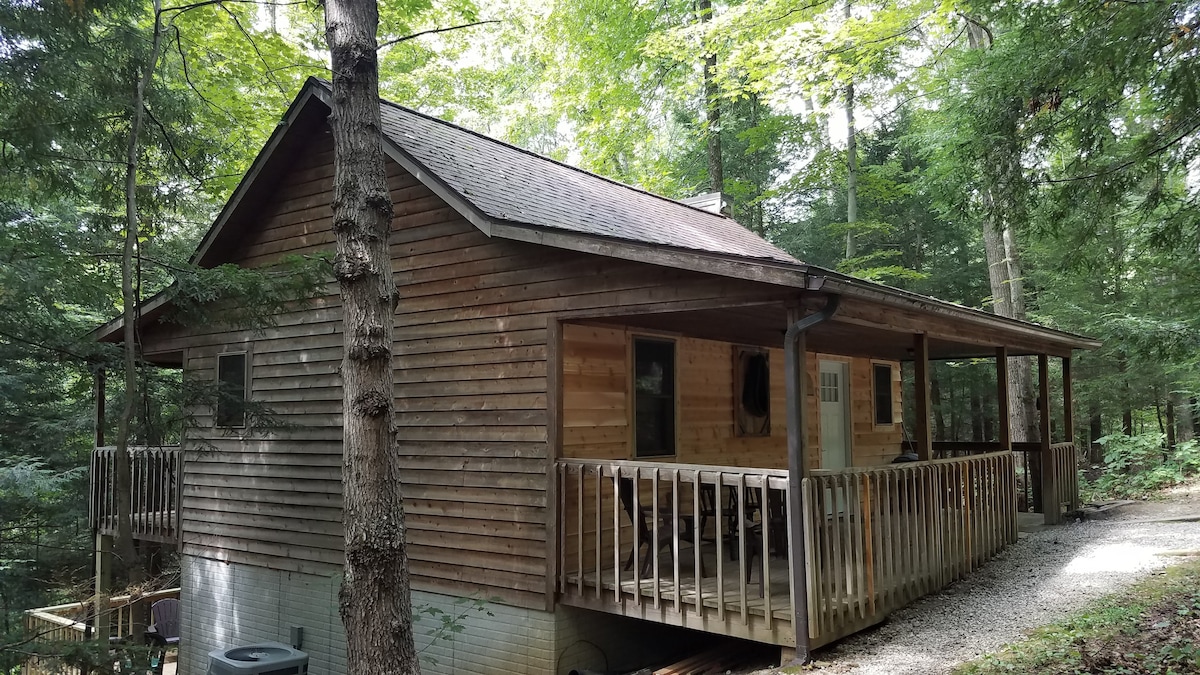 Beautiful Spacious Eagle Ridge Cabin
The cabin is ideal for travelers looking for a private getaway experience. It is a rustic retreat with large windows all around, giving guests a chance to enjoy a great mix of the beautiful interior and stunning outdoors.
It is a studio space with two bedrooms with one bathroom, which fits up to four guests.
The living room has basic amenities and an electric fireplace but no internet. Food preparation is done in the kitchen or outside on the charcoal grill next to the campfire ring.
Places to visit nearby are Ash Cave State Park, Old Man's Cave, and Conkles Hollow. Click for more pictures and check availability.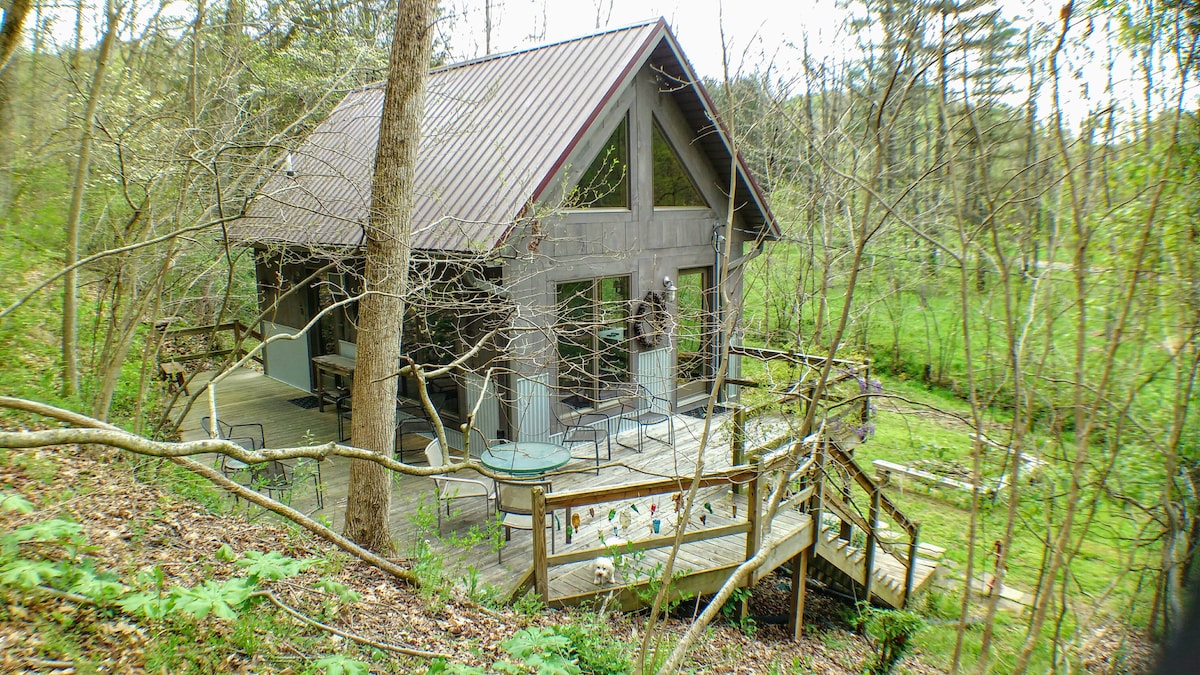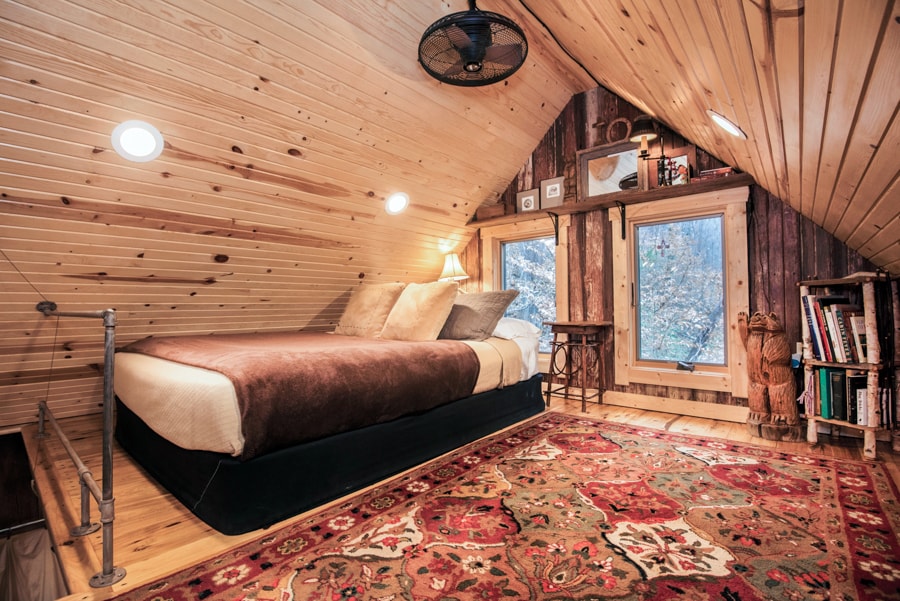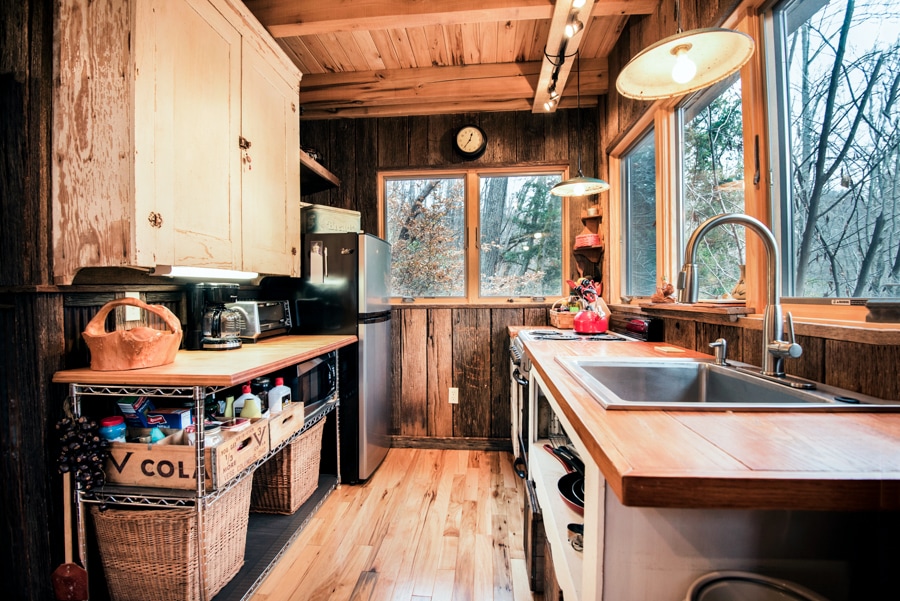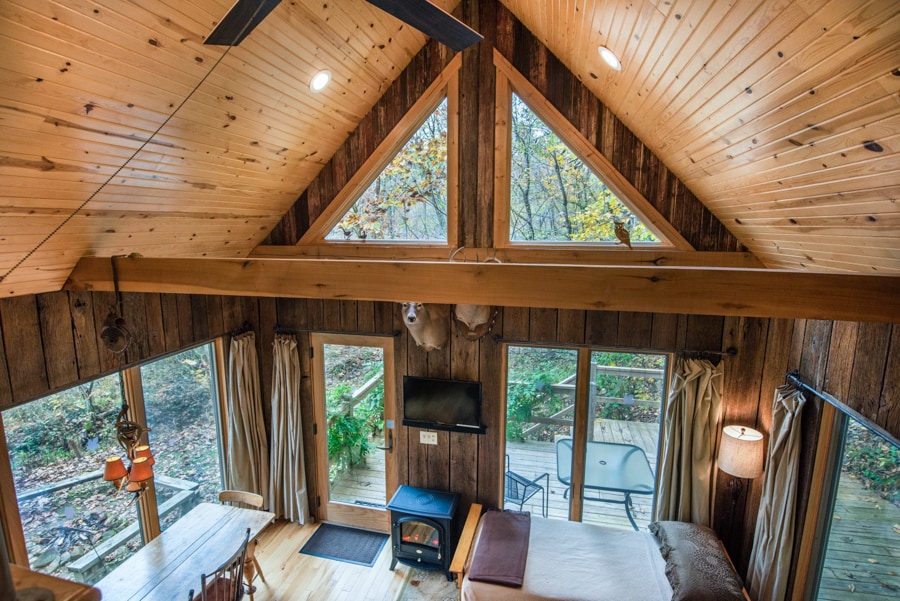 Cabin At Blue Gill Pond With Jacuzzi
Newly built, overlooking Blue Gill pond and standing on sixty acres, makes the cabin an idyllic location. Its two bedrooms and one bathroom are perfect for four guests who can fit on the queen beds.
Guests have access to a complete kitchen and furnished living room with satellite television.
Outside are extra amenities such as hot tub, gas grill, fire ring, and a deck. Guests can spend time fishing at the pond or hiking the trails during the day to relax.
For more exploration, visit Ash Cave or Old Man's Cave that is fifteen minutes away. Click for more pictures and check availability.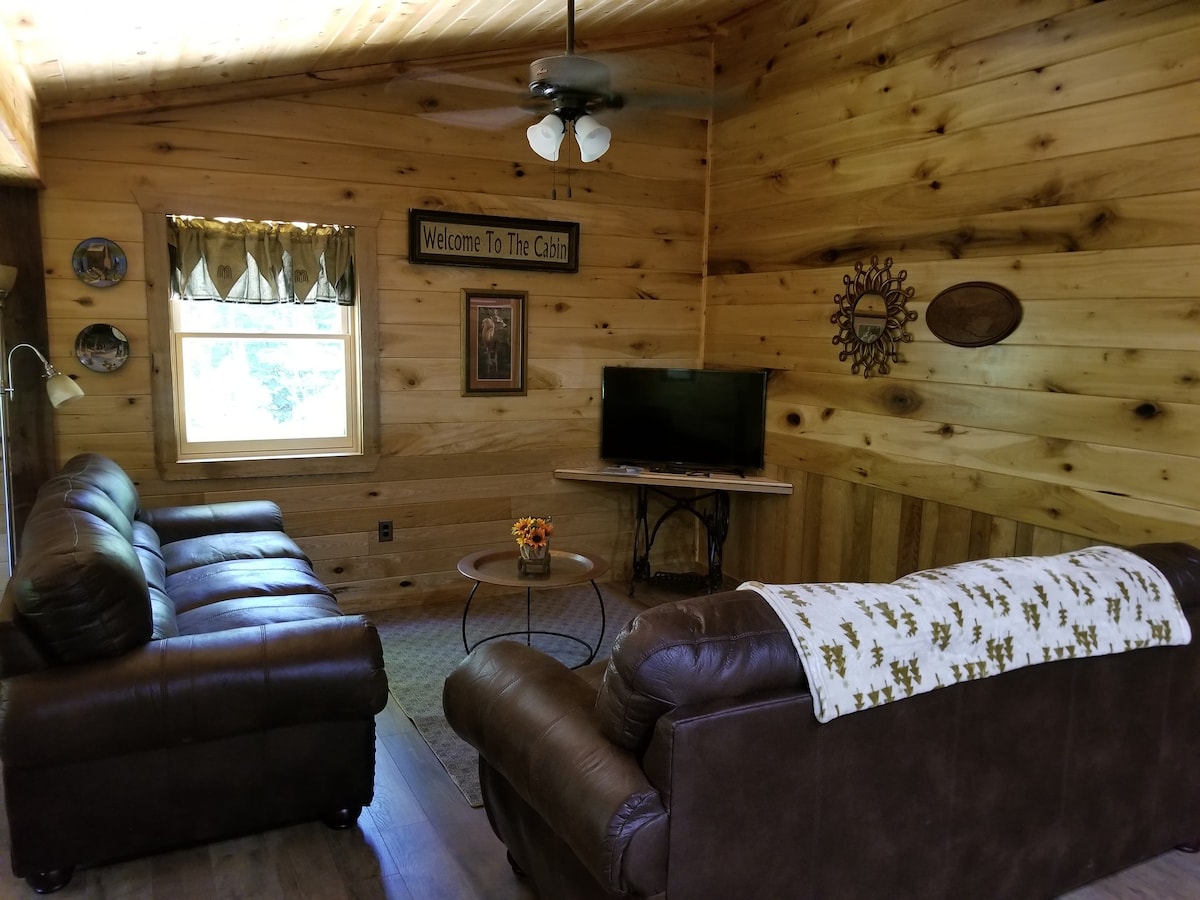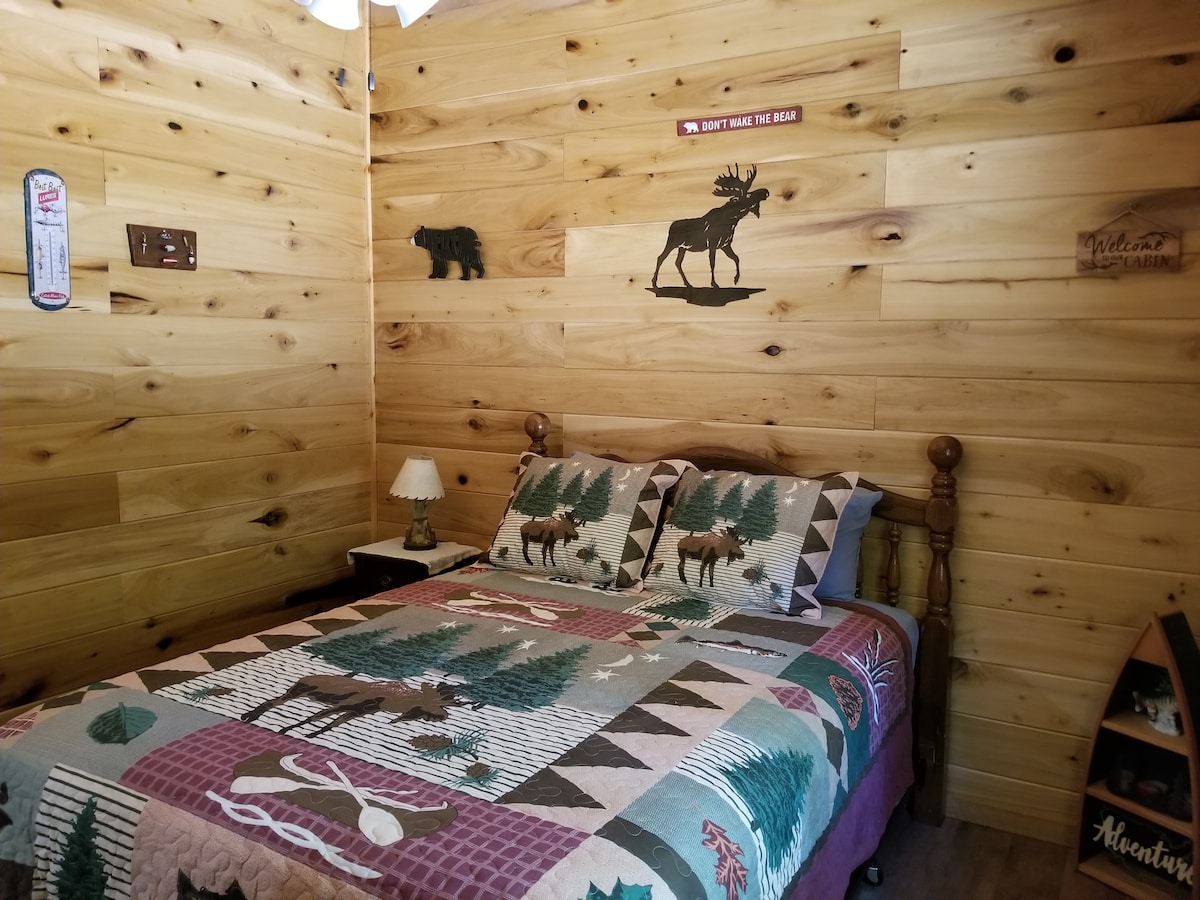 If you have fancied living in a log home with your family, consider planning a getaway to Honey Bear. The hideaway can accommodate six guests in its three bedrooms and two bathrooms with queen beds.
Guests have access to a cozy kitchen, satellite television, and a fireplace. To relax, you can sit on the porch, soak in the hot tub, or spend an afternoon hiking.
Boarders can go into the surrounding area for shopping and exploration of nearby parks. Click for more pictures and check availability.
Stunning Timber Ridge Cabin Rental
Couples will love the romantic vibes that surround Timber Ridge in Hocking Hills. The two-bedroomed cabin with two bathrooms is cozy with all the amenities needed to make your time in the woods memorable.
Its rustic interior with wooden floors, an indoor fireplace, and an equipped kitchen make it the best place to spend time with a loved one.
Besides, a stunning interior, the cabin has a hot tub, porch swing, fire pit, and charcoal grill outside.
The location is also near parks like Conkle's Hollow for those that want to explore the surrounding area. Click for more pictures and check availability.
Amazing Lakefront Cabin In Ohio
The Overlook is a one bedroomed cabin ideal for two guests, fully furnished with new furniture and appliances.
It has a complete kitchen with all the required equipment and a gas grill ideal for outdoor cooking.
Alongside the grill are a fire pit, hot tub, picnic table, and a deck that overlooks a stocked pond. Fishing on the lake is allowed, but guests can also use the paddleboat to further explore the pond.
Hiking at the nearby Rockstull spot is also a great way to have fun when staying at the cabin. Click for more pictures and check availability.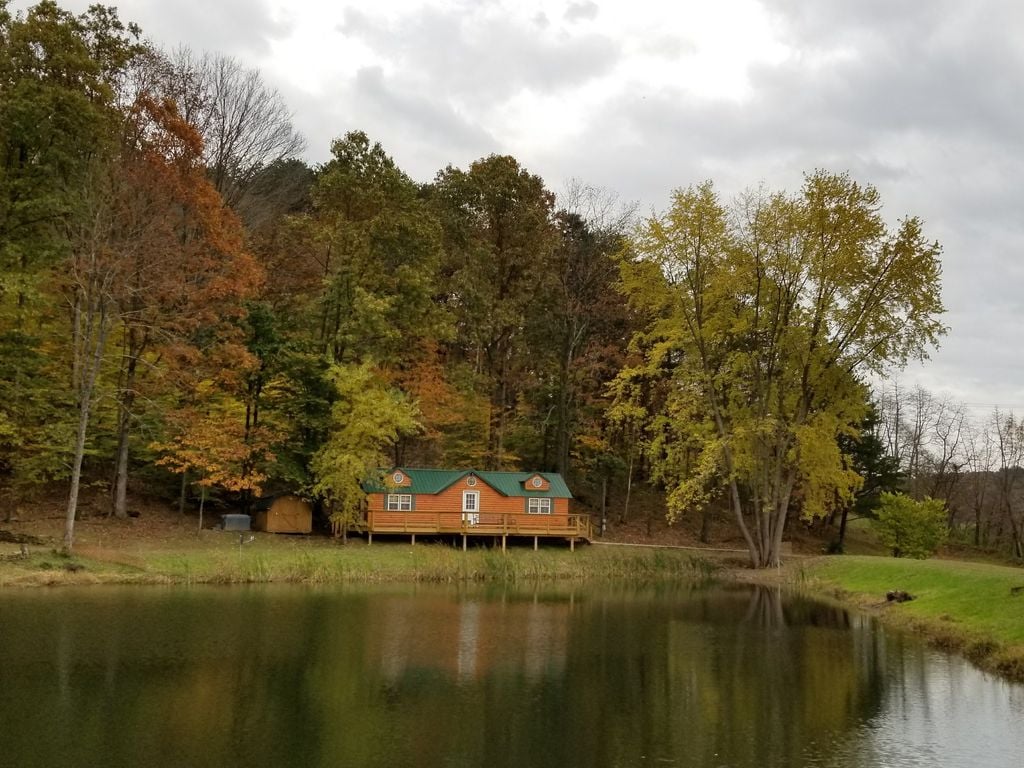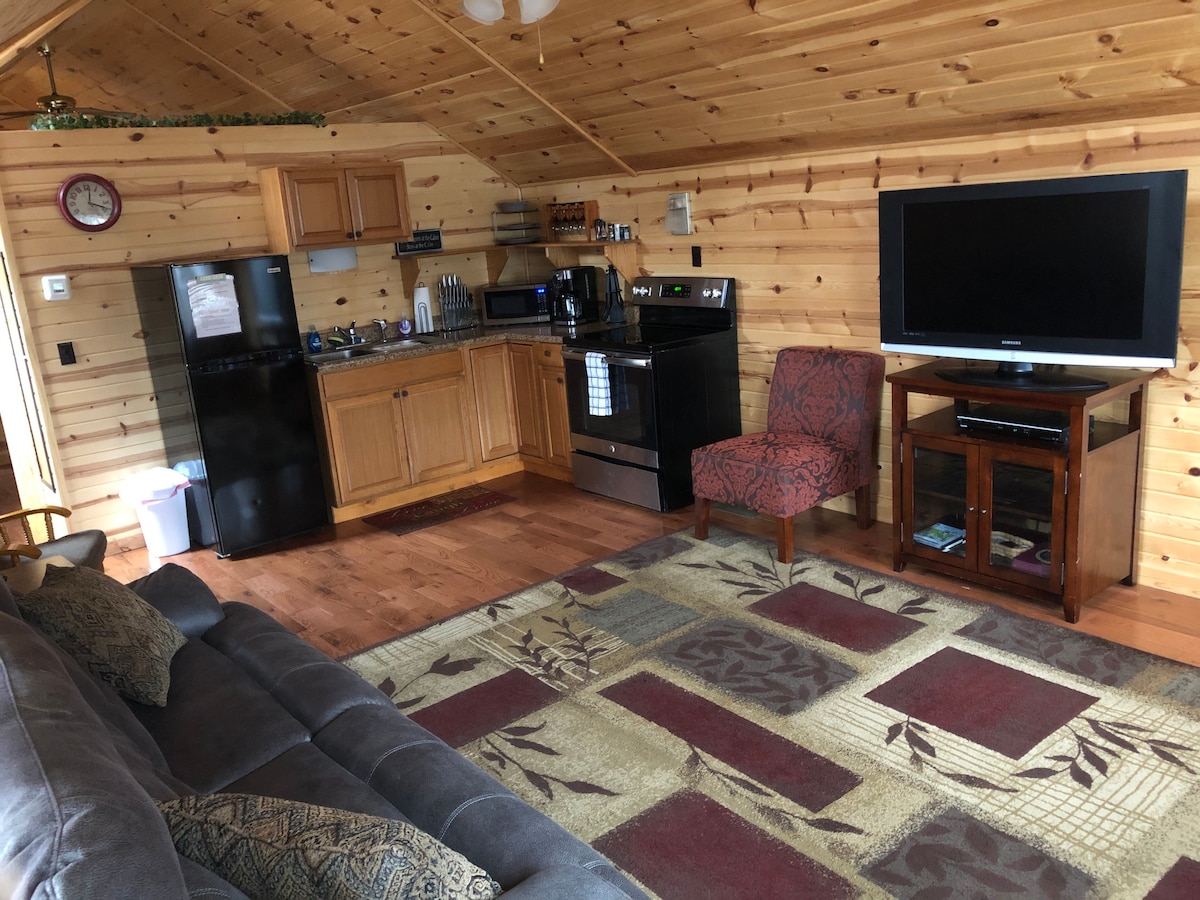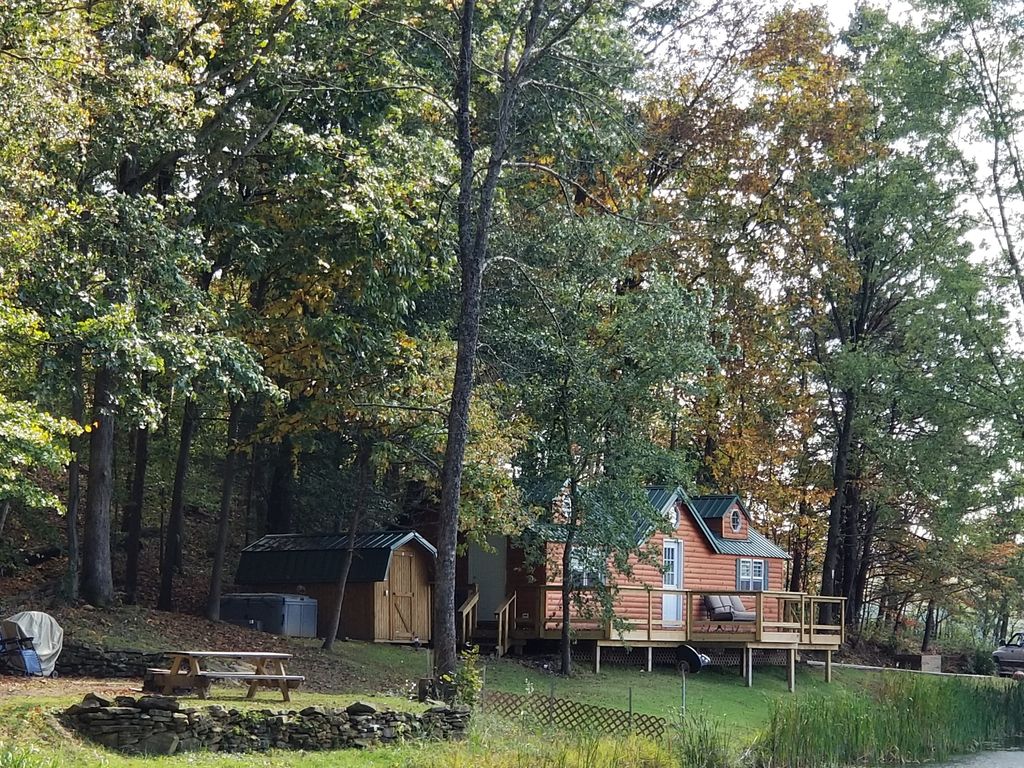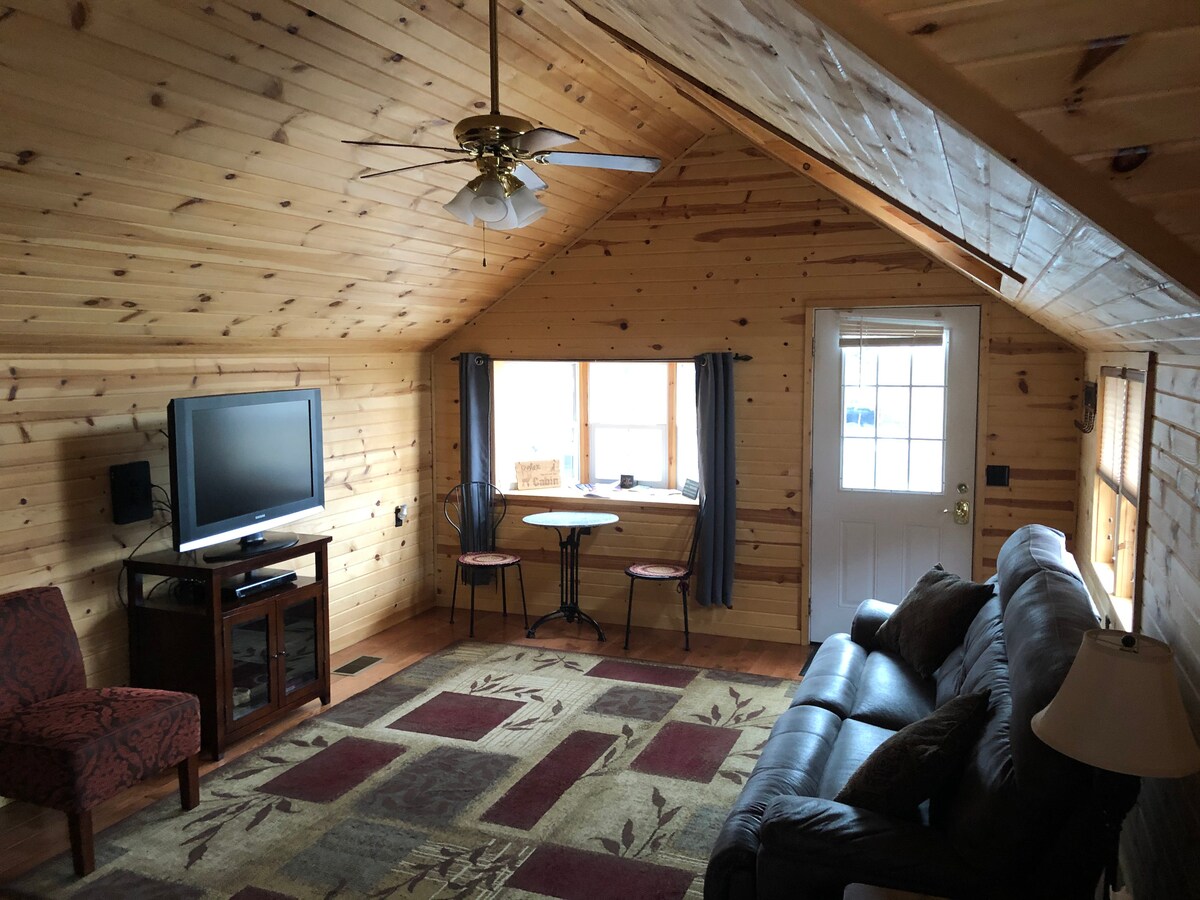 Green Briar Cabin With Hot Tub
Creating memories in a secluded retreat spot is what guests can expect upon arrival at Green Briar.
The cabin located within the Scottish Ridge is considered luxury accommodation with a kitchen, indoor fireplace, one-bedroom, and one bathroom fit for two guests.
Surrounded by a forest, the location offers unique woodland views that can be appreciated while in a hot tub, sitting by the fire pit or grilling on the deck.
Hiking in the private trails is another excellent way of enjoying the tranquility of the location. Click for more pictures and check availability.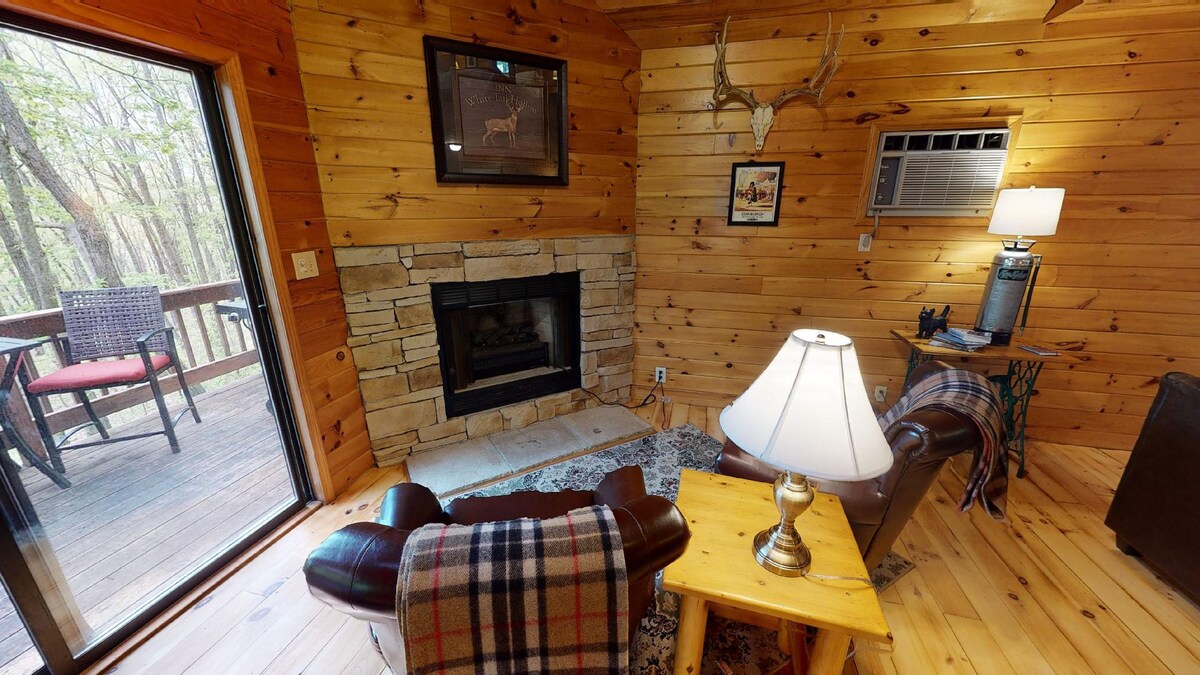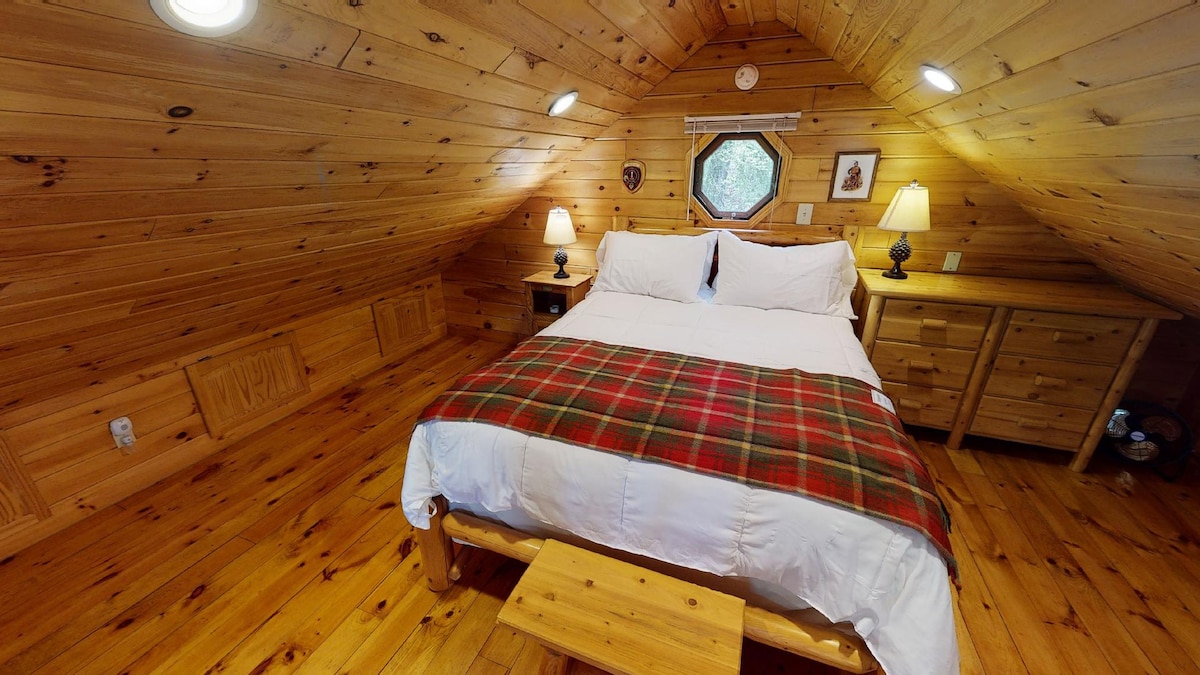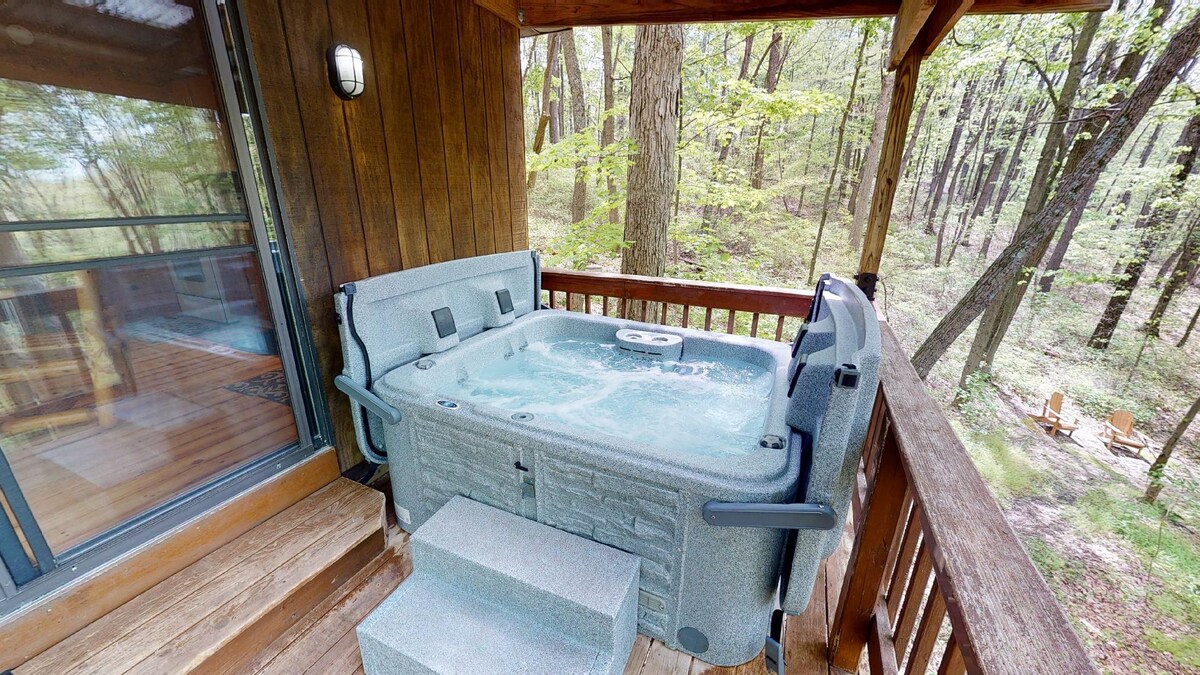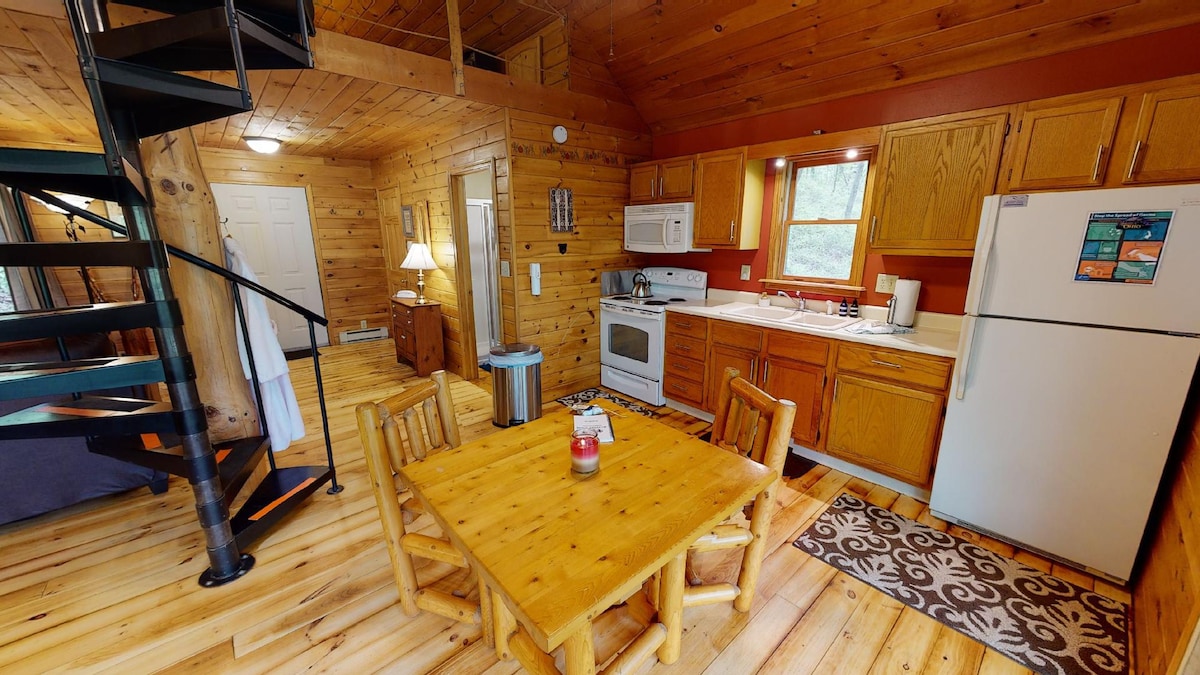 Amazing Hocking Hills Treehouse Airbnb
Living in a treehouse while vacationing is a unique experience that can be enjoyed at the Hocking Hills location.
The studio-style house is fully air-conditioned and hidden away in a private hillside, making it perfect for a getaway. Up to four guests can fit in the cabin that has one bathroom and one bed.
The kitchen is functional, and the living room has a sofa bed that acts as storage and sleeping space at night.
Besides enjoying the gorgeous treehouse, guests can visit the nearby Cedar Falls, Old Man's Cave and Ash Cave. Click for more pictures and check availability.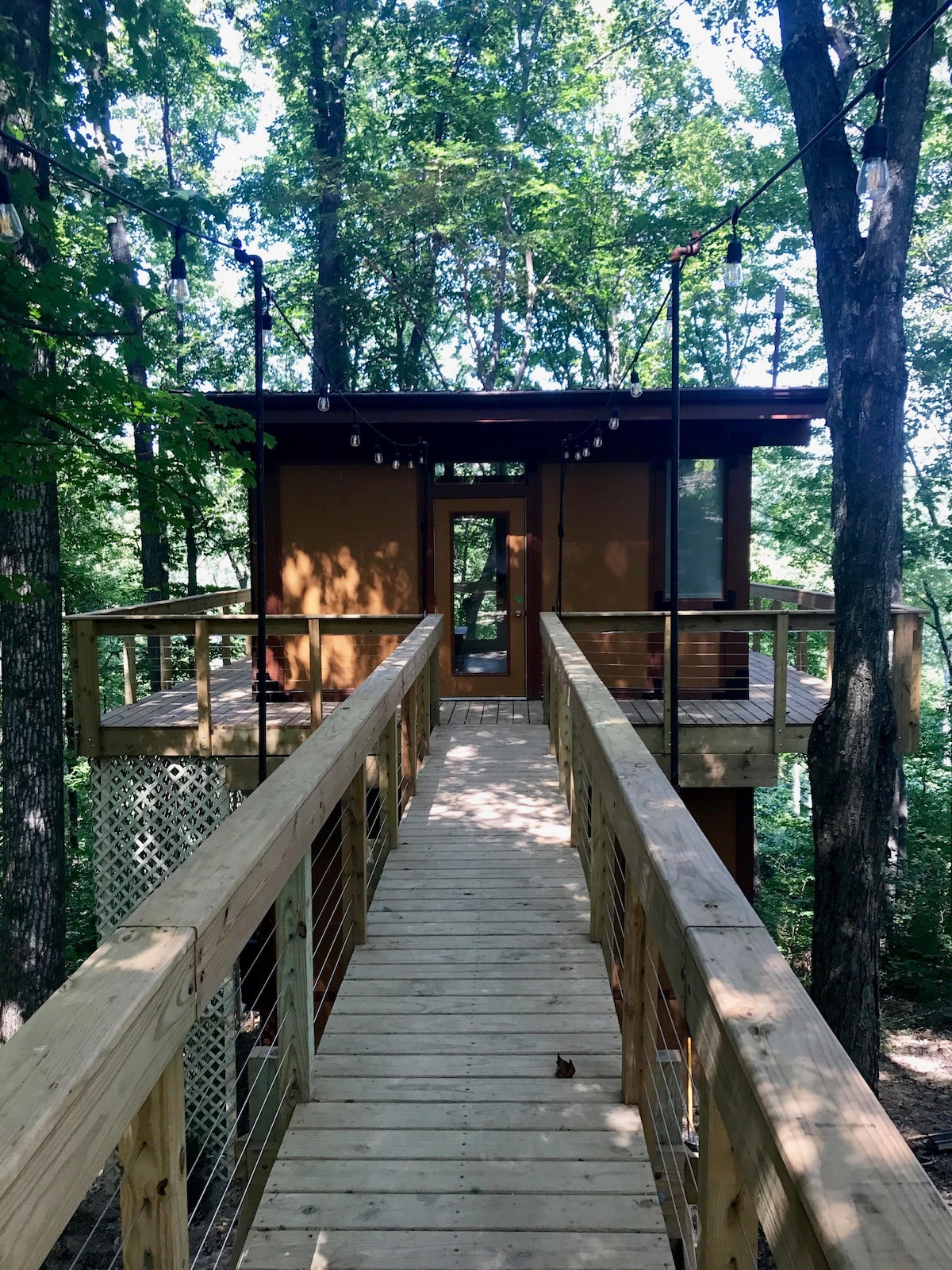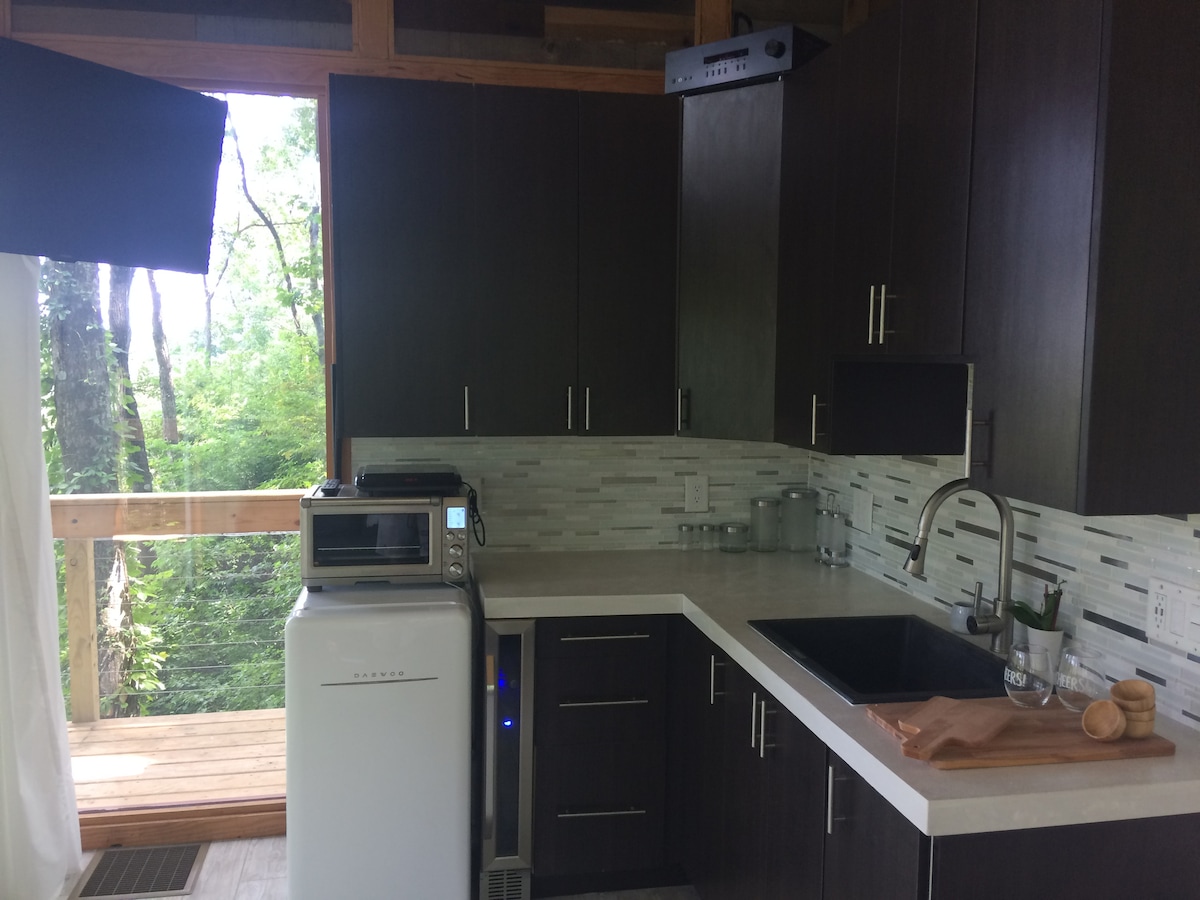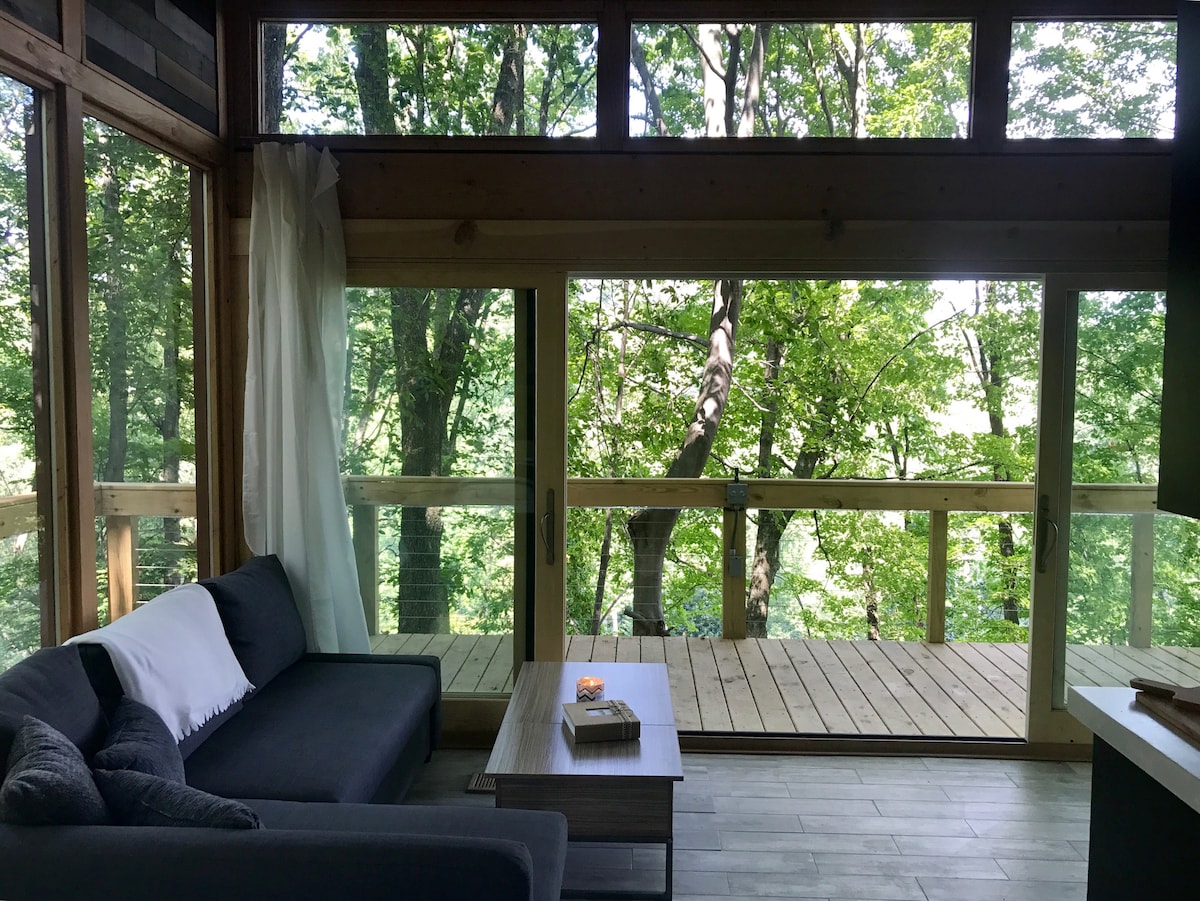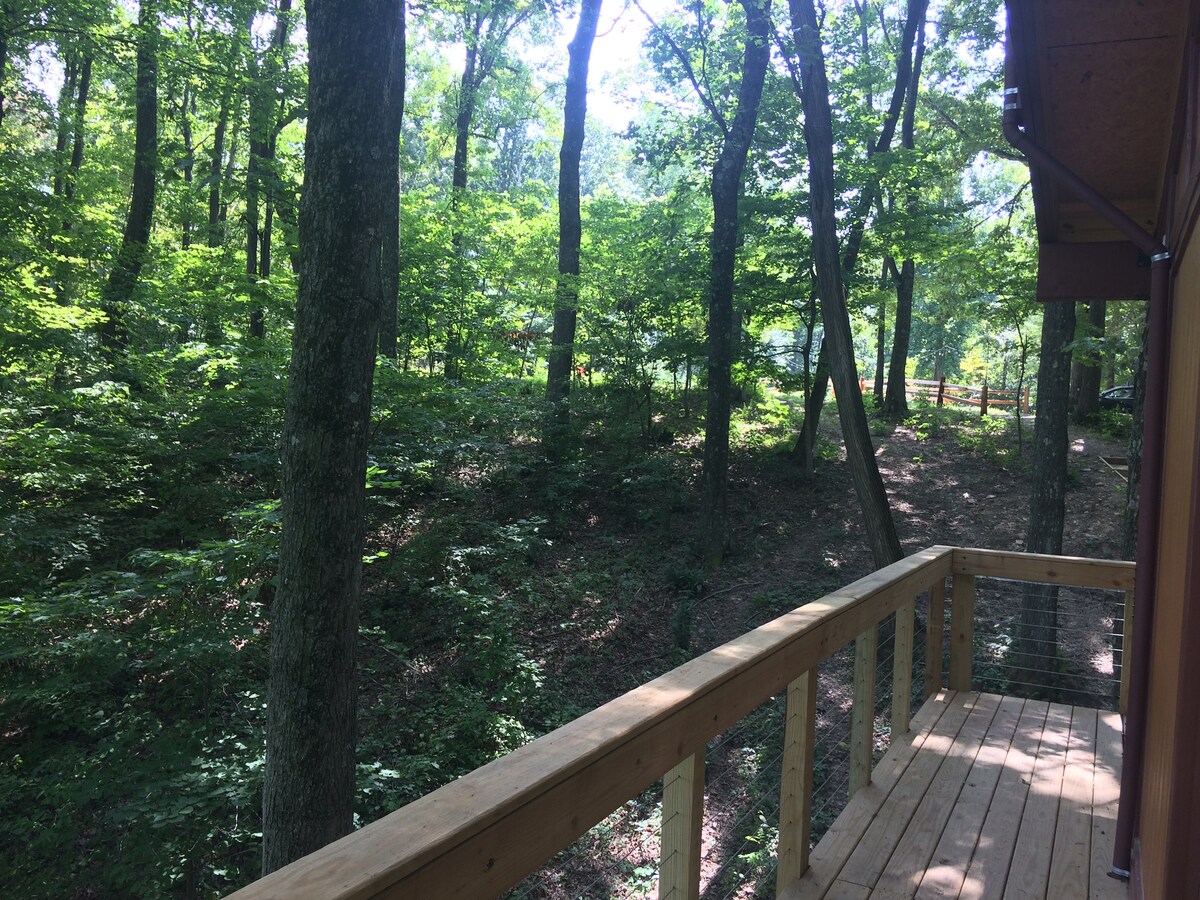 Also See:
Pin For Later