Bali is a spot for natural beauty and is popular with tourists from all over the world and if you have been dreaming of your very own bamboo treehouse in Bali then this post is for you!
The island has diverse attractions that include innumerable temples, iconic landmarks, historical sites, and landscapes that make it a magical location. Visitors to Bali also get the opportunity to choose from a wide range of accommodations with the treehouses being popular with adventure lovers.
So with that in mind, we have compiled a list of the best Bali treehouse rentals on Airbnb. Whether you are looking for a romantic getaway hideout or a cool hang out spot with your guys and girls or even a solo hideaway to get that novel you have been wanting to pen down. The treehouse Airbnbs below provide just the inspiration.
11 Amazing Treehouse Airbnbs in Bali
Bali is one of those places on many a bucket list, with amazing beaches, temples, cute cafes, a magnet for digital nomads and couples honeymooning.
There are plenty of cool and amazing things to do in Bali. A plethora of experiences that will leave you in awe, Bali is simply AMAZING! No Bali itinerary is complete without experiencing a stay in your very own Bamboo treehouse in Bali?!
The eco bamboo lodging is a unique house located to the west of River Ayung. Up to four guests can enjoy a daily sunrise when they stay at the treehouse with two bedrooms and two bathrooms. The house set in a natural environment, has a kitchen, fully furnished living room, and a swimming pool.
Although the house is private, guests also have access to a communal space where you can order meals. When you need to explore the surrounding area, you can drive to Ubud and Canggu, about half an hour away.
Sleeps: 4 people
Price: £210 per night
Click here to check rates and availability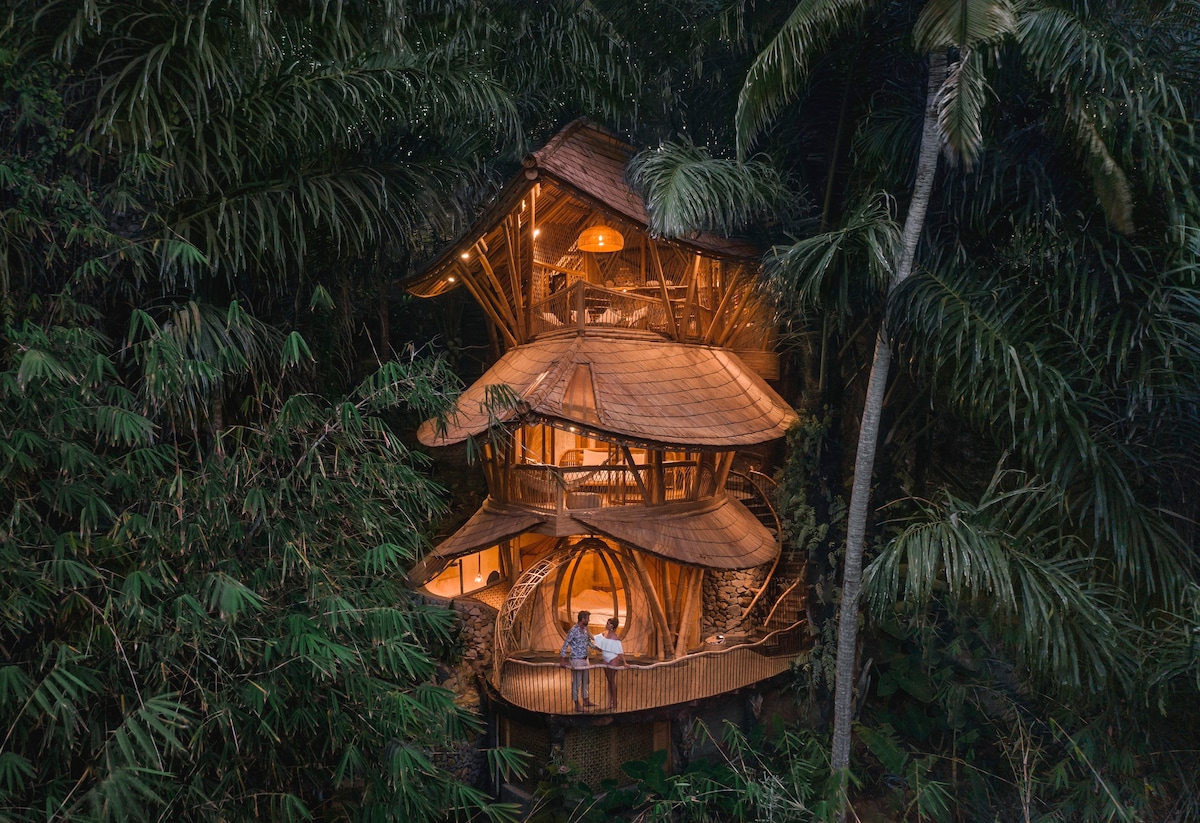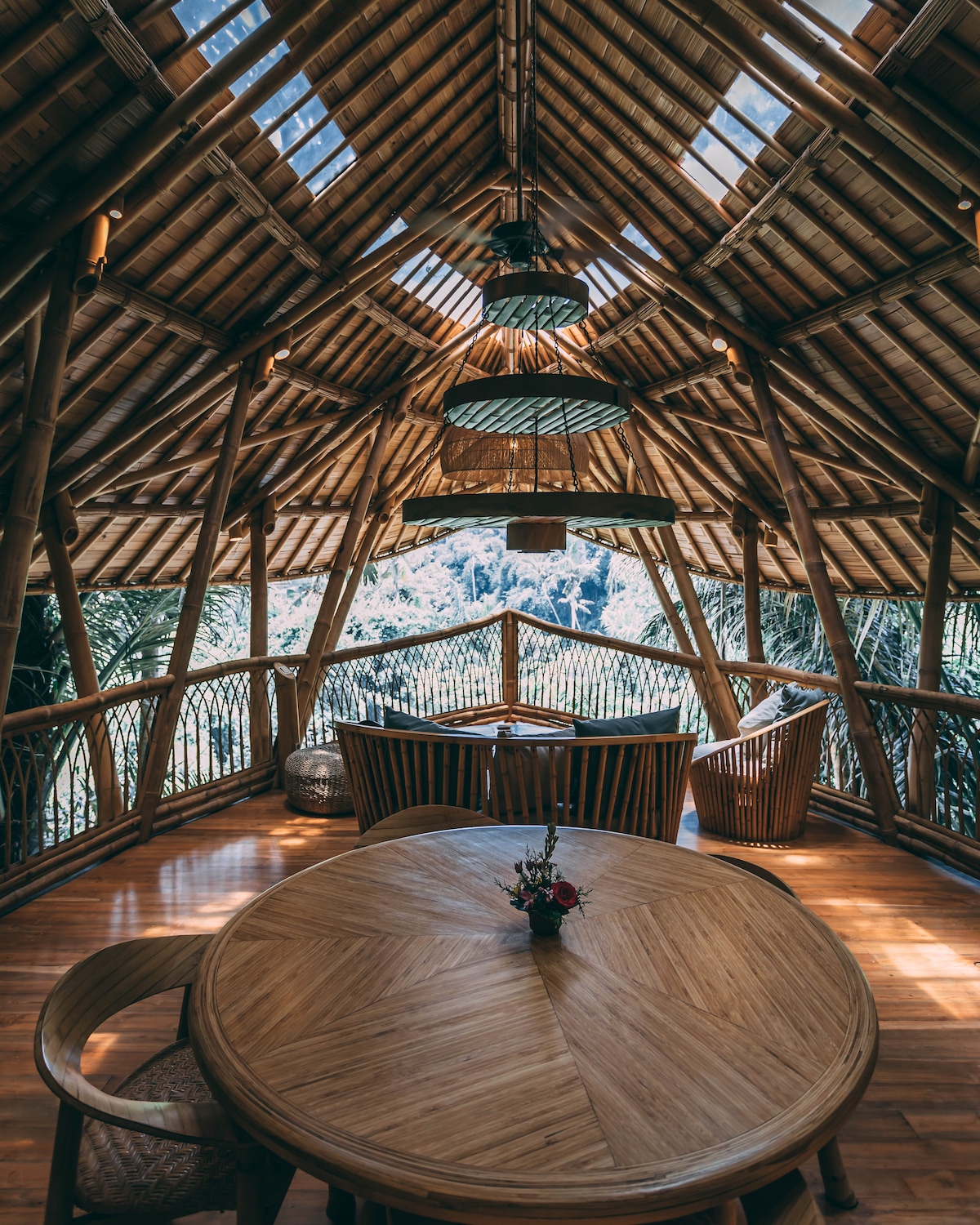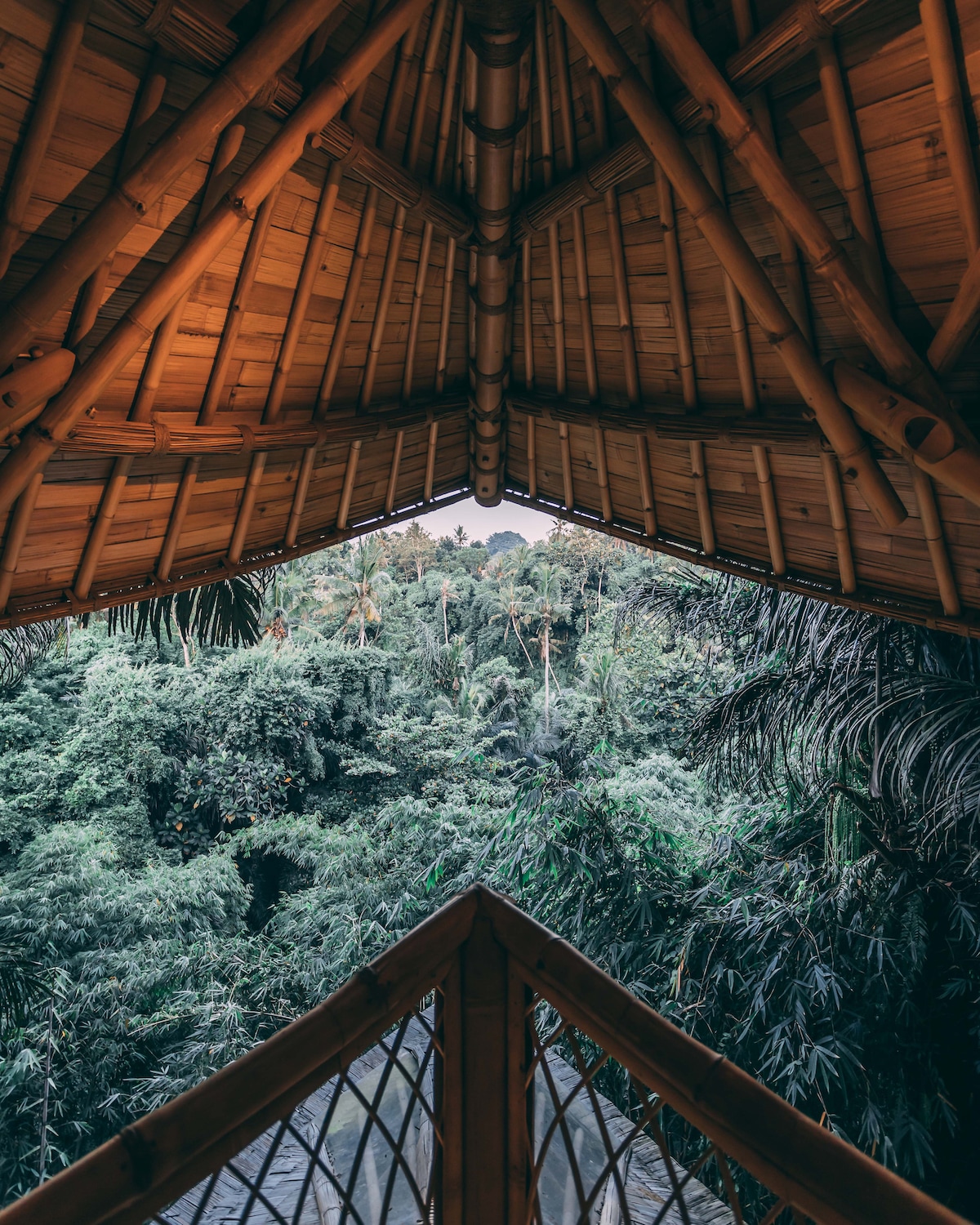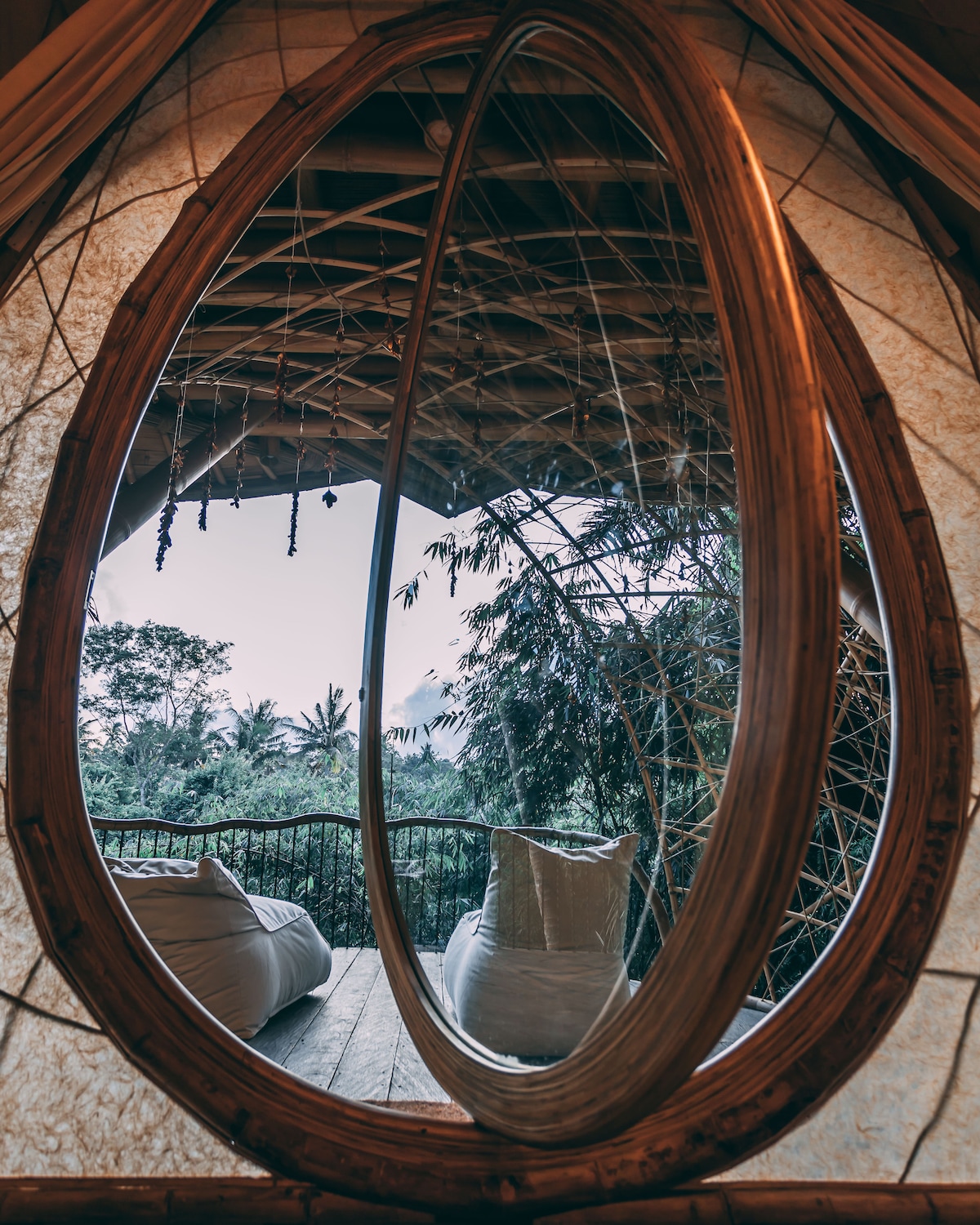 If you love adventure and don't mind sleeping in a bed placed high up in a woven basket, then Firefly Eco Lodge is your perfect spot. The lodge is uniquely designed to resemble a woven bird's nest with one bedroom, and two shared bathrooms that can fit two guests.
To get to the bedroom, guests have to climb a ladder and need to be physically fit and also brave to enjoy the experience. Guests have access to common spaces like the dining room, pool, and lounge, which provides a 360-degree view of the treehouse.
Sleeps: 2 people
Price: £8 per night
Click here to check rates and availability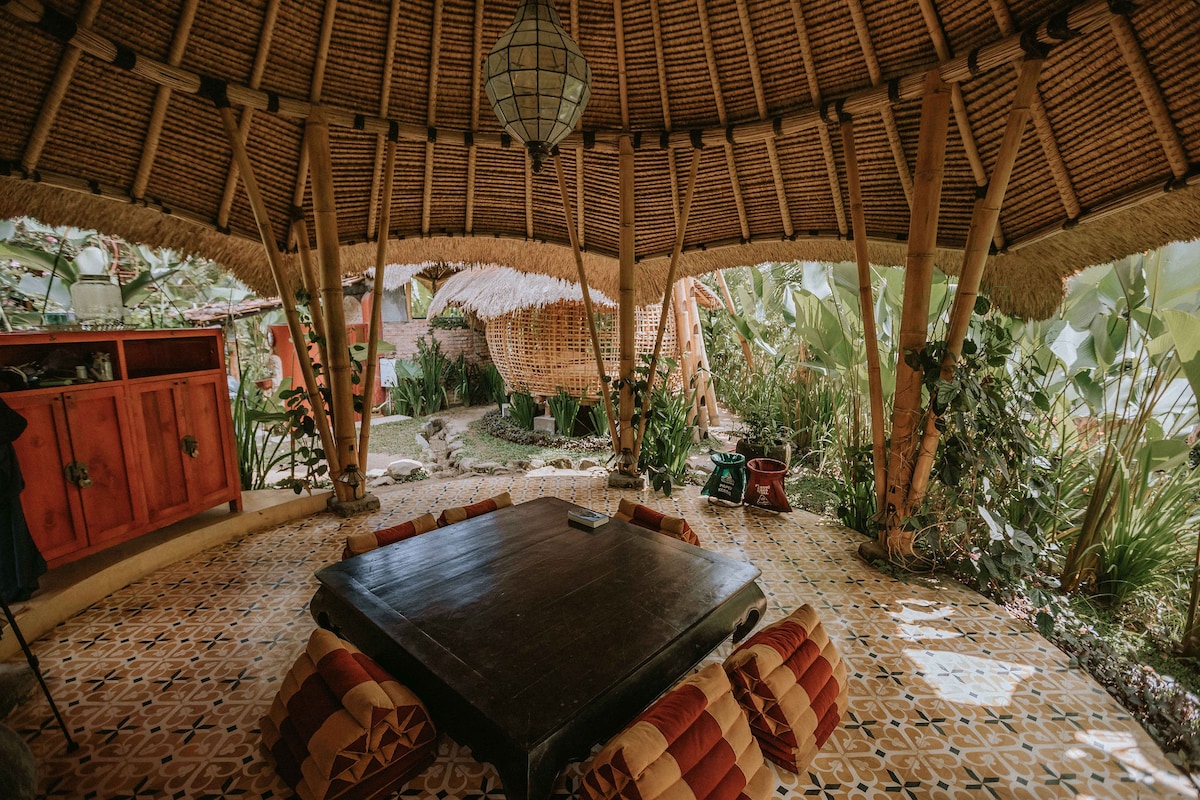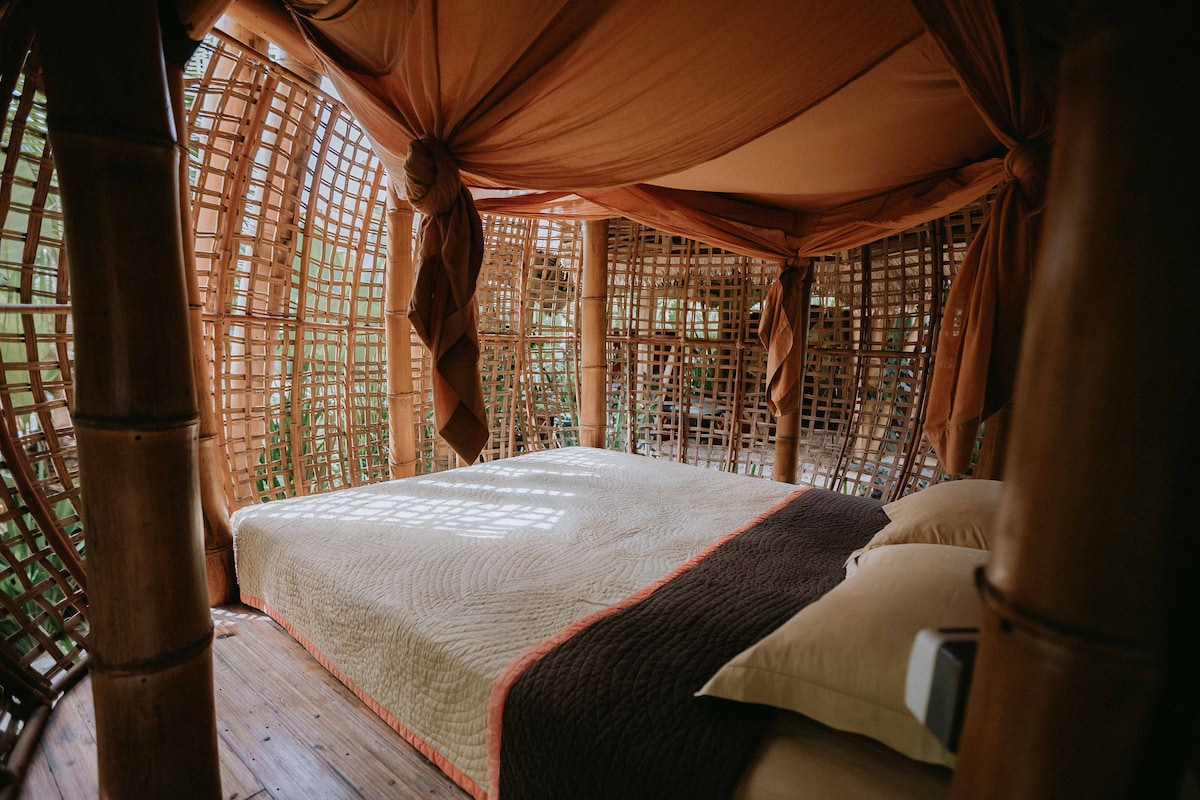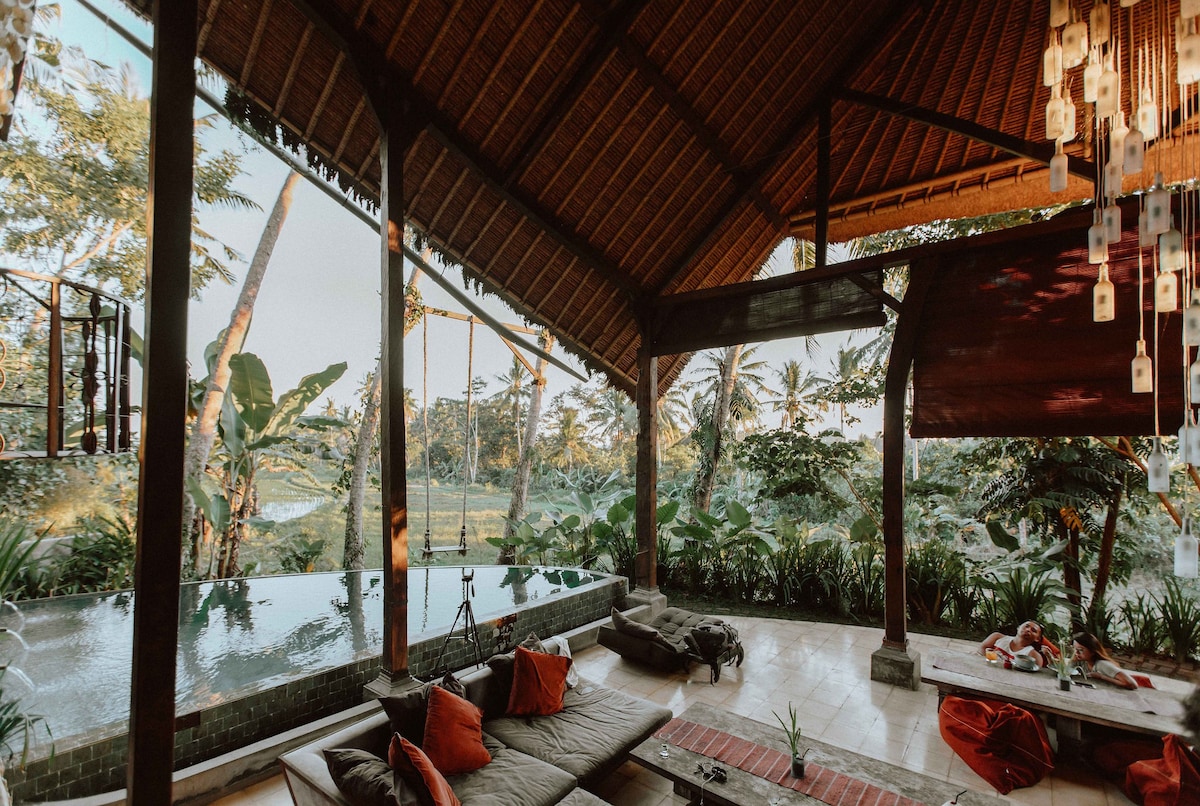 The treehouse is an open living space in a magnificent rural setting, perfect for a private retreat. It is surrounded by a tropical garden and trees that work well for creatives looking for inspiration.
The house has a bedroom with one bed and a bathroom and can accommodate two guests. On the exterior is a hammock, rain shower, fire pit, outdoor seating and BBQ grill for open-air cooking. Besides the beautiful interior, the bamboo retreat also has gorgeous mountain views that make it easy to relax.
Sleeps: 2 people
Price: £35 per night
Click here to check rates and availability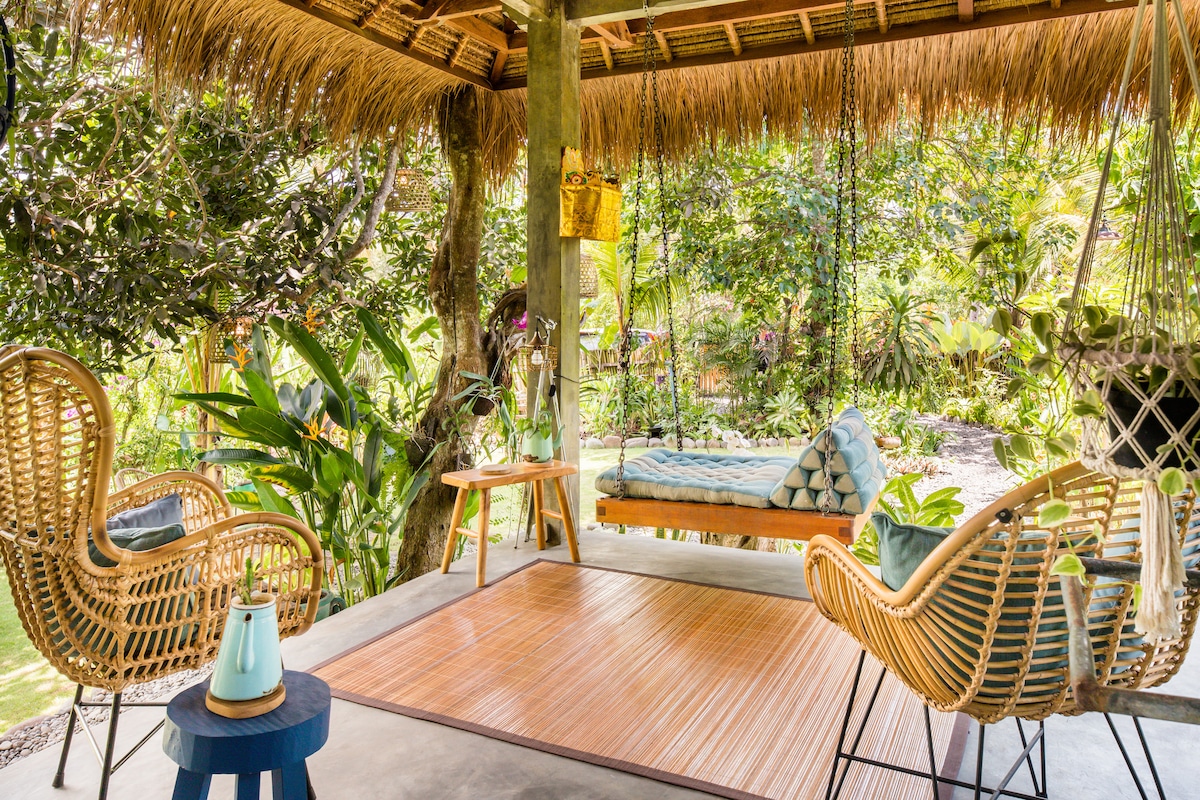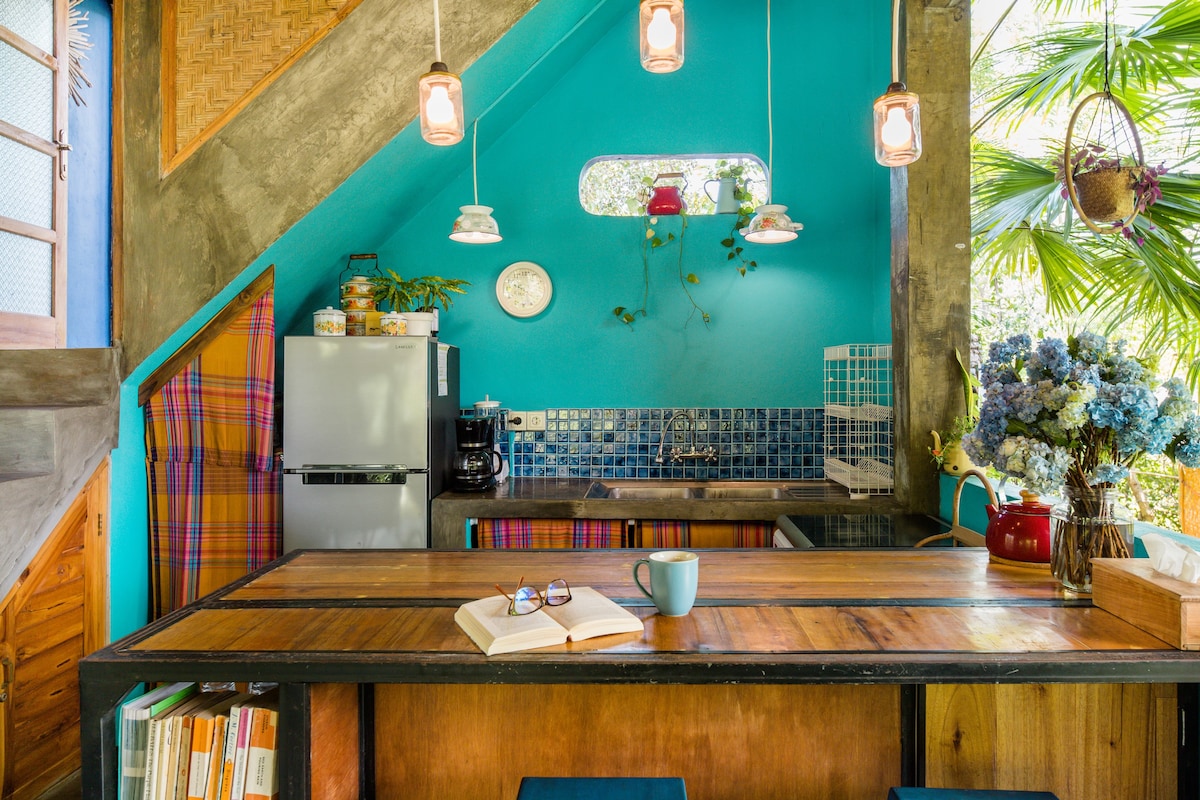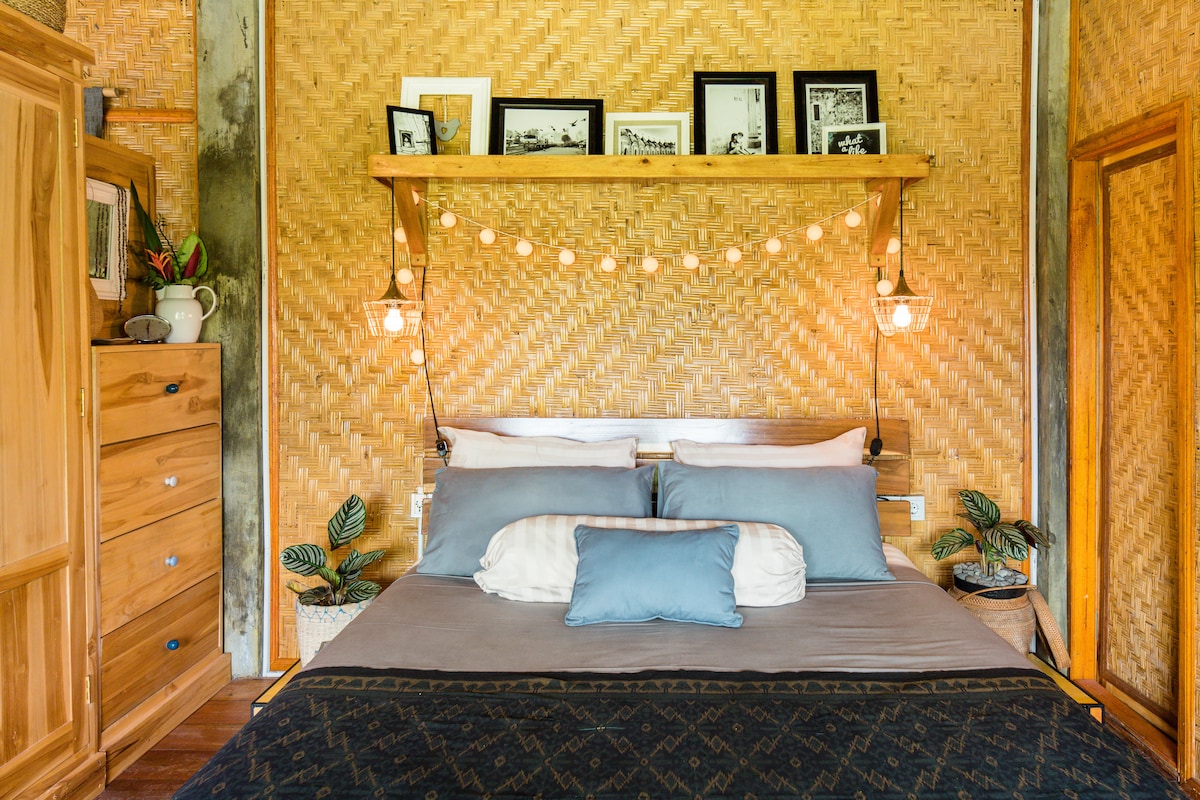 The tree hut is a romantic space that is excellent for couples or individuals that want to enjoy some time alone. Its open windows bring nature into the living space allowing guests to experience the sounds of the ocean. From the windows, you can also enjoy a breathtaking view of a garden, infinity pool, and fish ponds.
Up to two guests can be accommodated in the one bedroom with one bathroom, where the washbasin, shower, and toilet are downstairs. The location also organizes outdoor activities that include hiking, mountain tours, and cooking classes.
Sleeps: 2 people
Price: £19 per night
Click here to check rates and availability
Naturally designed to allow guests to connect with nature, Oceanview treehouse is the perfect spot for a getaway. The house a single bedroom, private bathroom, living room, kitchen, and pool that is great for two people. Located in a secluded area, guests are assured of quiet and extensive views of the beach, rice fields, and the Indian Ocean waves.
To maintain the natural environment, the house has no air conditioning allowing guests to enjoy the breeze inside or when sitting at the private terrace. For fun, guests can rent a surfboard and ride the waves on the nearby beach.
Sleeps: 2 people
Price: £31 per night
Click here to check rates and availability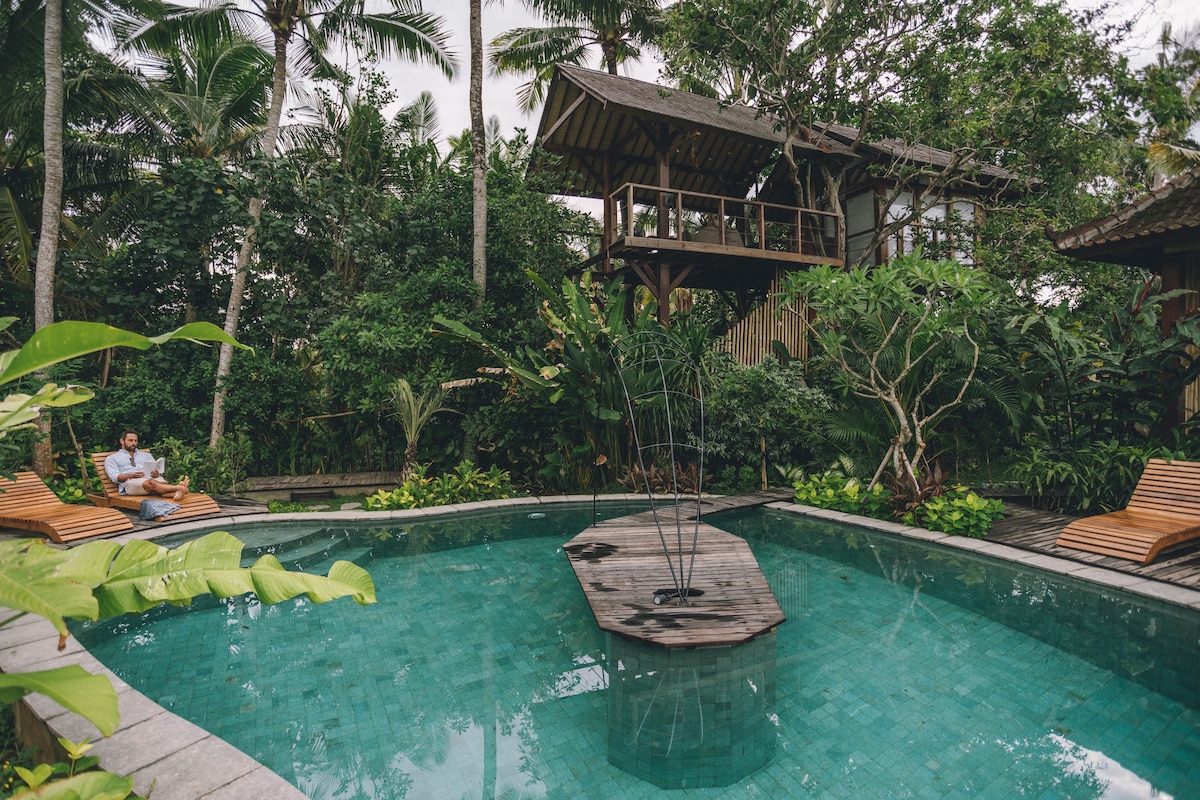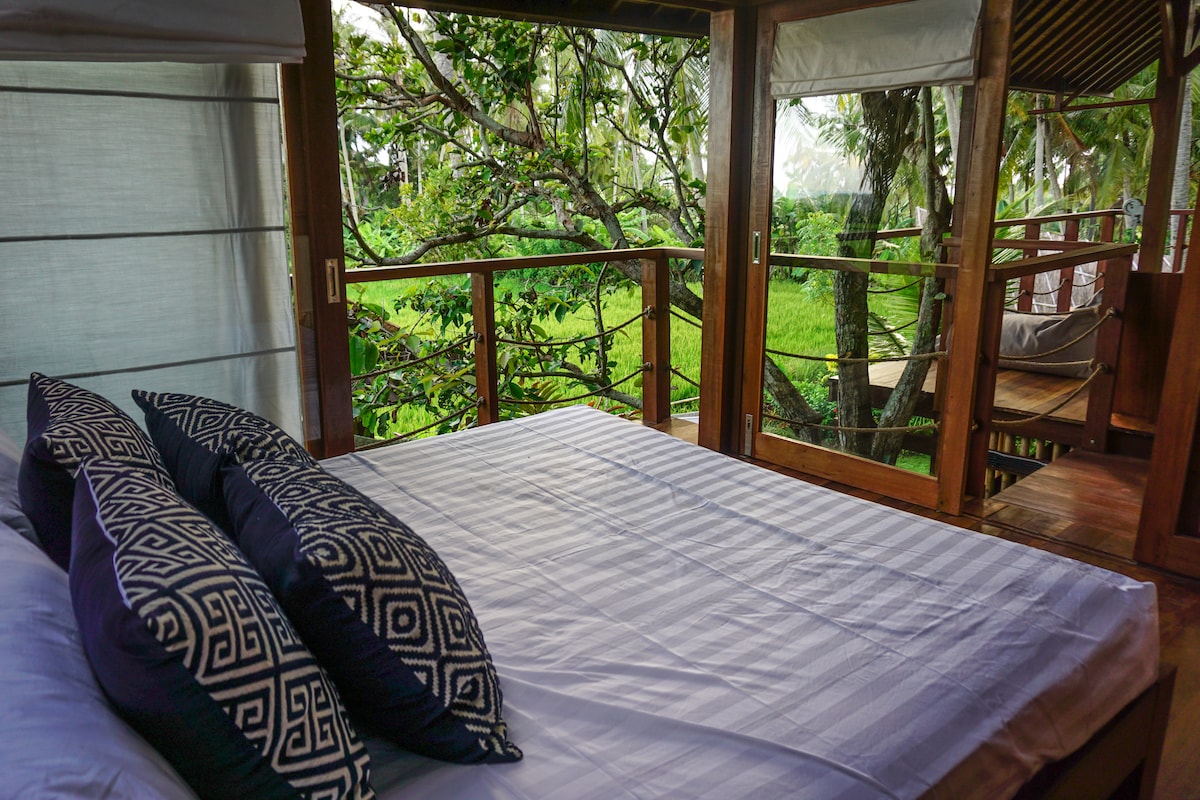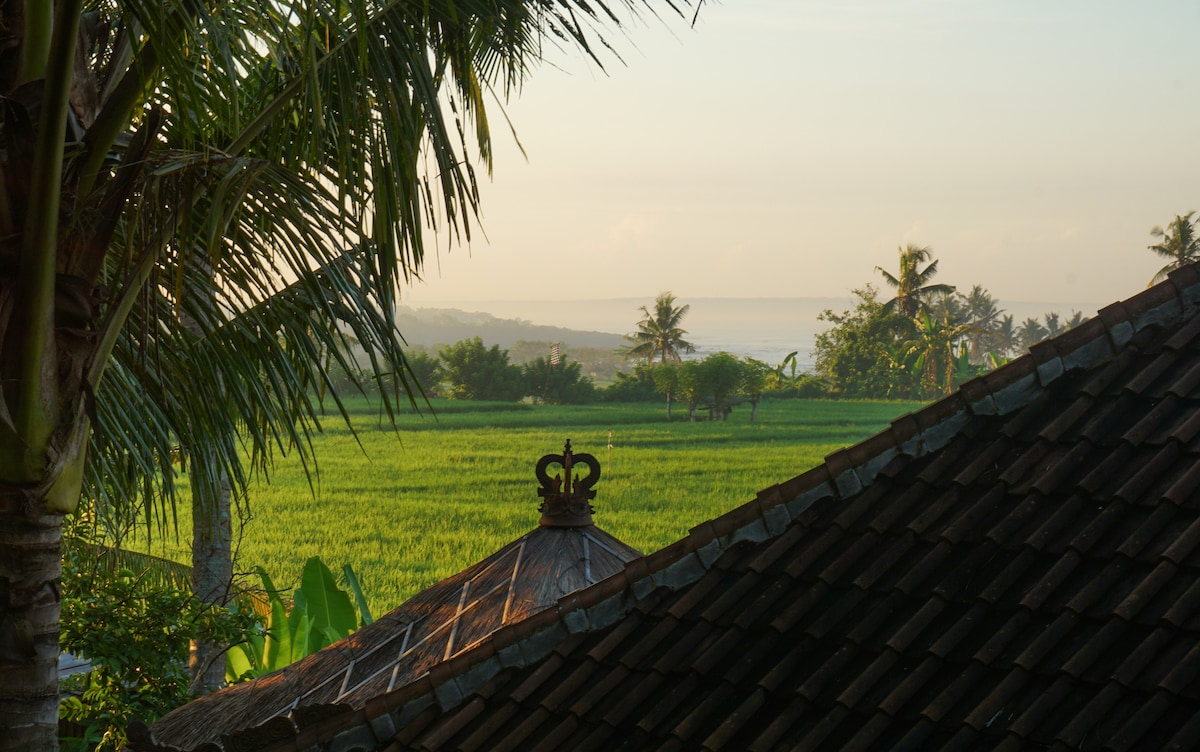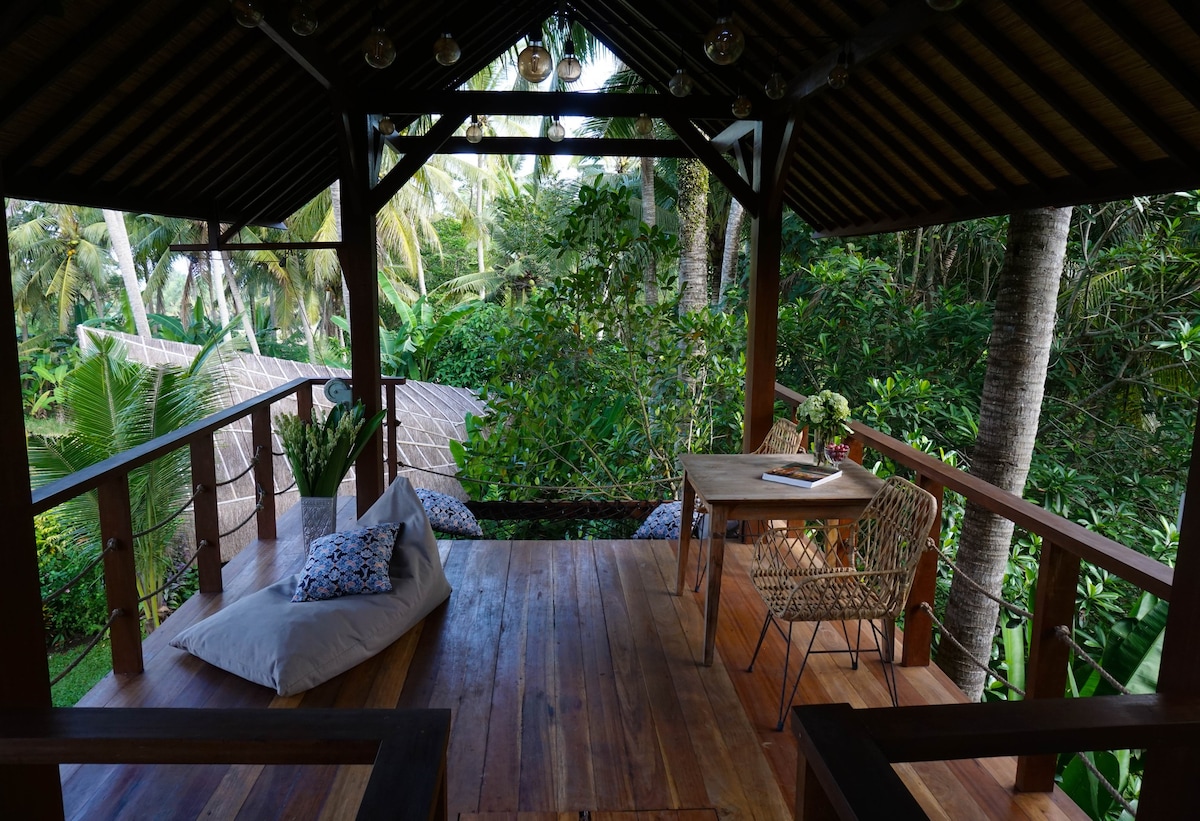 Vintage style living in an eco-friendly treehouse is the best way to experience a holiday in Bali. The old house is perfect for honeymooners because of its intimate setting comprising one bedroom and one bathroom. Perched on a mango tree with branches emerging through the walls, the fairytale location has modern amenities for a comfortable stay.
Guests have access to the sleeping area upstairs while the living room is on the ground floor. Breakfast is served daily to the room, and guests can use the shared pool area and forest café.
Sleeps: 2 people
Price: £75 per night
Click here to check rates and availability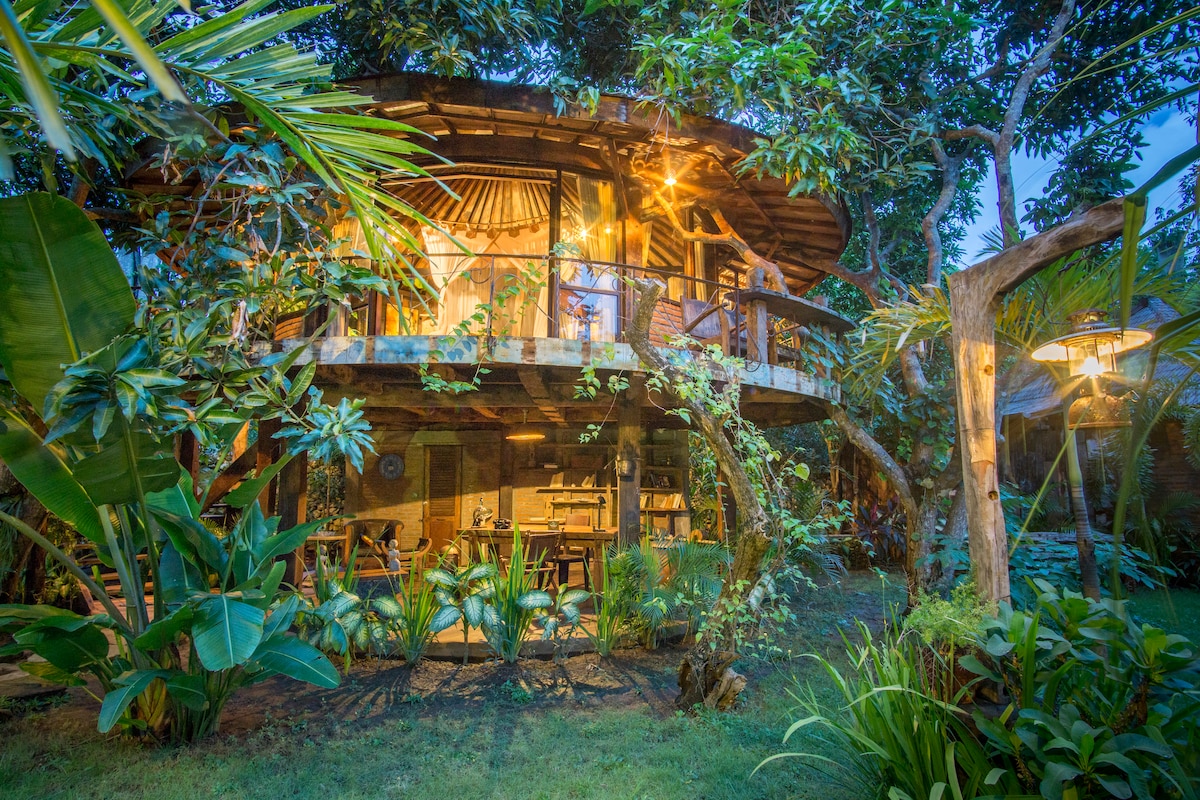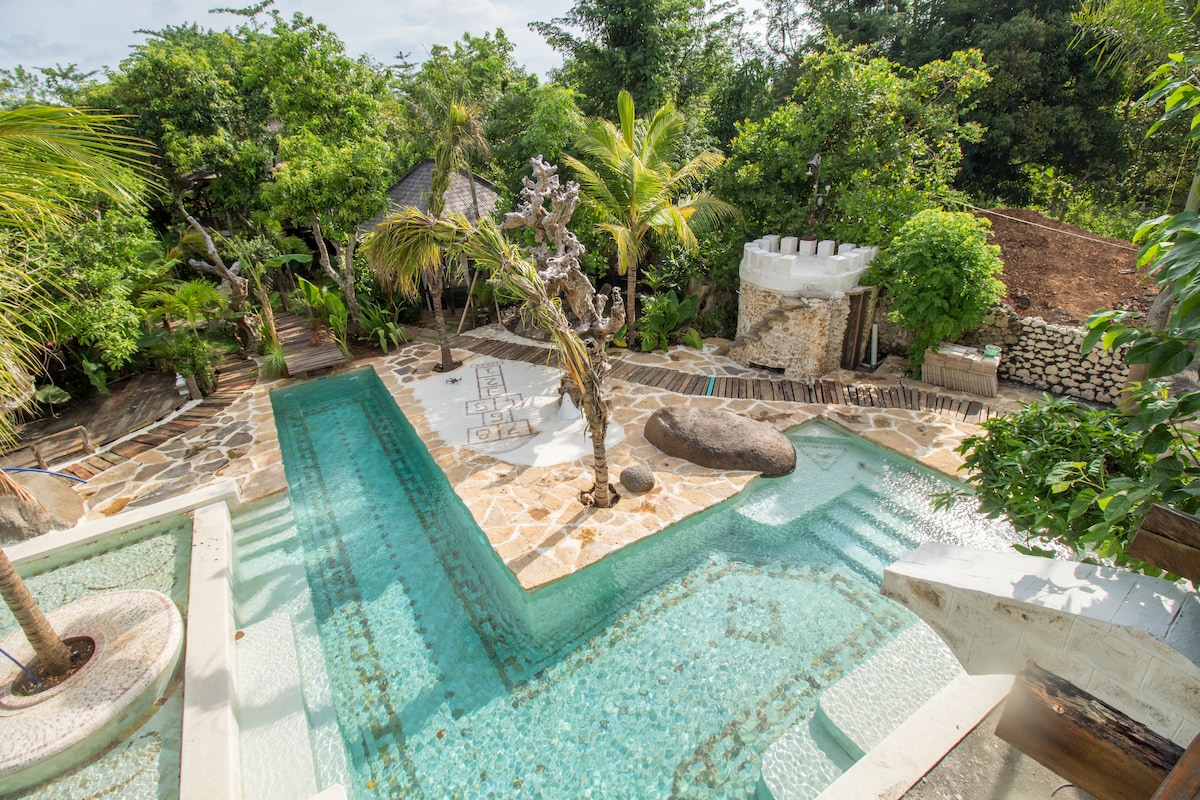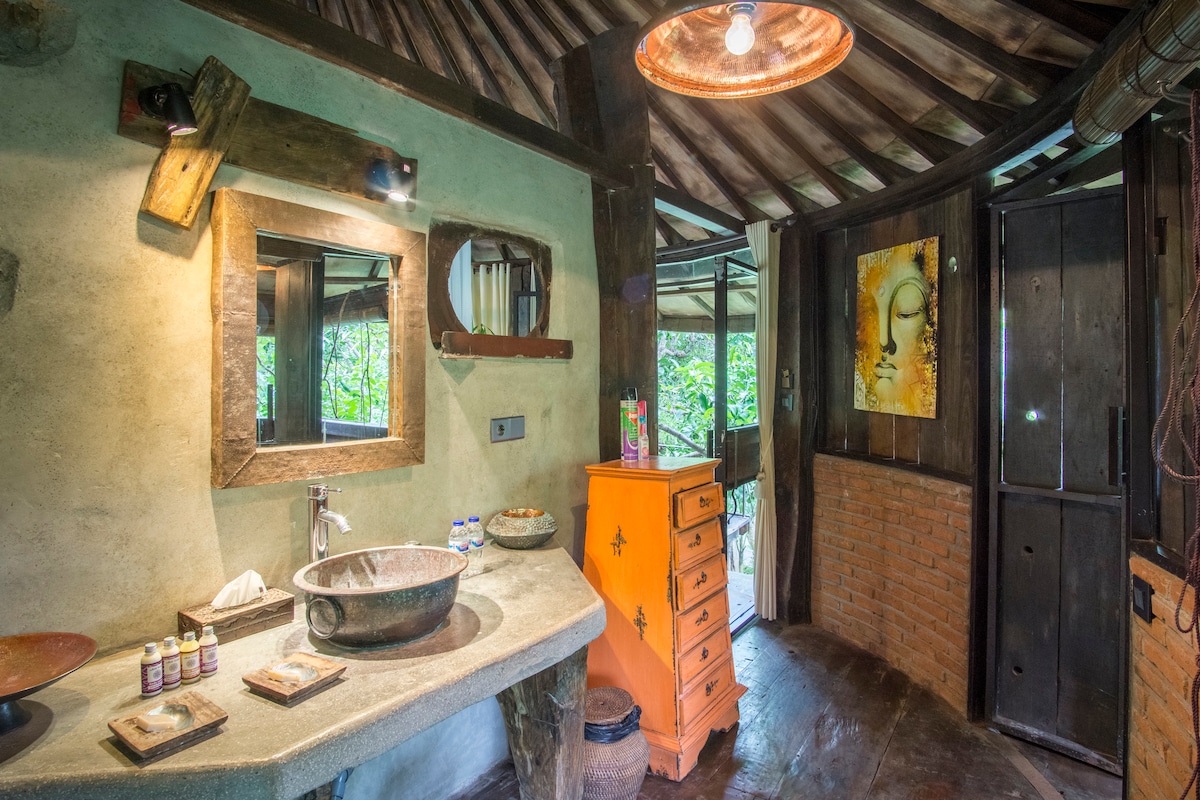 The two-level treehouse is ideal for two travelers looking for a serene Bali experience. It has one bedroom with a balcony on the upper floor and a secluded bathroom on the lower level. The unique rooftop of the building, which is constructed traditionally, makes it a great place to hang out while listening to sounds from the surrounding jungle.
Guests can also enjoy the pool that resembles a half-moon or relax on the decks within the George Orwell property. You can explore the town of Penestanan Kelod Ubud that hosts popular cafes with unique concepts for more adventure.
Sleeps: 2 people
Price: £23 per night
Click here to check rates and availability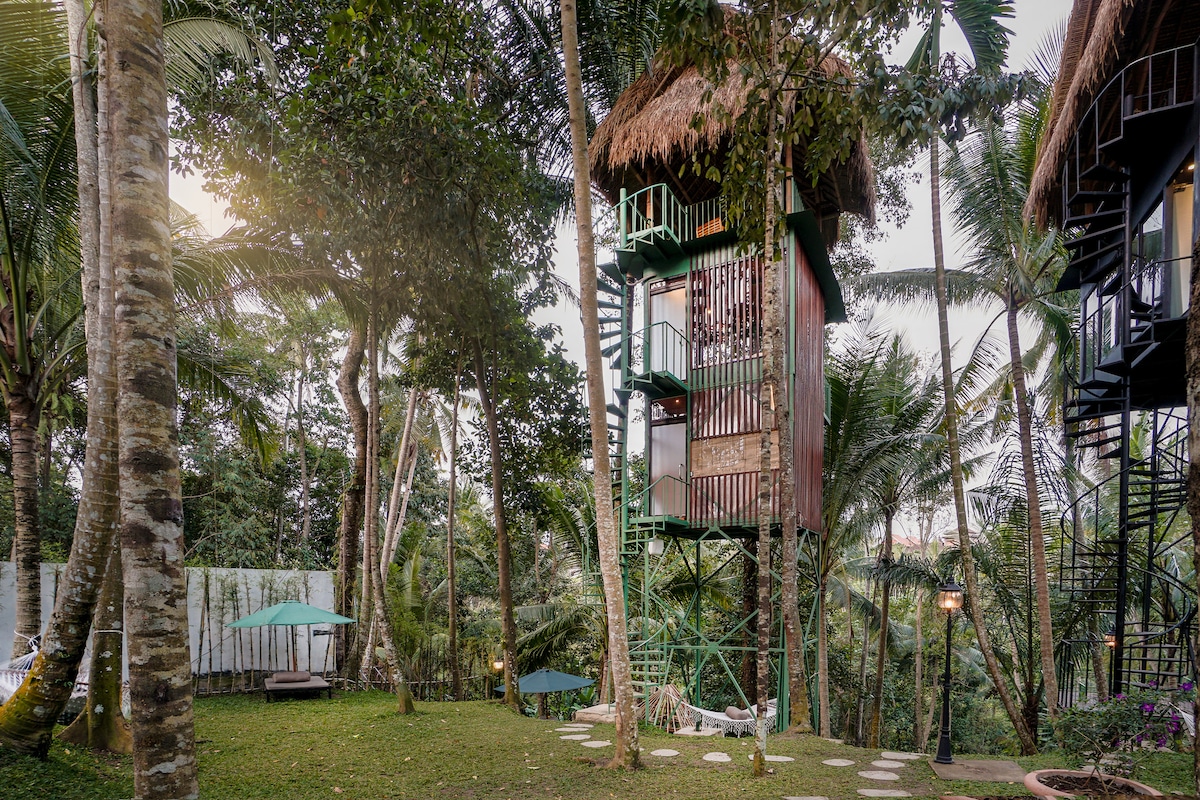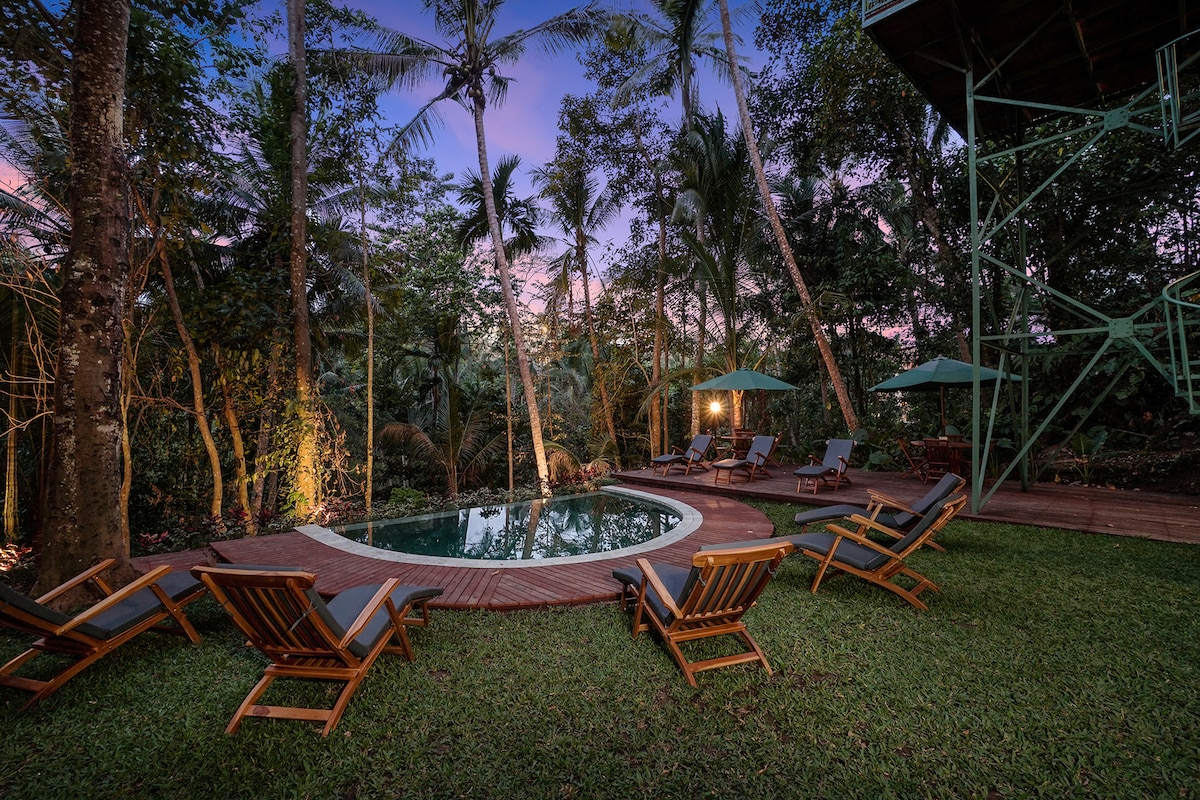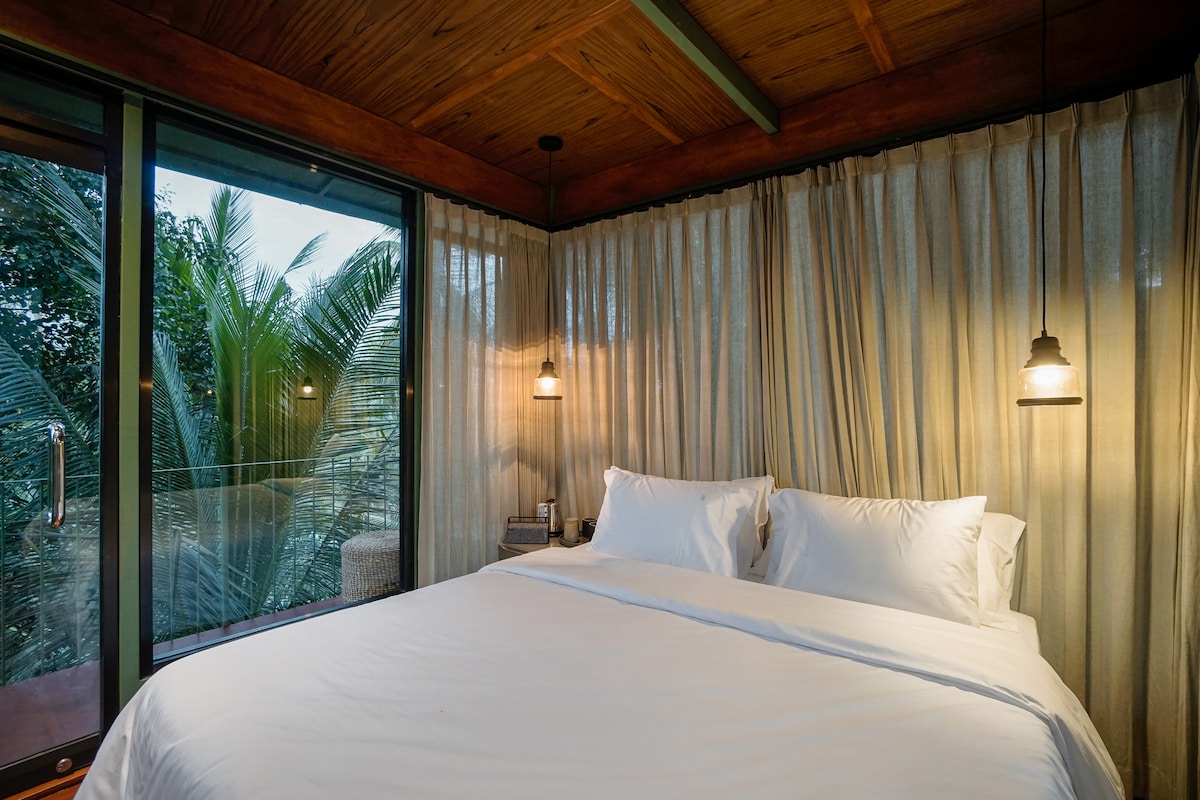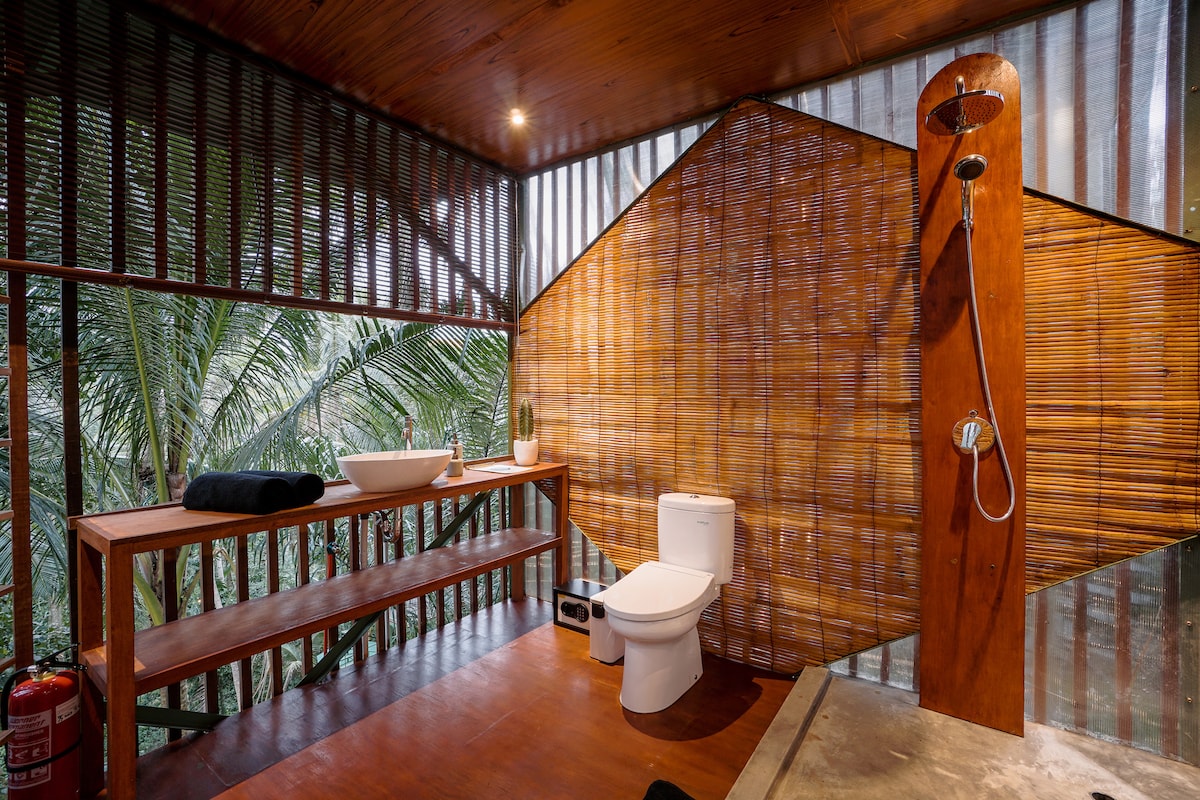 Designed to look like a cube, the Stanley Kubrik House is the perfect example of luxury accommodation. Its interior blends in with the surrounding jungle, allowing guests to enjoy magnificent views from the comfort of their bed. Up to two guests can comfortably stay in the one-bedroom and private bathroom provided at the house.
The exterior of the home has a pool and decks that are perfect for relaxing in the morning or afternoon. For meals, guests can enjoy their favorite dishes at partner restaurants like La Pachamama, Alchemy, and Lazy Cats Café at a discount.
Sleeps: 2 people
Price: £24 per night
Click here to check rates and availability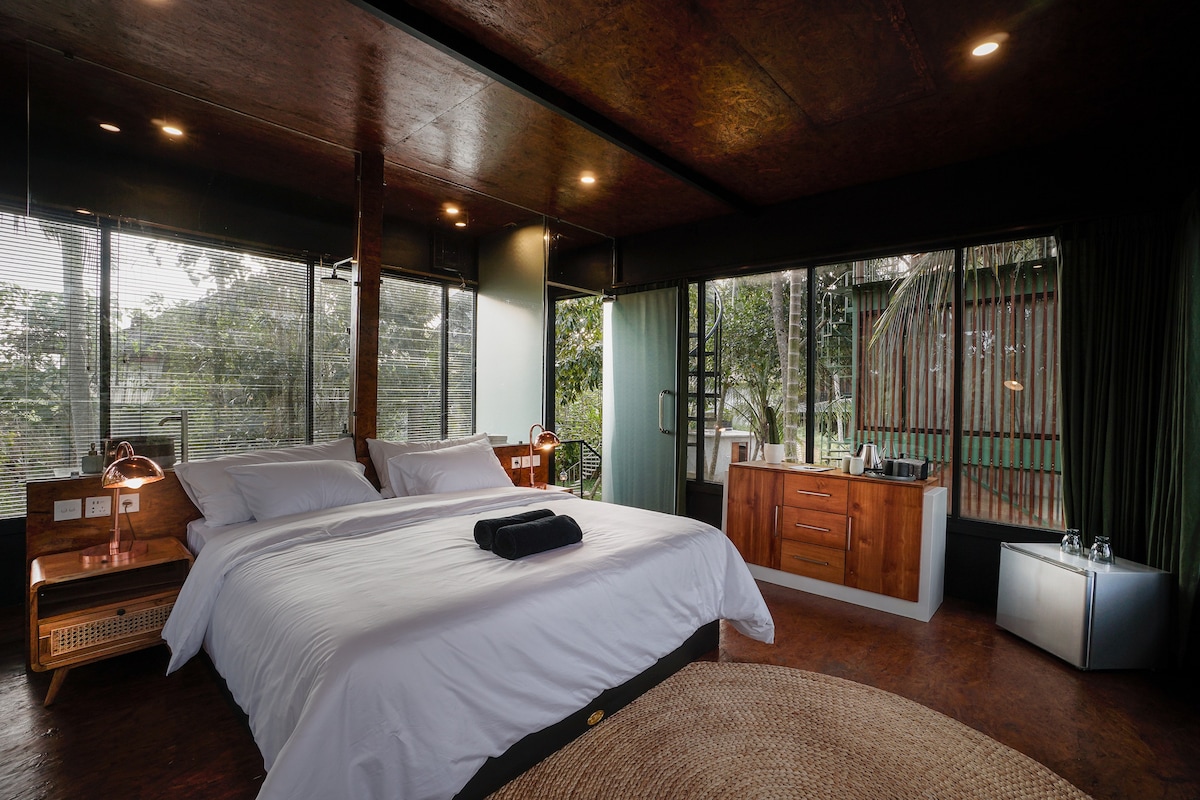 Staying at a sophisticated treehouse propped up on stilts is the ultimate holiday experience for adventure lovers. The house can accommodate two guests in its single bedroom and bathroom. Guests enjoy gorgeous views on the elevated structures plus a lot of natural light during the day and beautiful sunsets in the evenings.
The spiral staircases connect one level of the house to another, with the main floor comprising the lounge and bathroom while the mezzanine floor is the bedroom. Guests also have access to the garden and shared pool as part of the amenities.
Sleeps: 2 people
Price: £44 per night
Click here to check rates and availability
The house is similar to a traditional Javanese home, which has a unique roofing design. The treehouse is elevated twelve meters above ground with a beautiful interior decorated with beautiful furniture, unique rugs, and modern amenities. It is an ideal holiday accommodation for two guests that can comfortably use the single bedroom and private bathroom.
From the balcony, guests get a magnificent view of the lush jungle and rice paddies surrounding the location. Besides enjoying the interior, guests can spend time at the shared swimming pool or decks within the property.
Sleeps: 2 people
Price: £18 per night
Click here to check rates and availability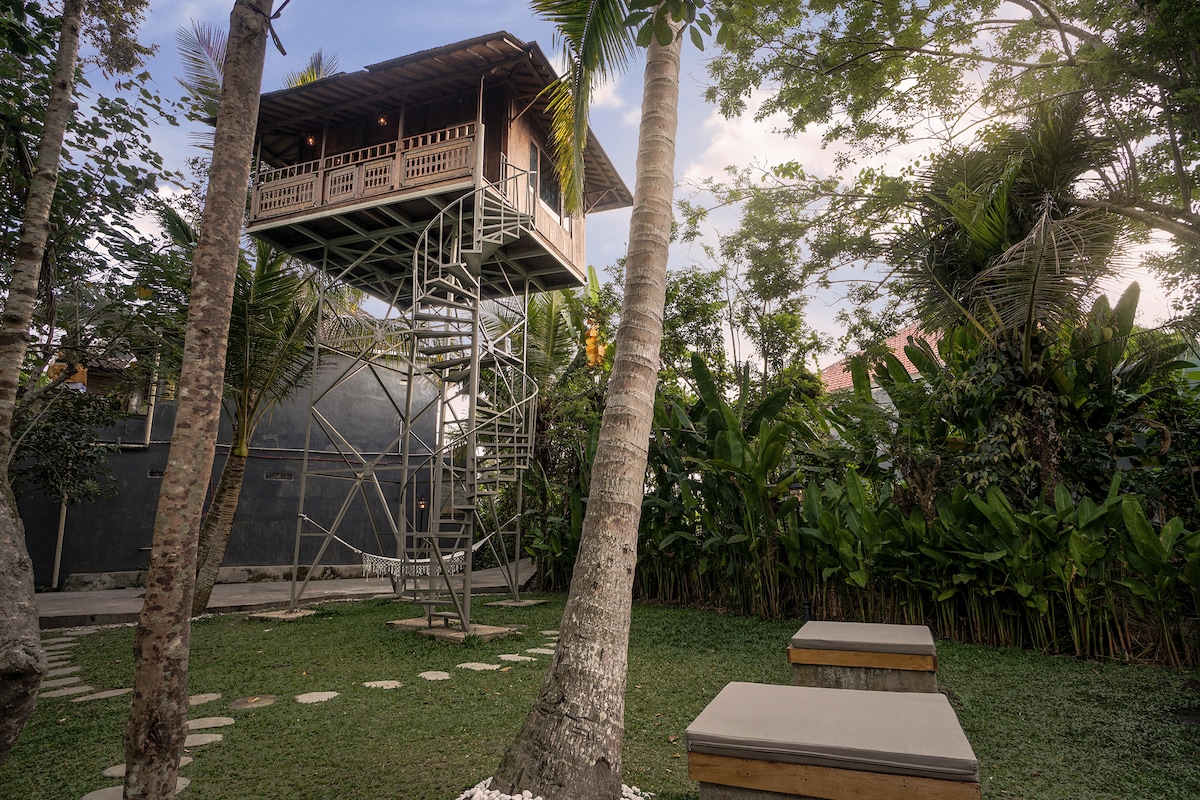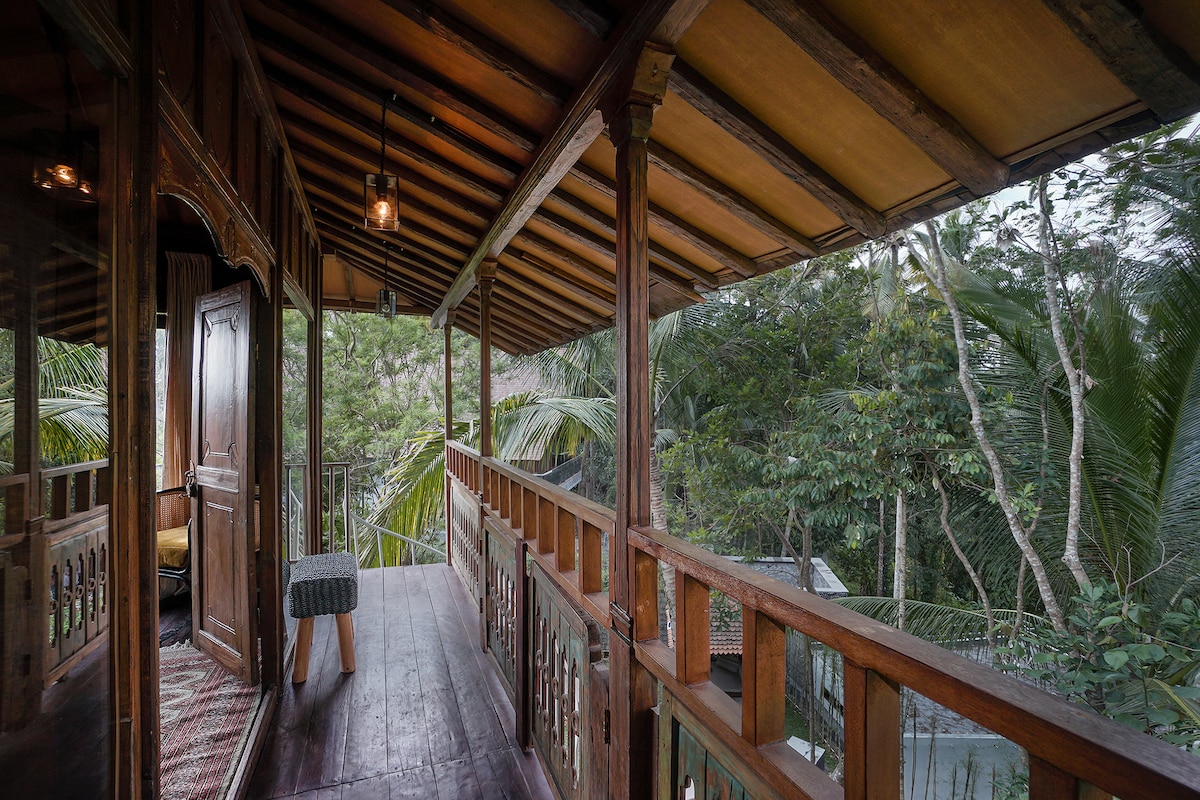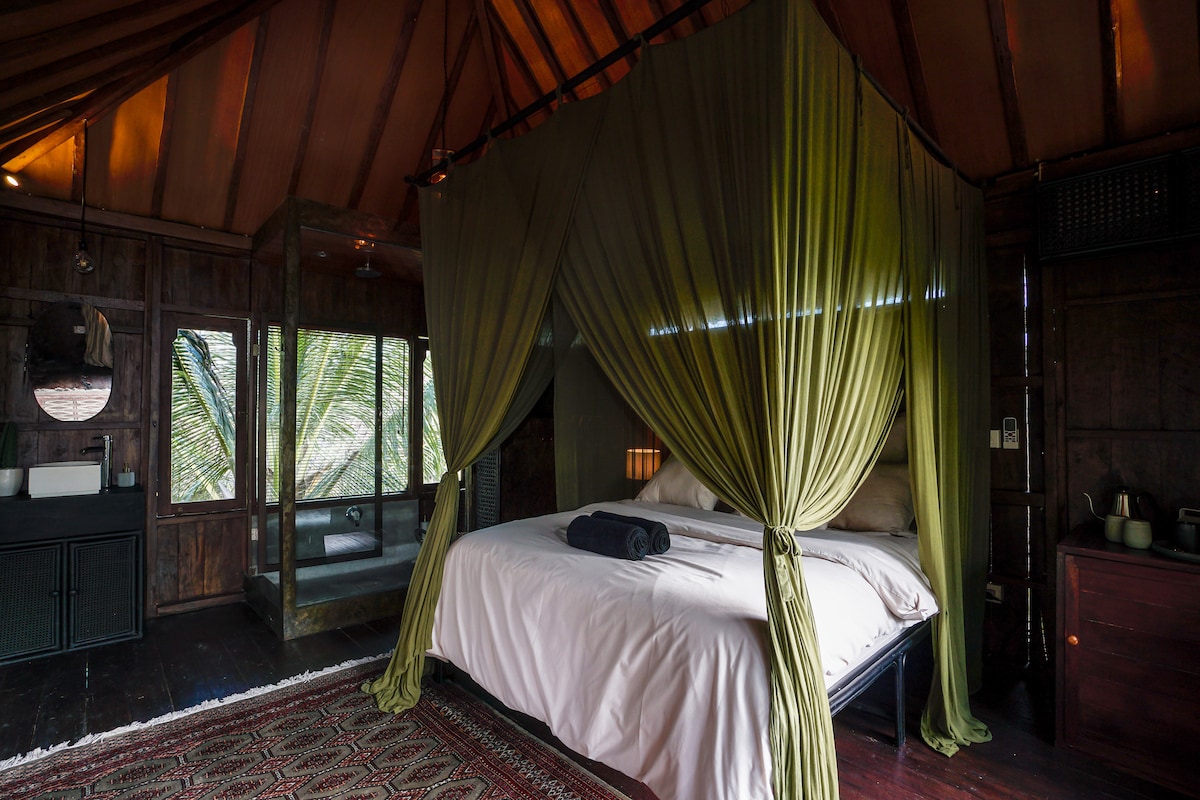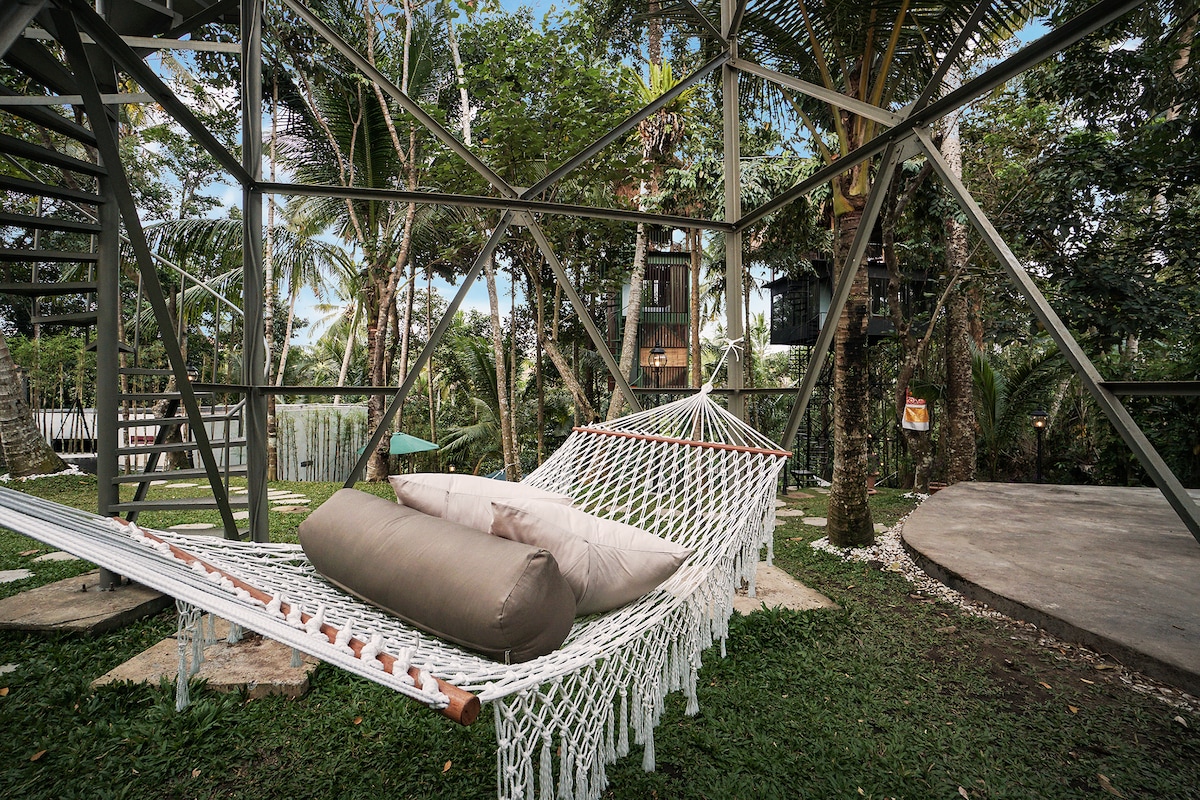 Set up 3.5 meters above the ground, the Bali Treehouse promises guests breathtaking views from the room. It has one bedroom perfect for two guests and four shared bathrooms.
The house has the necessary amenities set up in the most eco-friendly manner and includes a television, bedroom linens, Wi-Fi, and kitchen equipment. Breakfast and dinner are provided to all guests as part of the services offered at the treehouse.
Sleeps: 2 people
Price: £21 per night
Click here to check rates and availability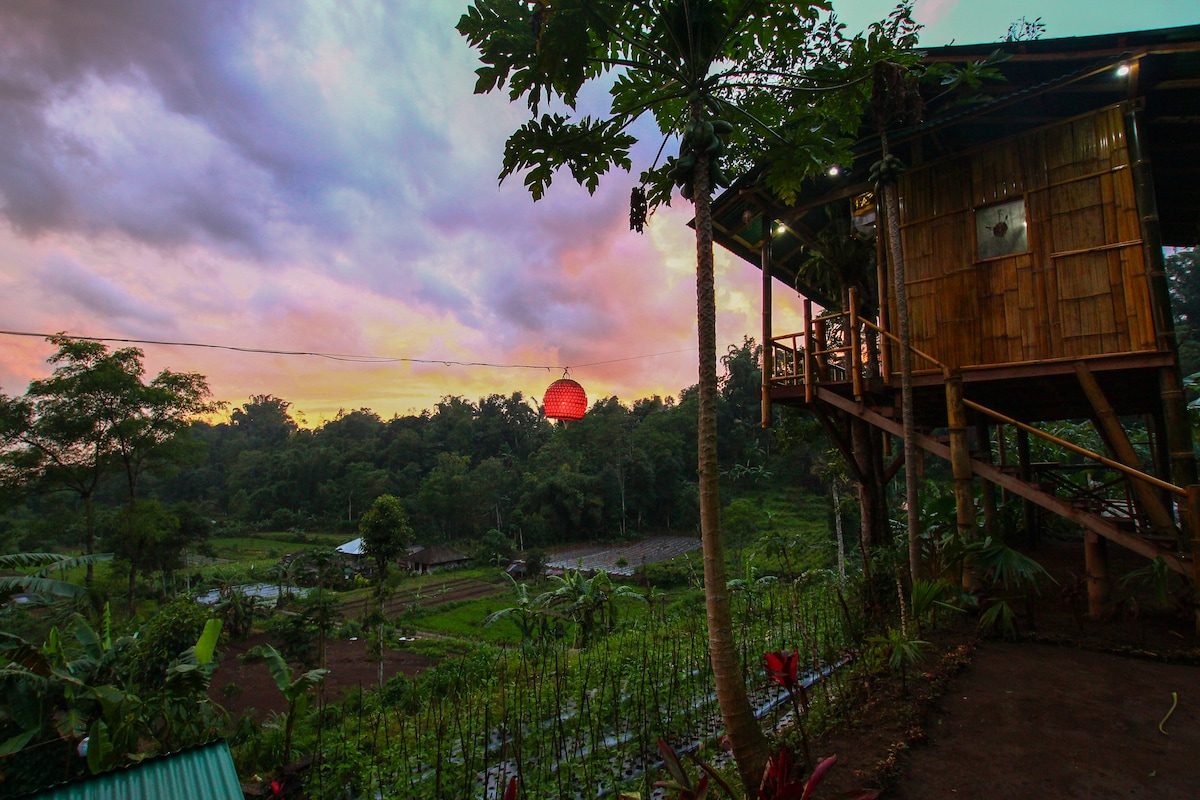 Also See:
Pin For Later