Ever dream of a stay on a houseboat in Amsterdam? Well, then you are in for a treat! Amsterdam, the amazing capital of the Netherlands, is a popular tourist destination due to its artistic history. Its narrow houses, canal system, contemporary architecture, and numerous tourist attractions have made it a "must-visit" city in Europe. Travelers visiting the city for a short or extended period can make their time in Amsterdam more enjoyable by booking the right accommodation. Although the city has numerous accommodation options, staying in an Airbnb boat in Amsterdam is an excellent choice for solo, couples or group travelers.
Top 10 Amazing Airbnb Houseboats In Amsterdam
Whether you are ticking off a list of cool and romantic things to do in Amsterdam, a cool stay in the city adds to the many amazing Amsterdam experiences that await you in the city. It's no secret that I love Airbnb and its added benefit of feeling at home while experiencing a new city or one that's on repeat like Amsterdam. So whether you are doing 1 night in Amsterdam or combined trips through London, Paris and Amsterdam, below are the coolest Airbnb in Amsterdam with many offering not only amazing views but all close to cool attractions in Amsterdam.
There are plenty of options whether looking for cheap houseboat accommodation in Amsterdam or if looking for luxury houseboat rentals. If you are visiting during busy seasons I highly recommend you book a houseboat in Amsterdam way in advance as they usually sell out for months sometimes. Note, if you are new to Airbnb, I have also shared tips for new Airbnb users.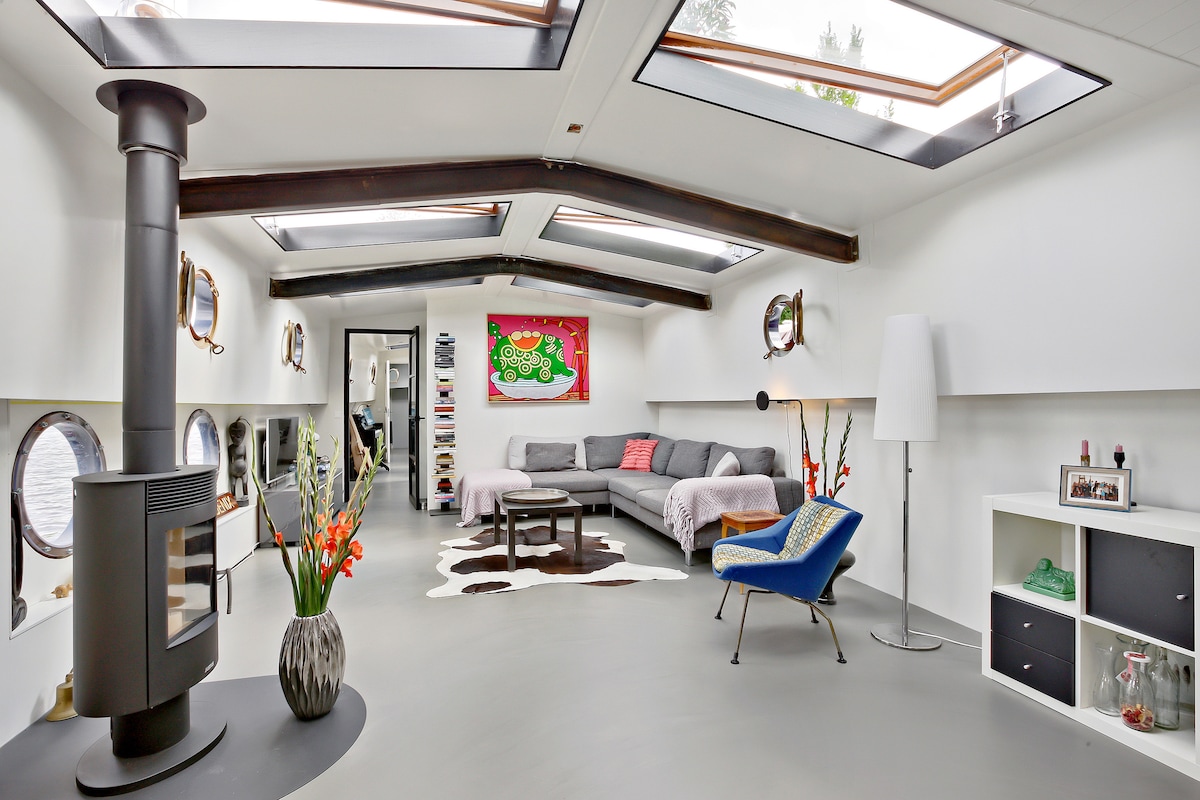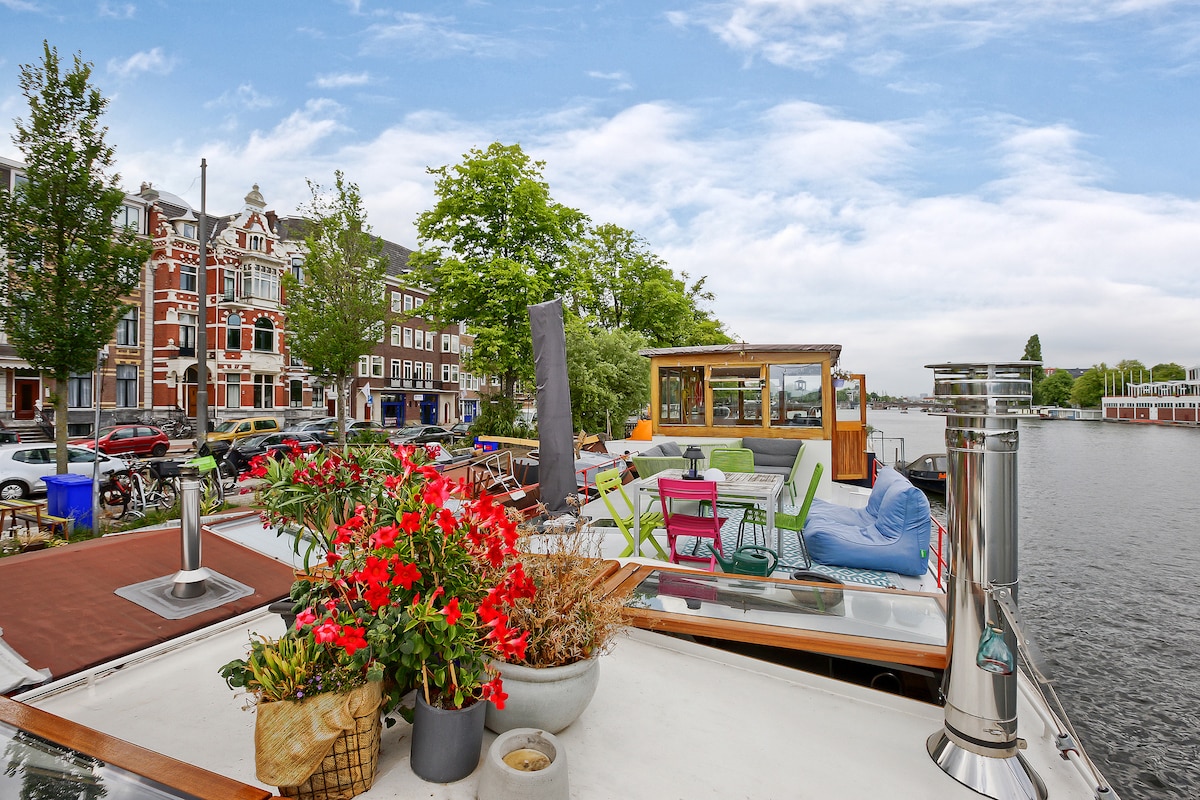 If you are looking for a cool houseboat rental in Amsterdam, then this is great starting point. Travelers get to enjoy the entire houseboat located on the Amstel in the De Pijp area, all to themselves when they book. The ship has three bedrooms and one and a half bathrooms, which can accommodate four guests at one go. Recently renovated, the 1910 boat is the epitome of luxury with a modern interior. Its amenities are a well-fitted kitchen, lounge area with the hot tub standing out as one of its best features. To relax, step onto the deck and lounge, dine and sunbathe while enjoying a beautiful view of the river. View more pictures and check availability here.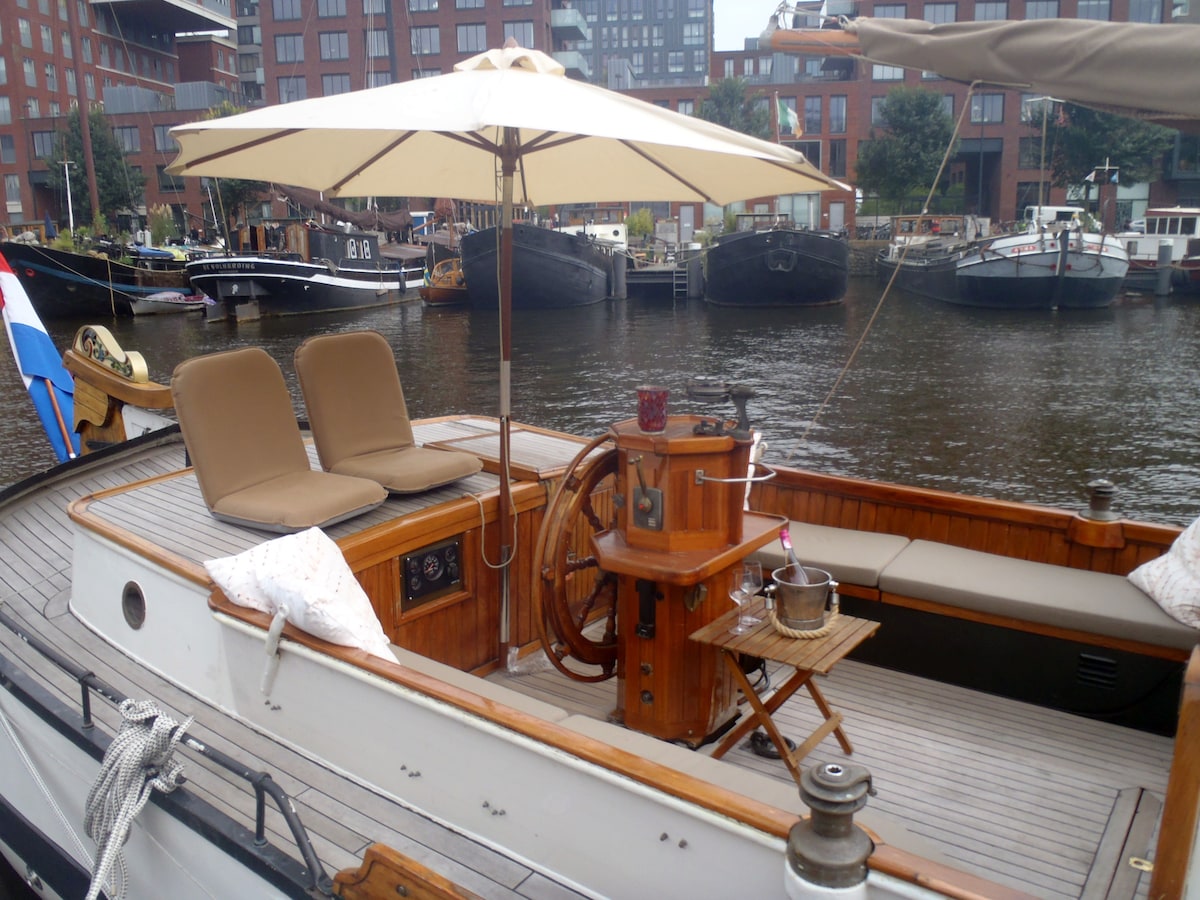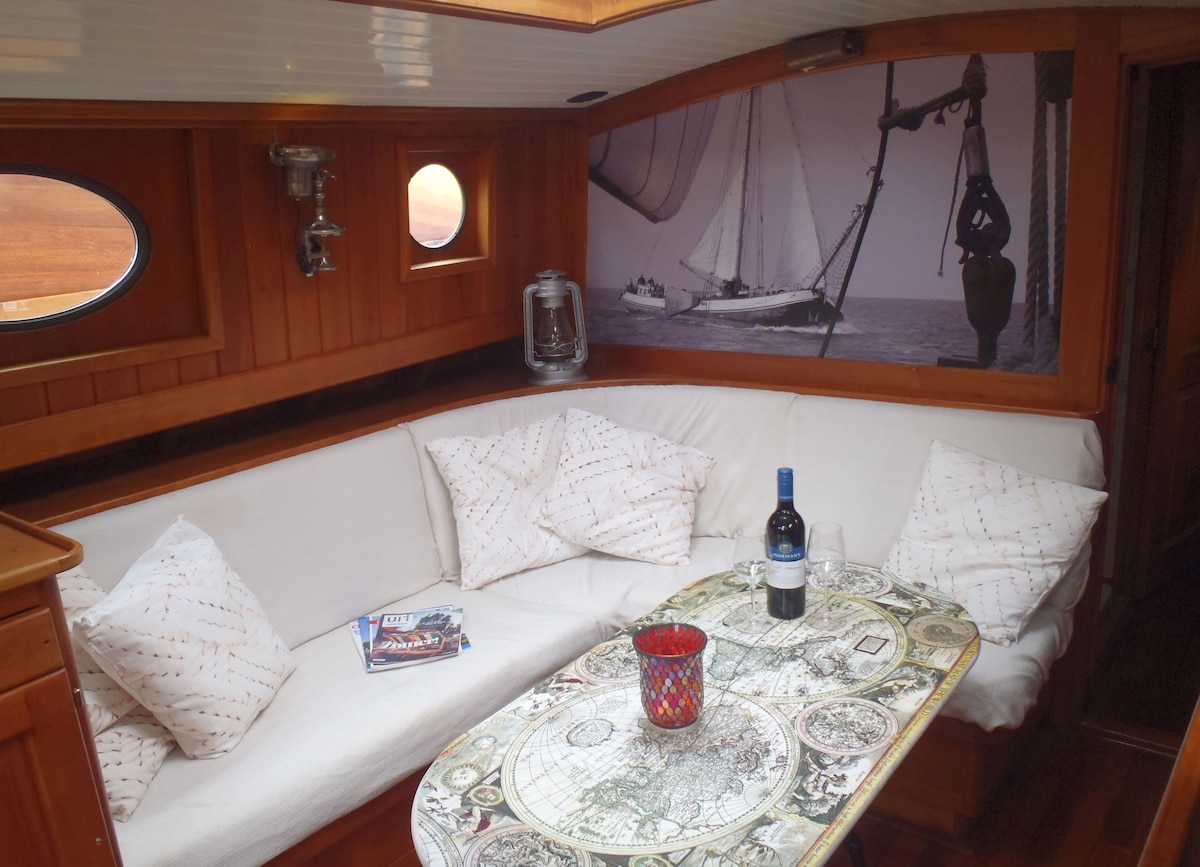 Amsterdam houseboat holiday are made easy with this cozy flatboat could be centuries old, but its modern interior has all the comforts needed for the perfect stay. Located on the port of IJdok, the boat is safe because it is a private harbor. It has one bedroom and one bath, which can play host to at least two guests comfortably. It is fully equipped from the spacious back deck, living room, and wood-paneled kitchen. The amenities on the yacht are world-class and include a toilet, shower, heating system, and Wi-Fi. Guests can also use the two available bikes that are perfect for exploring areas like Aitana Hotel and Amsterdam Central Station. View more pictures and check availability here.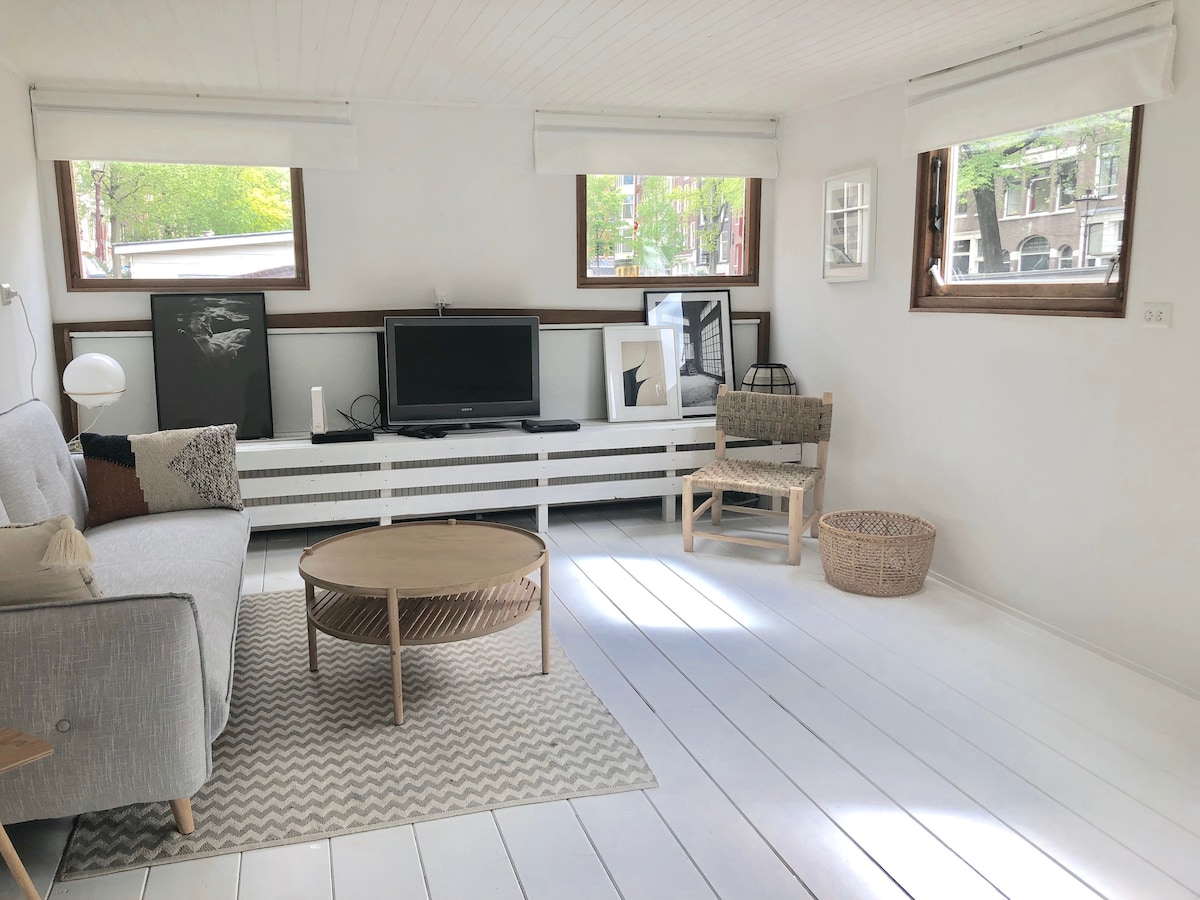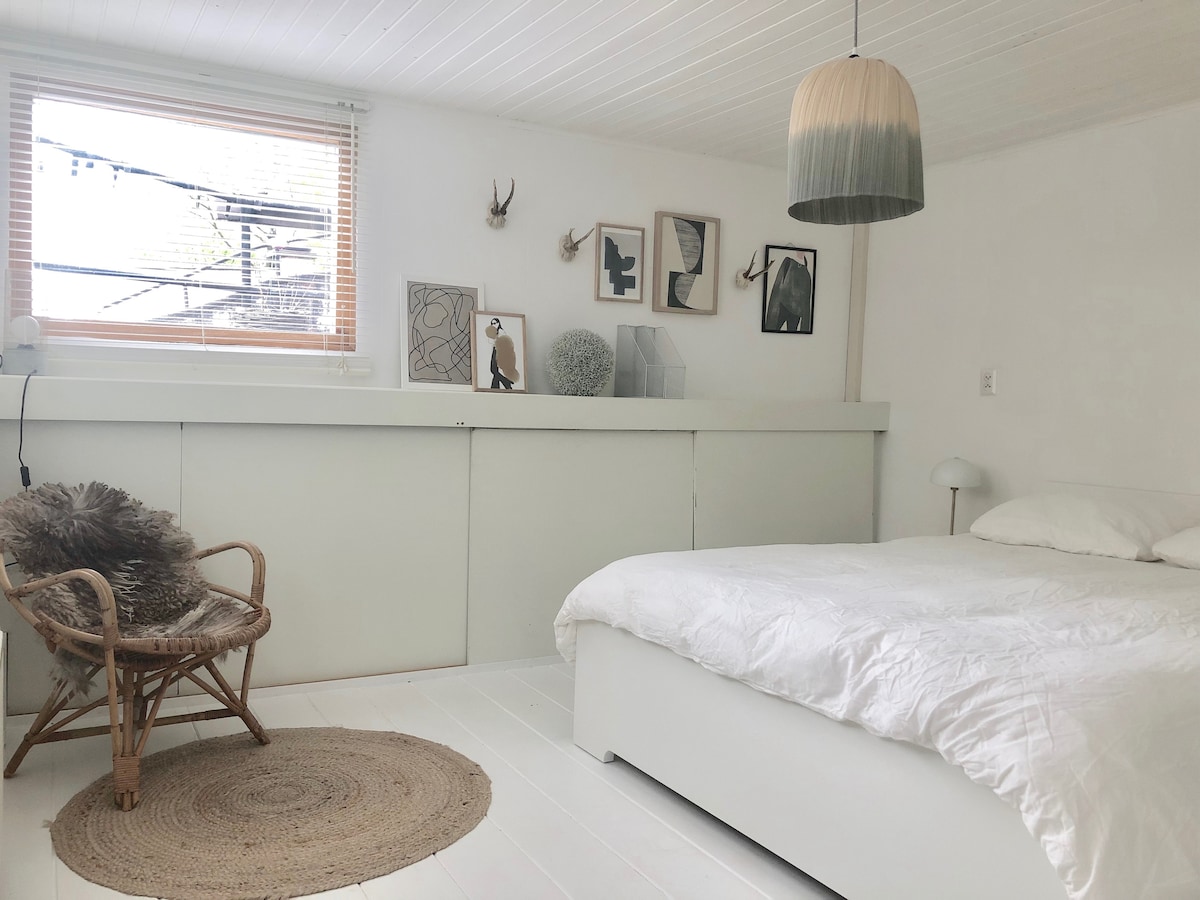 The perfect Amsterdam houseboat rental in Jordaan district. Comfort, luxury, and beauty is what guests can expect when they stay at the houseboat in Amsterdam. Its large living room is one of its best spaces with six windows providing the best view of Prinsengracht, Anne Franks House, and Wester church. The living also has a pull out sofa for guests, which adds up to one bedroom and bathroom. Typically, the houseboat can accommodate three people who have access to amenities such as equipped kitchen, central heating, washing machine, and dryer. View more pictures and check availability here.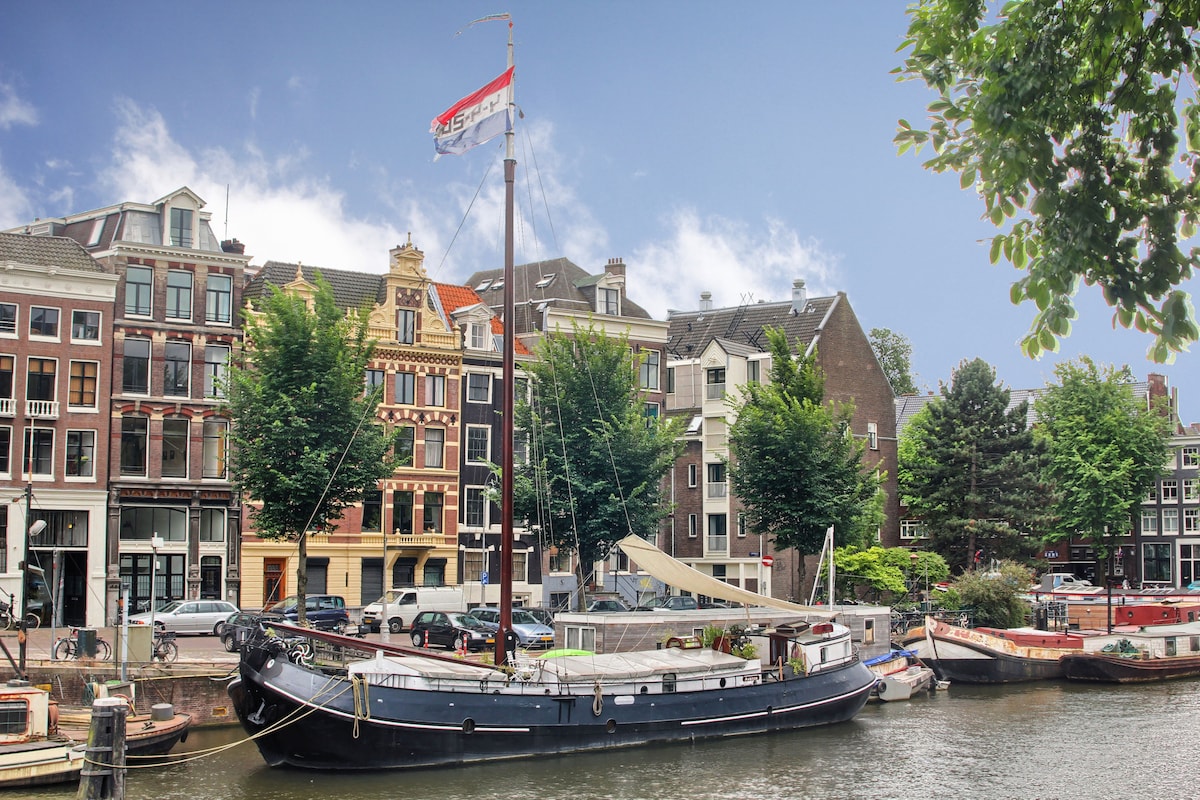 Floating around in an old century ship is the best way to spend time in one of Amsterdam's quietest areas. Its two bedrooms and one bathroom can accommodate four guests at one go because of the spacious rooms. The boat gives you an unforgettable guest experience as it is equipped with all the necessary amenities for a comfortable stay. Guests get to enjoy a fully equipped kitchen with modern appliances and a dining area that is rigorously cleaned courtesy of the host. View more pictures and check availability here.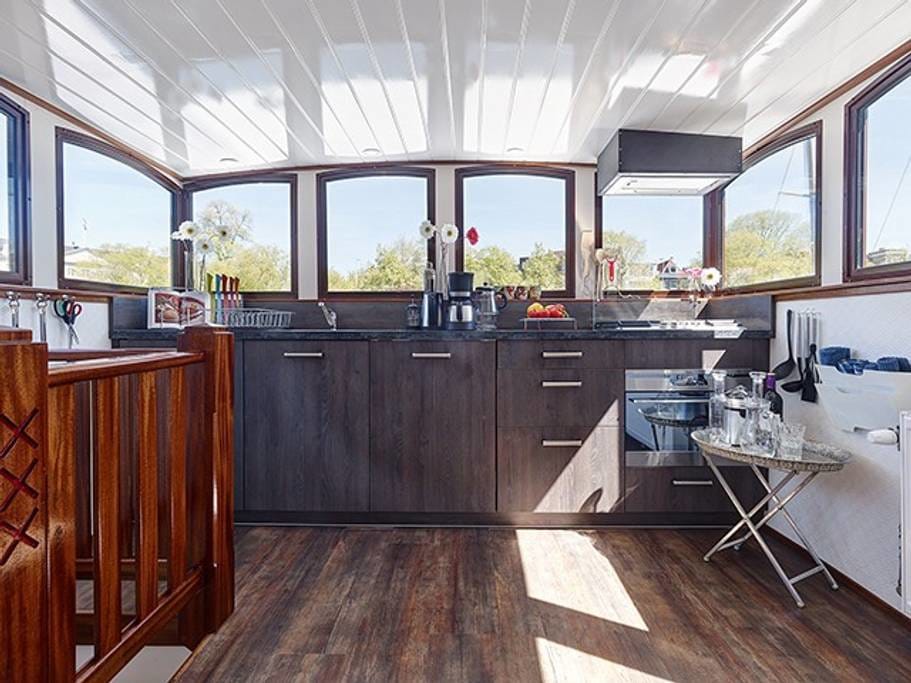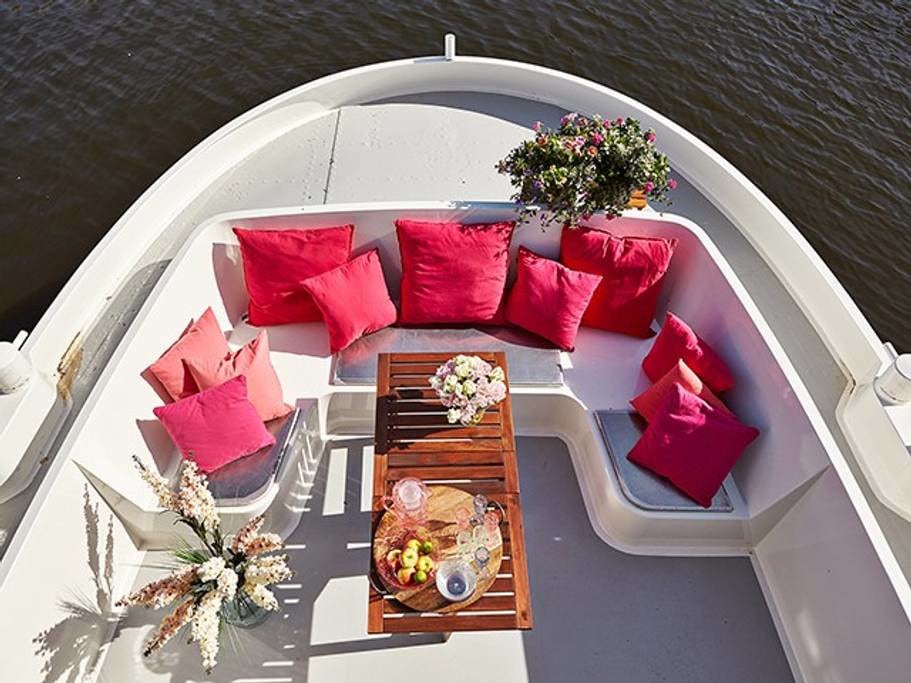 Located in the heart of Amsterdam, the unique houseboat is large enough to accommodate couples, families, and solo travelers. It has four bedrooms and two baths, making it a perfect place to stay for at least four people. The ambience and outdoor space on the boat are designed to provide guests with a relaxed experience. Some of its amazing features include a lovely terrace and living area that guarantee guests a pleasant time on the houseboat. Its location in the city centre makes it easy to access nearby areas like the Maritime Museum, Artis Zoo, and Central Station. View more pictures and check availability here.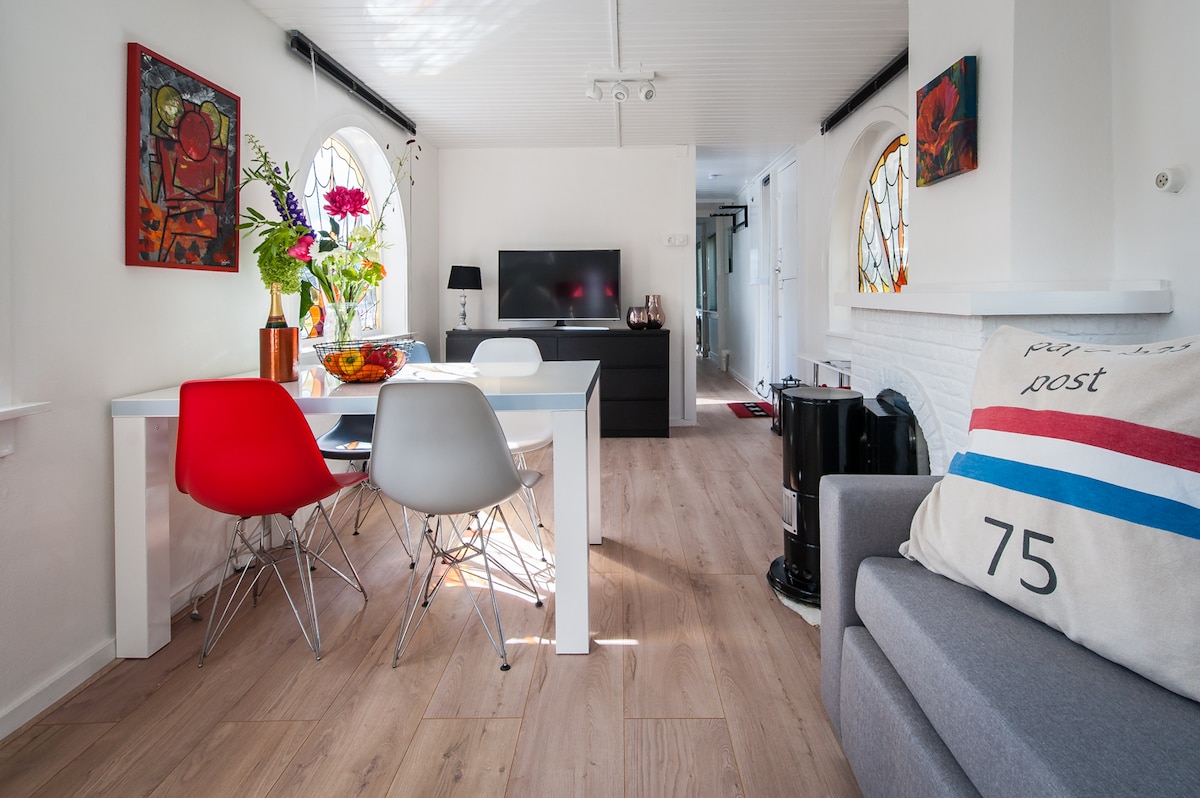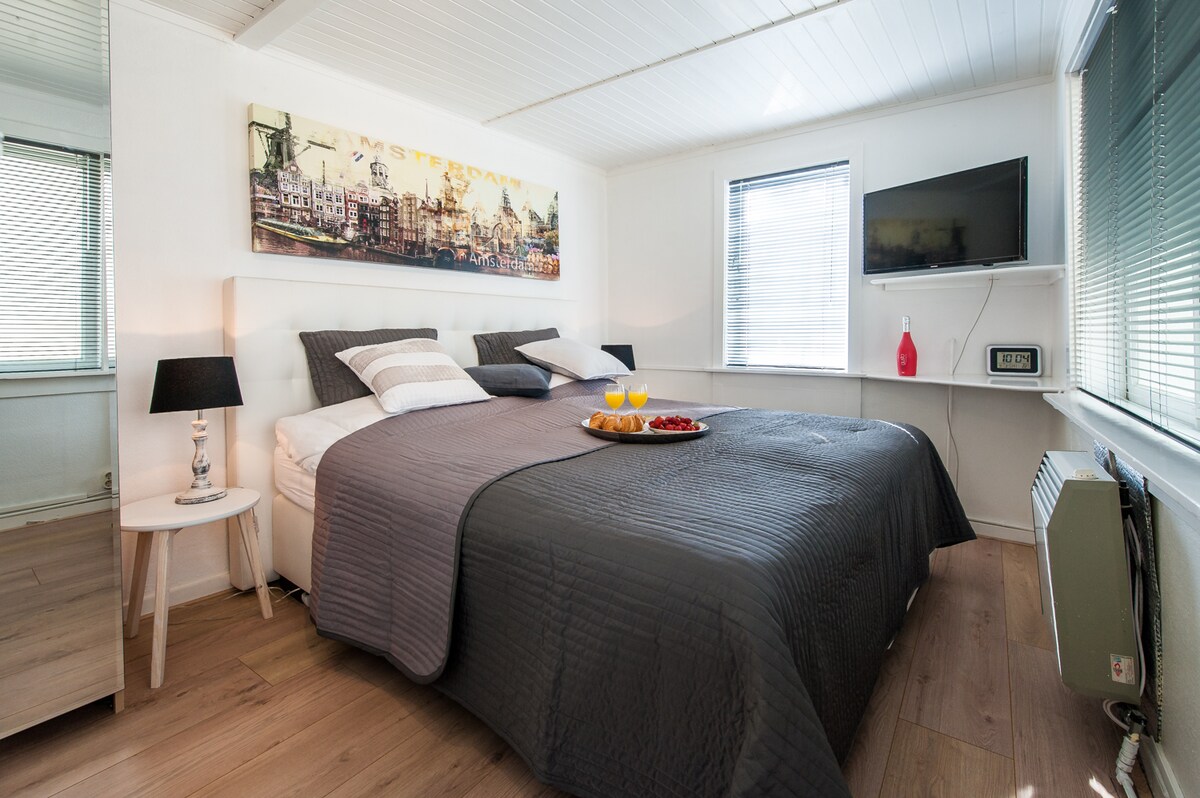 Hunting for a romantic Airbnb houseboat in Amsterdam, this is one of our favourites. The newly renovated houseboat is the perfect spot for business travelers, couples, and families with children. It offers beautiful views of Amsterdam from can be seen from every room, giving guests a chance to explore the area without stepping out of the boats. At least four guests can access the two bedrooms, one bathroom, kitchen, and living room at any given time. The houseboat has several amenities, including central heating, Wi-Fi, and safety features. Also, guests can be picked from the houseboat by an Amsterdam water taxi. View more pictures and check availability here.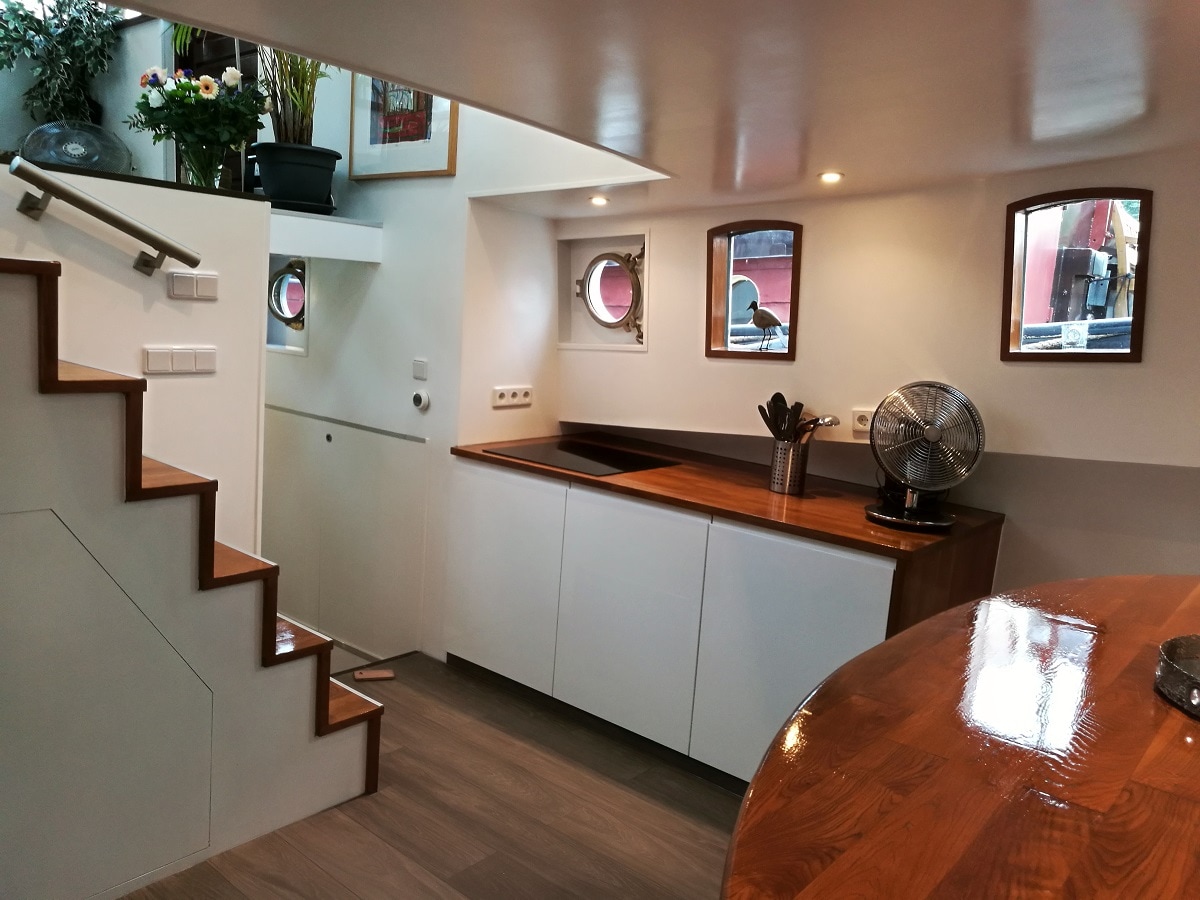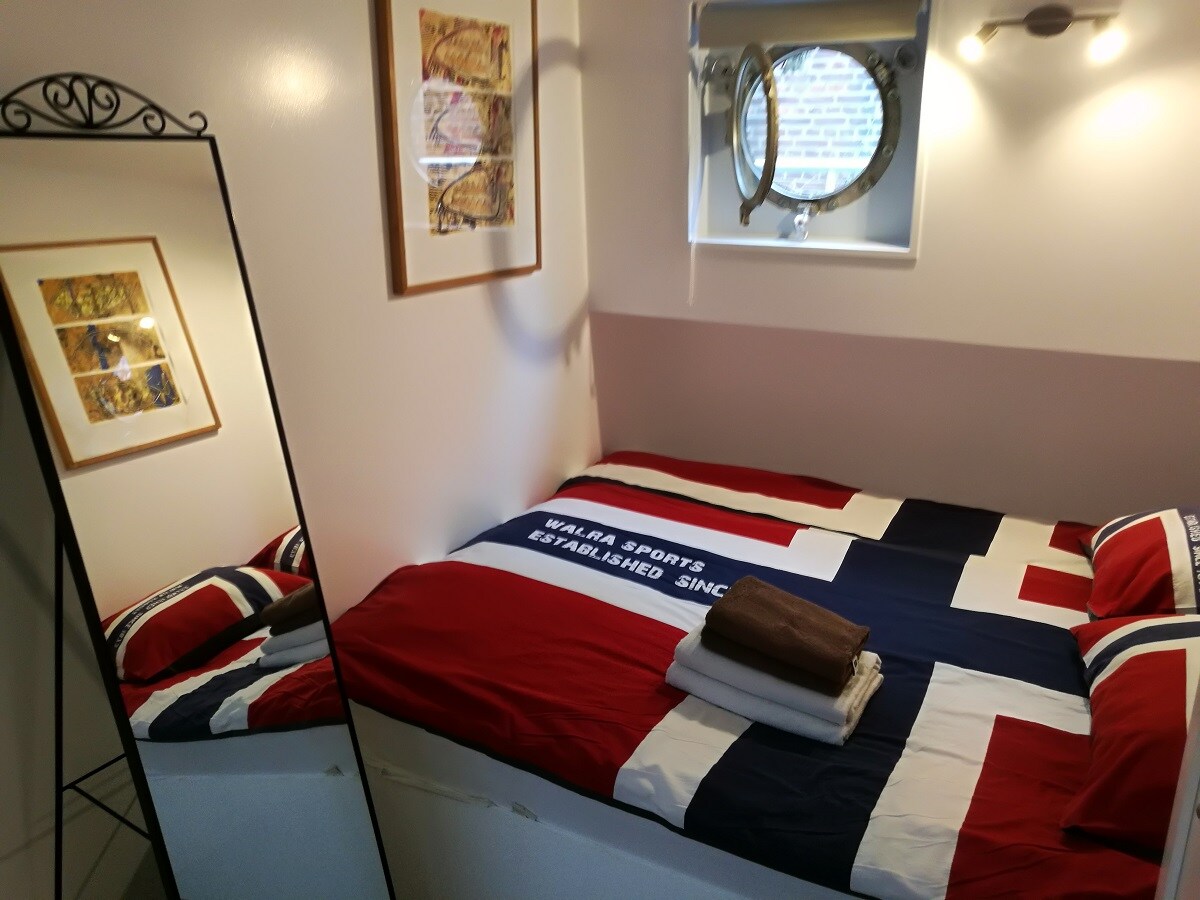 If you prefer a hidden location for a unique experience of Amsterdam, then this stunning 1920 houseboat is your best bet. Recently renovated, the boat has a new interior comprising of two bedrooms and three beds that is perfect for four guests. On the ship is a private terrace that can be accessed by the guests at their convenience. Besides spending time on the houseboat, guests can walk to nearby restaurants, bars, and markets like the famous Albert Cuyp market. View more pictures and check availability here.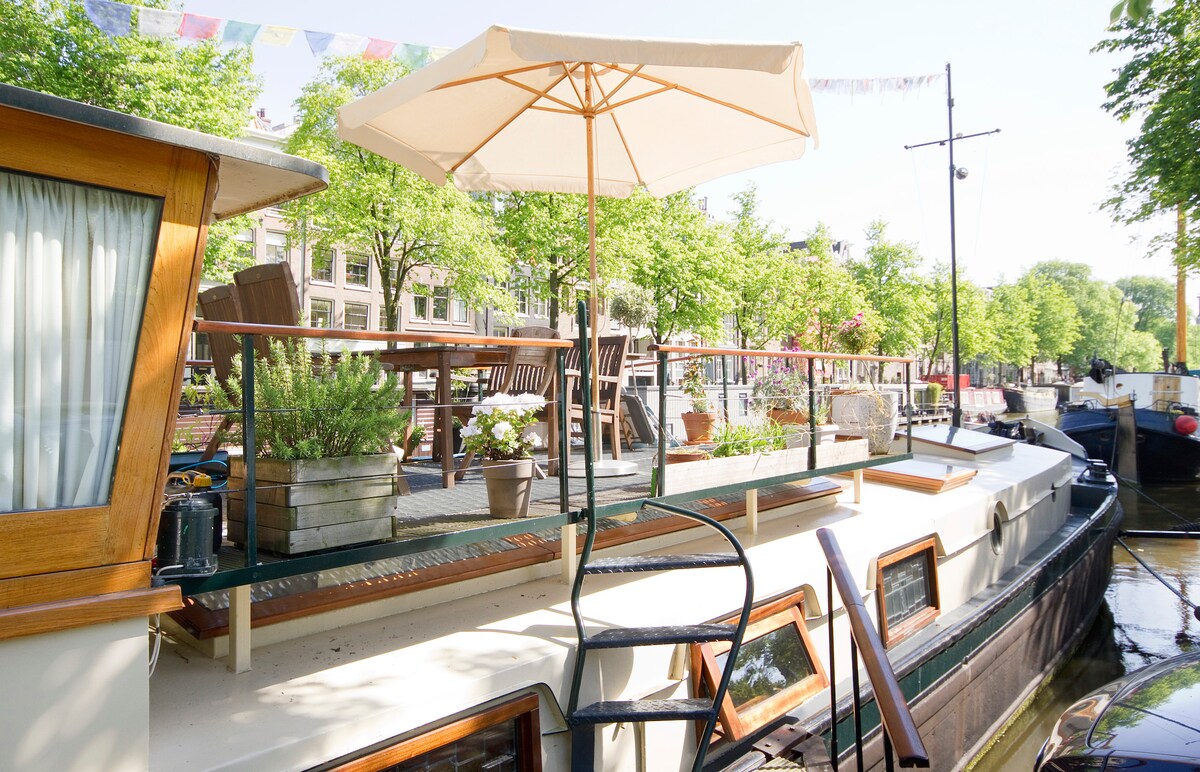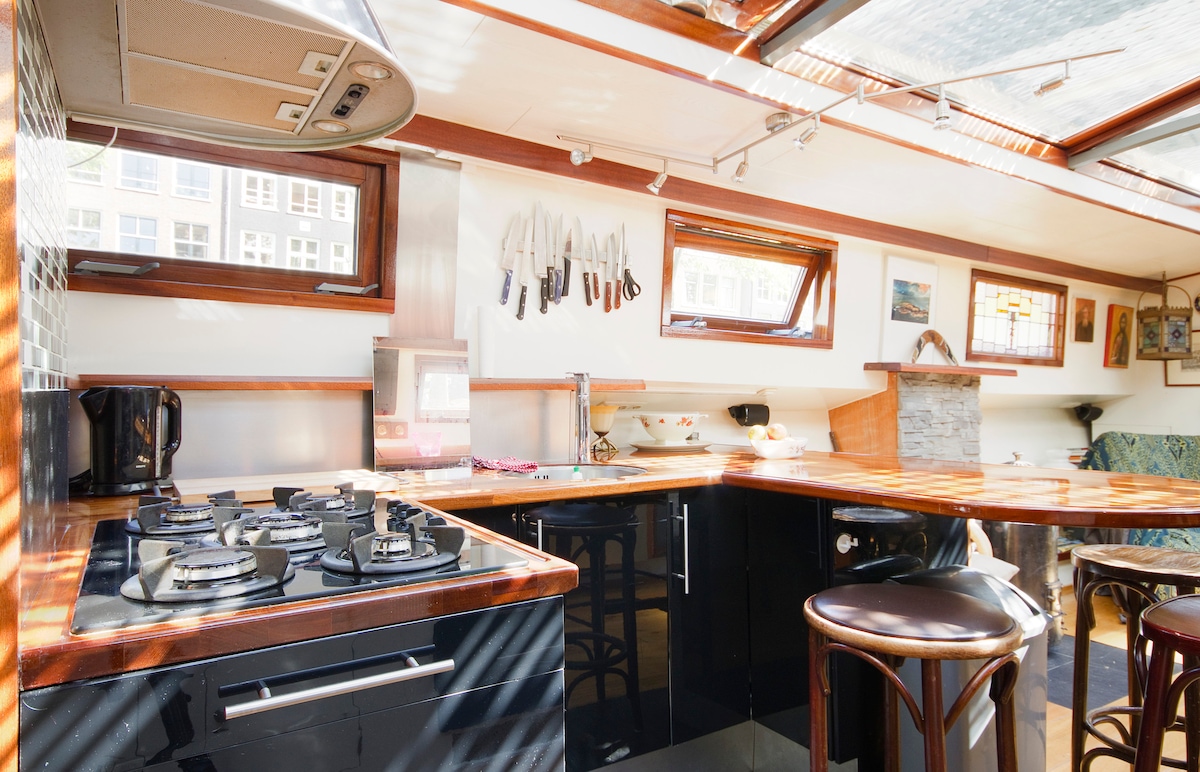 Located at Prinsengracht at the Jordaan Centre, the beautiful houseboat stands out among old buildings in the area. The twenty-three-meter boat has been transformed into spacious rooms that include living room, lounge area, deck, terrace, and stunning kitchen. The indoor fireplace is one of its unique features that has become a favorite for guests. Its two bedrooms and one bathroom can accommodate three guests at the same time. At the lounge, which was once a wheelhouse is an ideal place to sit and watch ships sail by on the canal. View more pictures and check availability here.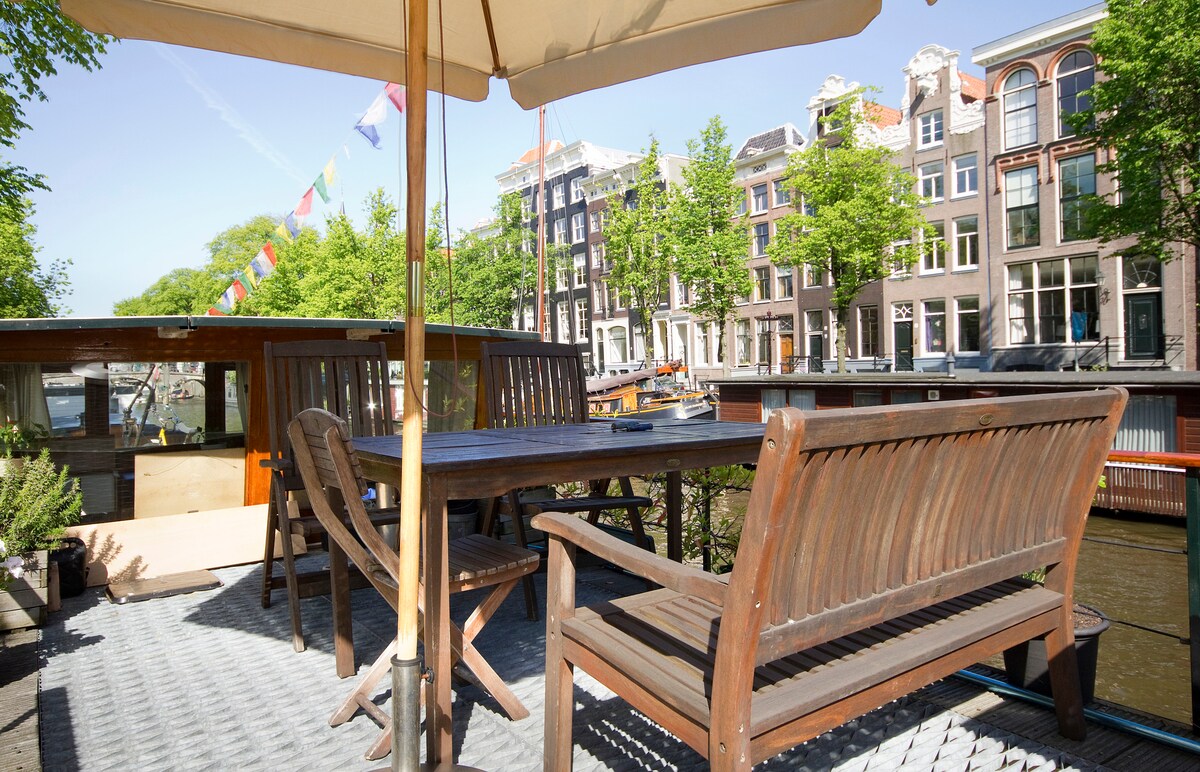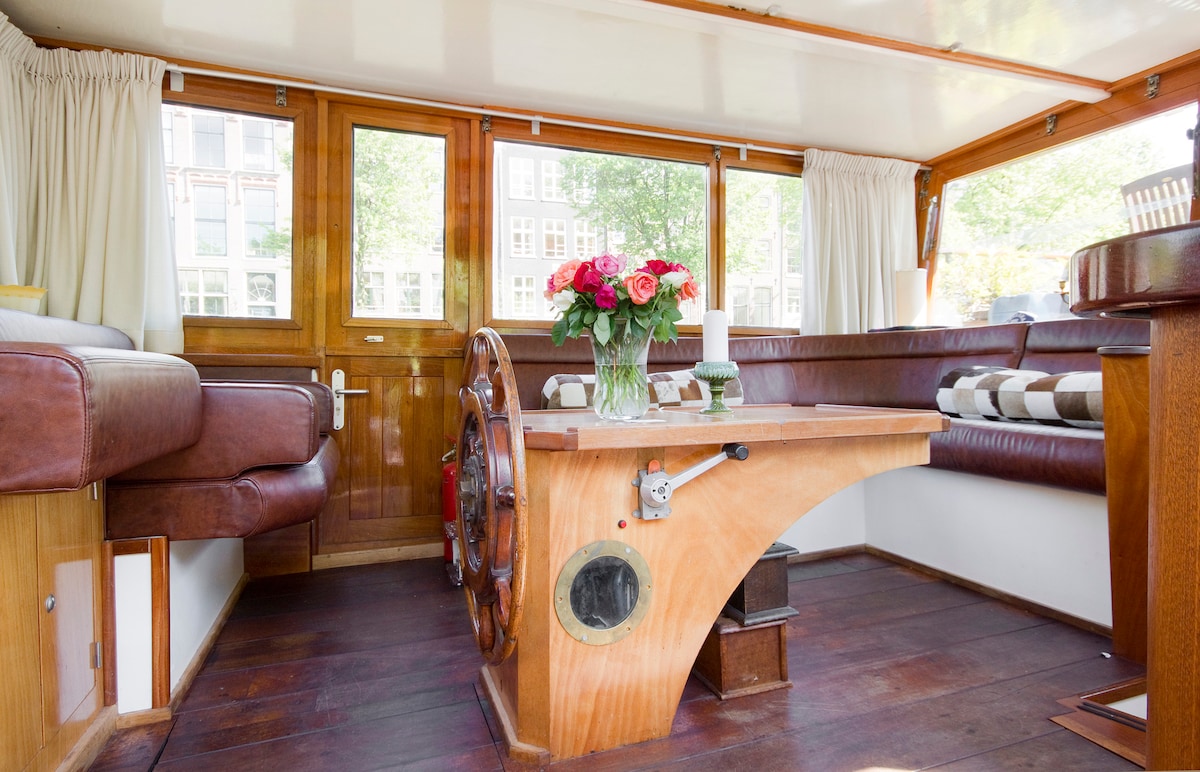 The houseboat gets its name from its all-white exterior, which makes it stand out on the river. The boat's interior is beautifully furnished and comprises one bedroom and two beds that can accommodate four guests. It also has a living room, open-plan kitchen, and a private terrace that gives guests a chance to watch ducks swimming in the water. The houseboat's fantastic location is near Westerchurch and Anne Franks House, which are only a few minutes away. View more pictures and check availability here.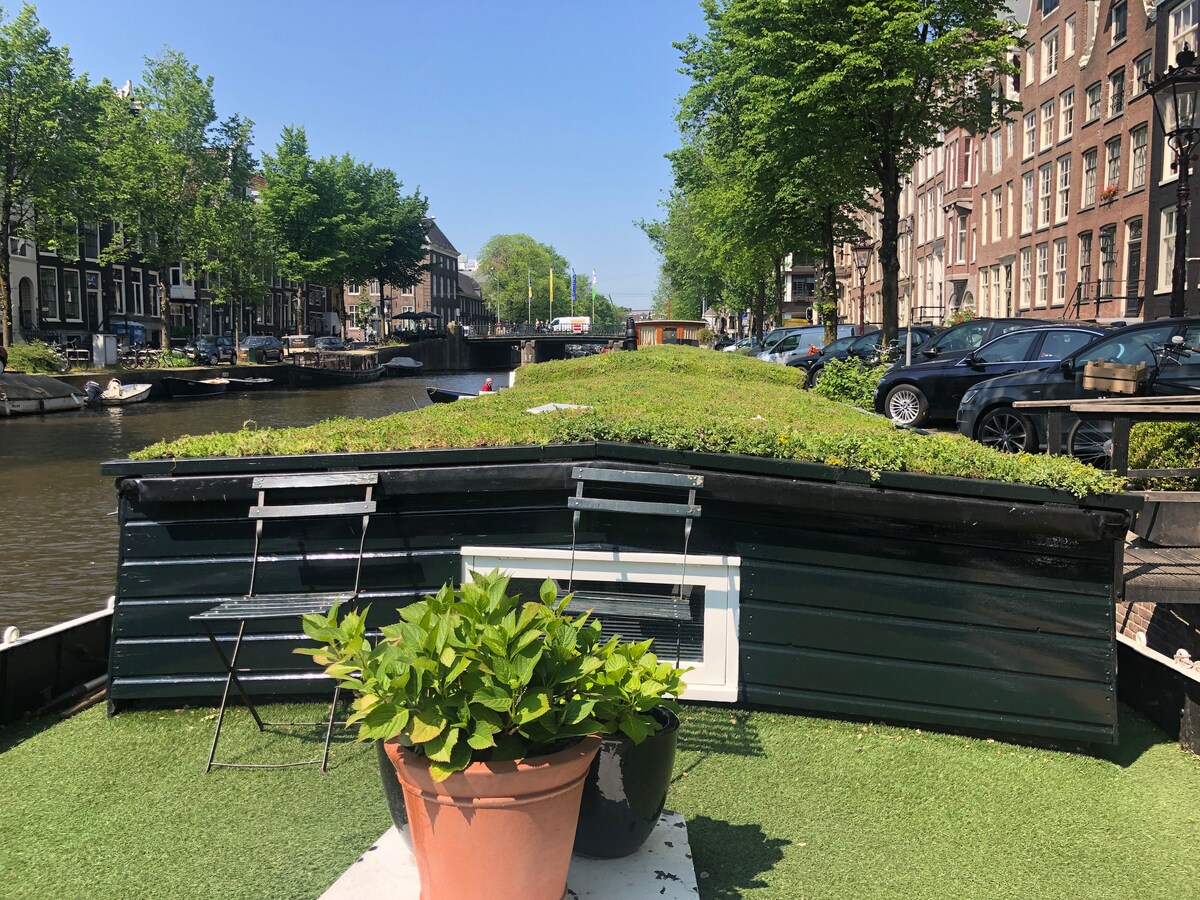 Comfort and style is the first impression guests get when they walk into the lazy design boat. Both first time and repeat guests always enjoy their time on the houseboat. Its design includes various amenities that comprise one bedroom and one bath that are perfect for a two-guest stay. Other facilities include an equipped kitchen, fresh linens, and a picnic table. The table can be set up on the deck during mealtimes allowing guests to relax while enjoying the sun in the outdoor garden and magnificent views of the canal. View more pictures and check availability here.
So, have you ever stayed on a houseboat before? Which one of these houseboats are going on your shortlist for your Amsterdam houseboat holiday?
Also Read:
Pin For Later