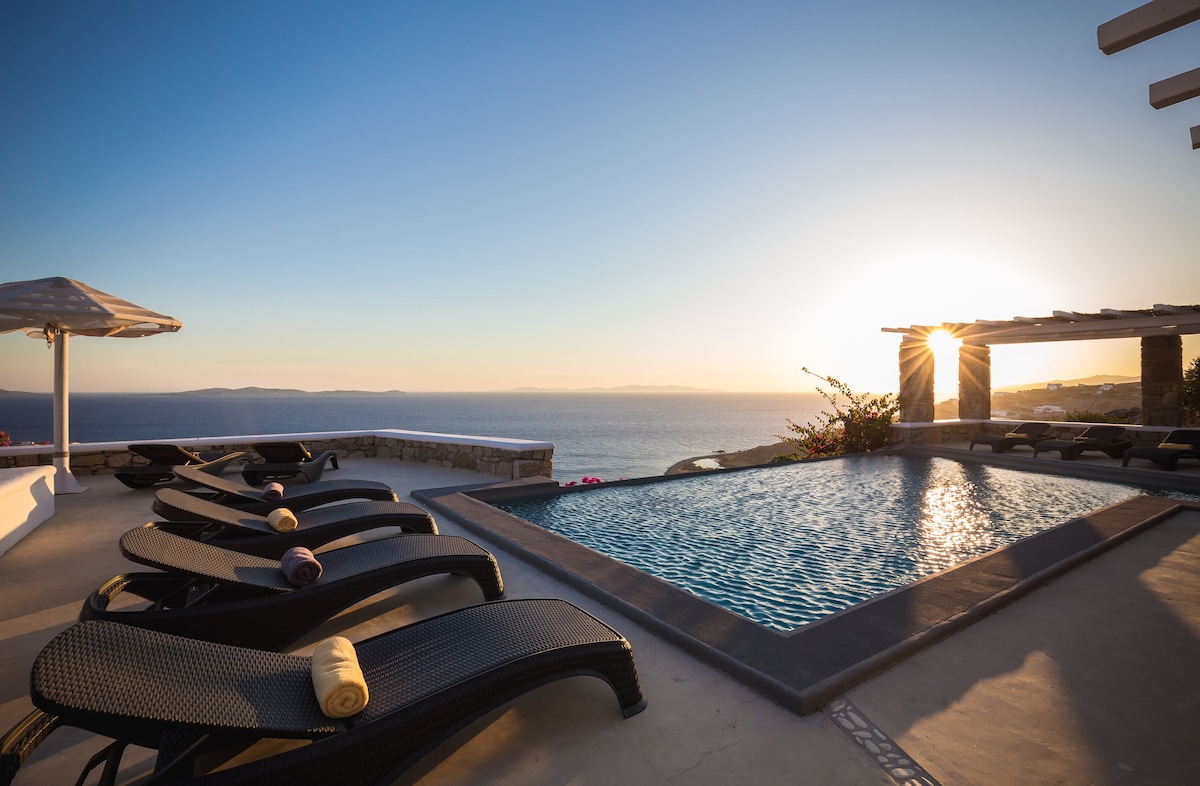 Located in the center of the Cyclades island group, Mykonos is one of the most famous Greek islands for its cosmopolitan atmosphere and vivid nightlife!
Making it a top Greek destination where all the fun happens. Greece's holidays' experience goes to another level in this popular tourist destination; Luxurious Mykonos hotels, award-winning restaurants, cosmopolitan vibes, a crazy party scene, amazing Mykonos beaches and above all Airbnb accommodation of its kind.
But finding the best Airbnb accommodation with excellent hosting experience expeditiously is an overwhelming task for travelers and tourists visiting Mykonos. So how do you find these exceptional accommodations in Mykonos? Probably you might have had to visit tens (or even hundreds) of them to find those best ones.
Let's make it easier for you. We will introduce you to 10 of our amazing Airbnbs in Mykonos to pick from. They all have a state of art terrace where one will find all amenities for sunbathing taking in the truly magical view.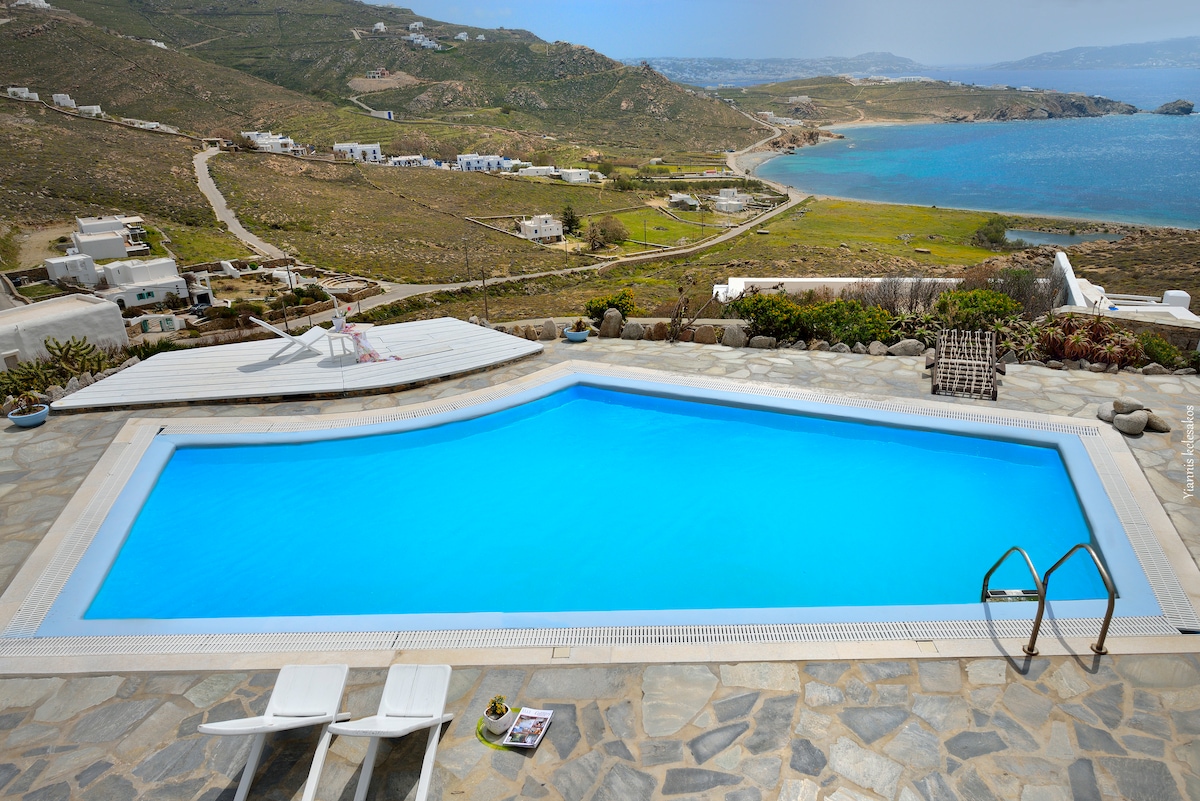 Amazing 11 Airbnbs in Mykonos
For additional tips on the best areas to stay in Mykonos check out our previous post. If you are combining a visit to Mykonos with Santorini or Athens then check out our perfect itinerary on Mykonos, Santorini and Athens with options for additional island hopping.
Many of the Greek islands can be done on a variety of budgets, so if you wondering about budget in terms of costs of food, accommodation, tours in Mykonos we have covered that on just how much to take to Mykonos.
The best way to describe Bay Bees is 'Simply the Best'. Bay Bees is the best Airbnbs choice; it's a two-bedroom house covering a total surface of 60sq.m.
It consists of two separate bedrooms/bathrooms each with an open plan kitchen, a queen size bed, a living room and a dining area (both indoor & outdoor). Bay Bees has a private terrace with stunning views to the Aegean Sea.
There are two standard single beds in the living room, and the house can comfortably host 5-6 adults or a large family. Air-condition available throughout.
Sleeps: 5-6 people
Price: £120 per night
Check Availability and rates here
Traditional Cycladic Villa is ranked among the best Airbnbs villas in Mykonos due to its stunning location overlooking Psarou Beach.
It offers incredible sea views and the outlying islands. This house is 220sq.m. with a private swimming pool for the guests.
The Psarou Summer Villa can comfortably host up to 12. It has a total of 5 bathrooms and two fully equipped kitchens in this house.
Sleeps: 12 people
Price: £140 per night
Check Availability and rates here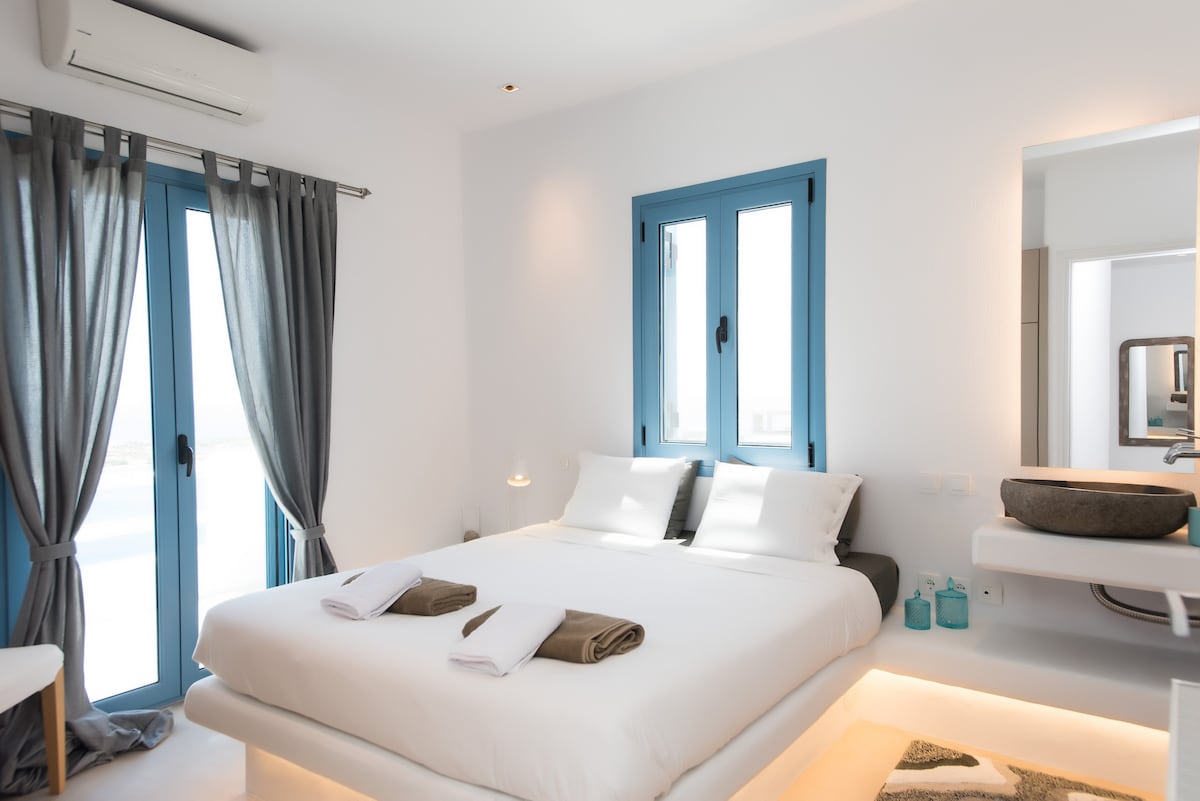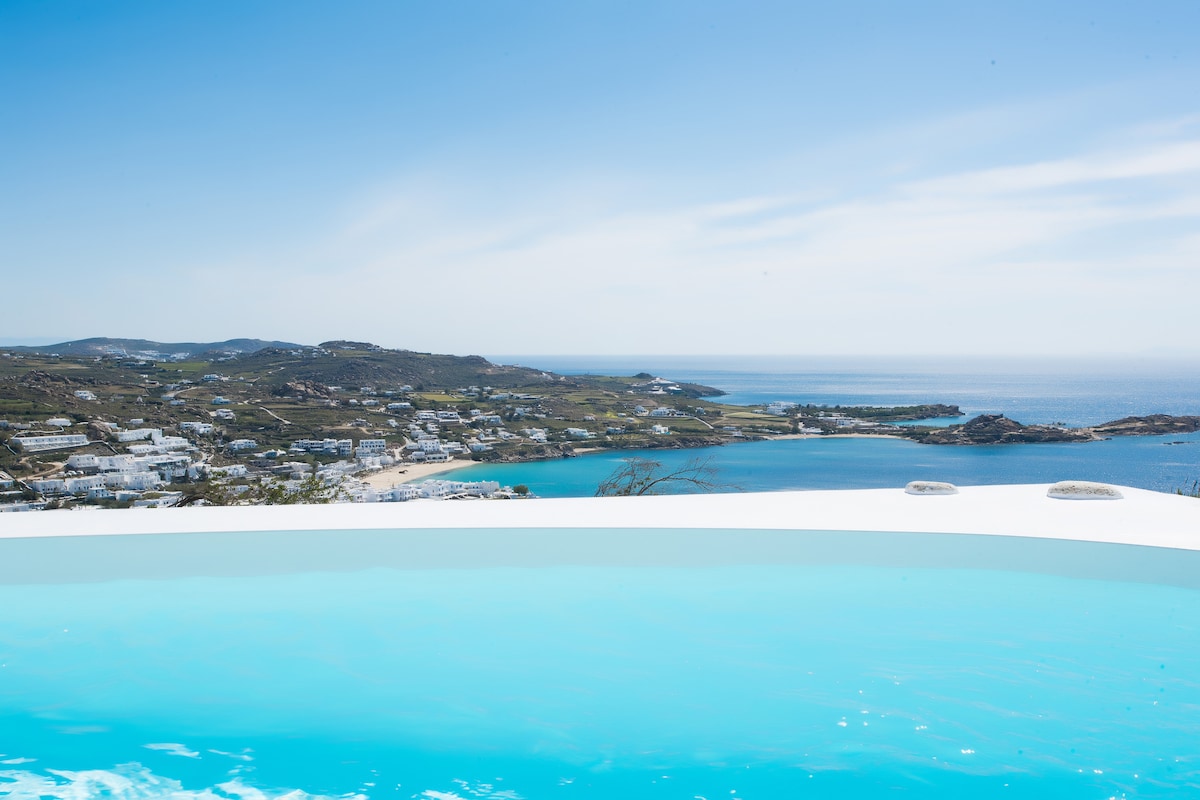 The unique Villa Isabella is sited on the top of the hilly Agios Lazaros with a stunning view of the Psarou Bay of 400sq.m.
Ideal for a nice, relaxing holiday away from the bush, yet strategically located for someone seeking to join the fun scene of this cosmopolitan island.
Villa Isabella has a private pool with an outdoor dining pool for its guests. While here, you can try to explore the world-famous Nammos Village shopping experience located just a few minutes away or sip a Scorpios cocktail which is across the bay.
This property has no shared areas and as a result, guests can enjoy 100% privacy at our top-rated Airbnb Mykonos.
Sleeps: 16 people
Price: £50 per night
Check Availability and rates here.
If you are looking for simplicity, Villa Thelgo Mykonos III will be the right place for you.
Villa Thelgo Mykonos III is a jewel of pure and sophisticated Cycladic architecture: a 180 square meters, three-level property, all in white, perched on a hillside.
It has breath-taking, panoramic views over the Aegean It offers privacy and seclusion in a very idyllic spot. In the premises of the house a large, 70 square meters shared pool boasts, with panoramic sea views.
This Villa has 3 Master Bedrooms (Queen Size beds), 2 Sofa-Beds (mezzanine), five bathrooms and can accommodate up to 10 persons.
Sleeps: 10 people
Price: £340 per night
Check Availability and rates here.
Enjoy the modern and vintage charm of a fully reconditioned home. Veranda in the shimmering shade of a pergola, and look out to see where the azure sky meets the Aegean Sea. While at Dora's studio, you can prepare your meals in a modernized kitchen.
The apartment is fully renovated on the ground floor, with everything you need for a comfortable stay. It is 18 square occupied with one double bed and one single bed. There's also a kitchenette and a comfortable bathroom.
Sleeps: 3 people
Price: £82 per night
Check Availability and rates here.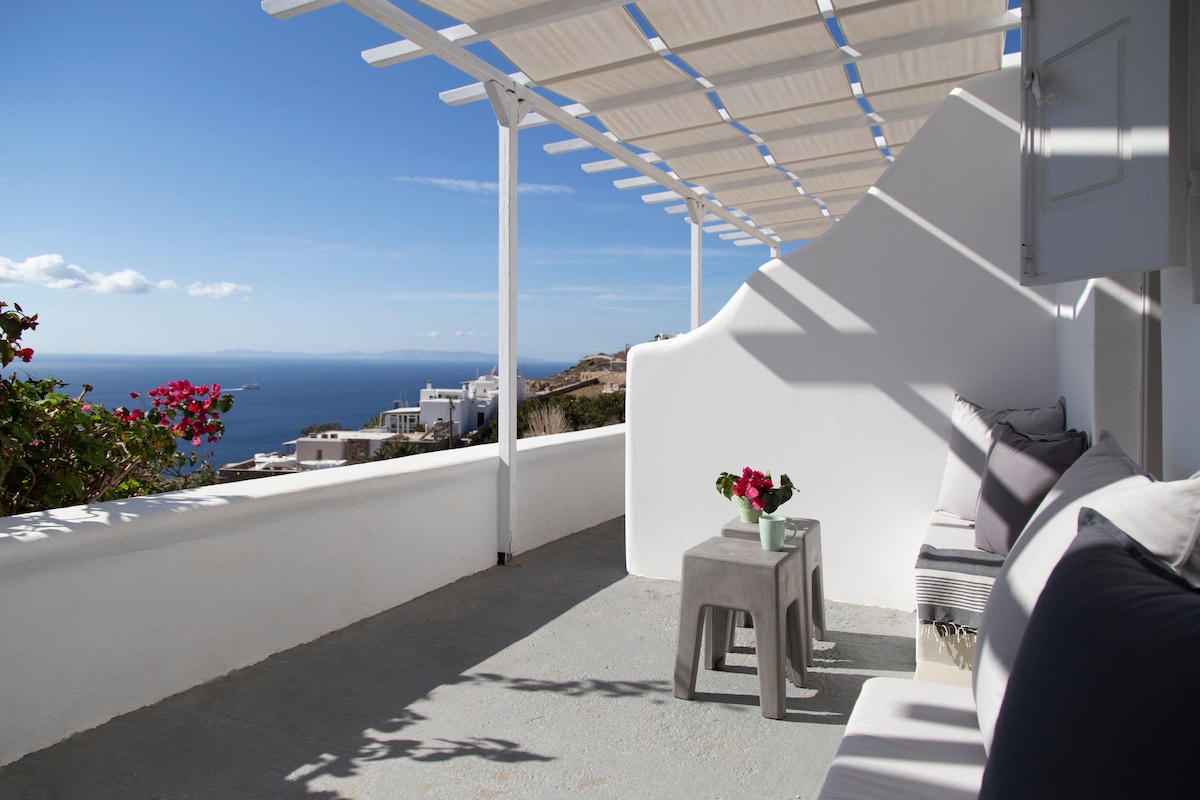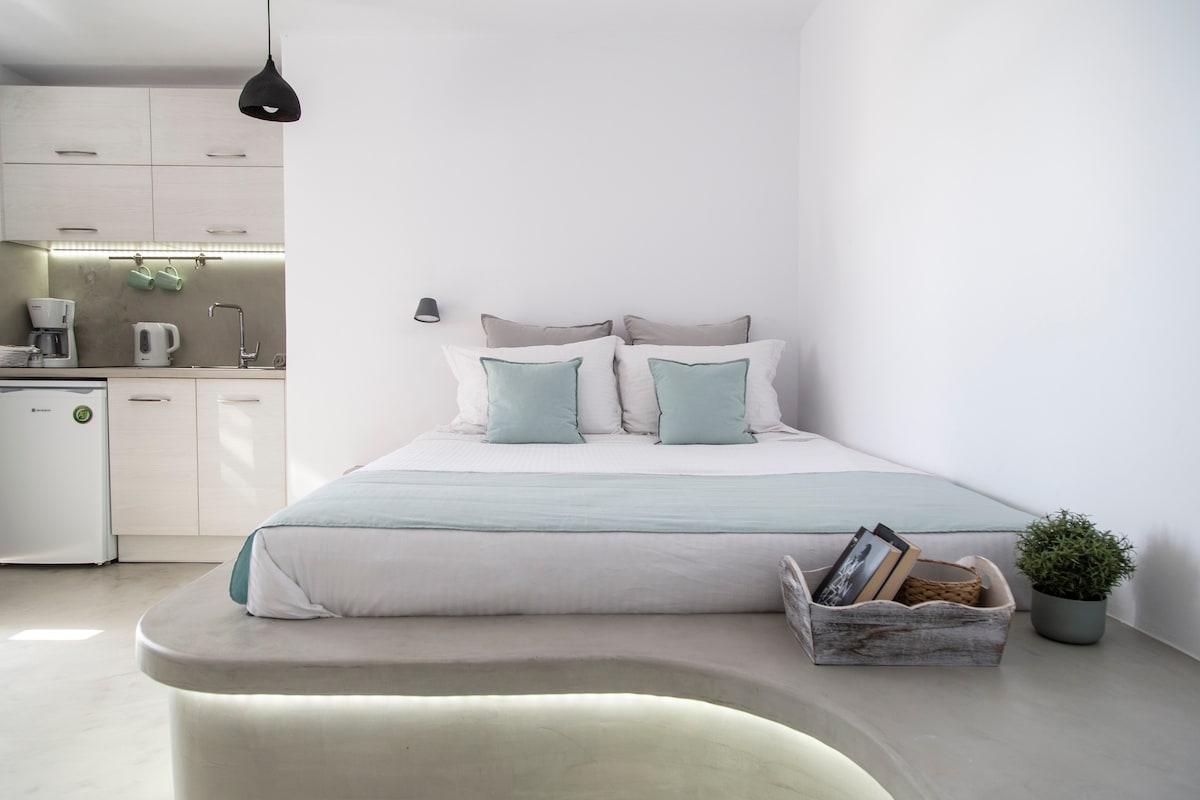 Villa Mystique is situated high above the hills at a most beautiful and panoramic location, overlooking the endless blue of the horizon.
The luxurious studio shares a swimming pool with a magnificent sea-view. The studio is built in traditional, Cycladic architecture, in typical Myconian style.
Superb furnishings and fabrics dress the whole in a simple but highly effective decor of white and blue amid a landscaped garden and pool setting.
Sleeps: 4 people
Price: £62 per night
Check Availability and rates here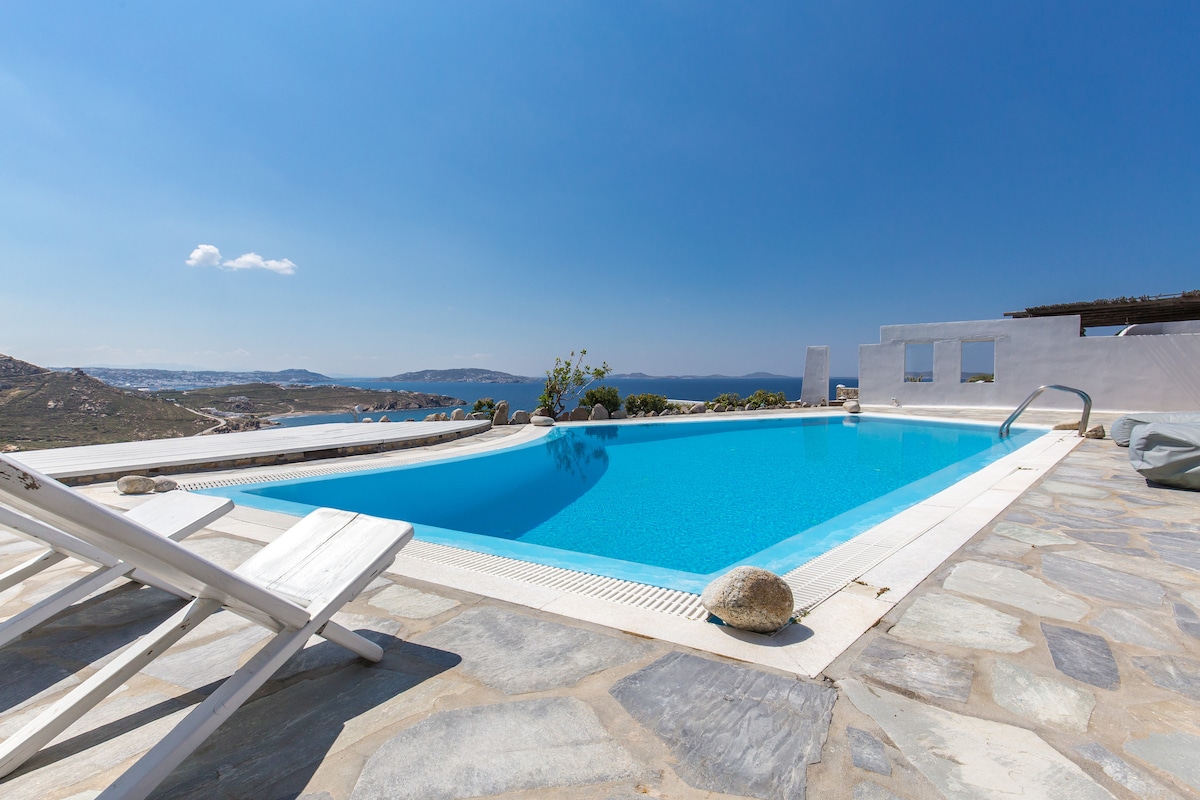 Located at the peak of the hill "Agia-Sofia", Mykonos Divino is a brand new complex. It is just 3km away from Mykonos town (Chora).
Mykonos Divino complex has three apartments with a great view of the sea and the old town of Mykonos.
All apartments in Mykonos include a fully equipped kitchen, parking spaces, a cosy living room and a private pool. Every Villa has its own private pool. There is free Wi-Fi everywhere. Check Availability and rates here.
Sleeps: 6 people
Price: £260 per night
Check Availability and rates here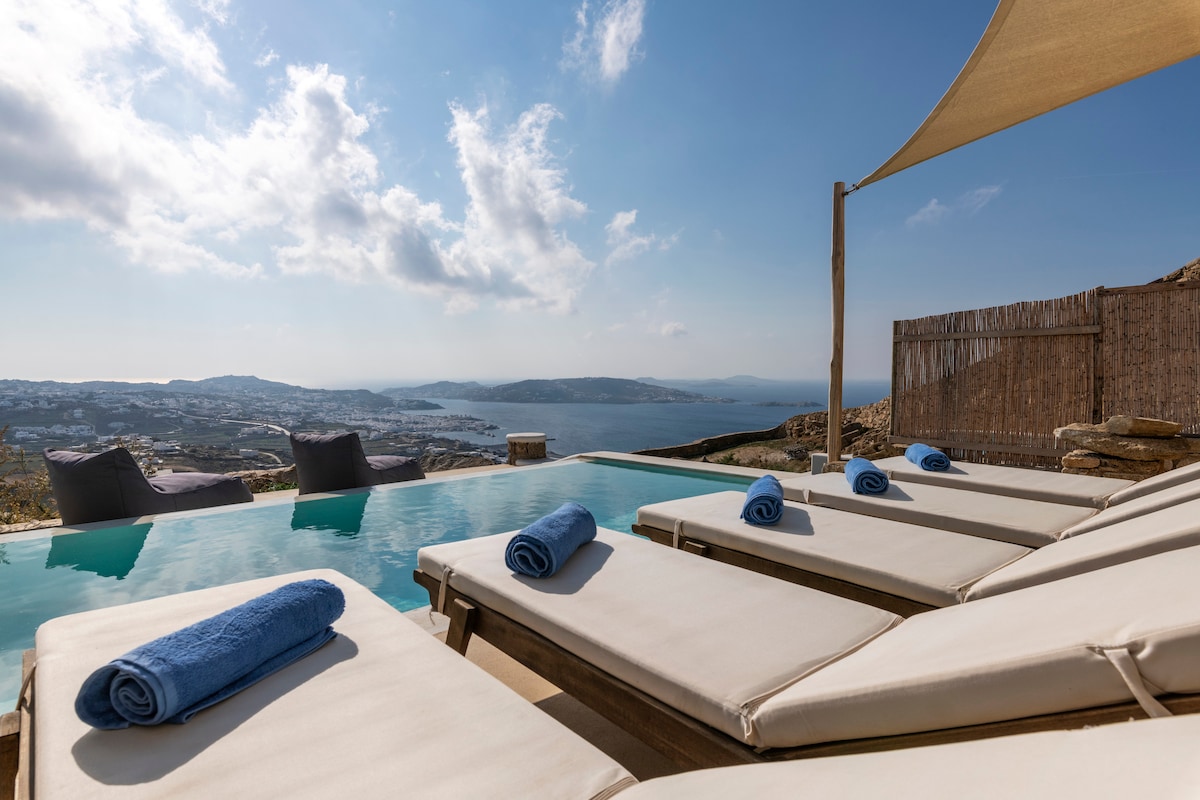 The Villa is exceptionally situated in Houlakia area, in a unique location overlooking the Aegean Sea and Mykonos main town (Chora).
Villa Chantall is ideal for a group of people who want to combine vacations allowing for peace, or those who want to enjoy the famous nightlife of Mykonos.
It has a breathtaking view stretching across the Aegean Sea and Mykonos town into the colourful sunsets. Villa Chantall accommodates up to a maximum of 9 guests in 4 bedrooms.
Sleeps: 9 people
Price: £340 per night
Check Availability and rates here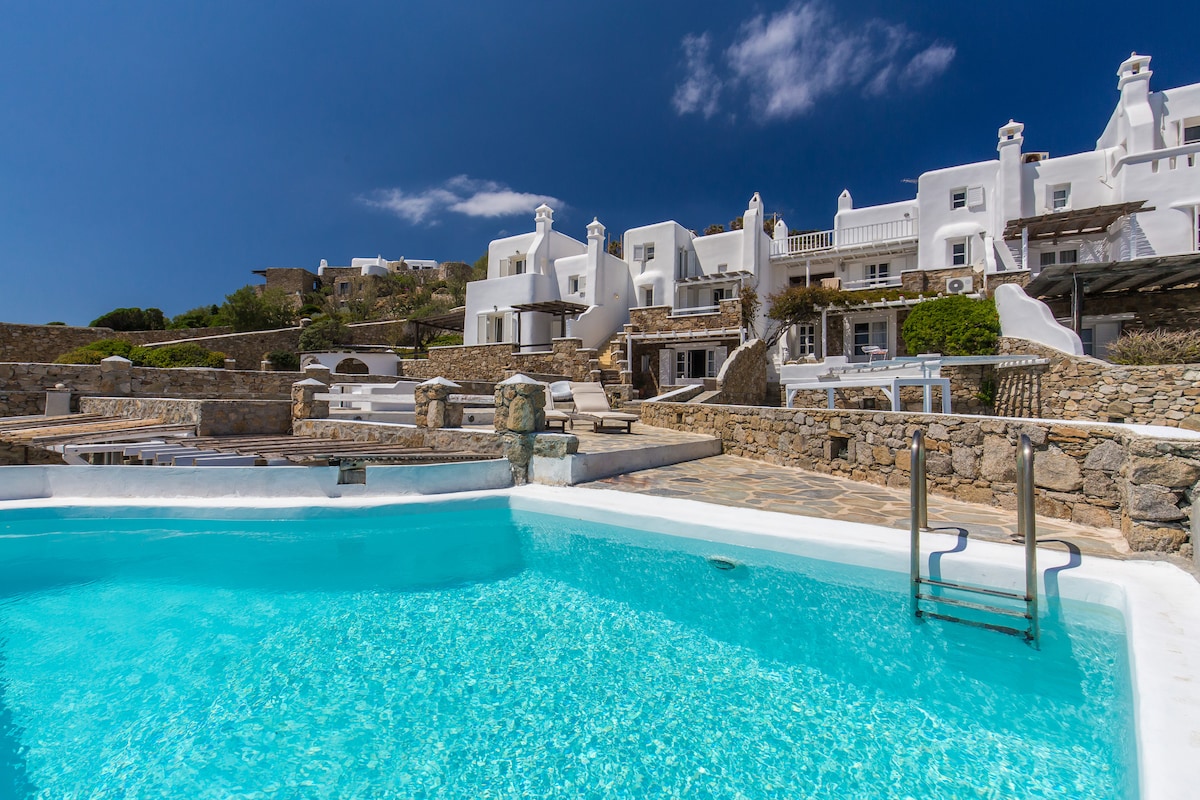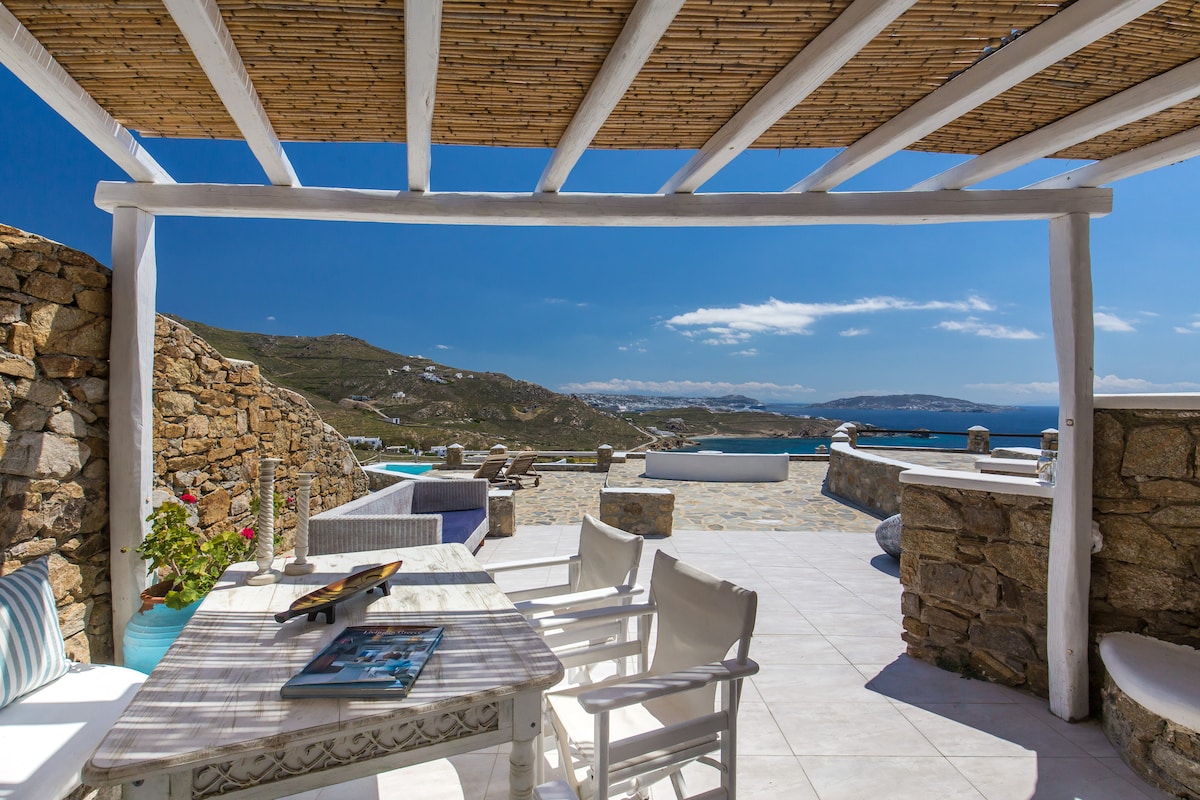 Airbnb's Villa Delphinous is set on a hill overlooking the Aegean Sea, hence a breath-taking view close to Mykonos main town (Chora).
This is our best Airbnbs Villa and is close to a lot of famed beaches. The traditional and modern decor of the property offers a contemporary luxury.
The small and cosy, Villa Delphinous shares a magnificent pool with the other villas of the complex.
Sleeps: 4 people
Check Availability and rates here.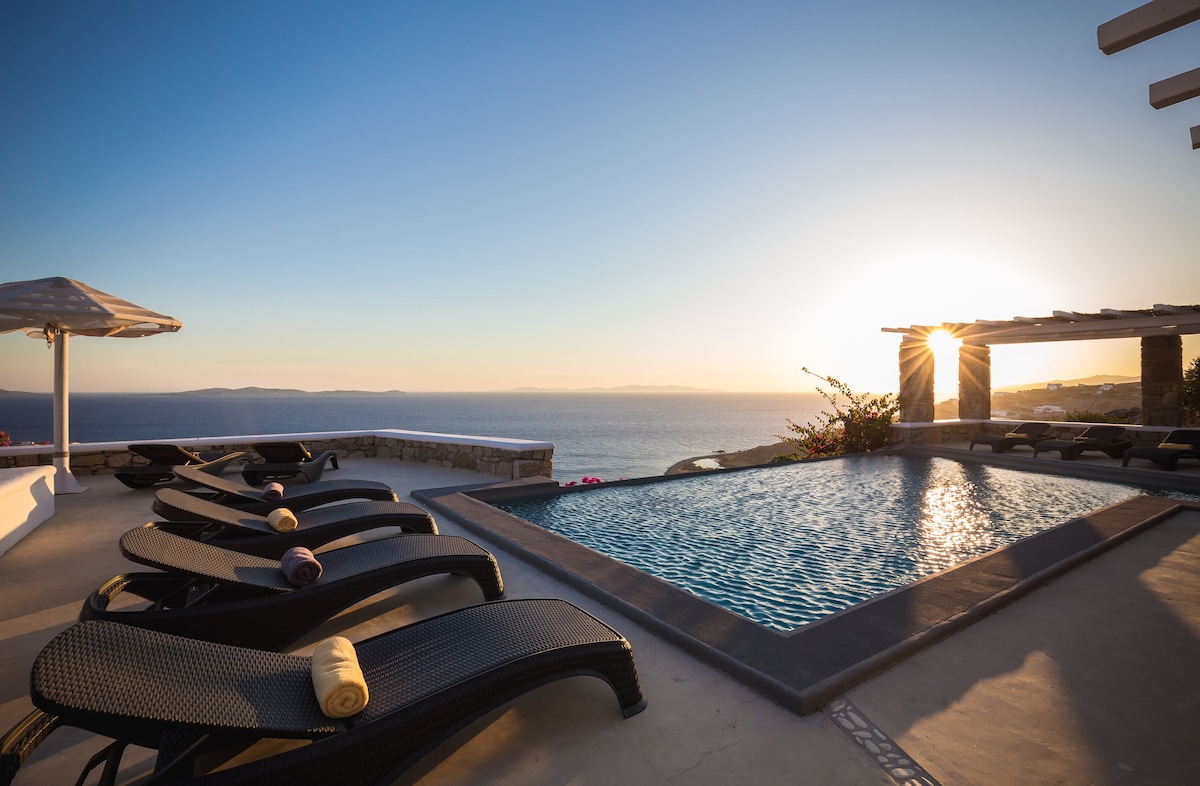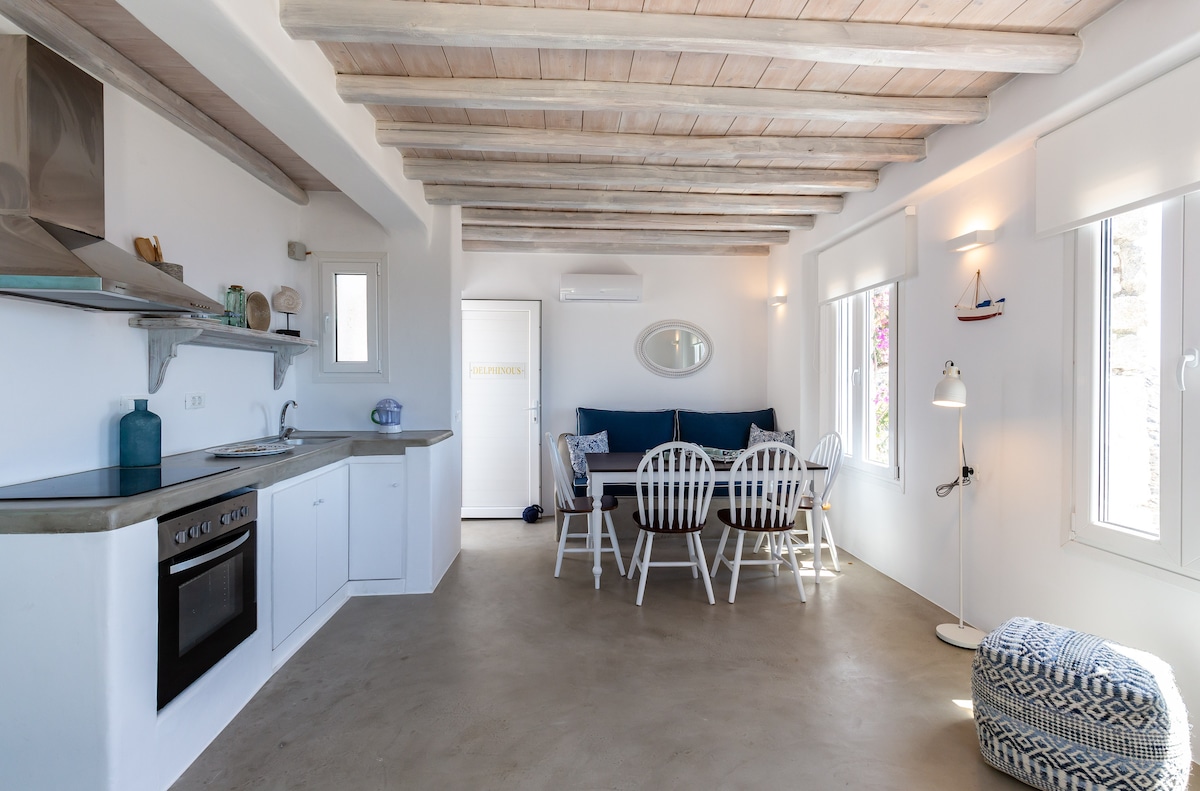 Relax in the Greek sky on a private terrace in the authentic Cycladic Chalky White complex overlooking the sparkling communal swimming pool. To preserve this Mezzanine loft apartment, the beige and blue shades were dressed in white.
Sleeps: 4 people
Check Availability and rates here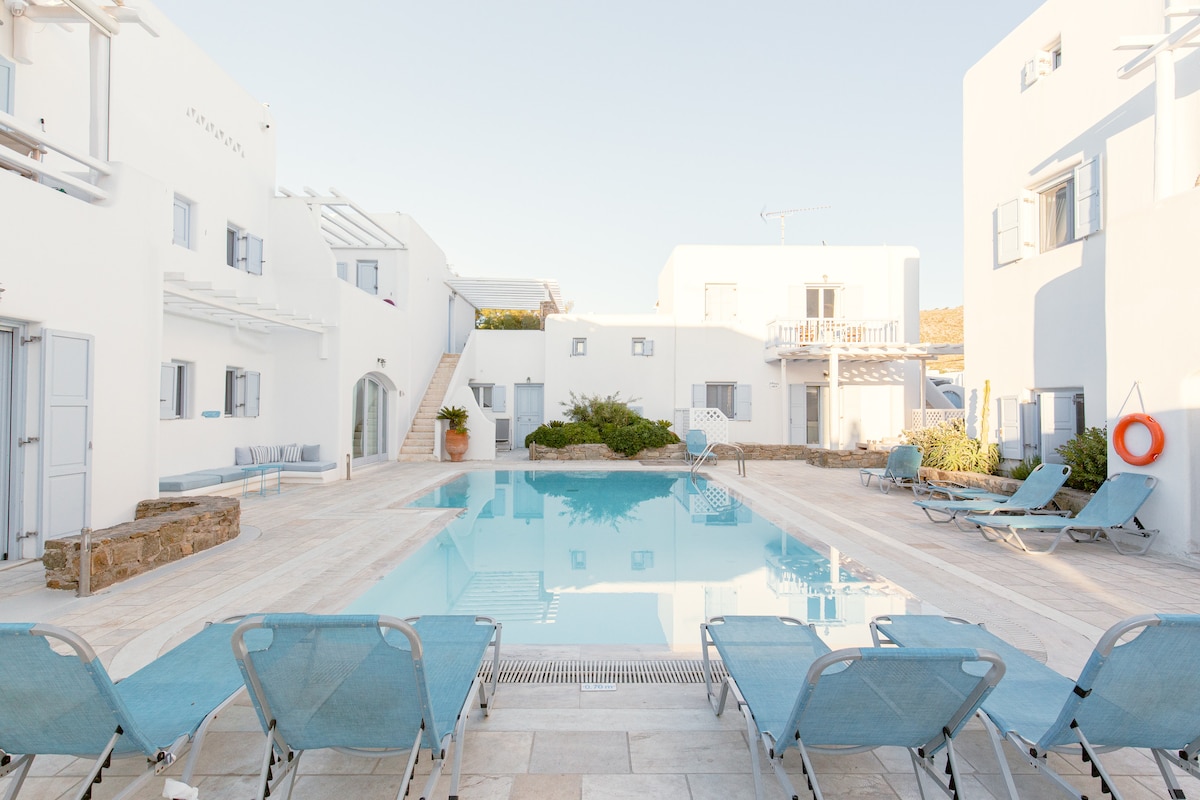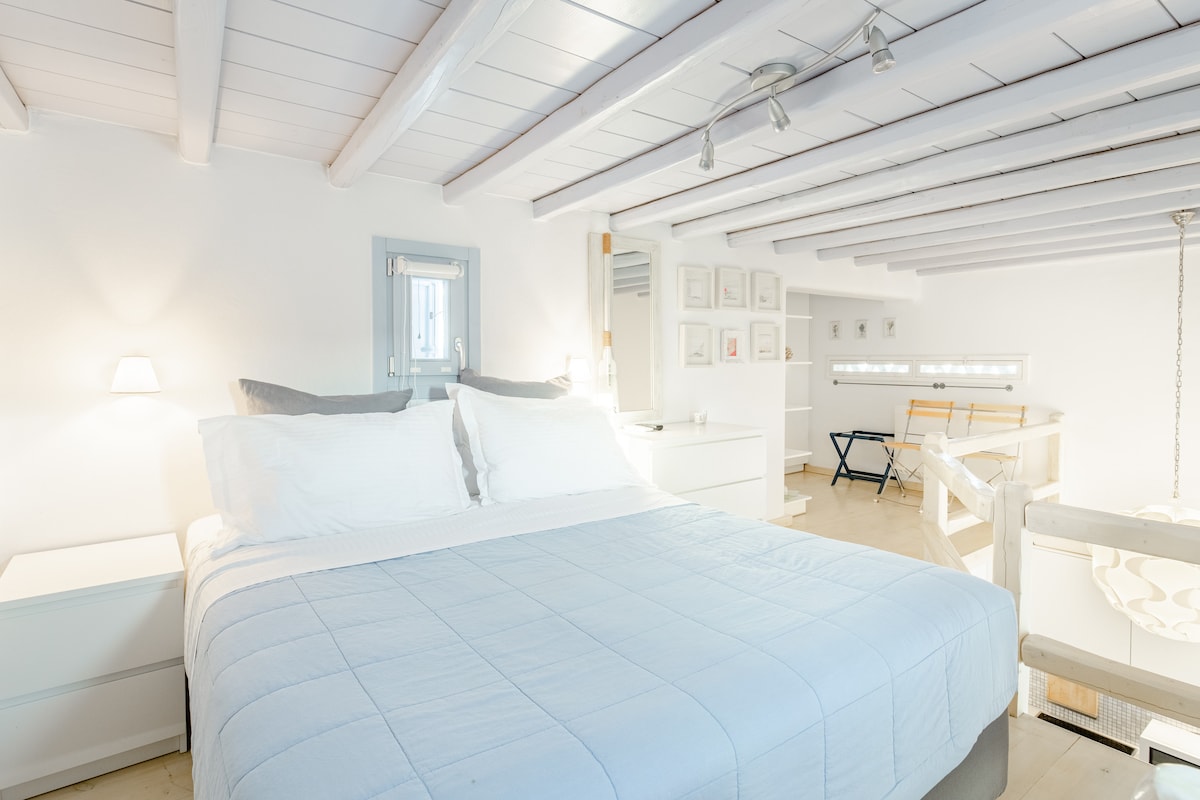 A 39 m² lovely studio with a private heated swimming pool, hydro massage, spa for 3, magnificent sea view, the large furnished outdoor area around the pool, one bedroom, living room and a fully equipped kitchen.
The bedroom features a queen-size bed with anatomic mattresses. The living room features a large sofa and cushions filled with goose feathers and can accommodate a child or an adult.
Amallini Suites located on the Southside of Kounoupas invite you to create your most special memories. The stunning view of the sea offers a relaxed and welcoming environment for our guests.
Sleeps: 3 people
Price: £150 per night
Check Availability and rates here
Also Read:
Pin For Later