Venice, the Queen of the Adriatic, one of the most romantic as well as gorgeous cities in the entire world. Do you want to explore the beauty of a floating city and, at the same time, reluctant to spend big amounts on expensive hotels? Then our precisely crafted list of the best Airbnbs in Venice can find you a budget-friendly, convenient, and attractive accommodation in Venice, away from your homeland.
Whether you are in Venice for an overnight stay, doing 2 days in Venice or longer, Airbnb option great options for cool places to stay with stunning views of the Grand Canal.
Stunning Airbnbs In Venice Italy
We have covered in great detail the many different areas to stay in Venice Italy as well as shared recommendations of stunning hotels on the Grand Canal. With many of the Airbnbs below offering views of the canals, you will have plenty of options to choose from.
With one spacious bedroom and a nicely designed bathroom, Suite Tower Rialto would be perfect for couples and business professionals. A fully equipped and functional kitchen will be at your disposal with complimentary amenities like Wi-Fi, personal workplace, Air Conditionings, TV, and more. The apartment is in Rialto Mercato, just a few minutes' walk away from the renowned Rialto Bridge, the heart of Venice. Check rates and availability here.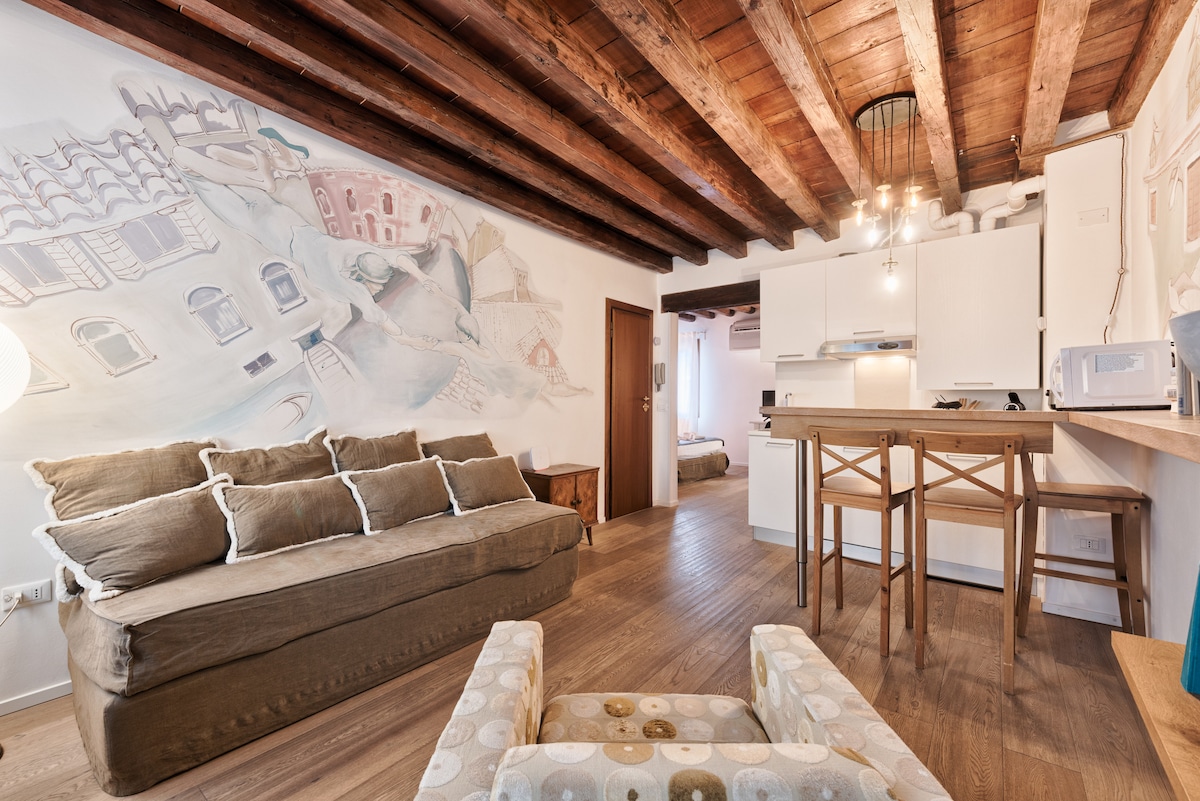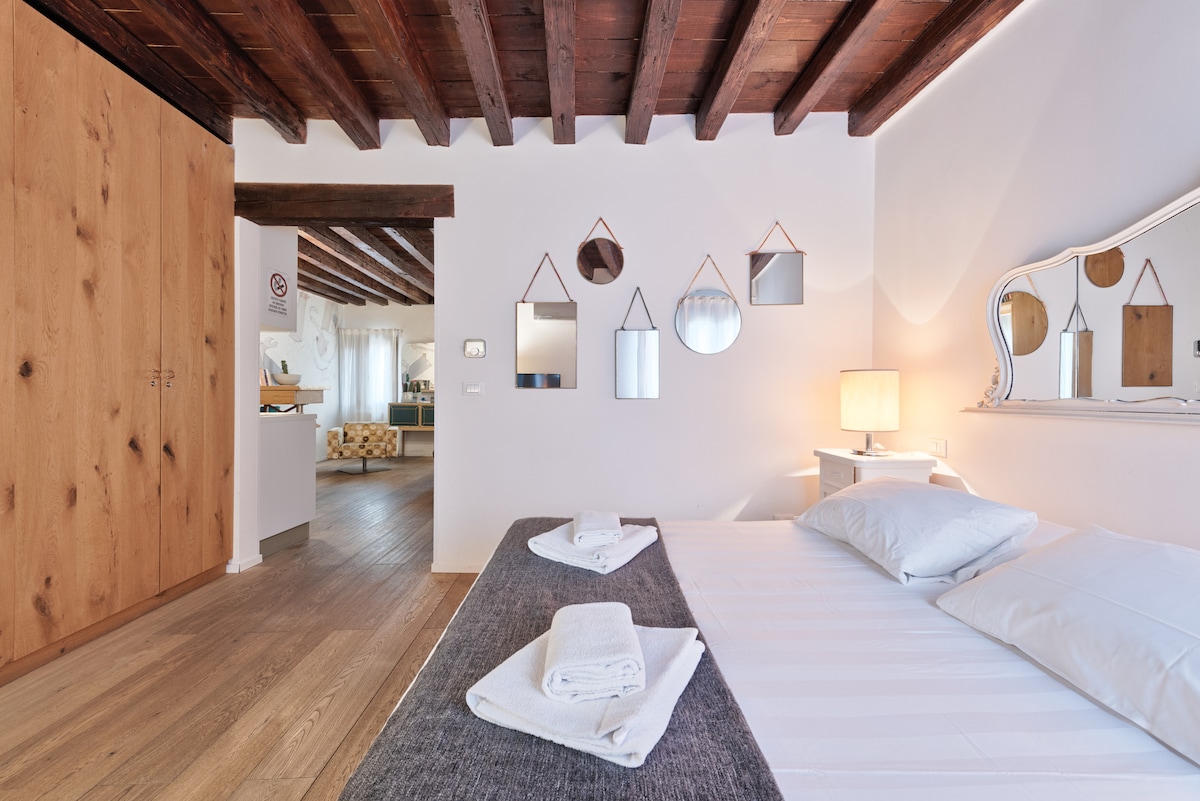 Do you want to make your holidays more memorable? You can spend a few days here at DolceVita Apartment, located in Venice's Historical Center, Dorsoduro district. This place would be a fine option for your family since it can accommodate up to 4 people expediently. Along with a roomy bedroom, a nicely equipped bathroom, and a personal kitchen, you will be provided with amenities like Wi-Fi, personal working place, AC, TV, heater, and more. Check rates and availability here.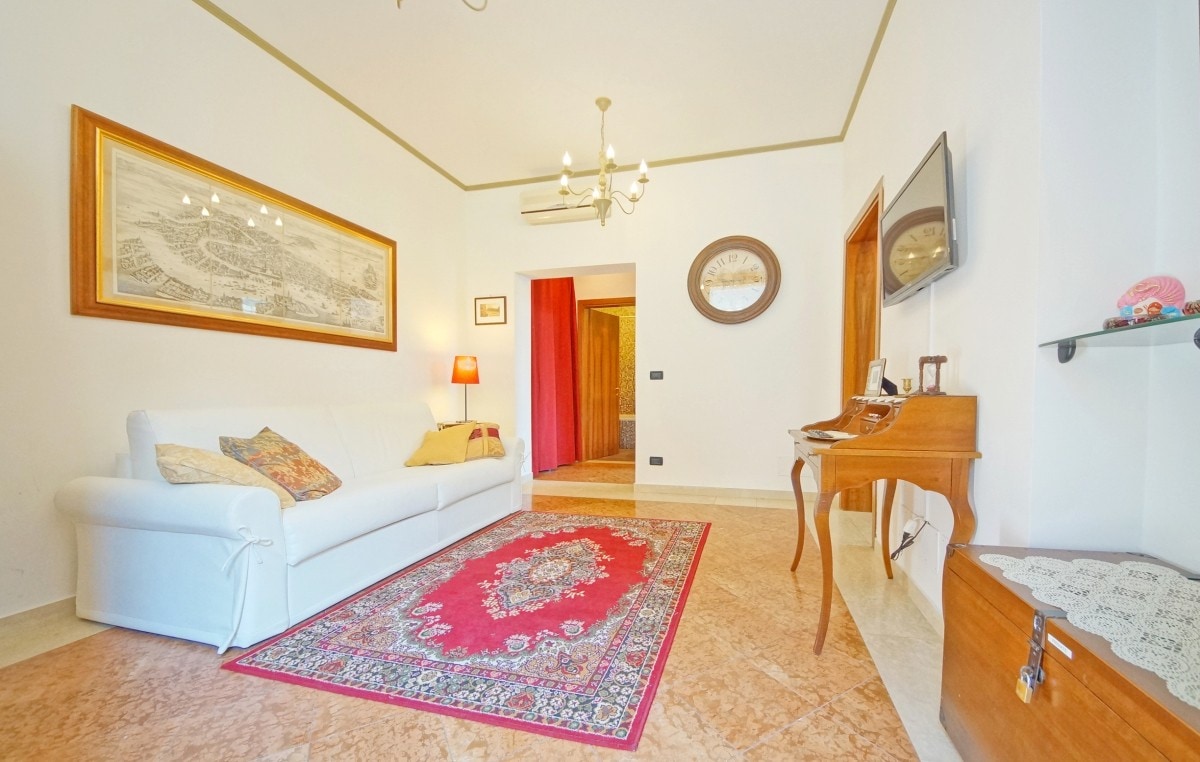 On your Venice days, you can craft some lovable memories in Murano Suite. Murano Suit is perfect for accommodating up to 4 visitors, located on the 3rd and top floor of a building at Murano Island Grand Canal. For molding you with ease and comfort, the studio offers 2 beds, one equipped kitchen, and a furnished bathroom. You can access the touristic center of Venice right after a 10 minutes Vaporetto ride from here. Check rates and availability here.
For experiencing comfort in a more budget-friendly way, you can spend your Venice nights over here. The flat would be perfect for you and your beloved since it has one cozy bedroom. For you to get rejuvenated, the flat also has a well-furnished bathroom. The apartment is at Santa Croce District, offering you some exquisite canals and palazzi of the city. You can also cook in your kitchen and receive free Wi-Fi, TV, working station, and more. Check rates and availability here.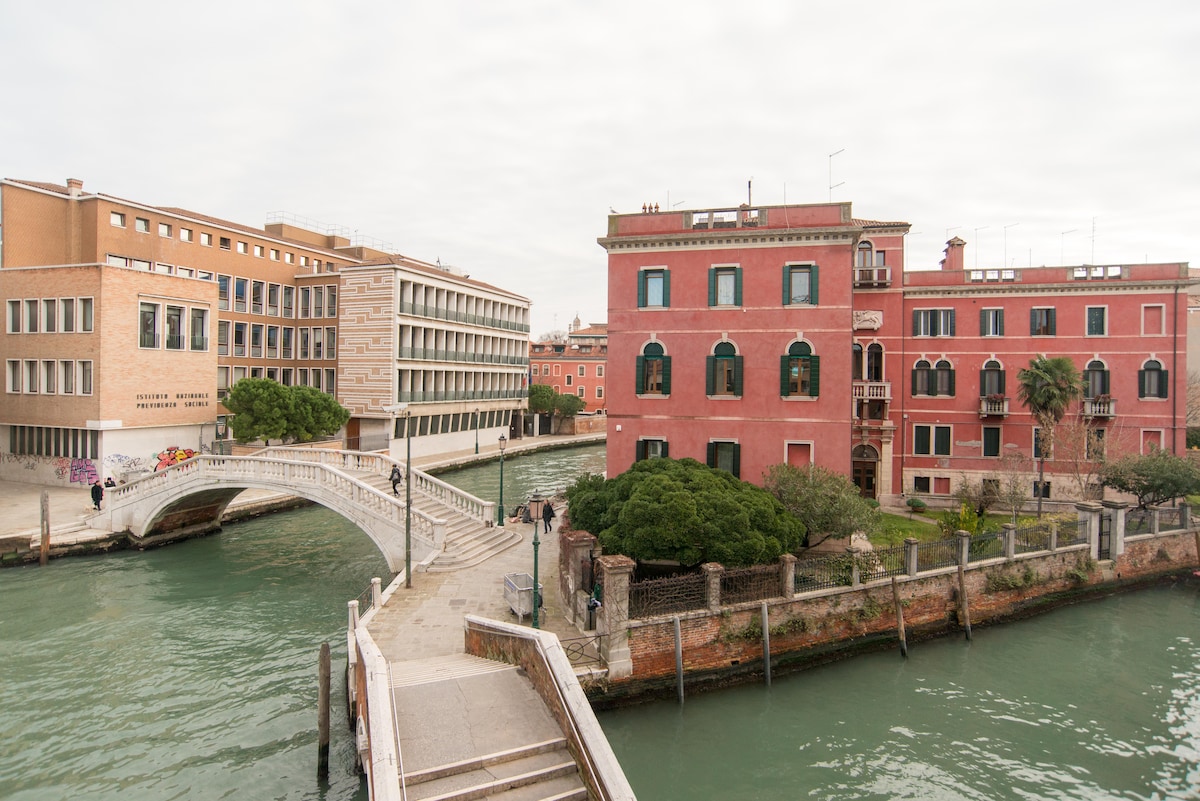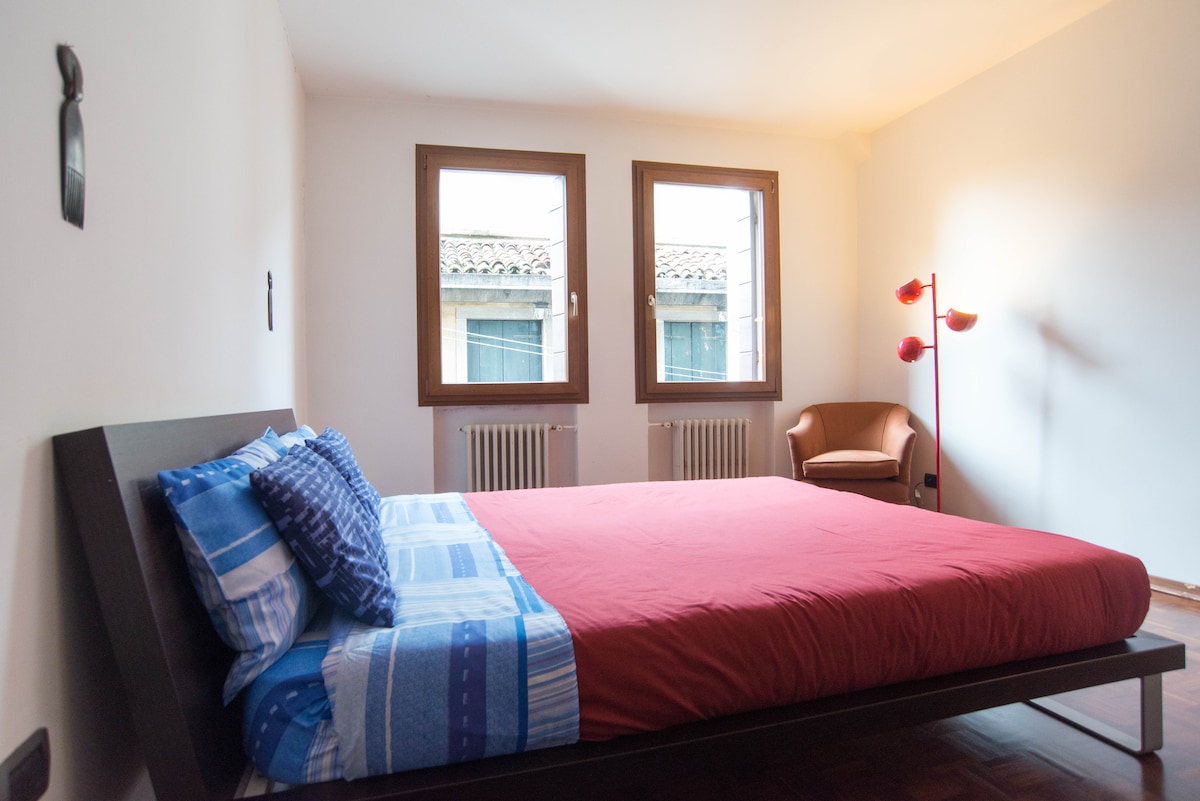 If you are in search of an exotic as well as a luxurious place in Venice, consider this option. The place is quite excellently accommodating for two people. The entire apartment offers 1 bedroom with 2 beds, a living area, and a private library along with a luxurious bathroom. The quietness and calmness of this place are truly unique. The historic apartment is situated beside the Grand Canal, and there is nothing more exquisite than drinking Prosecco while enjoying the amazing view. Check rates and availability here.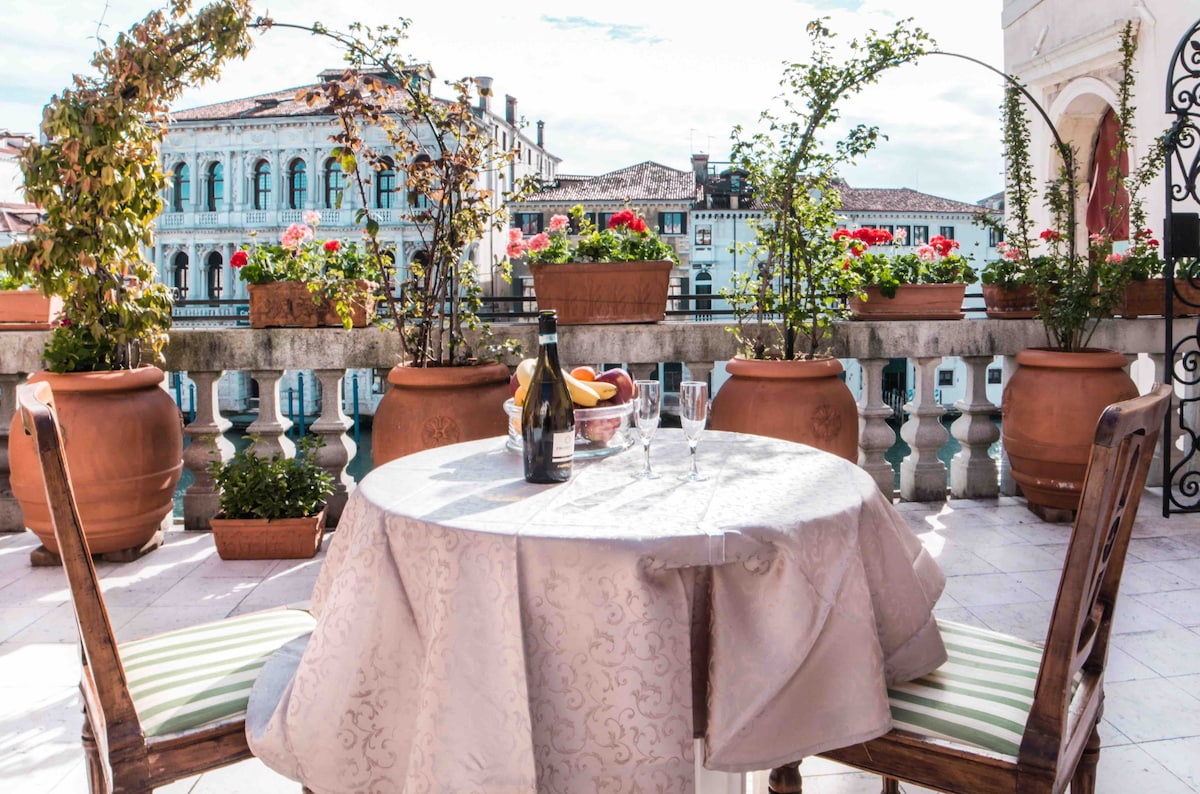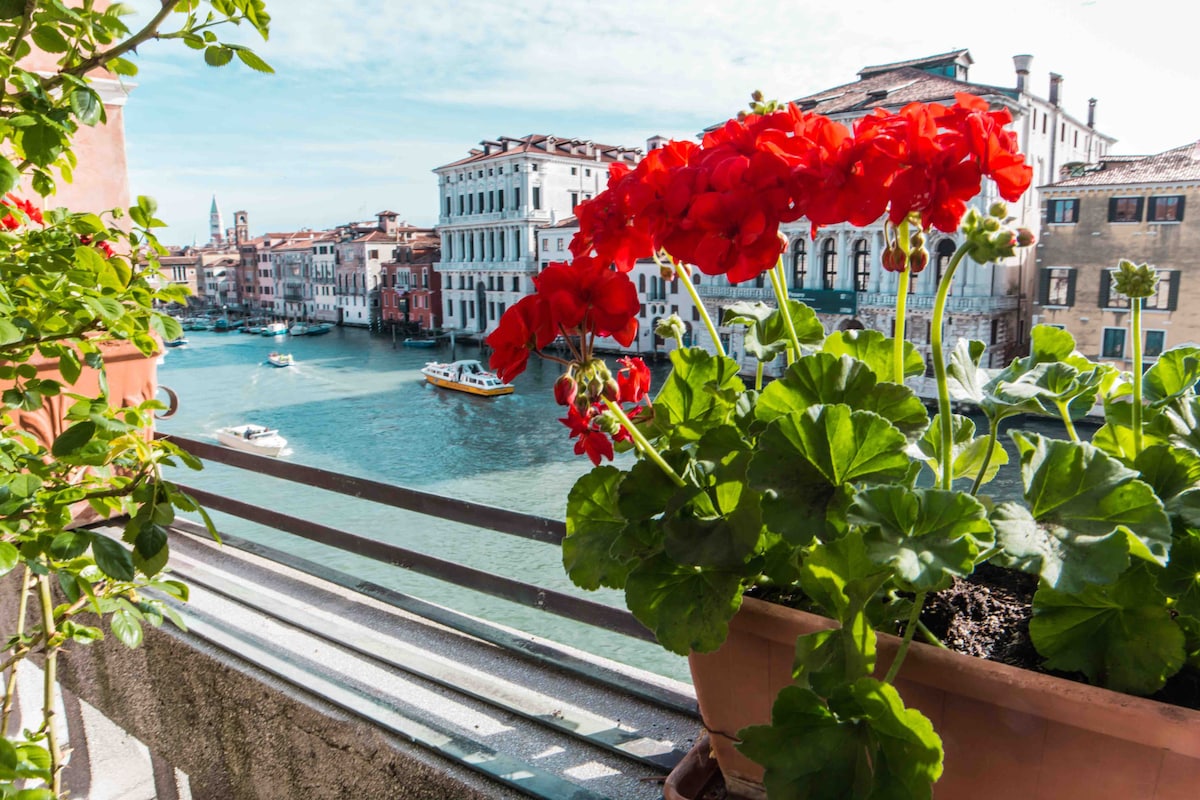 With the mesmerizing view of blue canals, sunshine, and watery sound, your Venice days will be like dreams in here. The studio is best for you and your loved one with a spacious bedroom and a bathing room. Cook fresh meals for your love in the private kitchen, use free Wi-Fi or have some busy time in your workspace. The place has everything for you.
The studio is located at Dorsoduro neighborhood, from where St. Mark's square is just 7 minutes away (water bus ride). Check rates and availability here.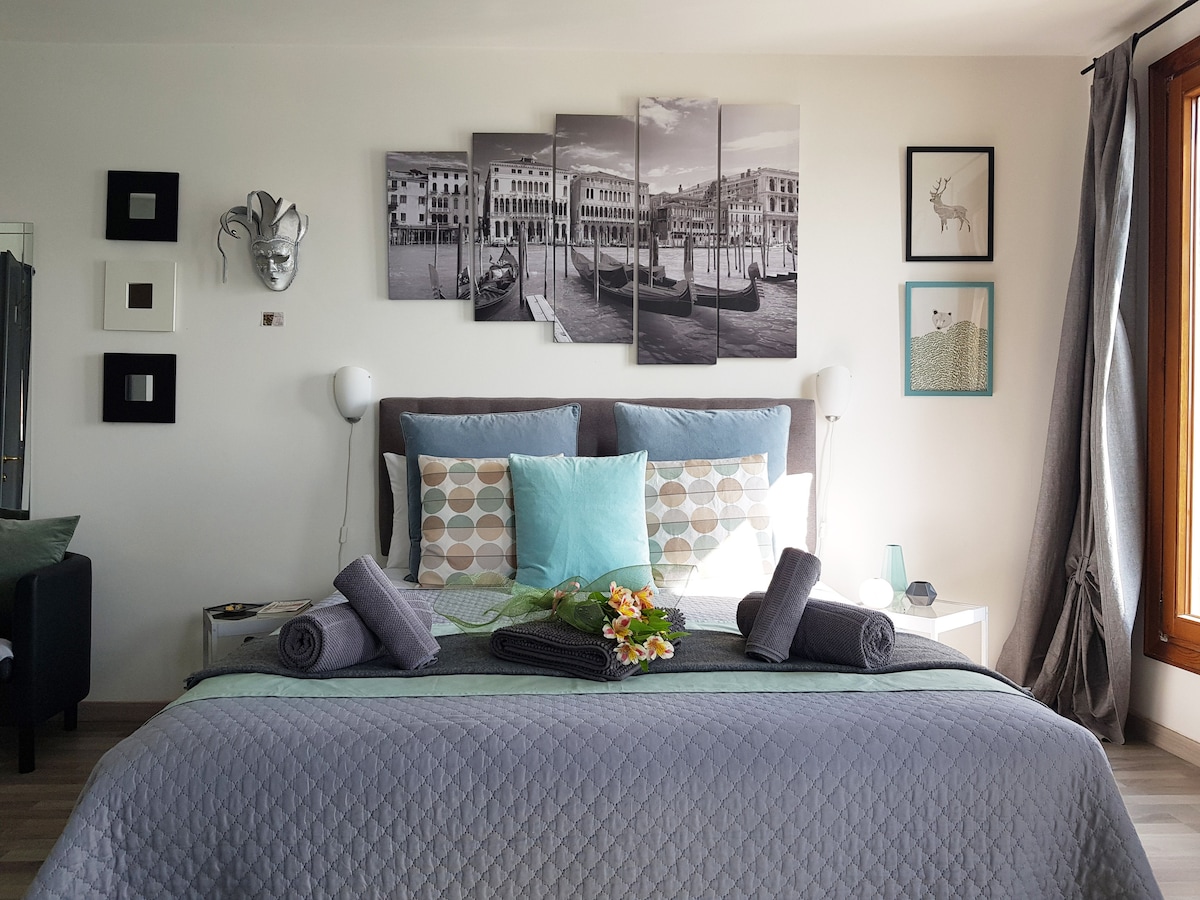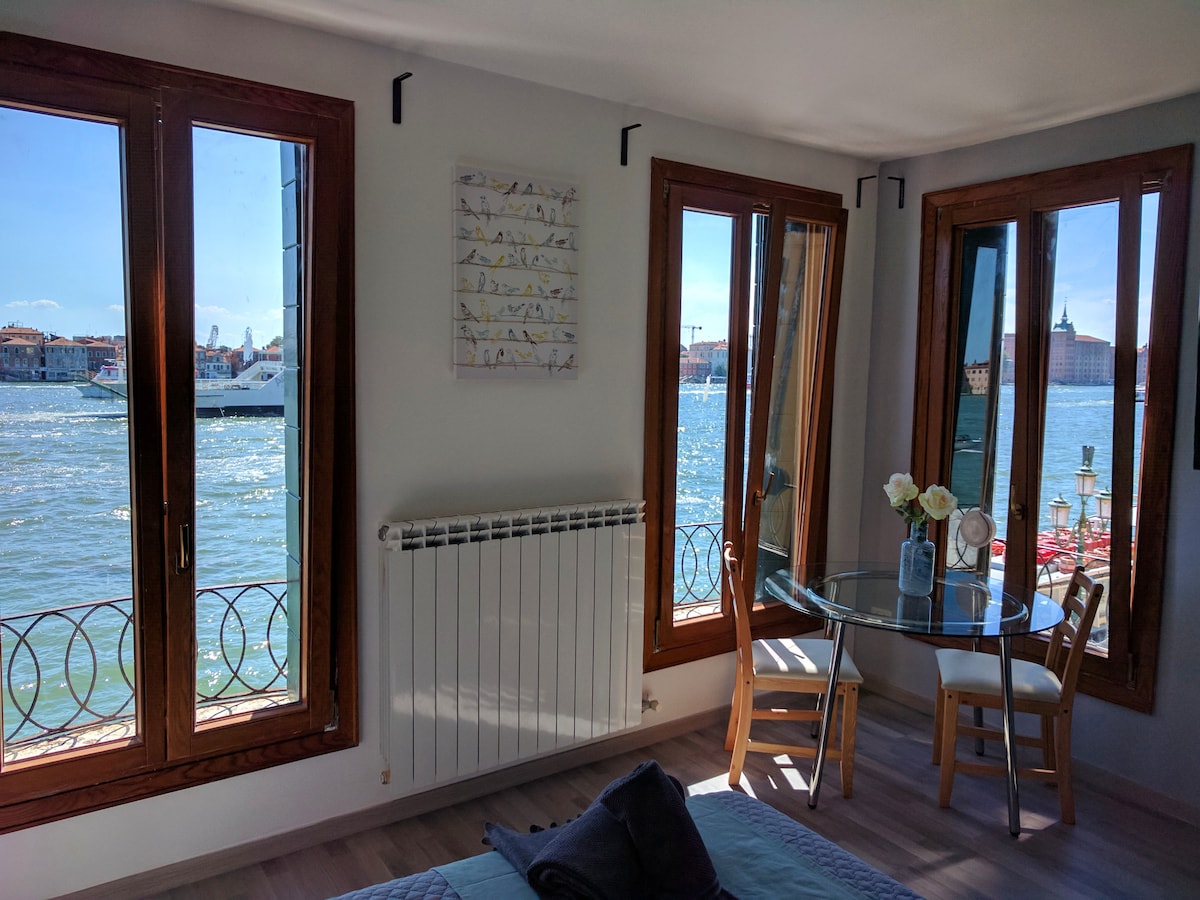 Altana Albachiara, the comfy and cozy apartment is located beside the renowned Grand Canal Rialto Bridge, in the very heart of Venice. Rialto fish market is only a 2 minutes' walk, and Saint Mark's is in a 7 minutes distance. The flat is very comfortable with two bedrooms and a furnished bathroom. Enjoy self-made fresh dishes from the personal kitchen, and be comfortable with free Wi-Fi, TV, personal working station, heater, and more. Check rates and availability here.
Wrap your Venice days with luxury by living in this flat in a regal manner. The apartment consists of double bedrooms with a king-sized bed and a beautiful balcony on the Grand Canal. Along with a furnished kitchen, the apartment has 2 bathrooms too. One bathroom has a bathtub and one with shower and complimentary amenities like AC, unlimited Wi-Fi, heater, etc. Located in Cannaregio district, the flat is 2 minutes away from Ca'Vendramin Palace and casino. Check rates and availability here.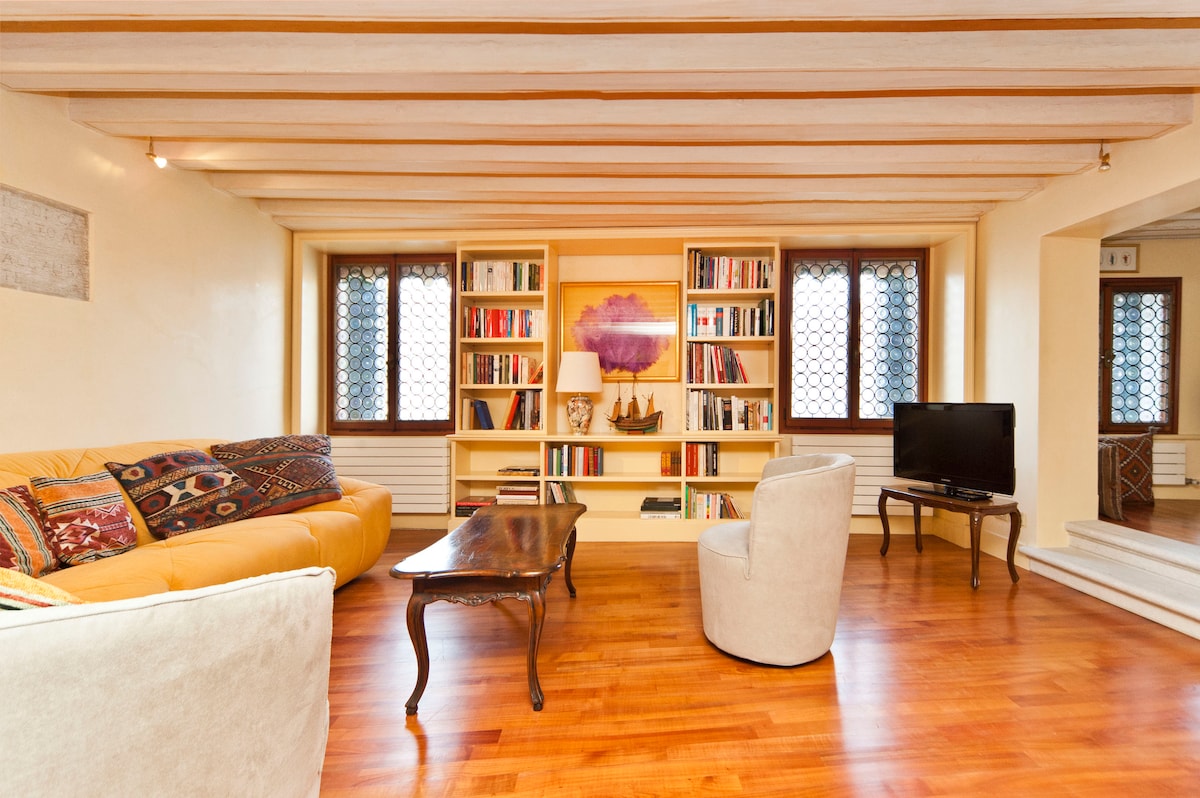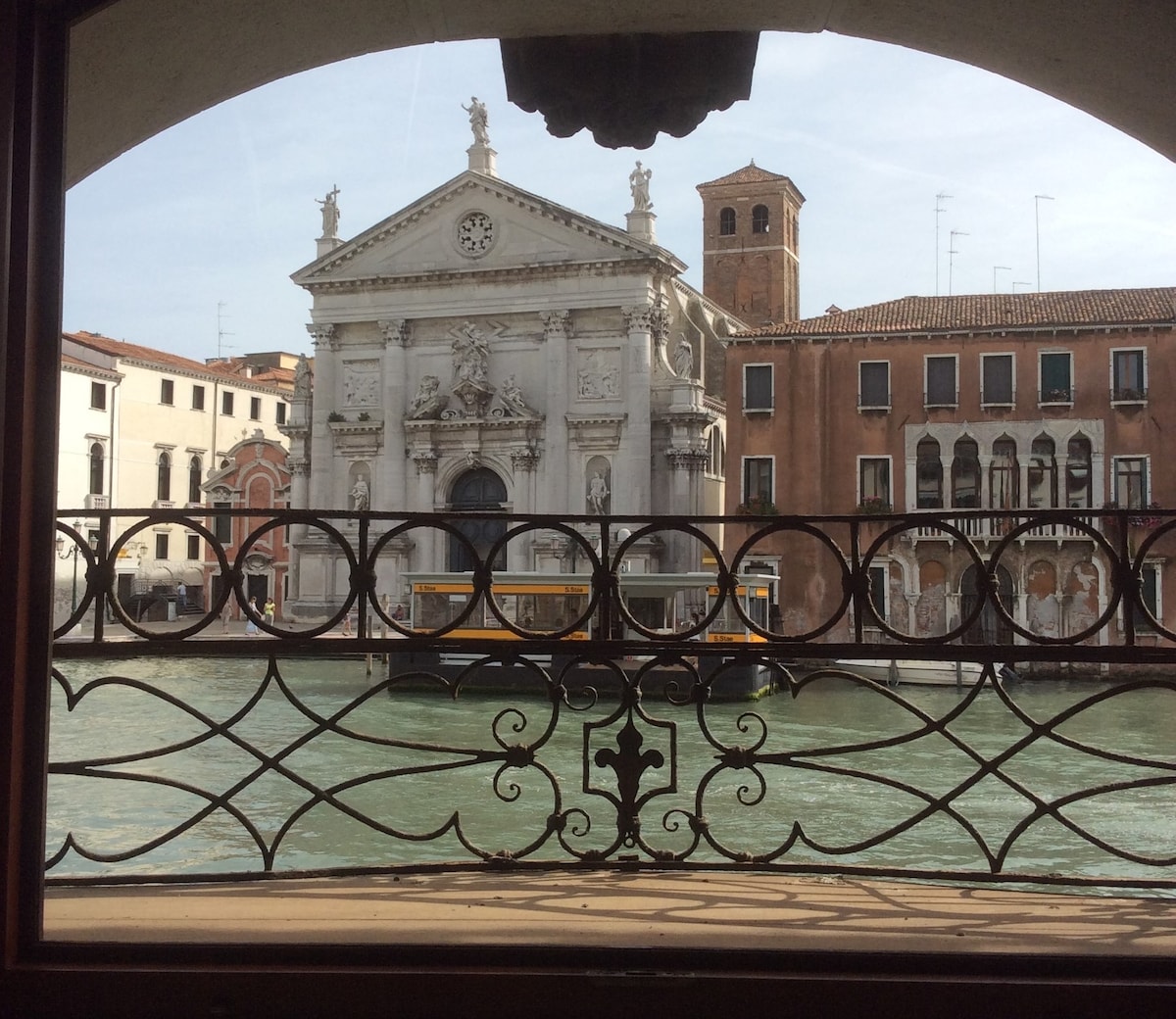 Do you want to feel like Venetians? Spend your days in this apartment, very close to Piazza San Marco. The flat is on the 5th floor of the building, and the view of Bell Tower of San Marco and beautiful Venice from the rooftop is truly amazing. The place is about 100 meters away from the Square. Besides, Rialto Bridge is 500 meters away. With a bedroom, one bathroom, the place is perfect for 2 guests. Check rates and availability here.
Furnished with Venetian style decor, the 140 sq m apartment is just perfect for your Venice vacation. The apartment is spacious for up to 5 guests with 3 air conditioning bedrooms, 4 beds, and one equipped personal kitchen. The apartment is also furnished with two bathing rooms. St Mark's Square is just 2 minutes away (300 m from the apartment). Last but not least, there is also free Wi-Fi for you. Check rates and availability here.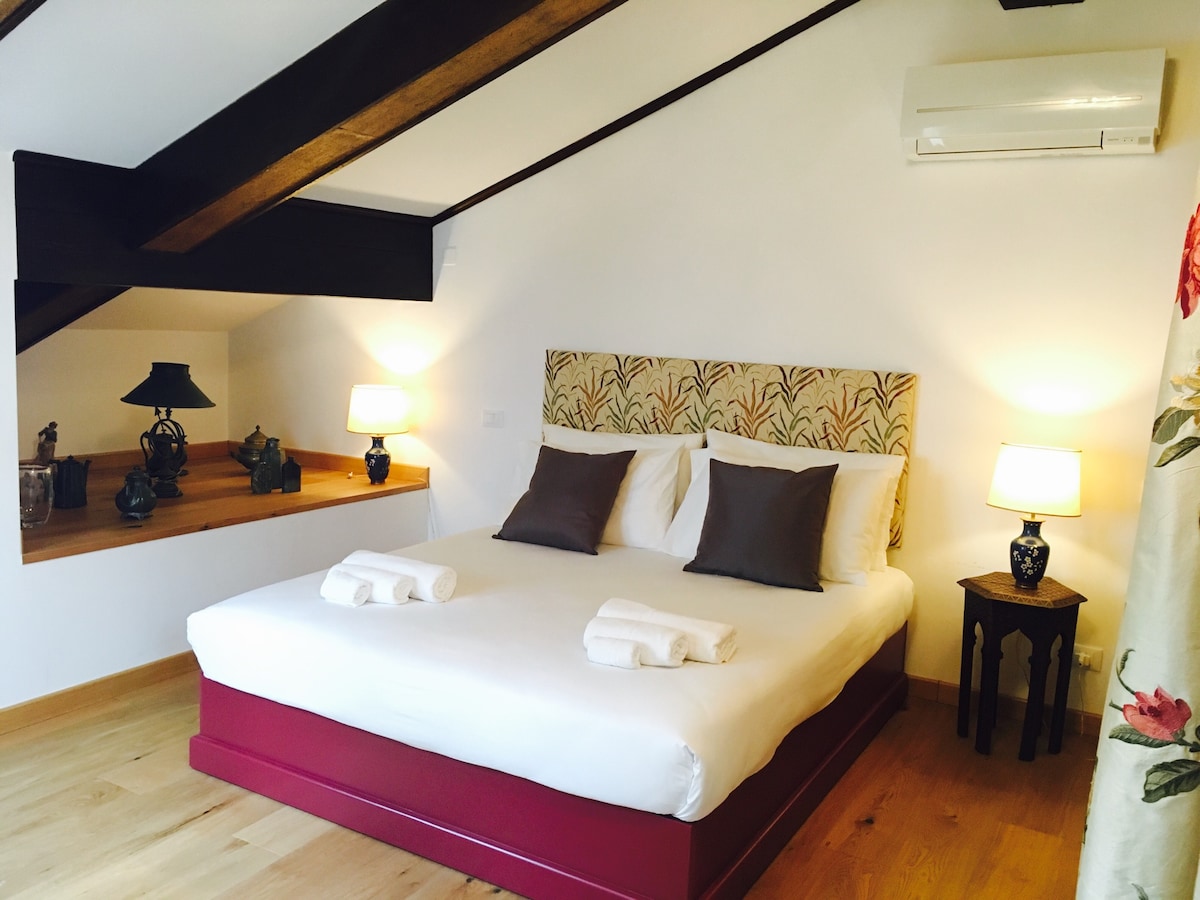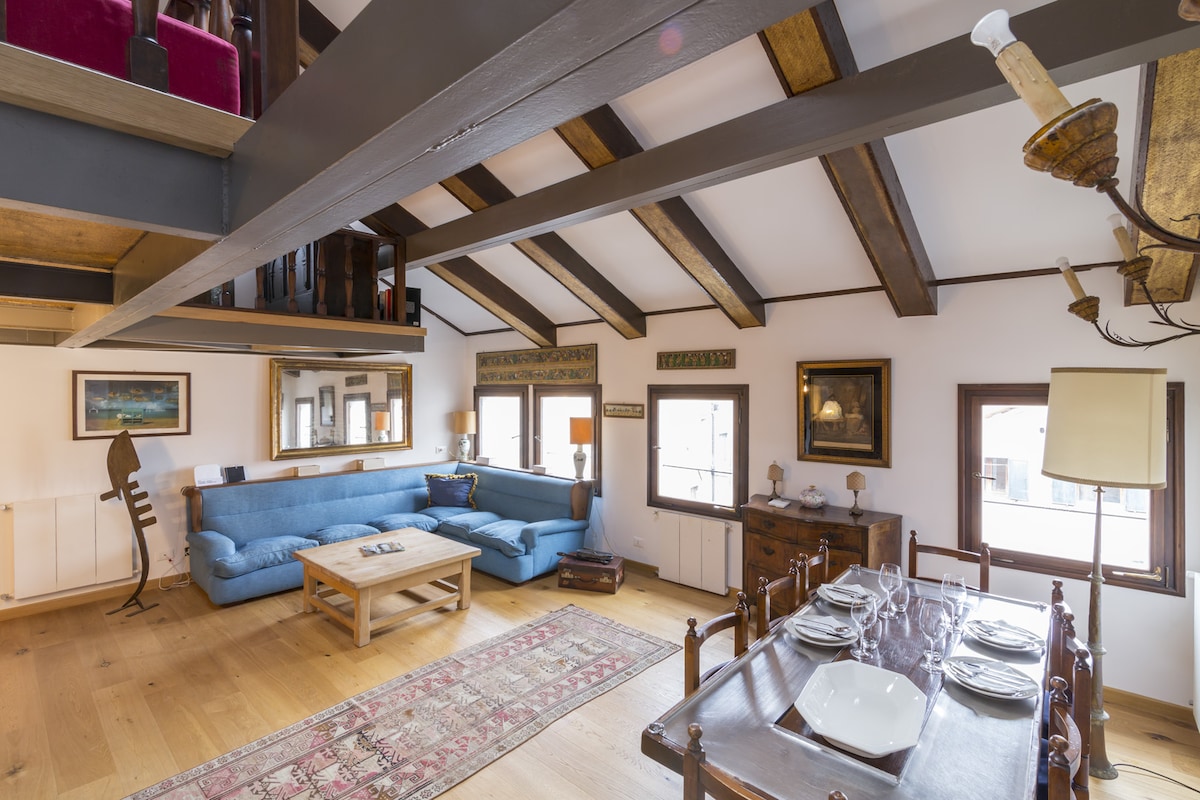 Are you planning a trip to Venice with a bigger group? This apartment can suffice your needs conveniently with two spacious bedrooms and 2 well-crafted bathrooms. Along with a personal fully functional kitchen, amenities like Wi-Fi, dryer, personal workplace are available. The apartment is situated far from Venice's tourist flow and in Giudecca Island. Here, you can enjoy your cozy stay in a soothing ambiance while beholding a mesmerizing view of canals. Check rates and availability here.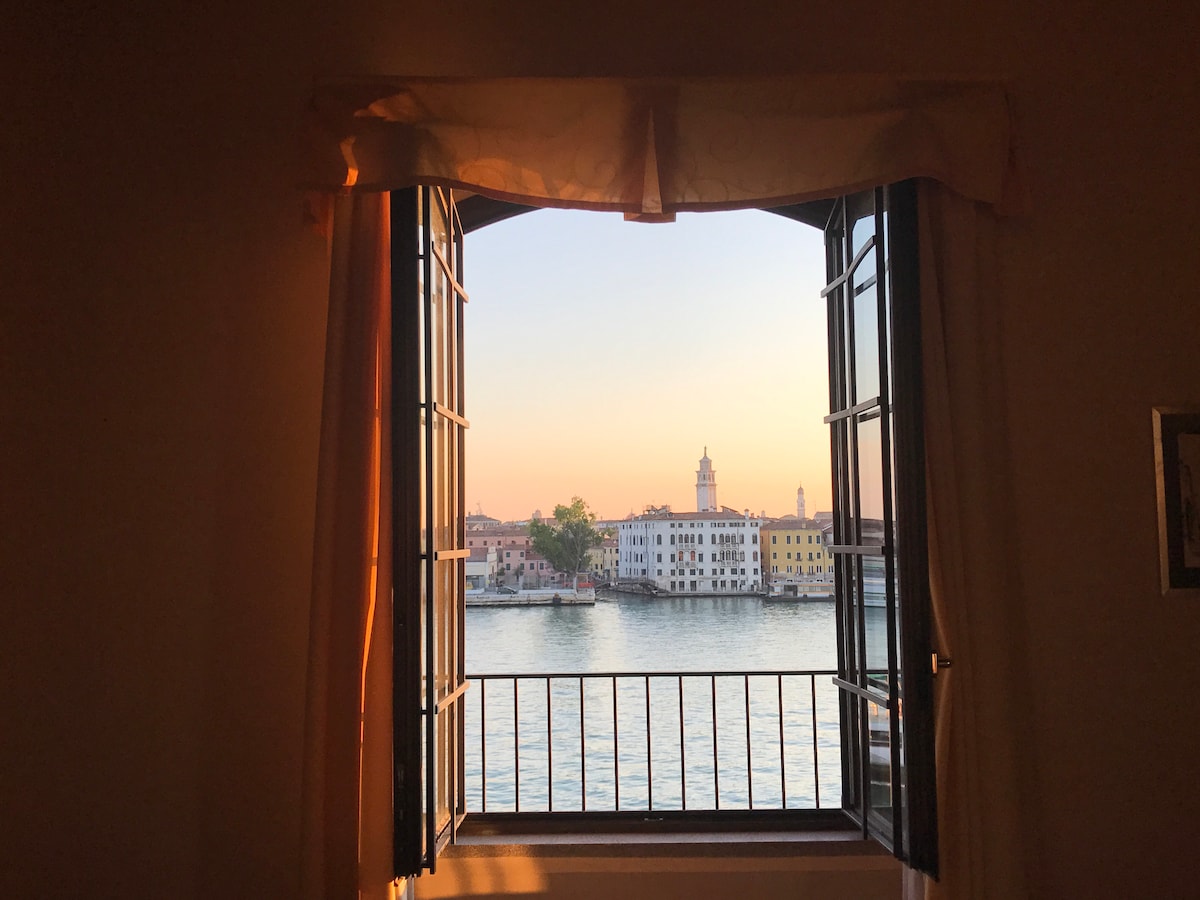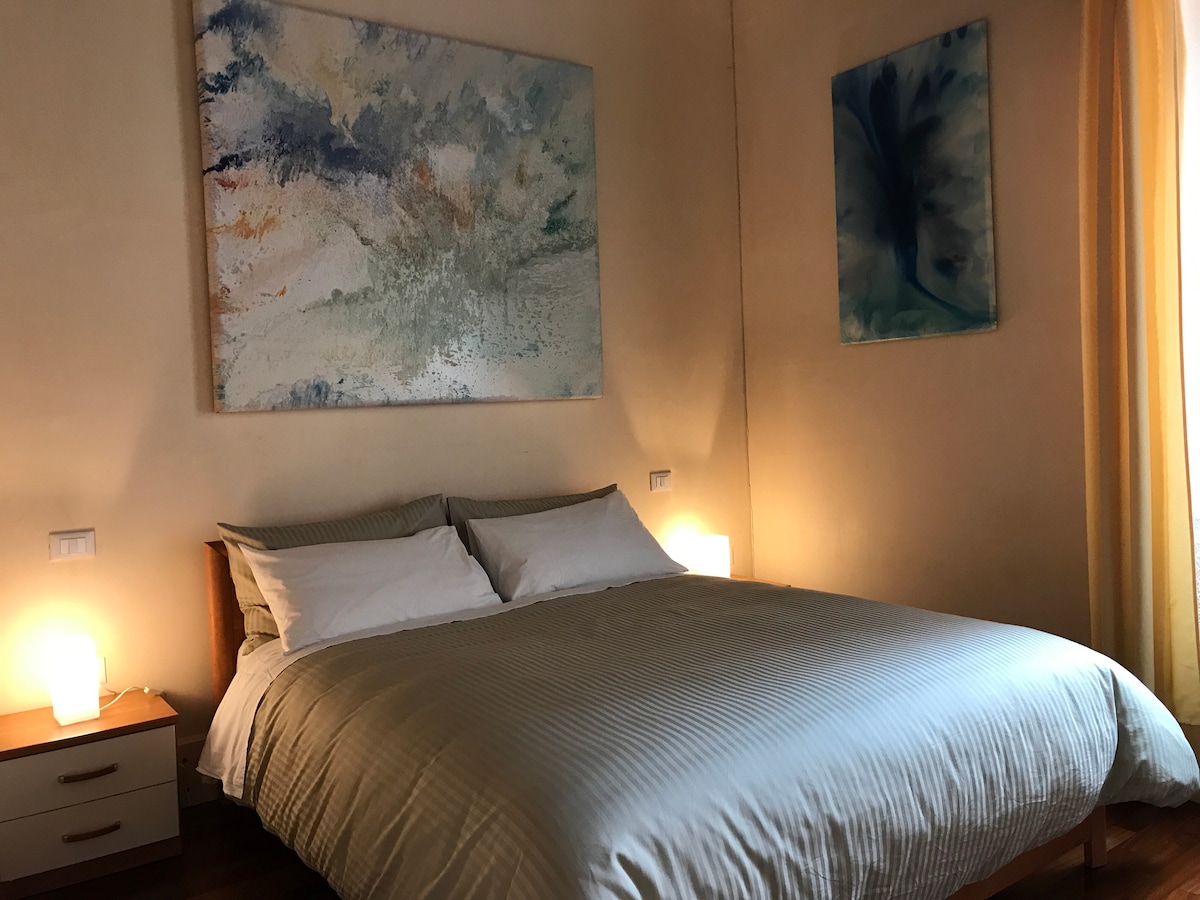 This comfortable apartment portrays the fusion of historical Venetian style with modern penthouse. The place is situated on the last floor of Palazzo Querini. With a panoramic view from the terrace, bright and large windows, the place truly brings out the beauty of Venice. Two bedrooms and three beds, one well-decorated bathroom, one personal equipped kitchen, make the place perfect for 4 guests. The place is in Fondamenta San Severo, a place near Santa Maria Formosa Square. Check rates and availability here.
These places will be great for you if you want to feel the convenience in a budget-friendly way.
Also See:
Pin For Later