Are you planning a trip to Greece? Then, Athens, the capital and the largest city, should belong to your must-visit list!
Being probably the most established city in the whole world, it has a history of over 3,400 years. Among amazing cities and islands in Greece, Athens is not to be missed.
Whether doing 10 days in Greece or even 2 days in Athens, this amazing city has so much to offer visitors. The city is a home for music, arts, and philosophy.
The tour with history is important, but what about comfortable staying? Are you in search of a homely accommodation in Athens, away from your sweet home? Check these convenient, budget-friendly, finely decorated Airbnb rentals, and make your trip truly memorable.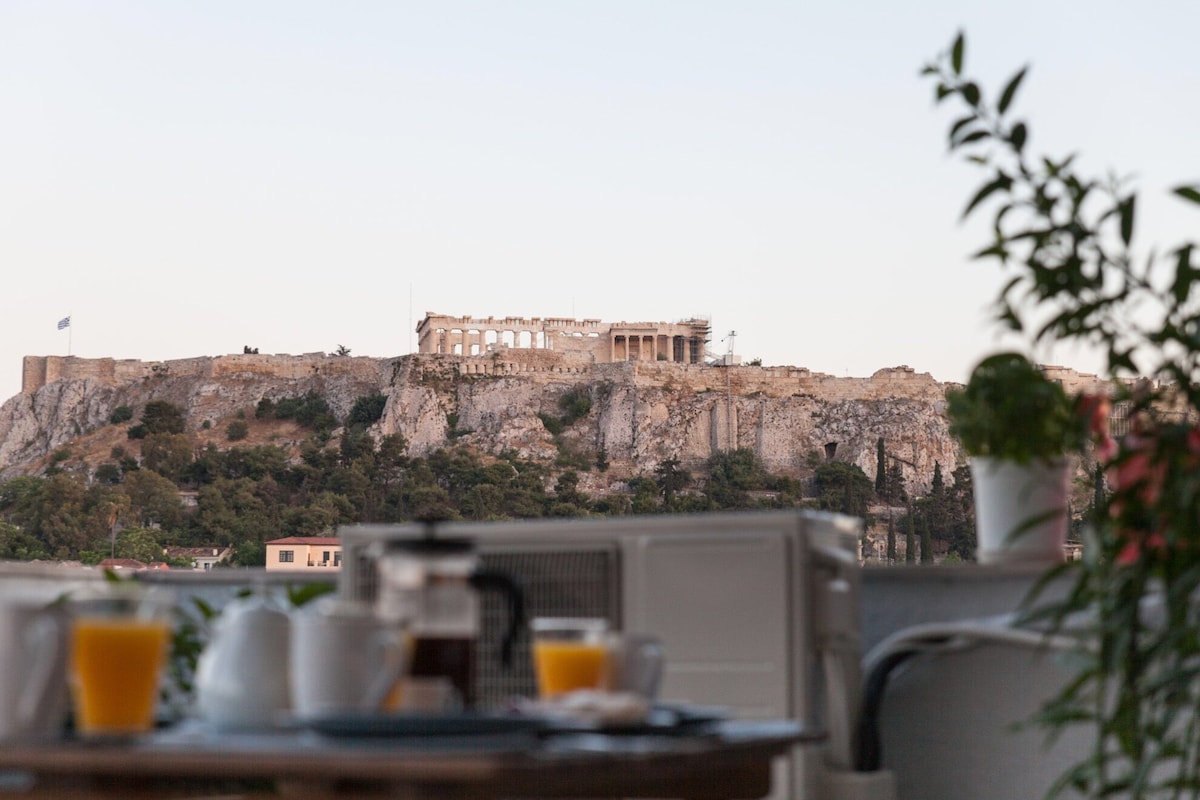 Coolest Athens Airbnbs To Check Out
We have discussed the best neighbourhoods in Athens to stay in, cool and unmissable beaches in Athens as well as how to get from Athens to Santorini, we are now checking out some of the coolest Airbnbs in Athens that are worth checking out. Many of these offering great access to all the cool things to do in Athens at night.
The apartment is situated in the heart of Athens, right in front of the renowned Pantazopoulou square, at a walking distance from Archaeological Museum and Omonia Square.
For your cozy nights, there are 2 bedrooms. One with a king-sized bed and another has a sofa bed. Enjoy fresh self-made food in the well-decorated kitchen.
Spend entertaining leisure with cable TV, and enjoy a comfortable bath in a cozy bathroom. There is a personal workspace, too, and is enough for hosting 9 guests.
Sleeps: 9 people
Price: £32 per night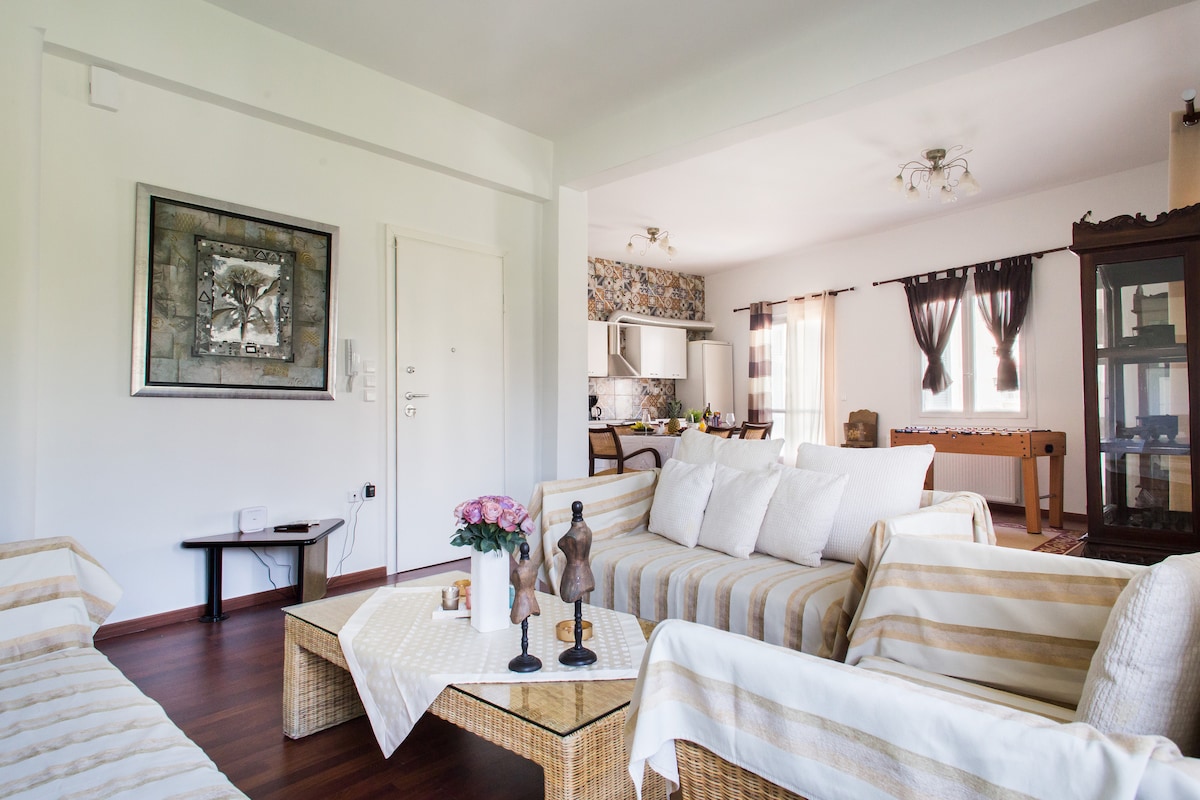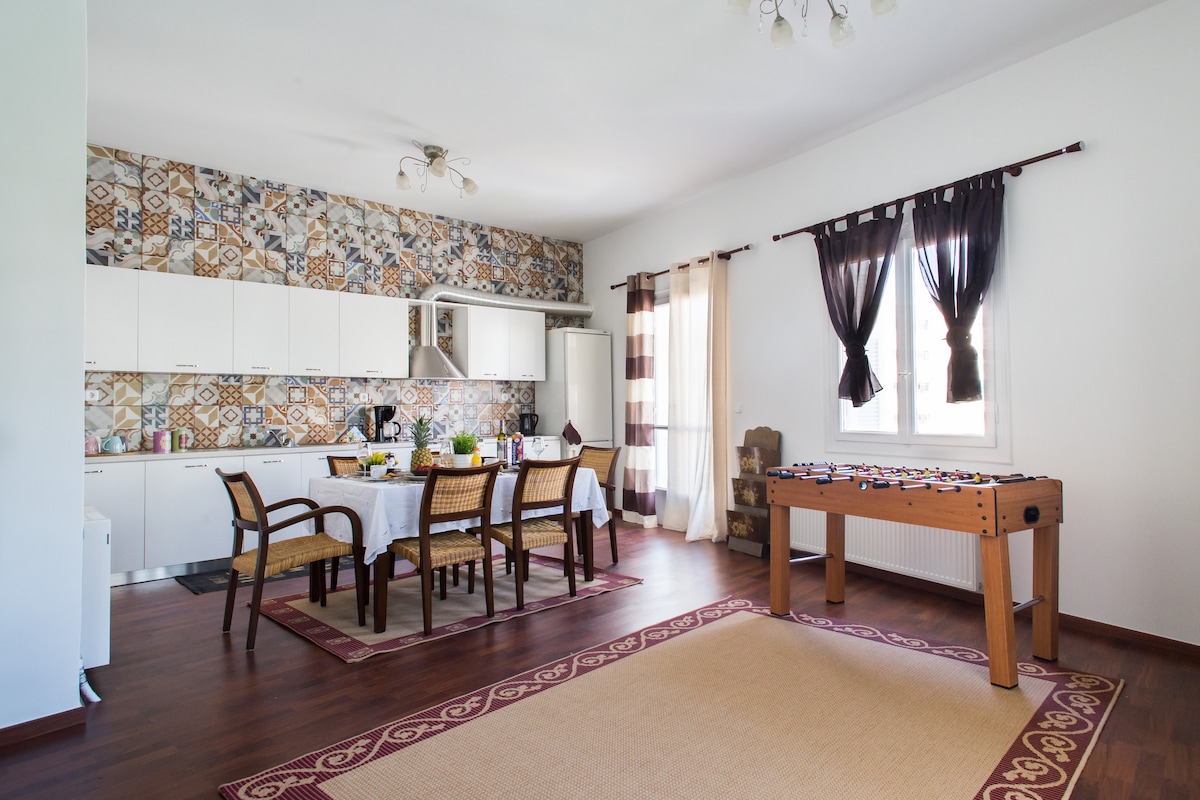 Luxuriously spend your Athens days. Have comfy sleepy nights in bedroom with a queen-sized bed, behold the breathtaking beauty of Pnika and Acropolis hill, and make delicious dishes in your kitchen.
The finely crafted bathroom offers relaxing bathing sessions too. You can also use free Wi-Fi. The luxurious Parthenon Suite is an 80 sq m apartment, situated in just 200 meters away from Monastiraki metro station.
Sleeps: 2 people
Price: £137 per night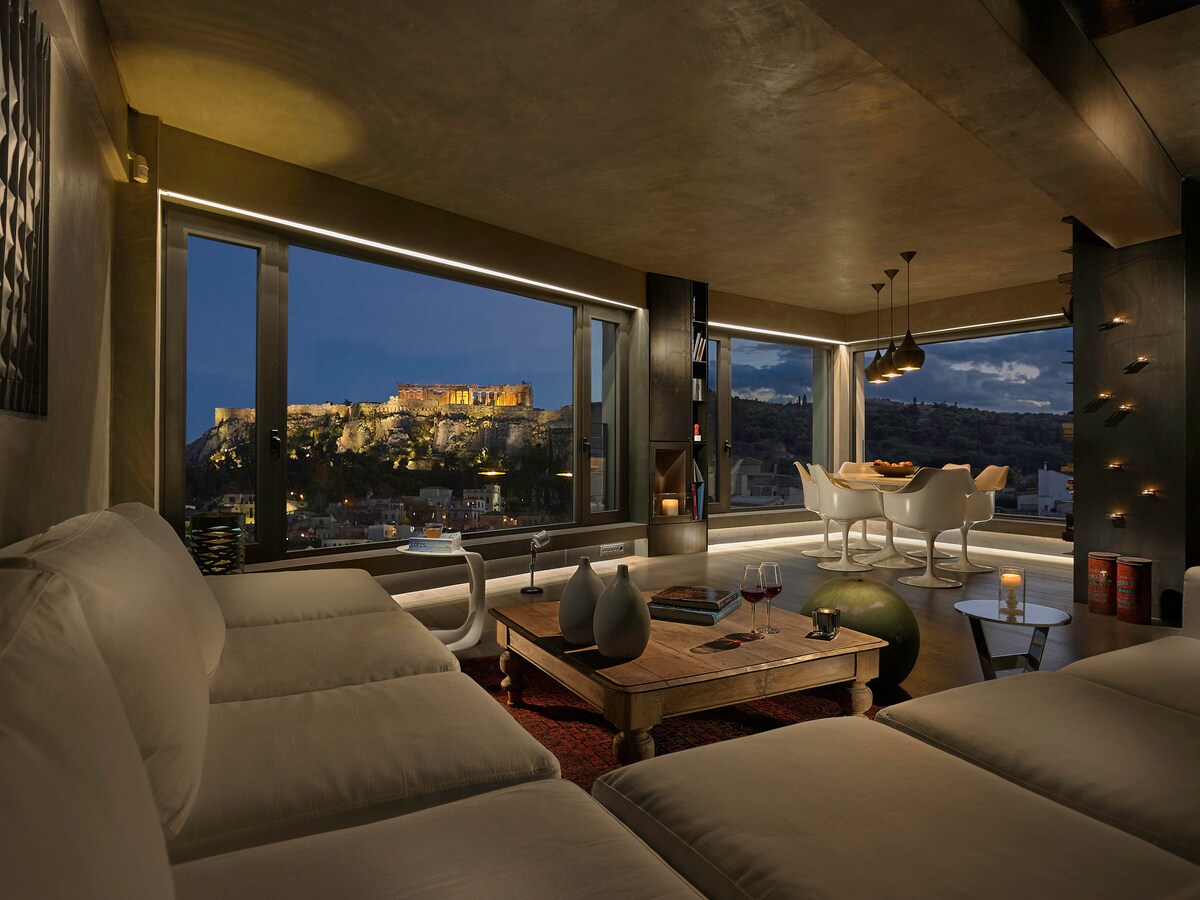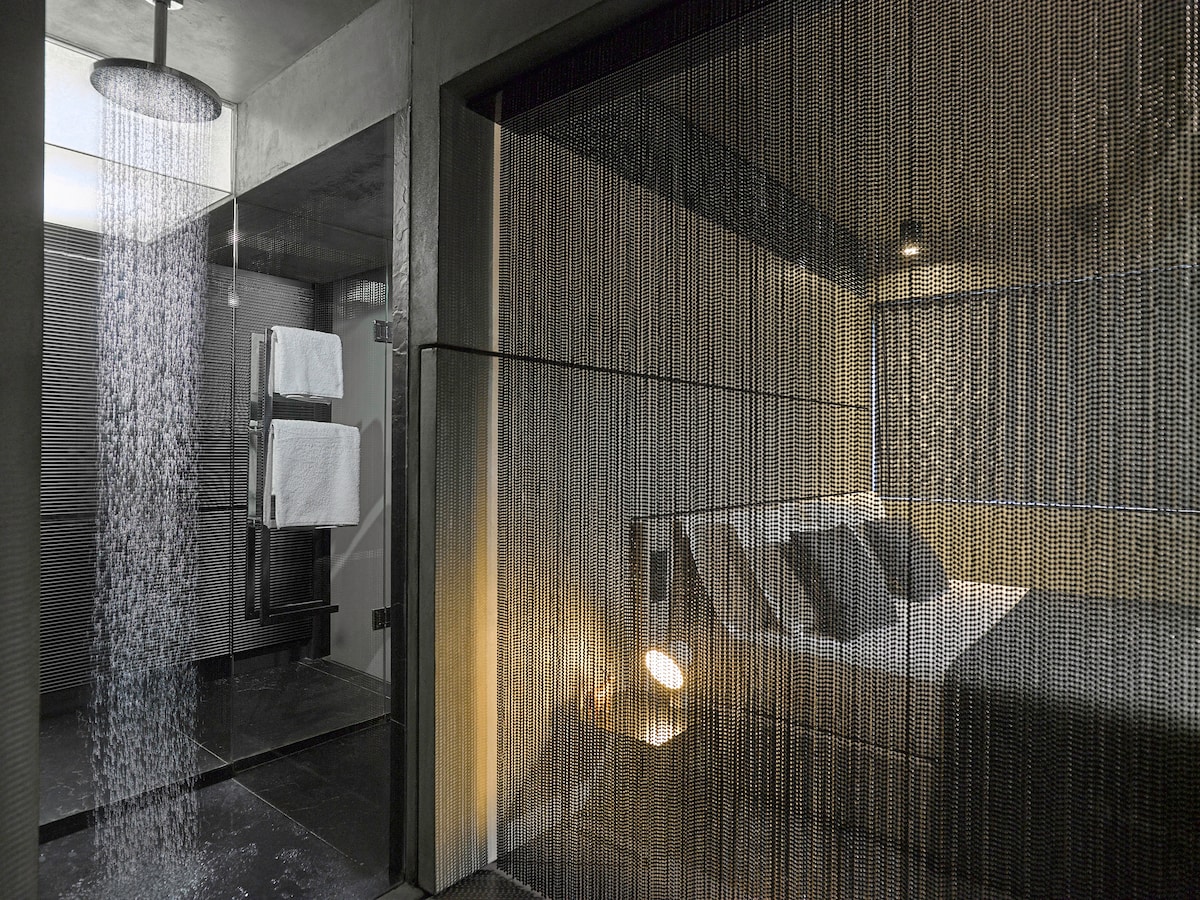 You can spend your days in Athens Earth House, as it is perfect for up to 4 guests. You will have a bedroom with a double bed, and a common space with 2 sofas.
The apartment has central heating, Wi-Fi, TV, air conditioning, and more to enhance relaxation. With a personal kitchen for preparing mouth-watering dishes, there is free parking for your vehicles too.
The apartment is just a few steps away from Konstantinoupoleos road.
Sleeps: 4 people
Price: £55 per night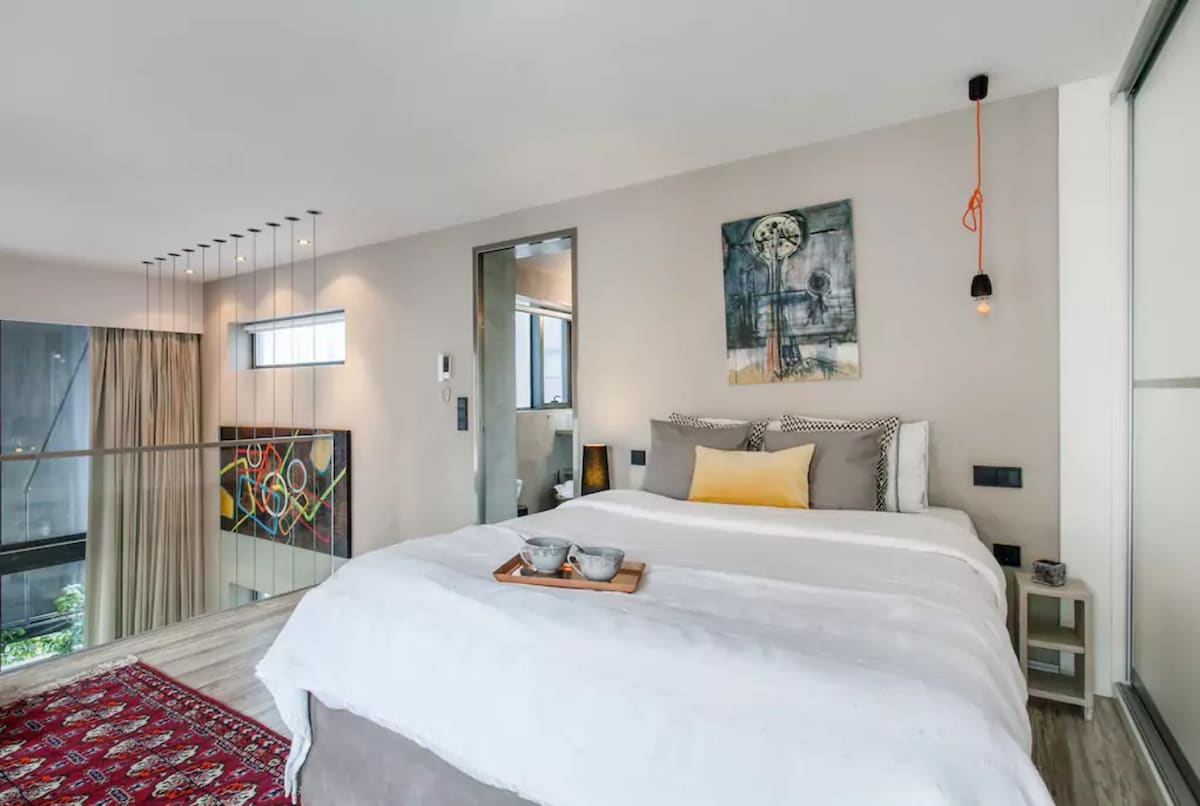 Relish your Athens days in this 5-star rated studio. Entirely independent, as well as luxurious GB Athens Cozy Studio, would be an ideal place for staying here.
The studio is perfect for 2 guests with one bedroom and one luxurious bathroom. With free parking, there will be free Wi-Fi, TV, dishwasher, washing machines, and many more for enhancing your comfort.
The studio is just 25 minutes (by car) away from the airport and close to Athens University.
Sleeps: 2 people
Price: £42 per night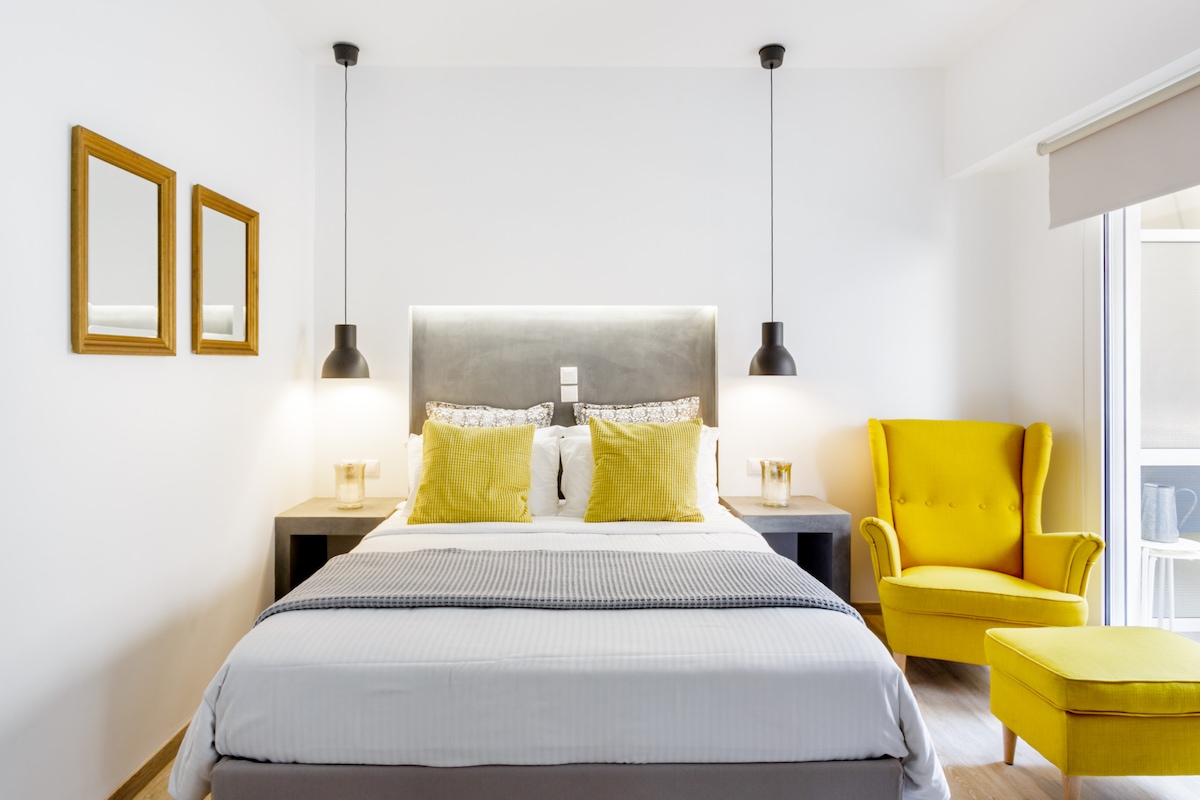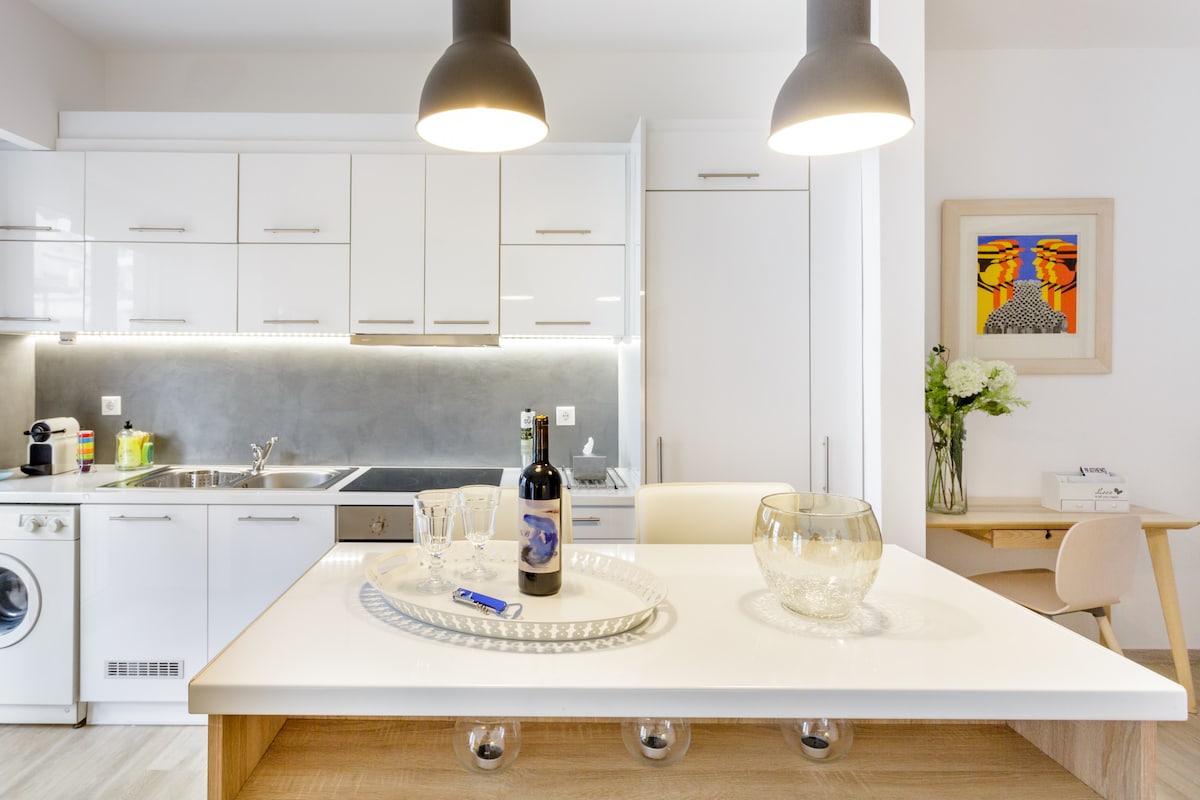 Enjoy a spectacular view of Acropolis, Piraeus, and Lycabettus from this studio on the 7th floor. The 19 square meter apartment is just 5 to 7 minutes away from Monastiraki and Thissio.
For weaving you with convenience, the studio offers a kitchen with complimentary amenities, a fully furnished bathroom, and a luxurious bedroom.
Sleeps: 2 people
Price: £32 per night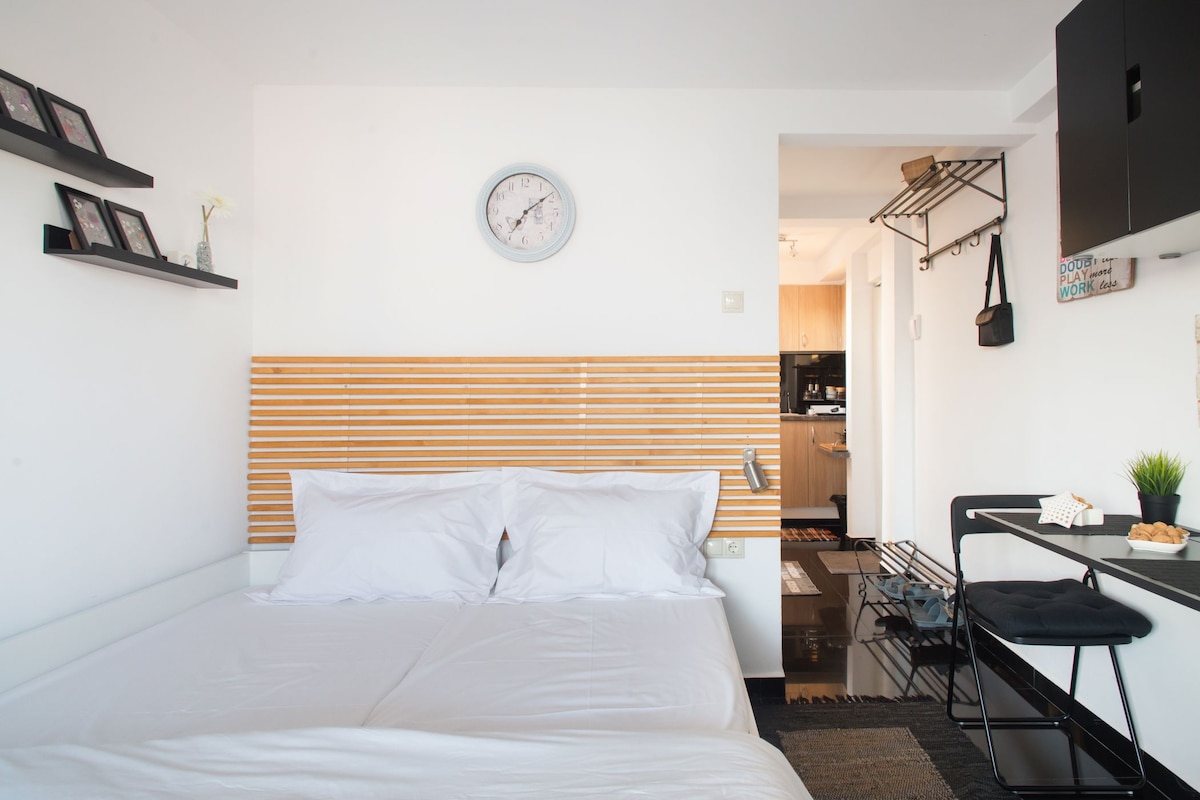 At Athens, relax in a place that has been awarded by Airbnb Award Team with "5 Stars" "SUPER HOST." Just 1 km away from Acropolis and 5 minutes' walk away from Monastiraki, Plaka, and Thiseio, the boutique is equipped with kitchen and amenities.
The roomy bedroom has a king-sized double bed. Fully equipped bathroom and shower are there for enhancing the coziness.
Sleeps: 2 people
Price: £41 per night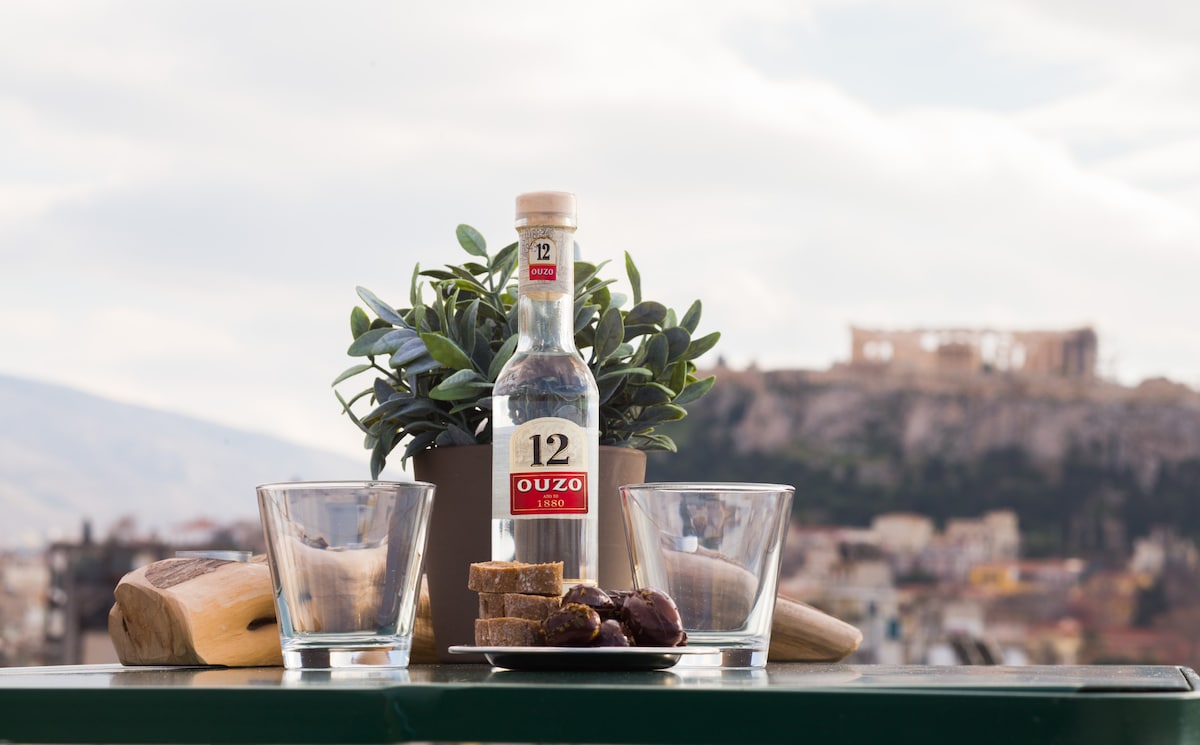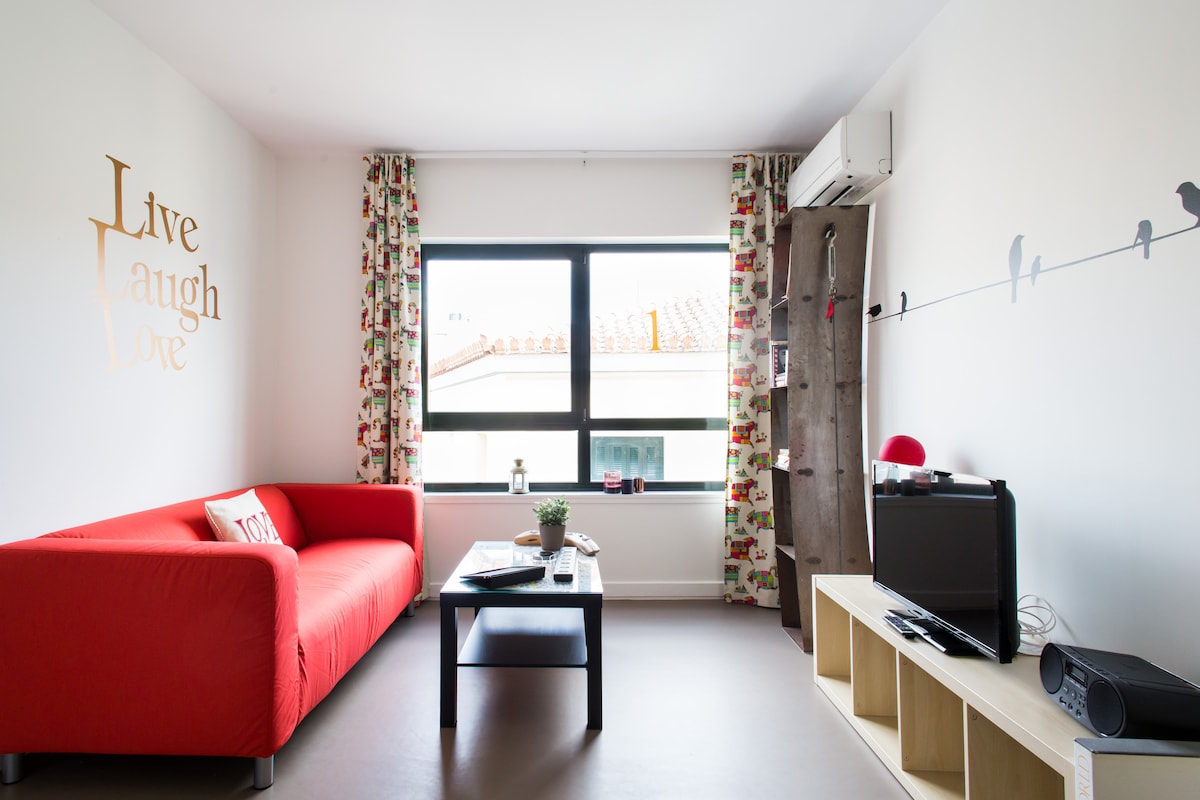 This is a place to enjoy the mesmerizing view of Acropolis. The apartment is just 7 minutes' walk from Syntagma square and Acropolis Museum.
The four-floored building has a mini gym and a roof garden. You can enjoy views of Acropolis while taking sunbath or Jacuzzi.
On the roof garden, there are 5 seats for Jacuzzi and sunbathing chairs. Perfect for 6 guests with 2 bedrooms and 4 beds, the suite has 2 well-equipped bathrooms.
Sleeps: 6 people
Price: £42 per night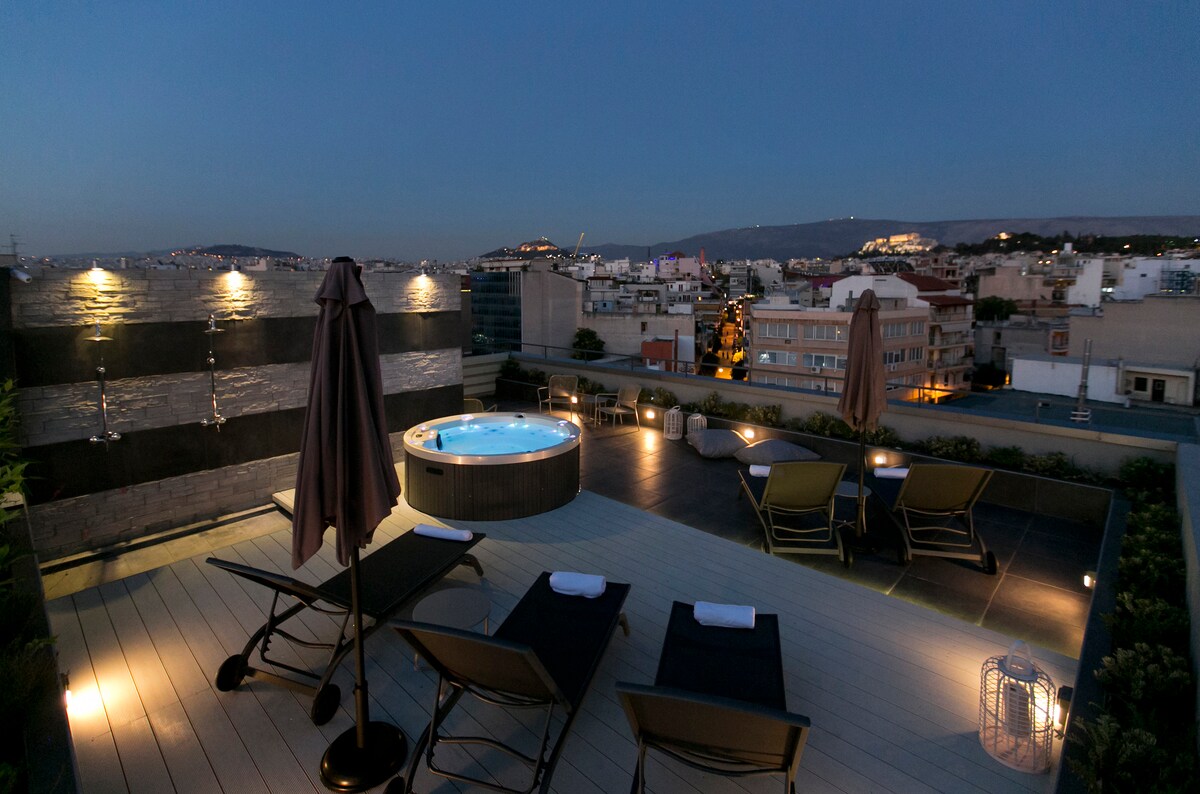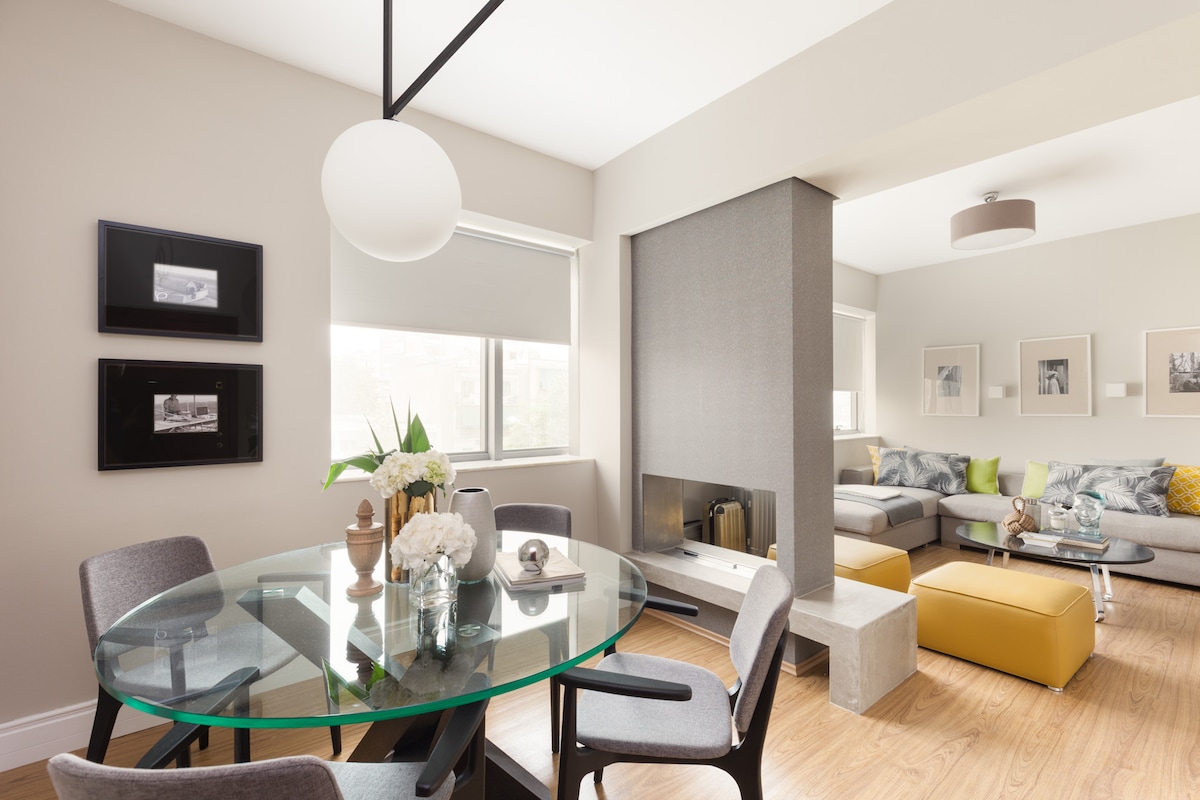 The view from this apartment will force you to spend your Athens days here. The apartment is close to Lycabettus Hill and 7 minutes away from Penepistimio metro station.
You can enjoy the view of Lycabettus Hill and Acropolis even from bed. The apartment is perfect for receiving up to 7 guests.
You can use the entire apartment, fully equipped kitchen, and toilet if you need it. Apart from this, you will receive complimentary tea and coffee, TV, free internet access, etc.
Sleeps: 5 people
Price: £27 per night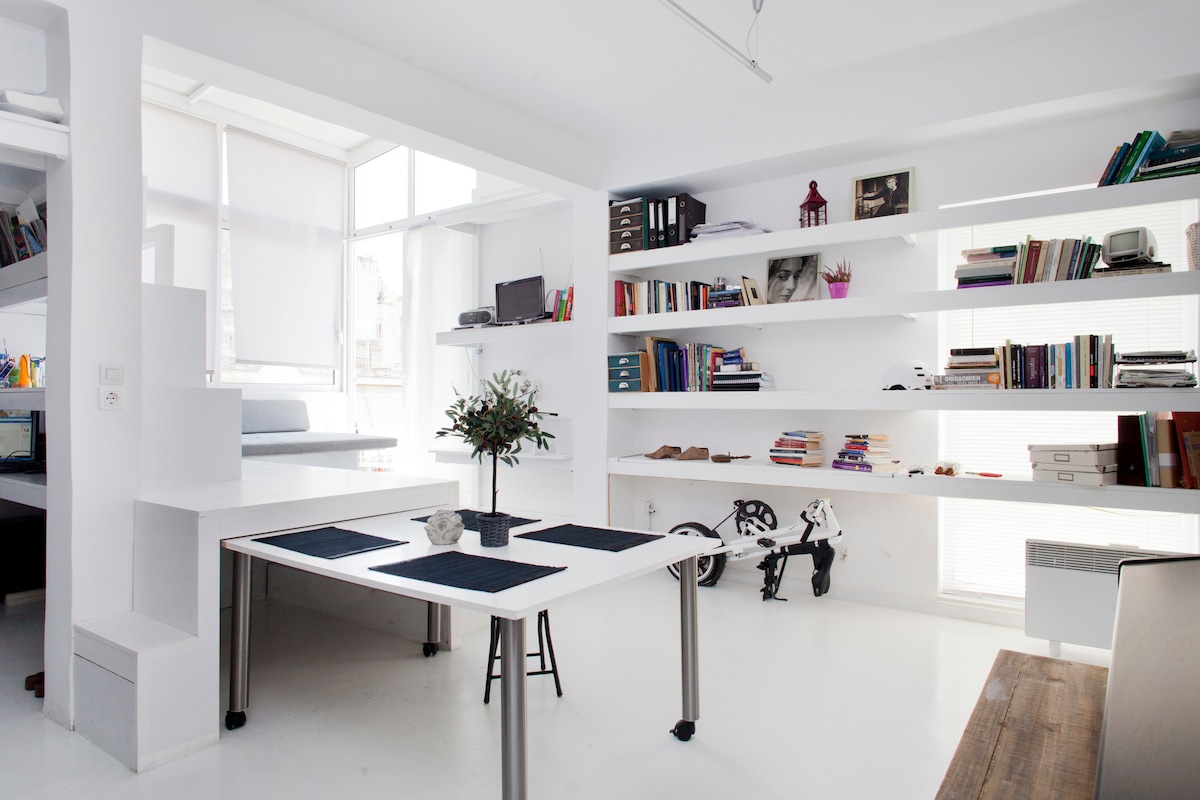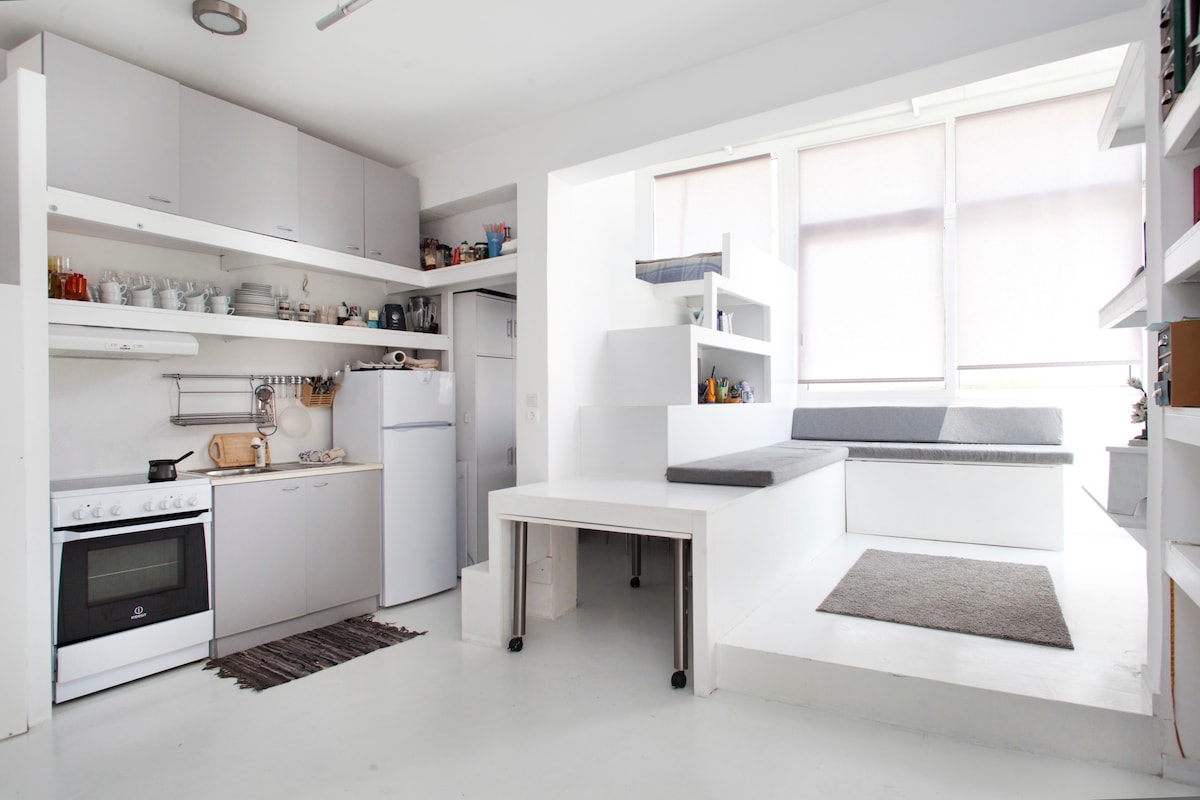 Enjoy the grand view of Filopappou and Piraeus hill from the roof terrace and private balcony of this fully renovated stylish flat.
The flat is an utter amalgamation of retro and modern artistic splendor, sufficient for 4 guests. The flat has an equipped kitchen and 2 bedrooms with two double beds.
Amenities like Wi-Fi, dryer, air conditioning, high chairs, and TV will be additional. The flat is in the border area of Filopappou and Koukaki.
Sleeps: 4 people
Price: £46 per night
This flat is perfect for accommodating 4 guests with 1 bedroom and 2 beds. The living accommodation is on the second floor, and the rooftop provides a majestic view of Plaka neighborhood and Acropolis.
Rooftop is furnished with chairs and tables, and perfect for sunny breakfasts and night drinks. Furnished kitchen, Wi-Fi, and personal workspace will be added amenities. It is located amidst the Psyri neighborhood.
Sleeps: 4 people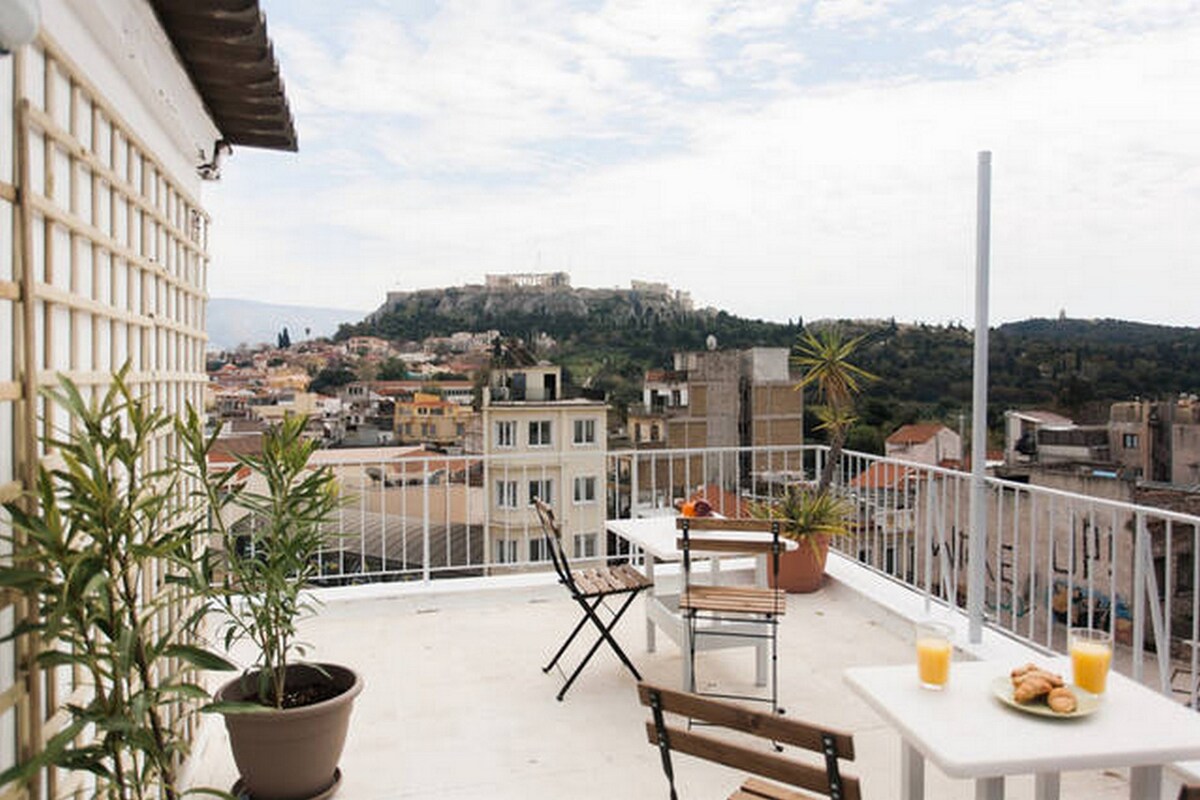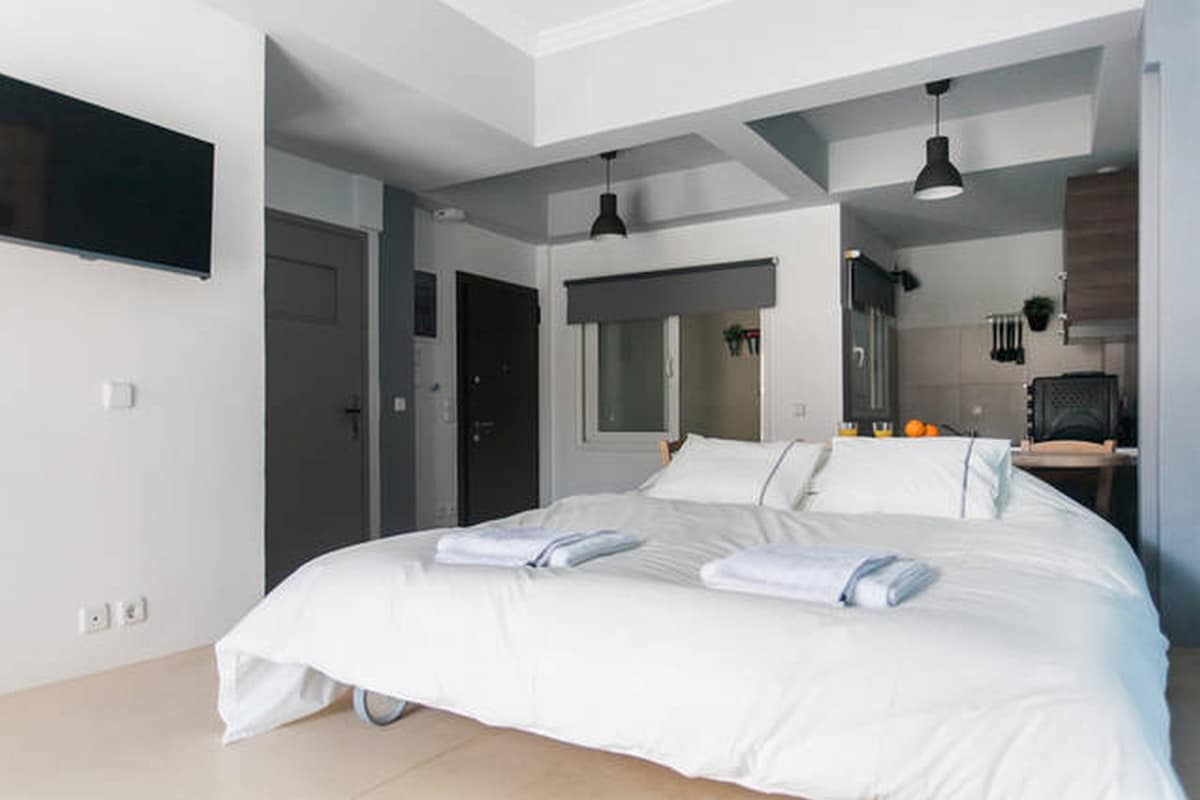 The apartment is a finely crafted and stylish studio with 2 beds and 1 well-equipped bathroom and kitchen, ideal for up to three guests.
It is convenient with amenities like TV, drier, Wi-Fi, and more. The studio is located in Psiri neighborhood, and a 34-minutes car ride away from the airport.
Sleeps: 3 people
Price: £33 per night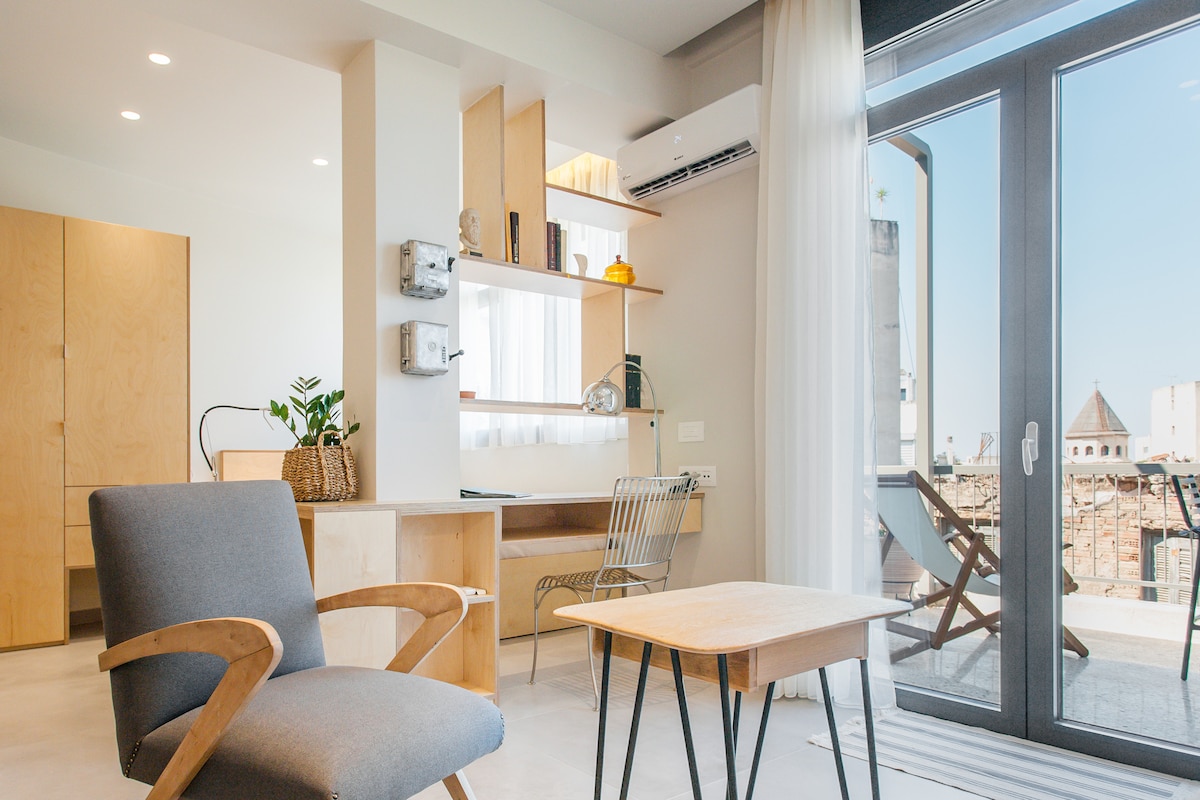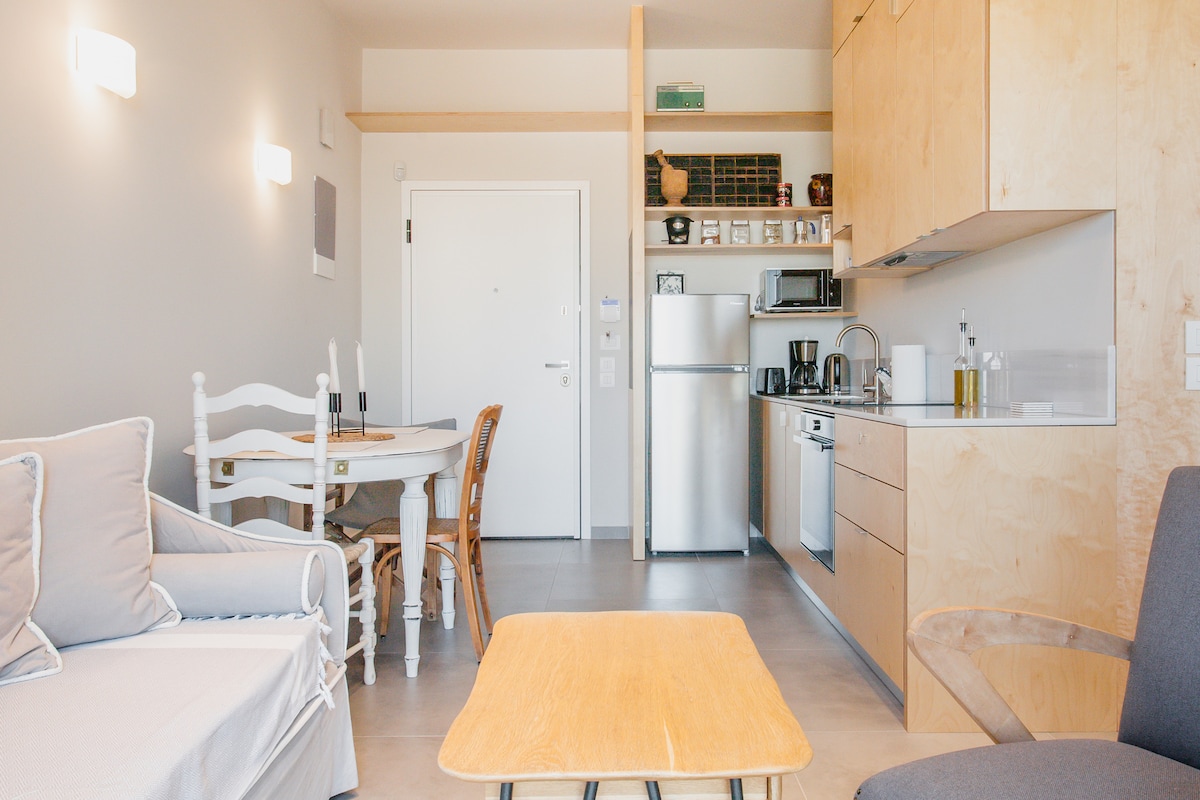 Immerse in a mesmerizing panoramic view from the balconies of this 100 m² luxurious penthouse, Skyfall (6th floor).
It is just 15 minutes walk away from Syntagma Square, and very near to famous places like Monastiraki, Kolonaki, and National Archaeological Museum.
With a well-designed bathroom, 2 bedrooms, and 3 beds, the place is enough for 4 guests. You will also receive amenities like lift, indoor fireplace, personal kitchen, etc.
Sleeps: 4 people
Price: £55 per night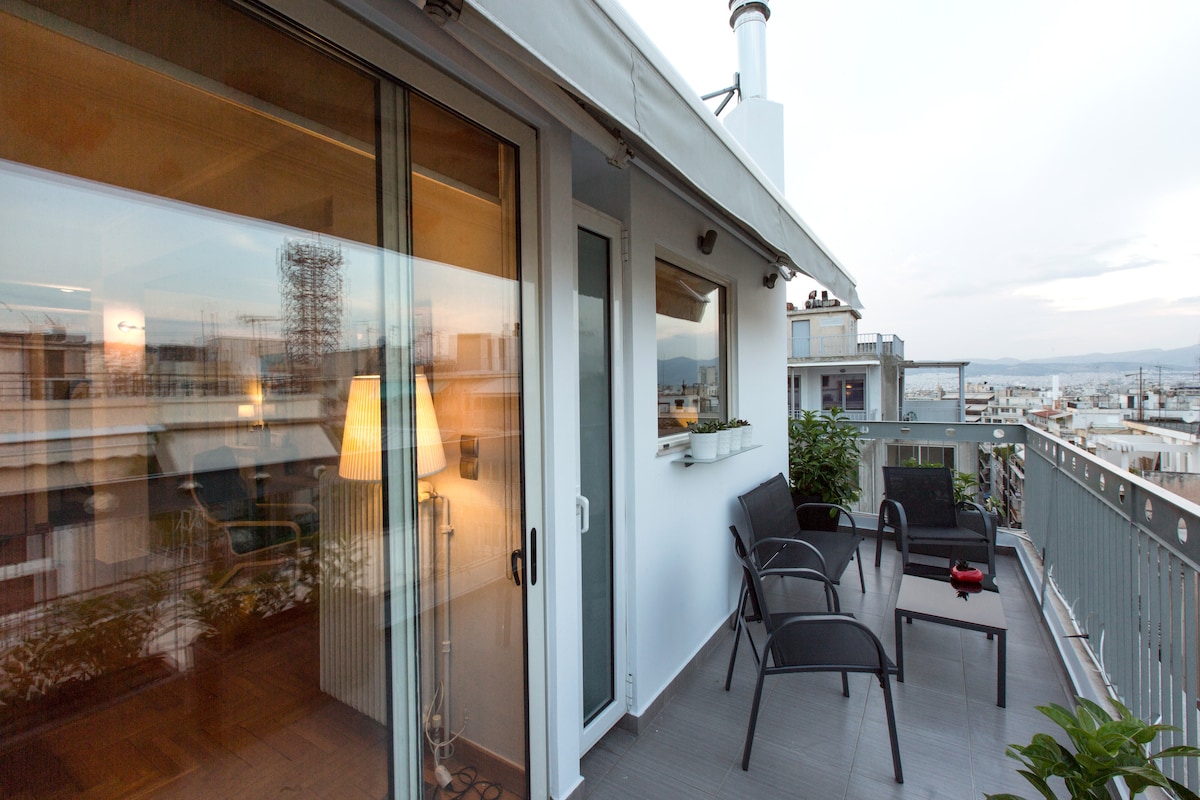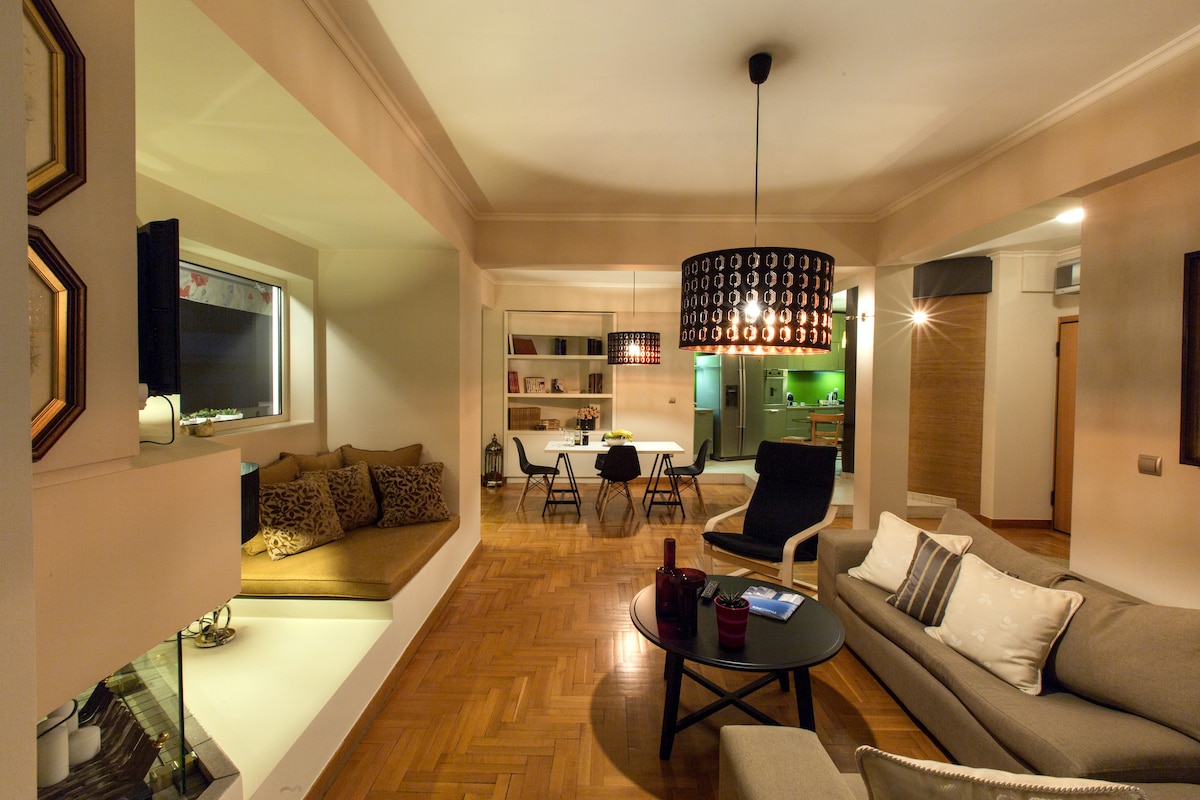 With 2 spacious bedrooms, an equipped kitchen, and 1 luxurious bathroom, the penthouse is ready to host 6 guests. Major attractions like Monastiraki, Psirri, and Acropolis will be within walking distance.
The 70 sq m apartment also offers a dining area and amenities, including TV, Wi-Fi, and AC.
Sleeps: 6 people
Price: £55 per night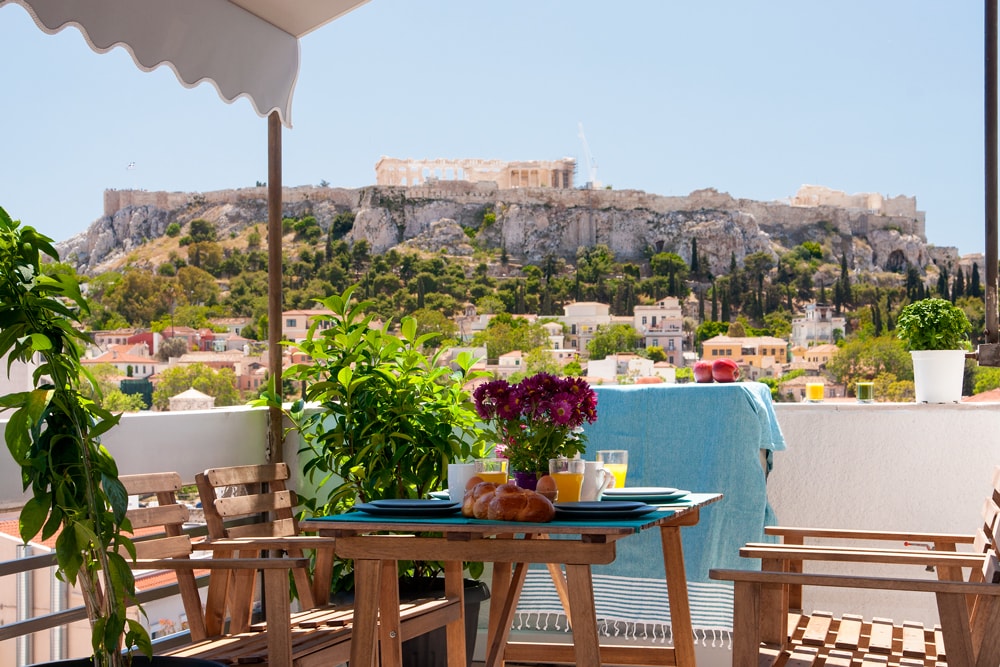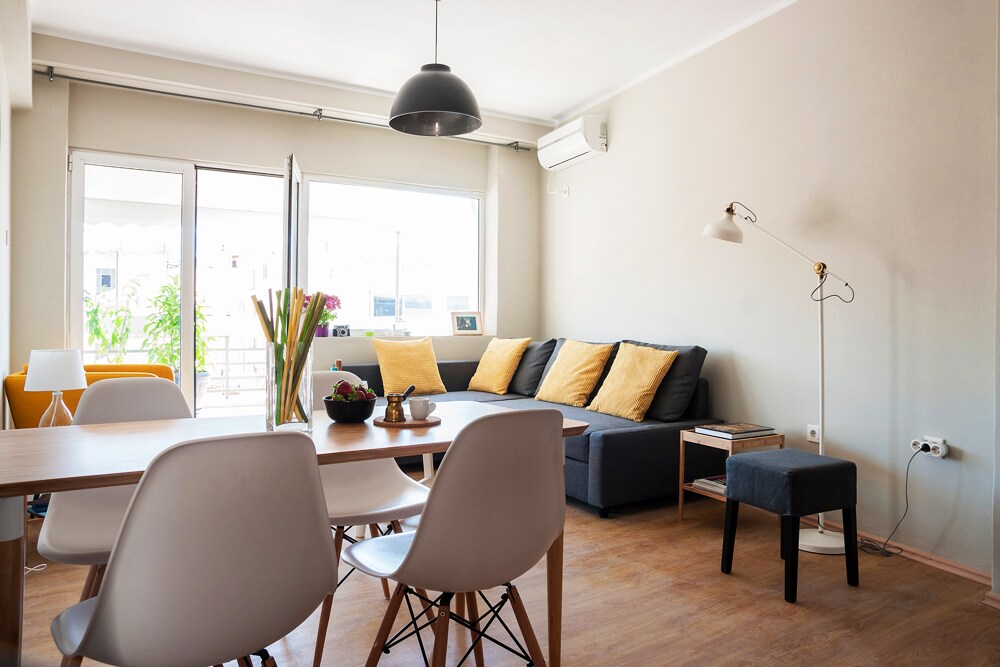 These Airbnbs will be your convenient home away from your hometown. If you want to cherish the memories of your Athens days, surf the Internet for more information and book one of these Airbnbs in Athens.
Also See:
Pin For Later