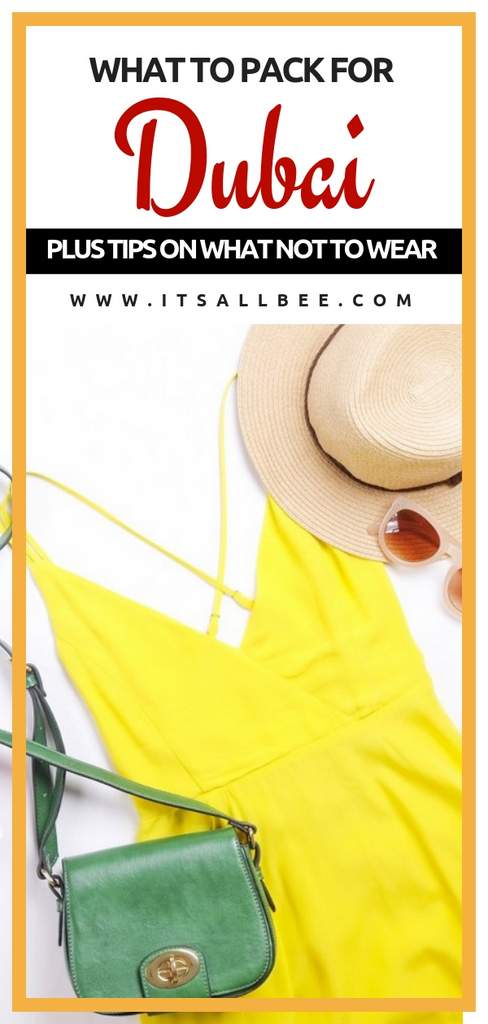 Just what can you wear in Dubai? Well, basically anything – within reason! So, thinkingg to yourself, what do tourists wear in Dubai or typical dress code in Dubai for tourists? Traveling to Dubai for the first time and wondering what to wear in Dubai or tips on putting together Dubai outfits that won't get you into trouble? Well, then this post is for you as it will help on how to dress for Dubai! Travels to the beautiful "City of Gold" and a land of contrasts is on many wanderlust lists.
In a recent post, I shared a guide on where to stay in Dubai, in this post I am sharing a few essentials for your travel packing list for Dubai. This is to help you learn more about acceptable clothing in Dubai. And some tips as to why these are your travel essentials for a memorable trip to one of the most known Emirates.
Also See:
What To Wear In Dubai When Visiting UAE
Dubai is one of the seven emirates that make up the United Arab Emirates. It is often confused with Abu Dhabi, another popular city. And being a majority Muslim country, there are often conflicting information on what you can and cannot wear. I will start with the basics then dive right in and also cover Dubai women's dress code summer periods.
What Not To Wear In Dubai | Dress Code In Dubai
When it comes to what not to wear in Dubai the list is shorter than the list of what to wear in Dubai. Majority of what you can wear in the West, you can wear in Dubai. Things to stay away from are mini skirts, revealing clothes, too low-cut tops, those are a no go, especially when it comes to the ultra-conservative Abu Dhahi.
So is it ok to wear shorts in Dubai? You can wear shorts providing they are not short shorts, they are at least knee length. For malls just make sure you pack a shawl to cover the arms and chest if you think your clothes are on the board of revealing or low cut.
Most hotels will also have rule about where you can wear your bikini so just make sure you pack a few kaftans to wear over your swim clothes on the way to the hotel beach or pool as some hotels will not allow swim around the lobby or public areas. This is the same when it comes to what to wear in Dubai mall. You don't have to wear a nun's outfit but just be wary of being on the conservative side when it comes to modesty.
How Much and What To Pack For Dubai?
If you're going on vacation for a short trip, you don't need more than a carry on and a knapsack. You can easily appropriate dress for Dubai in a carry-on. There are two reasons why I recommend this.
The first is that you will have to pay for your checked bag(s) based on your fare type and the airline you use. Second, if you have connecting flights, traveling without a checked piece limits the chance that you might lose your luggage in-between flight transfers.
So, what can you fit in your carry-on luggage that will make your trip that much more special? Keep reading and we'll see. For additional tips check out my post on carry-on essentials for long-haul flights.
Packing Appropriate Clothing In Dubai
The weather in Dubai is tropical so you should bring light clothing that breathes well. Otherwise, you may get uncomfortably hot. Depending on the time of year that you visit, the temperature can be anywhere between 25 degrees and 45 degrees.
If I am heading somewhere hot I tend to scope out linen/silk blend dresses as they are light and breathable or search for elegant midis and maxi dresses on ASOS. Some these will be in the sale most of the time as don't have great weather in the UK so I find that the majority of summer items tend to be in the sale frequently.
What To Wear In Dubai | Packing For Dubai Tourist Dress Code
Pack plenty of loose-fitting summer dresses for Dubai trip too not just because the country is conservative but because its hot!
Shorts are OK only in the tourist districts but can still cause stares
Loose fitting tops and pants, covered dresses, and skirts below the knees are always safe choices
Jeans that aren't too tight, or if you have a longer top to wear over it
Sandals and flat shoes as you will be walking around the malls a lot.
Always pack a pashmina or scarf in your handbag for when you need to cover up if wearing short-sleeved or off shoulder outfits and need to enter conservative areas/buildings.
Pack a Summer hats as the sun in Dubai even in their winter(22-30 oC in Oct-Nov) can still be intense.
Pack a beautiful Embellished Kaftan that is both modern and stylish. You can cover up and still be stylish while abiding by Dubai dress code rules. Pair these up with a pair of leggings or skinny jeans and sandals and you are good to go.
Etsy has a great selection of beach kaftans, a majority of which are unique and one-offs too.
(Click on image to see detail)
Amazon's Kaftans
offer a beautiful collection of kaftans at such great prices too. You can wear a swimwear underneath or pair them with a t-shirt, skinny jeans and heel and you are good to go.
(Click on image to see detail)
Make sure you pack a good Suncream as well as pack the best travel skin care kit for your skin, as beautifully warm and toasty the sun is in Dubai you need to make sure you protect your skin. In addition to a holdall beach bag is a must. Accessorise has some beautiful beach bags on sale at the moment.
Full covering is required for entry to the mosques and some public buildings
These clothing options for your trip to Dubai will not only contribute to your hosts being friendlier, but they will keep you cool and protect your skin while you have a fabulous time exploring the City of Gold.
What To Wear In Dubai For Females? | Dubai Women's Dress Code
So what is appropriate dress in Dubai, what can ladies wear in Dubai? Modesty is Key – If You Don't Want Unwanted Attention. Dubai is a lot less restrictive than some of the other emirates. But it is still a majority Muslim country and therefore modesty is always key.
Beware that your idea of dressing 'modestly' may not be the same as those in Dubai. Acceptable dress code in UAE also differs between Emirates so bear that in mind especially if you are visiting other emirates on tour. Most tour guides will tell you or help you with coverings when visiting religious sights.
For Dubai tourist clothing, even in the tourist areas, which are even less restricted, certain standards of dress are not tolerated. And it gets really uncomfortable being continuously stared at because they don't believe that you are appropriately dressed. Trust me. We know this all too well.
Malls, restaurants, and mosques will have the dress code in Dubai posted. This is generally shoulders covered and bottoms are below the knees. All will display Dubai women's dress code and men's dress code in Dubai. Beachwear and club wear should not be used for everyday dress if you don't want unwelcome stares. Keep your bikinis on the beach. Most hotels allow bikinis and swimwear but be sure to cover up on the way from your room to the book.
To show that you respect the culture, pack tops with sleeves for modesty as well as to protect you from the sun. Clothes that cover your neckline, knees, and shoulders are always safe bets. If you must wear an off-shoulder top then pack a scarf in your bag for when you enter malls and other sites that enforce the dress code so you can easily cover the shoulder. Also, try not to wear anything to revealing of the chest area.
(From the top )Blue dress | Pashmina | Kaftan
| Yellow Dress | Sunglasses | Earrings | Hat
Hat | Swimsuit | Earrings | Handbag | Travel Skincare Kit
What To Wear In Dubai Desert Safari | Packing for the Places in Dubai That You Intend to Visit
When planning a trip to Dubai the first question most women want an answer to what to wear in Dubai holiday. Well below is a guide on what to wear in Dubai malls, Dubai safari, traditional buildings and other occasions.
So, whether you are after desert safari Dubai dress code or in general Dubai women's dress code, below gives you an idea of Dubai outfit and appropriate clothing for Dubai.
Beachwear In Dubai – Dubai Swimwear Rules
Dubai has many public and private beaches (beaches restricted to hotel guests) and Dubai beach wear will differ slightly if you are on private or public beaches. With public beaches, I would take a light Kaftan to cover up as most of these are frequented by locals and their families so you do have to be modest even on the beach when it blazing hot.
For beachwear in Dubai on private beaches attached to hotels, you are usually ok to wear whatever bikini and swimwear you want. Just bear in mind that if you have to go through the lobby to get to the beach, most will expect you to at least consider the guests and wear a beach cover-up, robe or another cover until you get to the beach. One the beaches of the hotel anything as far as bikinis go – apart from nudity! You don't want to end up on banged up abroad.
Dress Code In Traditional Buildings
While scarfs are not essential headwear for everyday use, you should always walk with a scarf on you. Some buildings – especially traditional buildings and the mosques – will not allow you inside with an uncovered head. So, you will always be prepared for any impromptu attractions if you have a scarf on you.
Plus, scarfs help to protect you from the dangers of the sun.
The desert safari dubai dress code: So, what to wear in Dubai desert safari? Stargazing in the desert is one of the most fun activities to do in Dubai. This is especially romantic if you are going on vacation with a partner. But temperatures in the desert can drop below -0.
Make sure to pack a light jacket or cardigan to ward off any chills at night. The desert is also windy so be careful of shorter clothing. You can pack a beautiful embellished Kaftan, for a photo op. You can also find beautiful kaftans on Amazon
too. You should also consider having leggings under your skirts or dresses, or jeans as it does get cold in the evenings. They protect your skin from the harshness of the sand.
Abu Dhabi is one of the seven emirates that make up the United Arab Emirates. It is also only about an hour and a half from Dubai. So, you may want to visit. But, they are considered much more conservative than Dubai.
For clothes to wear in Abu Dhabi, conservative dress is especially important if you want to visit the Sheikh Zayed Grand Mosque outside of Abu Dhabi. Both Get Your Guide and Viator have great day tours from Dubai to Abu Dhabi. I have also shared the details of how get to Abu Dhabi from Dubai.
What to wear in Dubai nightclubs
Believe it or not, Dubai does have nightclubs! So when it comes to what to wear in Dubai nightclubs, the dress code is actually stricter for men that it is for women. Women can wear pretty much anything they want whereas men cannot turn up in jeans, flip-flops, shorts or vests in some cases. While women can wear whatever they want to Dubai nightclubs, just be mindful of the in-between – between your accommodation and nightclub.
I would invest in a very light duster coat for times when you think your dress might be on a fine line of too short and too revealing. The Dubai nightclubs don't care so much its the areas people along the way whose attention you may draw. Considering how hot Dubai is, duster coats are super light and allow you to cover a little bit, especially if visiting clubs that may be in places like Deira where you may not want to get the wrong attention.
What To Were For Brunch In Dubai
It's always recommended to have a nice outfit and dress shoes when you go on vacation. After all, even if you didn't plan on any fancy dinners, you never know where you might end up. Since we are talking about traveling as light as possible, make sure the shoes you carry can go well with multiple outfits.
Dubai food experiences are rich and plentiful from Afternoon tea at Burj Al Arab to Dubai Marina cruise with buffet, to a luxury dining experience in the Burj Khalifa. So be sure to pack a few nice dresses in Dubai and clothing options that allow you to look stylish at a moment's notice.
What To Wear in Dubai By Month & Monthly Temperature
By far the best time to visit Dubai is between November and March when the weather is warm but not too hot. Dubai rules on clothing don't change just because it's too hot. The Dubai women's dress code summer and every other season is the same. You are still required to wear appropriate clothing in Dubai. Dress code in Dubai for tourists is set out outside buildings but the above should give you an idea.
What to wear in Dubai in January
Temperature around 24°C, pack normal Dubai tourist clothing as detailed above.
What to wear in Dubai in February
Temperature is around 26°C, pack normal summer clothes suitable for Dubai as above.
What to wear in Dubai in March
Temperature is around 29°C, as the weather starts to pick up now ensure acceptable clothing in Dubai is packed. You can also pack shorts that come to the knee or below and not too tight.
What to wear in Dubai in April
Temperature around 33°C, pack lighter summer wear and breathable pieces of cotton.
What to wear in Dubai in May
Temperature around 38°C, pack lighter summer wear and breathable cottons.
What to wear in Dubai in June
Temperature is around 40°C, pack plenty of flowy maxi dresses and kaftans as you don't want anything tight sticking to your skin when the weather is this hot.
What to wear in Dubai in July
Temperature is around 41°C, pack plenty of flowy maxi dresses and kaftans as you don't want anything tight sticking to your skin when the weather is this hot.
What to wear in Dubai in August
Temperature is around 42°C, pack plenty of flowy maxi dresses and kaftans as you don't want anything tight sticking to your skin when the weather is this hot.
What to wear in Dubai in September
Temperature is around 38°C, so plenty of nice dresses for Dubai trip need to be packed as sometimes you may have to change 2 or 3 times because of the heat.
pack plenty of flowy maxi dresses and kaftans as you don't want anything tight sticking to your skin when the weather is this hot.
What to wear in Dubai in October
Temperature is around 36°C, it's hot but starting to cool down, pack plenty of shirt dresses and flowy maxi dresses and kaftans that are breathable and are not to close to your skin.
What to wear in Dubai in November
Temperature is around 31°C, same as Jan, Feb and Mar, pack normal summer wear as above.
What to wear in Dubai in December
Temperature is around 26°C, same as Jan,Feb and Mar, pack normal summer wear as above.
Where To Stay In Dubai
I posted a very detailed post on where to stay in Dubai for various budgets and needs. You can check it out here.
I hope that gives you an idea if you were what just exactly what do women wear in Dubai or wondering what clothes suitable for Dubai you need to pack.
Also See:
Pin to your travel board