One of my favorite cities in Asia, Bangkok has plenty to see and do that a couple of days is in Bangkok is not enough but its a great start.
Below, I have put together a list Top Bangkok Airbnb apartment to help you decide between Bangkok Airbnb or hotel. So if you plan to visit the 'City of Angels' and want to find an Airbnb apartment, then this is the post for you.
With Airbnb increasing some of their prices with cleaning fees and all that, I highly recommend checking out Vrbo for rental accommodation deals.
Also See:
The list allows you to see the amazing availability of flats and apartments to rent in Bangkok, making it easier to plan and budget for your next trip to Bangkok with our handy picks of the budget, mid-range, and luxury apartments in the city of Bangkok.
Also, bear in mind that the prices below allow you to have full access to the property to come and go as you please without having to live with the host, you get a comfortable home from home to return to after all that exploring in Bankgkok.
Unless you are using Airbnb in a super expensive city where you have to resort to just booking a room and staying with the host, Bangkok allows your money to go further so you can book the entire property to yourself for an amazing price.
So whether you have a small budget or want a luxury apartment in Bangkok, there is something for everyone below.
For tips on what to see and do in Bangkok and wider Thailand check out the links below with more posts on the blog, where I share tips on what to see and do in places like Phuket which is an easy flight from Bangkok.
Make sure to add the Grand Palace in Bangkok, the floating market, Bangkok's China Town, malls and of course the many temples in the city. For tours in Bangkok, check out Viator and Get Your Guide.
Bangkok Fun fact:
"In addition to the internationally known name of Bangkok, there is also the local name of Krung Thep (City of Angels) which is a shortened version of the official Thai name of Krung Thep Maha Nakhon. … This led to King Taksin founding a new capital for Siam in a location known as Bangkok."
Getting Around Bangkok
For tips on how to get around Bangkok check out Trip Advisors's post which includes how to use the train system (BTS which is also referenced and close to the Airbnb apartments below), tips on using taxis, tips on using the tuk-tuk in Bangkok, using the rail and buses.
When using taxis and tuk-tuks make sure to request use of the meter for taxis and negotiate prices of tuk-tuk before getting on.
Budget Bangkok Airbnb Apartment Rentals (Up To £50 per night)
A cool Airbnb Bangkok Sukhumvit with this 20th-floor apartment with an impressive view is on a new condominium complex in Sukhumvit, Bangkok.
It boasts a fantastic view of the city, a swimming pool overlooking the city, and 24-hour building security.
You are well within a short distance of some of Bangkok's iconic shopping malls such as Terminal 21 (right next door) and the Emporium Shopping Mall. And best of all, it only starts at £15 per night.
Sleeps: 4 people
Price: £15 per night
Enjoy your stay in Bangkok Airbnb near BTS in this cozy apartment that's only 5 minutes away from the Nana/Asoke BTS.
Also featuring a lovely pool accessible to guests, you can spend your time between your apartment complex and exploring the city. With a fabulous host, you are sure to have a great time in Sukhumvit, Bangkok.
Sleeps: 2 people
Price: £31 per night
If you want to go for an extended stay, this minimum 30-day lease Airbnb Bangkok apartment rental is at the 'center of everything'.
Another Bangkok Airbnb near BTS, conveniently located near to the BTS (the Skytrain) in the Sukhumvit area with easy access to high-end malls and restaurants, you are at the heart of the city.
Sleeps: 3 people
Price: £42 per night
Mid-Range Priced Bangkok Airbnb Apartment Rentals (£50-£100)
Breathe and enjoy the view with a condo by the river. Guests have complete access to the gym, 4 pool areas, and a sky pool.
Plus, you also get a breathtaking view of the city if you choose the apartment on floor 40. Located close to Siam, the complex is only a few stations away from the BTS Skytrain for easy access.
Sleeps: 3 people
Price: £64 per night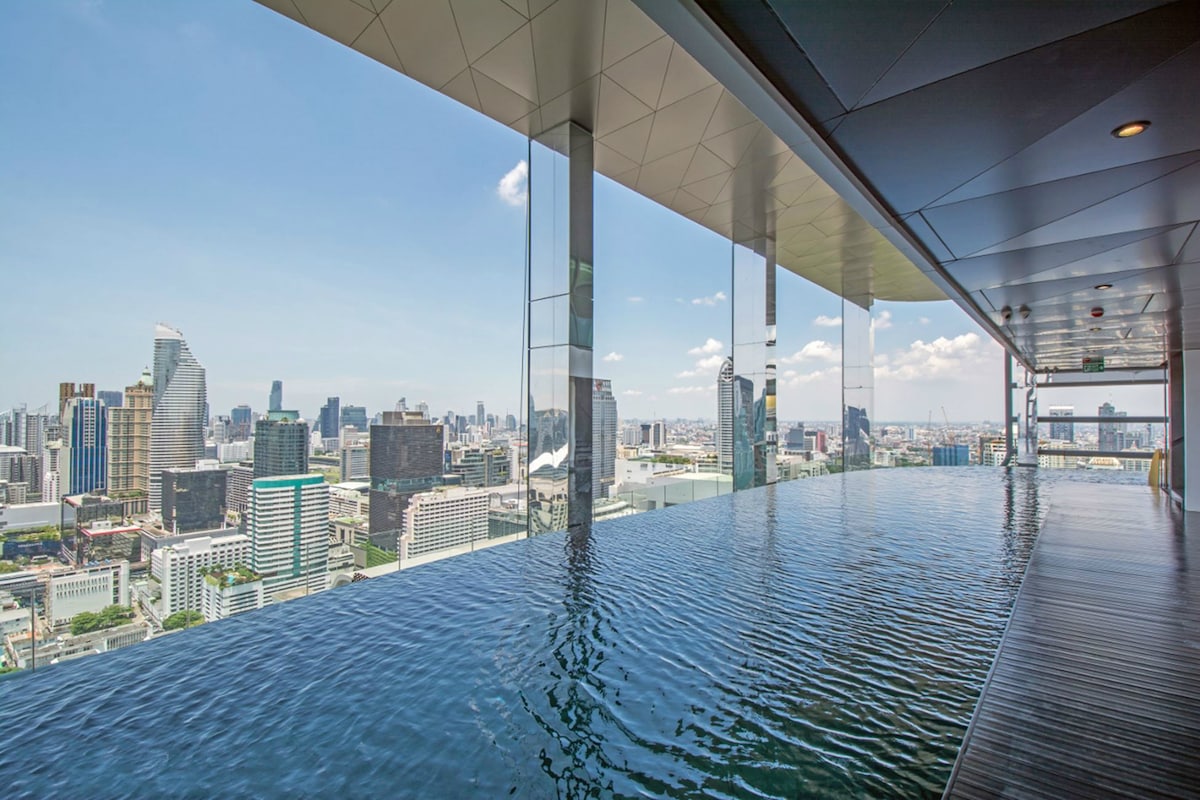 This is a one-bedroom condo is brand new, open, and full of light facing a green super quiet area without any disturbance from the traffic, even its located in the middle of the city.
Close to MRT and BTS intersection ASOKE and the Famous Terminal 21.
Located on Sukhumvit Soi 12, next to Korean Town and within 150 meters you can find Starbucks, the famous Cabbage and Condoms Restaurant, other restaurants, coffee shops.
Sleeps: 4 people
Price: £55 per night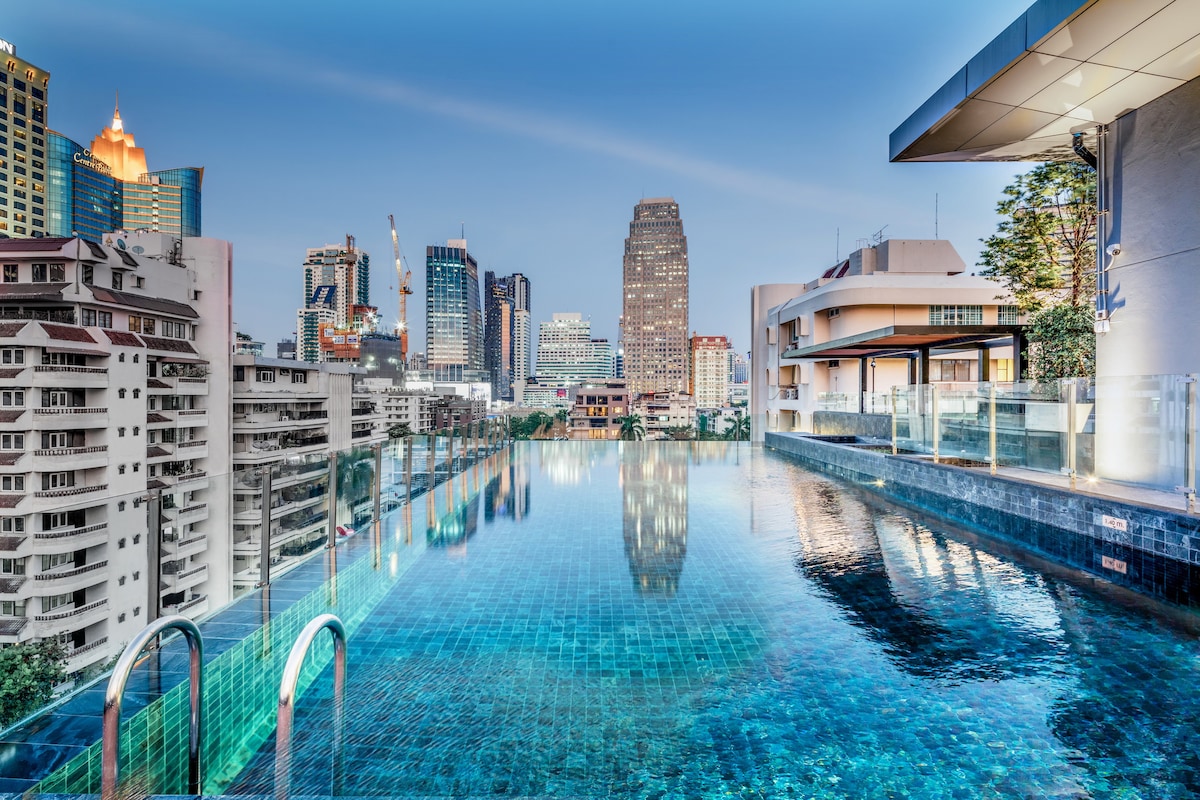 This Bangkok Airbnb apartment is conveniently located in a residential area, yet central enough for easy access to the city center.
You are sure to enjoy your stay at this 5-star rated studio apartment with its private balcony garden and attentive host.
Sleeps: 4 people
Price: £100 per night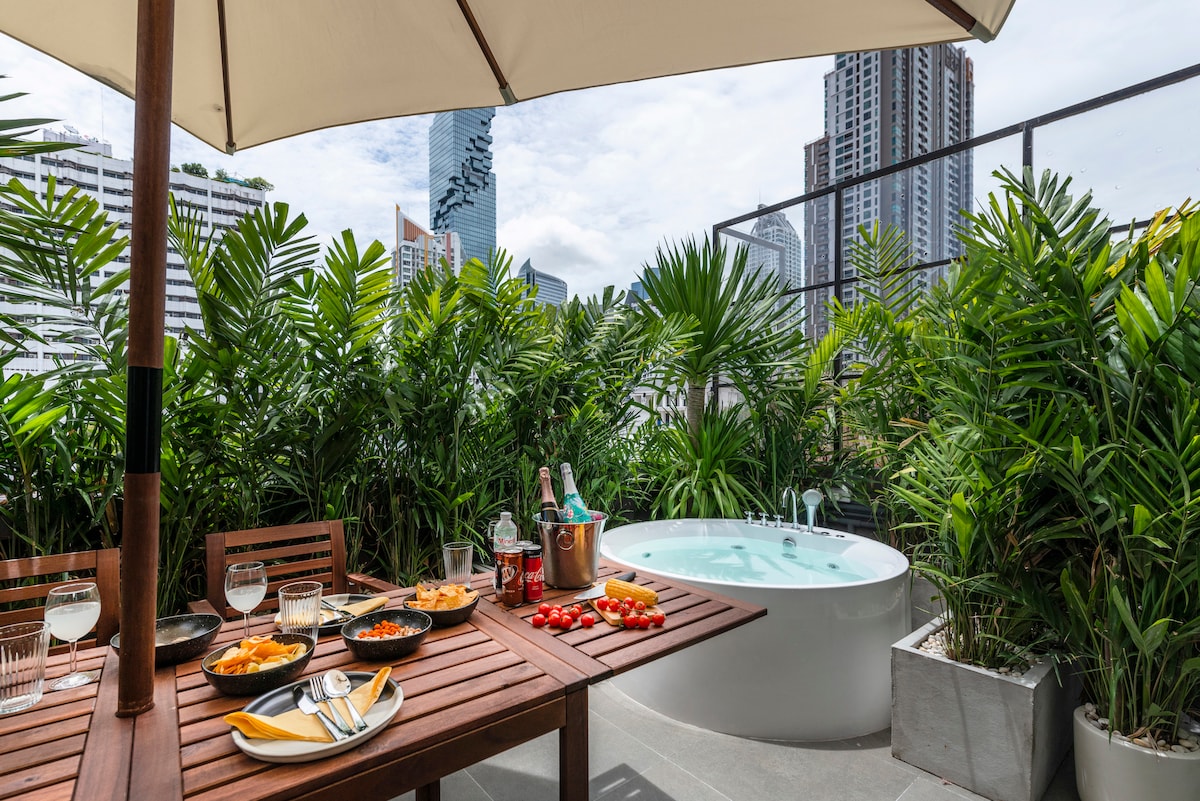 Relax in this luxury penthouse apartment with a fabulous view of Bangkok City. Enjoy your private jacuzzi to unwind after a day spent exploring the city or its many modern shopping centers such as Siam Paragon.
Siam Paragon is an up-market shopping and entertainment complex filled with luxury shops the likes of Luis Vuitton, Jimmy Choo in addition to many restaurants and cafes.
One to definitely add to your itinerary when you visit Bangkok as not many malls in Southeast Asia can rival the luxury and splendor on offer.
Sleeps: 2 people
Price: £80 per night
Luxury Bangkok Airbnb Apartments (£100+)
Want a luxury apartment with modern décor and appliances close to all the entertainment, shopping, and cultural activities?
Take a look at this breathtaking apartment in Sukhumvit, Bangkok. This recently renovated space features an open floor plan for the ultimate comfort. And it's only 5 minutes away from the BTS.
Sleeps: 4 people
Price: £115 per night
The pictures don't do this luxury apartment justice. Plus, the ease of transport is accented by a complimentary shuttle that leaves the property every hour and you are only minutes from the Emporium Shopping District.
With a 360 view of Sukhumvit and a large spacious place, this apartment is ideal for a group or family.
Sleeps: 8 people
Price: £315 per night
Want to trade in the traditional apartment for an entire Bangkok Airbnb villa? This is another Bangkok home suitable for families (with kids) and large groups.
The host is attentive and super helpful. So, relax with your family and friends and enjoy yourself at your own private villa.
Sleeps: 11 people
Price: £420 per night
A stunning unique urban glass tree loft in a tropical rainforest surrounding. A genuine oasis in the heart of the vibrant City of Angels.
The perfect combination of modern luxury comforts and green environment, peaceful escape to rejuvenate your body and soul.
Sleep: 10 people
Price: £336 per night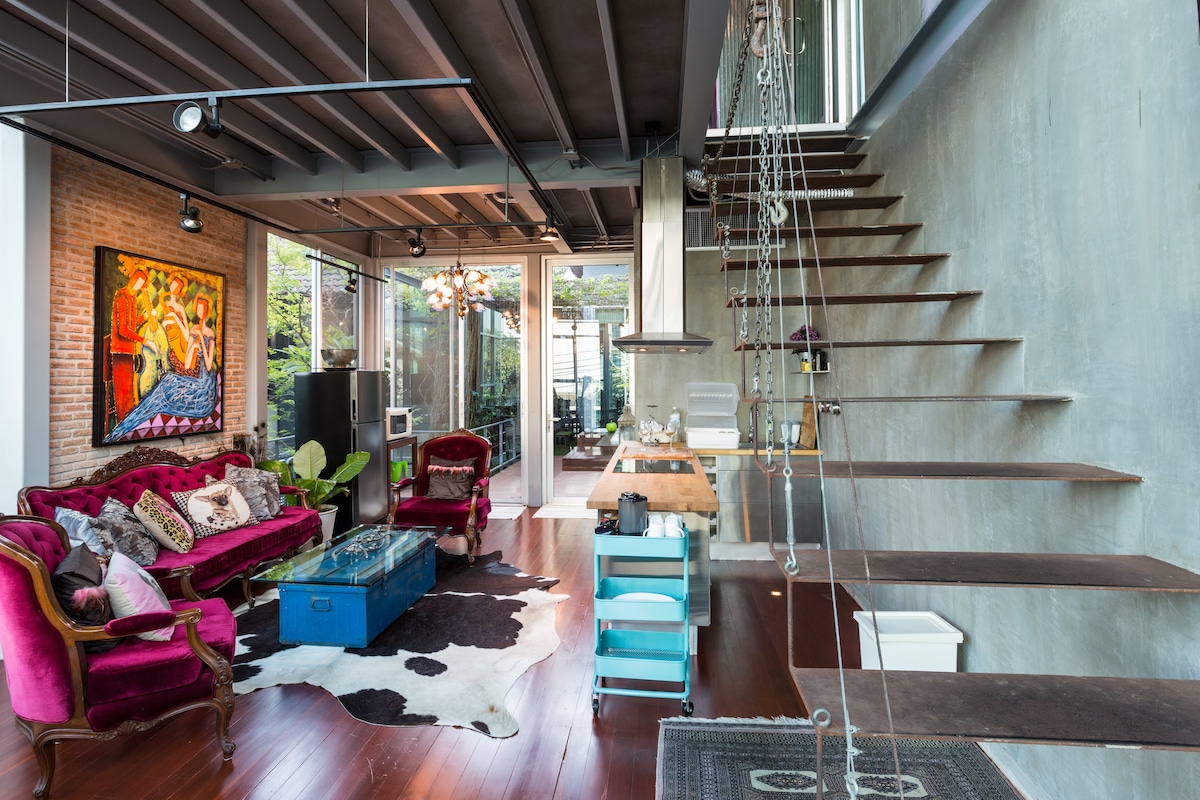 Bangkok's Best Tours
More On Asia:
Pin For Later